Hoi An buffalo tours - Unique and amazing experience for foreigners
Hoi An is an exciting place for tourists to relax and have fun, and it also offers many refreshing experiences that they have never had before. Not only being attractive for its ancient, historic and poetic beauty, Hoi An draws a large number of tourists also for its interesting and unique entertainment activities – one of them is buffalo tours.
Buffalo in Vietnamese culture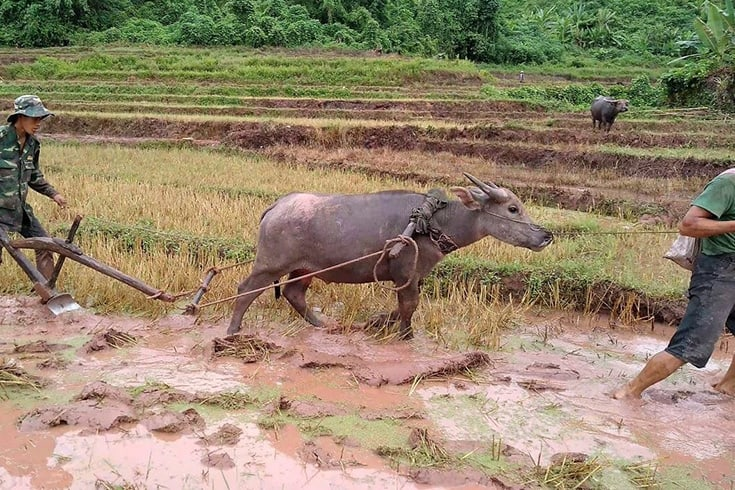 Photo: Vietnamdiscovery
Buffalo is an animal of the Bovidae species, living mostly in Asian countries and has long become a familiar image of farm work and countryside life in Vietnam. Although not officially, for as long as one can remember, the buffalo has been considered as one of the national animals of the beautiful S-shaped country.
Buffalo is the friendly and indispensable animal of the Vietnamese, mostly in the countryside. Being known as the agriculture nation, farm work takes a specific and important role in the development of Vietnam. Throughout the years, the buffalo has proven itself to be useful and beneficial when it can pull plows in the rice fields, making the farming process become so much easier. When harvesting crops, buffalo is also a trustworthy supporter who helps carrying heavy products and loads for its owners. Traveling to the countryside of Vietnam, tourists will immediately see buffalos almost everywhere, helping farmers with their works or just simply standing on the side to keep them company. In a nation that rice being the main export product like Vietnam, buffalo is undoubtedly the most essential animal.
Photo: @moshichubby
In Vietnamese culture, the buffalo represents hard-working, one of the most significant virtues of the Vietnamese people. A buffalo can work for a long period of time, no matter how sunny it is, or even under the rain and stormy weather. The same can be described for the Vietnamese, who are willing to work hard no matter the circumstances to earn great results and bring money, happiness and wealth for their families. Laborious, diligent and studious, those have been positive traits of the Vietnamese in such a long time, gaining respect and trust from international countries.
The buffalo has been appearing in many forms of art, such as paintings, poems, works of literature and folk songs. If you had taken a look at some Dong Ho paintings – a significant culture feature of Vietnam, you will soon realize that the buffalo was included in lots of artworks. In some Vietnamese poems as well as folk verses and proverbs, the buffalo was also mentioned from time to time. It is safe to say that the buffalo has been staying by the Vietnamese side since the beginning of building and developing the S-shaped country.
In the old days, a buffalo was also the symbol of richness, and wealthy families often hung buffalo bones on their doors as a sign of affluentness. Nowadays, there are many festivals being held about buffalos as well, such as the buffalo-stabbing festival, which aims to pray for rich crops and enormous wealth, and the buffalo-fighting festival, which shows the incredible strength of this seemingly kind animal. During the development of Vietnam, the buffalo has become such a familiar image in daily life, arts and spiritual culture.
Photo: Vietnamtourist
Hoi An buffalo tours – an exciting experience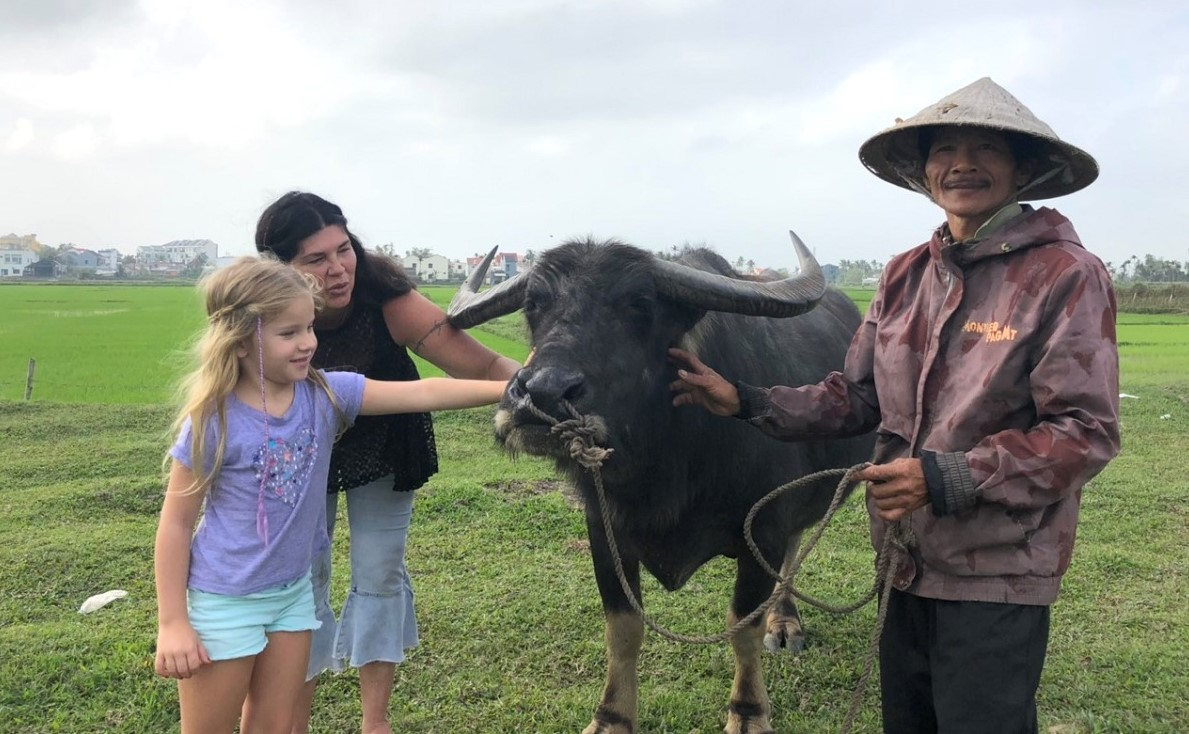 Rhon Adams and her daughter gently touch the buffalo with "dreamy" eyes. Photo courtesy of Le Nhien. (Photo: VnExpress)
Before the Covid-19 pandemic hit, Le Nhien, 48, from Thanh Tay area of Cam Chau Ward, central Vietnam's Hoi An with his well-trained buffaloes often welcomed tens to hundreds of curious visitors each day. After receiving a tour request from an agency, he would shower and clean his buffaloes one day prior to meeting customers.
According to VnExpress, a 30 to 60-minute buffalo tour usually consists of five minutes traversing grasslands or swamps, allowing visitors to lose themselves in the serene landscape, have a casual chat with farmers and listen to work songs.
Buffalo tours bring him VND14-15 million ($607-651) a month, much more than cultivating rice.
"I can earn a good sum of money to pay for my children's education and afford basic needs," said Nhien.
Nhien recalled that during the very first days he had noticed his buffaloes appearing timid and experiencing allergic reactions to the exotic perfumes of tourists. This prompted him to apply perfume on his hands to let them familiarize themselves with the fragrance once back in the stable.
After a few years, he gradually grew emotionally attached to each buffalo, giving them names based on their character like Lu, Pho, Binh and Xe. A qualified buffalo, according to Nhien, should be more than three years old and friendly enough to be ridden and approached by strangers.
Nhien started training his buffaloes as calves to respond to basic commands like go straight ahead, stop, turn left, turn right and reverse.
The farmer also has the chance to communicate with people from all around the world, commenting that foreigners whom he has met are "nice and kind-hearted."
In Vong Nhi Village, Cam Thanh Ward, Hoi An, 69-year-old Pham Nhi, owner of a vast 7,200-square-meter farm and four buffaloes, also makes a good living out of this service, offering additional home cooked meals. He earns VND12-13 million a month.
According to a tourism officer of Cam Thanh Ward, there are four households with a total of 12 buffaloes in the ward offering such tours.
He said thanks to the services, the households could earn VND60-100 million ($2,600-4,300) per year, much higher than income from mere farming.
Global travel restrictions due to Covid-19 have seen Nhien's 20 buffaloes temporarily return to the field, where they remain under strict care should tourism make a future comeback.
"I love them like my own children because they work hard to support the family. During the pandemic, they are back on their feet helping us with farm work," he added.
Since the coronavirus outbreak hit Vietnam in Feb. 2020, Nhi only got to welcome two groups of tourists, with the latest Tet (Lunar New Year) holiday plans canceled. He said the virus was causing him a hard time.
To help international tourists understand more about the culture and daily life of Vietnam, riding a water buffalo has become an entertainment activity in Hoi An countryside. After only a short time, thousands of travelers from all over the world have stopped by Hoi An to experience the activity themselves with great enthusiasm and excitement, according to Vietnam discovery website.
In the middle of Tra Que village, Hoi An city, surrounded by the peaceful fields and refreshing air, tourists can freely enjoy the clean atmosphere, taking unique pictures while waiting for their turn to ride the buffalo. A buffalo can carry from one to three people at the same time, either waddling in the river or walking around the vast rice fields. Each buffalo will be carefully supervised by a local, to make sure that it follows the right paths or moves at the right pace. Among numerous entertainment activities in Hoi An, such as visiting the ancient town, trying local dishes or experiencing a day of the farmer, riding a buffalo in Hoi An has quickly earned the anticipation and love of foreign travelers.
Thirteen years ago, Tran Van Khoa, director of Jack Tran Tours, visited every nook and cranny in idyllic wards of Hoi An like Cam Thanh, Cam Ha, An My, Cam Chau to find partners to operate buffalo tours. At first, it was not easy to convince farmers who had been toiling in the fields all their lives, according to VnExpress.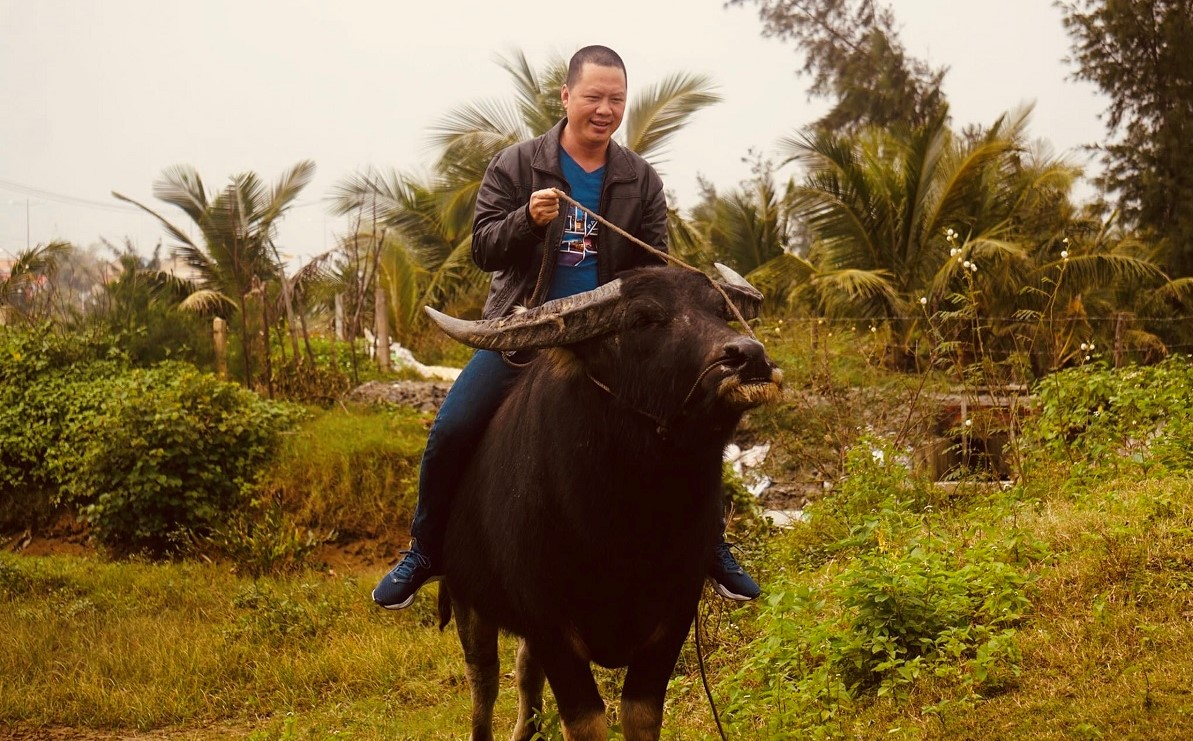 Khoa rides a buffalo. Photo courtesy of Tran Van Khoa.
It took Khoa three years to sufficiently instruct buffalo owners and build tours. In 2010, patience and hard work paid off, with the first tours officially rolled out.
Khoa said the idea came to him when he realized that visitors from developed countries like the U.K, the U.S. or New Zealand found the image of humans working alongside buffaloes in the field refreshing.
"To me, nothing beats the image of buffaloes ploughing the field to help farmers grow rice and feed the whole country. I usually tell tourists I am proud of Vietnam and our wet rice agriculture," he said.
Khoa considers this a win-win situation for both farmers and tourists. There are around 2,000 to 3,000 visitors a year that participate in these tours.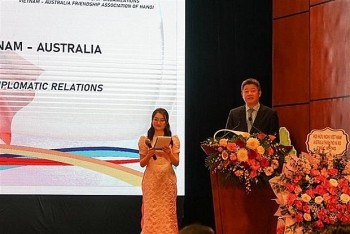 Friendship
A friendship exchange programme has been held recently in Hanoi to celebrate the 50th founding anniversary of the Vietnam-Australia diplomatic relations (February 26).