Hue Cuisine - the most beautiful culture in Vietnam
Hue, the former capital of Vietnam, is where visitors go to see its natural beauty, traditions and learn about its historic places. For Hue people, cuisine is both an art and the culture of the pleasure and happy life.
Hue is home to almost 1,700 of the country's 3,000 traditional dishes from three different lines: royal cuisine, folk cuisine and vegetarian.
With a flourishing monarchy reigning for more than a century from 1802 to 1945 during the Nguyen Dynasty, royal cuisine is known for its exceptional refinement that can be found from preparation to presentation.
Hue royal cuisine uses the finest ingredients served as eye-catching offerings in a harmony of colour, taste and the principles of fengshui.
Among the delights served in the royal court were eight precious dishes known as peacock imperial pie, phoenix patties, rhino skin, bear's paw, sambar deer tendons, orangutan lip, elephant's foot and swiftlet nests which all come with beautiful and meaningful names.
The dishes were creative and fragrant and presented beautifully for the king's pleasure with great efforts made carve fruit and vegetable.
There is a silent rule in Hue that local people eat with their eyes and noses before their mouths.
Also, the use of plates, bowls, chopsticks and others utensils must follow certain regulations from the dynasty.
"Hue royal cuisine is delicate and elegant. The ingredients are carefully chosen and cooked in a sophisticated way. The food is healthy and follows the Vietnamese philosophy which balances yin and yang," said Phan Thanh Hai, director of the Hue Relic Preservation Centre.
Hue used to be the citadel of Nguyen dynasty, and was a rich and developing city, where the royal dynasty lived and many mandarins, Confucians and intelligent people gathered. This requires not only good at processing Hue cuisine for the Hue people but also specializing in the popular food.
Nowadays, although Hue is not a role of central economics of the country, Hue is still maintained in rich style of the cuisine. And of course, in the long-standing cultural characteristics of Hue, the cuisine of Hue is the important part of the culture and arts of the lifestyle here.
Hue has both luxurious and rustic popular dishes. All are cooked with talent skills of the Hue people, creating special flavor of Hue food, according to Hue Flavor.
The royal food was written carefully by the chef and mandarins under the Nguyen dynasty in the book: "Kham Dinh Dai Nam" using for the royal parties. According the book, there were the three typical meals for the parties to welcome the official messengers of the other countries: one meal with the 50 kinds of dishes; another meal with 7 trays consisting of 40 dishes and the third meal with 25 types of 30 dishes … All the food contained in good royal bowls.
Sweet soup is available in all corners in Hue (Photo: VGP)
Today, with the combination of royal skills and the talent of the local adding with popular ingredients here, Hue people can cook hundreds of different kinds of Hue food which are luxury and rustic.
The popular dishes are found around the city Hue. Many Vietnamese people like mussel rice which is the most unforgettable. It's a simple dish, full of flavor made ​​from a produce located in the heart of the river of Hue. The delicious mussel rice by combining many ingredients: spices, herbs, banana, stalks finely chopped mint, chili sauce, fish sauce, salt, tamarind, peanut, garlic sauce and cool white rice; especially, mussel rice becomes sweet because of the mussel water and shrimp sauce, which is a little strange for many people tasting it at the first time.
Hue local food is rich in different dishes with nice smells and good taste mixing with the flavor of the fields, lagoons, mountains and rivers.
Only from citronella (lemon grass) and salt, homemakers of Hue add a little shrimp sauce with spices, garlic, sugar, shrimp paste and pepper to make lemongrass salt dish, which can be used with steam rice in the winter. What a nice one! That was never forgotten.
The meal of the Hue people often gets simply a few items, such as gobies, morning glory (spinach) and vegetable soup. The meal is always with a fish sauce dish in the middle. Hue people also like to eat raw fresh vegetable during the meal, which is fresh food for the good health good.
In addition, royal food at first only for the nobility of the royal family is gradually also followed the homemakers serving some rich families at the parties. And, they also become typical food for the Hue food nowadays, such as Nem Chua, meat pie and other dishes.
Moreover, Hue food also has rich beauty of vegetarian arts. Vegetarian food in Hue gets around 125 dishes. In the ancient time, under the Nguyen dynasty, there were many vegetarian people, not only Baddish people but also many royal families. Now it's easy to find the restaurants around Hue city serving the vegetarians here.
Along with the food in family meals, Hue street food has many kinds of good food. The beef vermicelli dish– Bun Bo Hue, pancake, the cakes and other soups are very well-known, which are the good choice for tasting food in Hue Vietnam.
Hue food is typical with special flavor as well as the attractive art of cooking and decoration when preparing to eat, which gives the foodies amazing feelings and pleasure style when tasting the food of Hue.
10 must-try dishes in Hue
1.Bun bo Hue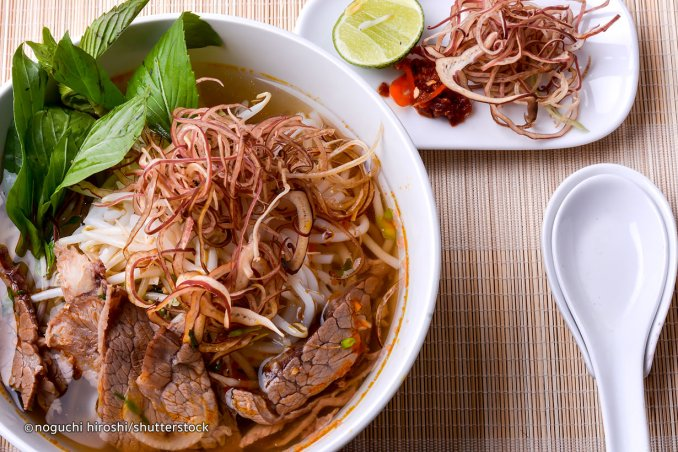 Photo: Shutterstock
Bun bo hue (Hue beef noodle soup) is a regional speciality comprising thick rice vermicelli and various toppings in a thick soup. Unlike pho, this dish is a combination of sweet, sour and spicy as it's flavoured with boiled bones and shank, annatto seeds, lemongrass, ginger, fermented shrimp paste, chilli oil, and sugar. As for the toppings, expect congealed pig blood, beef or pork knuckles, beansprouts, lime wedges, cilantro, diced green onions, banana blossoms, mint and basil. You can also ramp up the spiciness by adding fresh chillies and fermented fish sauce to your bun bo hue.
2. Nem Lui (Hue Lemongrass Skewers)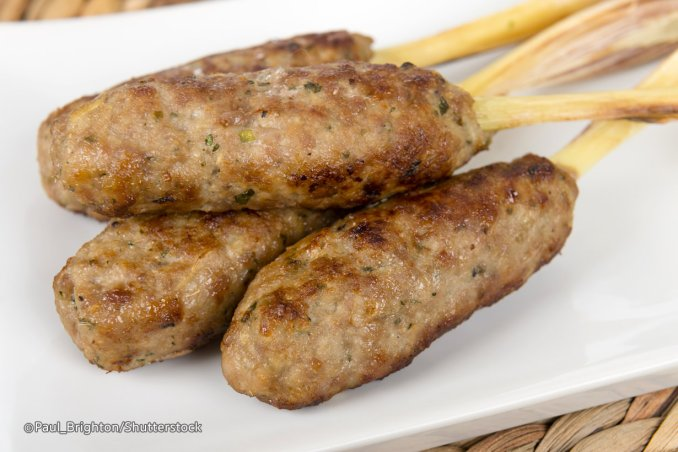 Photo: Shutterstock
Nem lui is a kebab-like dish using lemongrass stalks, which is wrapped with marinated meat (usually pork or beef) then grilled over a charcoal stove. Diners are also served with a side of rice paper, lettuce and cucumber slices, rice vermicelli, and fresh herbs. It's available as an appetiser at just about all local restaurants and hotels in Hue. For added flavour, dip nem lui into a local sauce made with ground peanuts, fermented beans, sesame seeds, shrimp paste, chopped garlic, chillies and shallots.
3.Com Hen (Clam Rice)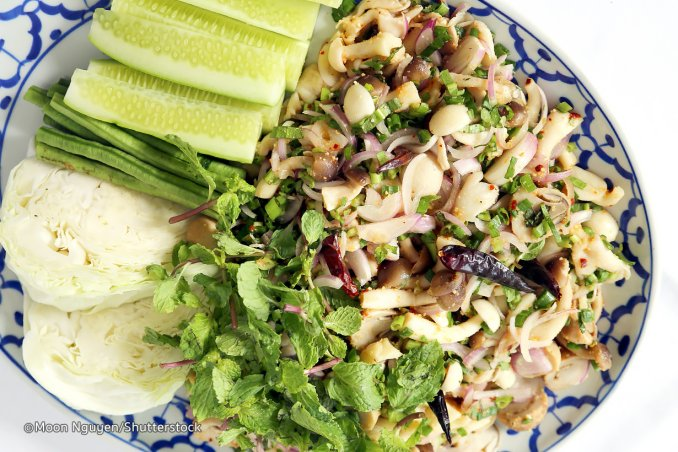 Photo: Shutterstock
Com hen (clam rice) consists of rice topped with baby basket clams, crispy pork skins, roasted peanuts, shrimp paste, and fresh greens. Commonly eaten as a filling breakfast, the clams are stir-fried with chopped garlic, onion, fish sauce, pepper, and mint leaves before they're poured over a plate of steamed jasmine rice. In some restaurants, com hen is often accompanied with a bowl of clam broth as well as a platter of coriander leaves, shredded banana blossoms and bean sprouts. There are plenty of food stalls in Dong Ba Market selling this Hue speciality for about VND 20,000.
4.Banh Khoai (Vietnamese Crepe)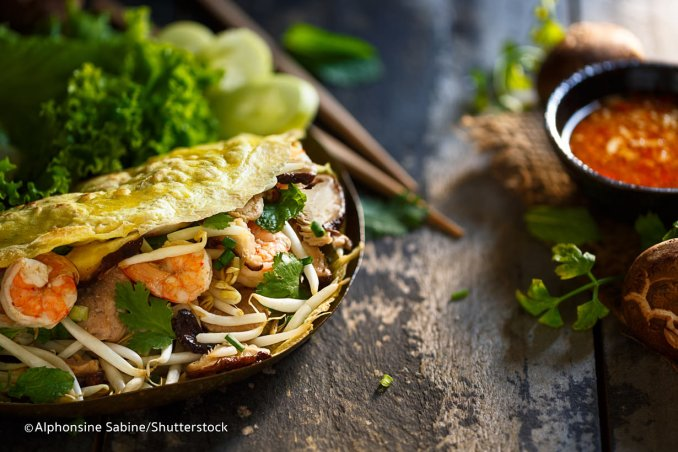 Photo: Shutterstock
Banh khoai is easily distinguished from other savoury snacks in Hue thanks to its turmeric yellow colour. Readily available at roadside stalls, local joints and markets, this open-faced crepe is typically filled with pork, shrimp, scallions and beansprouts. However, you can also find several venues offering this local snack with quail eggs and starfruit. As with most Vietnamese dishes, banh khoi is best eaten with a side of fresh greens and herbs as well as fermented soybean dipping sauce.
5.Banh Beo (Steamed Rice Cake)
Known in English as steamed rice cakes, banh beo look similar to cupcakes but are topped with dried shrimp, deep-fried pork rind, shallots, rice vinegar, and fresh herbs. Accompanied with a side of nuoc mam (fermented fish) dipping sauce and red chillies, there are two variations of this local delicacy - banh beo chen is prepared in a coin-sized ceramic saucer (you can get five or six for about VND 30,000 at sit-down restaurants) while the larger banh beo dia is eaten as a main dish.
6.Banh loc goi (Tapioca Dumplings)
Photo: Shutterstock
Banh loc goi, made with tapioca starch rather than rice flour, is filled with marinated shrimp and milled pork before it's wrapped in oiled banana leaves and steamed until cooked. To enjoy this Hue snack, simply unwrap the banana leaf and dip it in a platter of nuoc mam pha, a sauce made with vinegar, shrimp stock, fermented fish sauce, sugar, and fresh chilies.
7.Bun thit nuong (Vermicelli Noodles With Grilled Pork)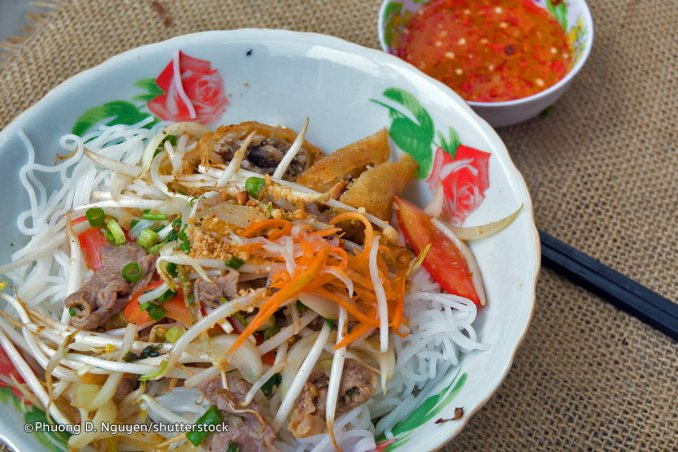 Photo: Shutterstock
Bun thit nuong comprises rice vermicelli noodles, grilled pork, lettuce, cucumbers, beansprouts, pickled daikon, basil, mint, chopped peanuts, and deep-fried spring rolls. Priced at VND 20,000 upwards, this hearty dish also comes with a side of pickled carrots, fresh lettuce and fermented fish dipping sauce. Eat like the locals by pouring the sauce over the noodles for an extra kick of flavour.
8.Banh It Ram (Fried Sticky Rice Dumplings)
Banh it ram is a Central Vietnamese speciality that pairs steamed sticky rice dumpling with a crispy patty that's also made with sticky rice. Similar to a Japanese mochi but eaten as an appetiser instead of dessert, the dumpling is topped with a savoury mix of green scallions, shrimp and pork. A platter of six banh it ram dumplings costs about VND 30,000 at a local joint, but prices are higher at more upscale restaurants and hotels.
9.Va Tron Salad (Hue Fig Salad)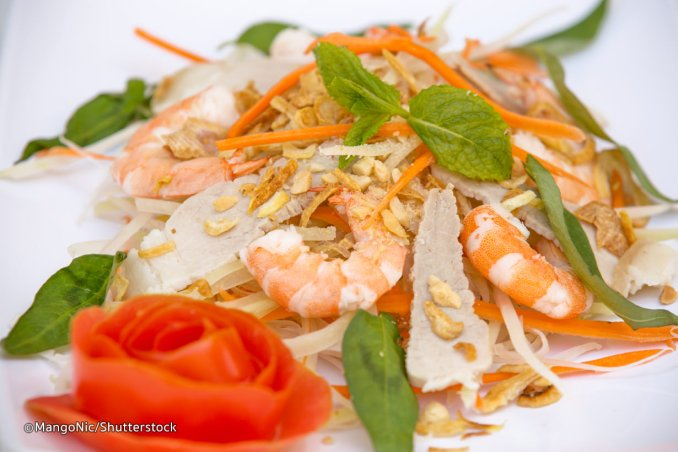 Photo: Shutterstock
Va tron salad was once a dish prepared only for royalty in Hue, combining boiled figs, sliced carrots, mushrooms and onions with either shrimp or shredded pork. Although it's traditionally served at such as family gatherings and weddings, there are plenty of Vietnamese restaurants offering this unique dish all year long. This particular type of green fig is only available in Central Vietnam, making it a must-try for first-time visitors in Hue. Our favourite way of enjoying va tron salad is by mixing in some fermented shrimp paste, roasted sesame seeds, and fried shallots.
10.Che Hat Sen (Lotus Seeds Sweet Soup)
Che hat sen is one of the many local desserts you can find in Hue, containing lotus seeds and green rice flakes in a sweet broth. Thanks to its cooling properties, locals often have it in the summer to combat the heat but you can enjoy this pretty much any time of the year. One of the most highly recommended dessert shops in Hue is Che Hem on Hung Vuong Street, where you can get a generous portion of che hat sen for about VND 3,000.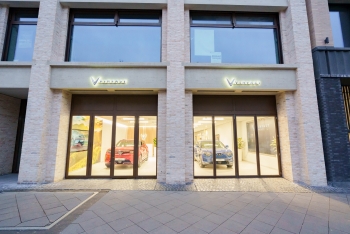 Economy
VinFast has officially opened its first two VinFast Stores in Cologne, Germany, and Paris, France.