Artist preserves and promotes traditional paintings
Nguyen Thi Oanh has never tired of spending all day with her 'treasure' of colors, poohna paper, and woodcuts. As the only female artisan from Dong Ho Painting Village, Oanh was recently awarded the title of "Meritorious Artisan" for her contributions to the arts.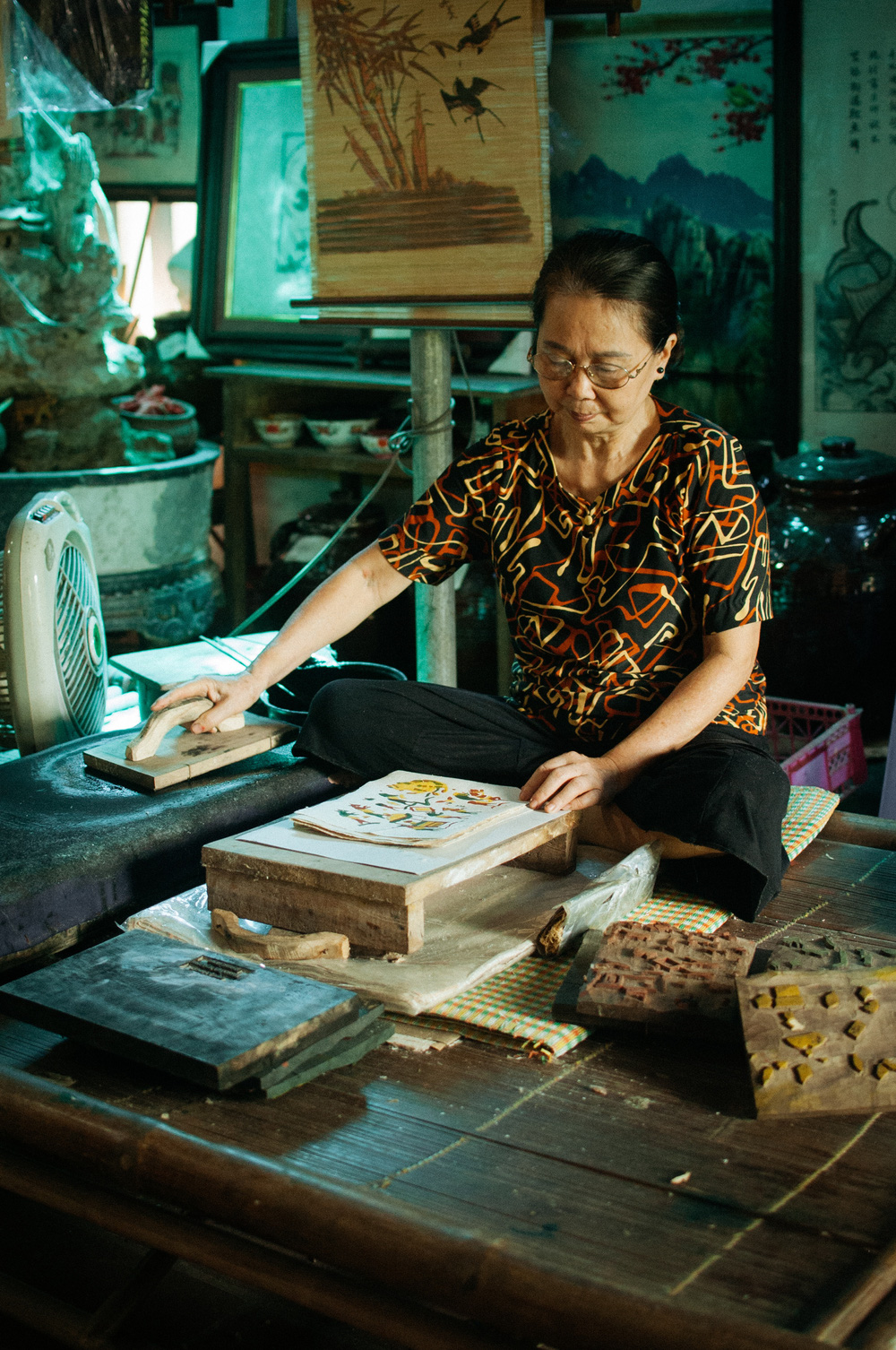 Artist Nguyen Thi Oanh works on traditional folk paintings every day. (Photo: VGP)
Born and raised in 1960 in the village's Song Ho Commune, Thuan Thanh District, Bac Ninh Province, Oanh has spent nearly half a century working with traditional folk paintings. Her works depict cultural beauty, social philosophies, and humanitarian desires while reflecting the essence and unique values of the Vietnamese people.
The form of art developed in the village has recently been put forward for UNESCO recognition. "I was born and grew up with painting. I painted every day after school and learned all the methods and secrets," said Oanh. "There used to be 17 painting families in the village, but due to various circumstances, but mainly the low income, many of them have quit, leaving only the Nguyen Đang and Nguyen Huu clans. I feel really lucky as I am the daughter of Nguyen Dang and daughter in law of Nguyen Huu."
She was introduced to Đông Hồ paintings when she was just 14 and has been charmed by their beauty ever since. She is the sixth generation in a family of seven generations creating folk paintings. "I used to practice painting when I came home from school, so the steps to take and tips on making a complete artwork are engraved on my memory," she said.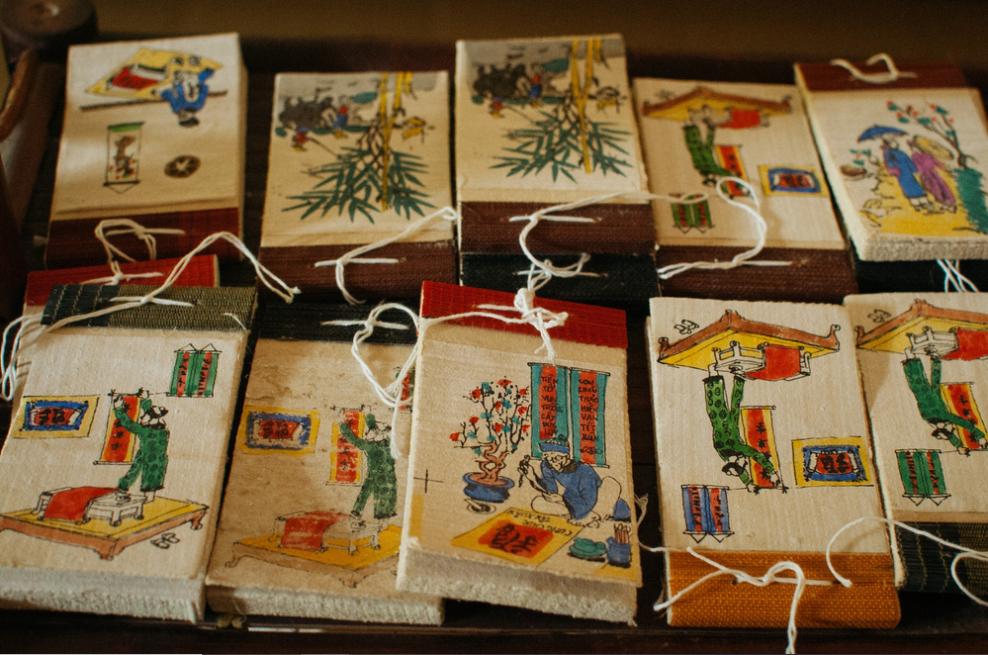 Artist Nguyen Thi Oanh produces different products with Dong Ho paintings to introduce her hometown specialty to a wider market. (Photo: VGP)
Oanh is the daughter-in-law of Nguyen Huu Sam who was the first person in the village to be officially recognized as an Excellent Artisan and also the first from Bac Ninh Province's 62 craft villages. He has led the drive to preserve folk painting by collecting and restoring old woodcuts while creating new ones and teaching people the technique of woodcut printing, VGP cited.
Artisan Sam decided to retire in 2010 and Oanh took charge of his facility. "He chose me as one of his two successors to hand down all of his skills and equipment," said Oanh. "The more I work in this field the more interested it gets because it dates back hundreds of years and is a treasure of Vietnamese history and culture," she said.
Like her father-in-law, Oanh uses old woodblocks to paint famous pictures such as Lon Dan (Pigs), Ga Dan (Chicken), and Dam Cuoi Chuot (Rats' Wedding) along with more than 40 new themes such as Village Festival, But Thap Pagoda and Painting Market in Tet.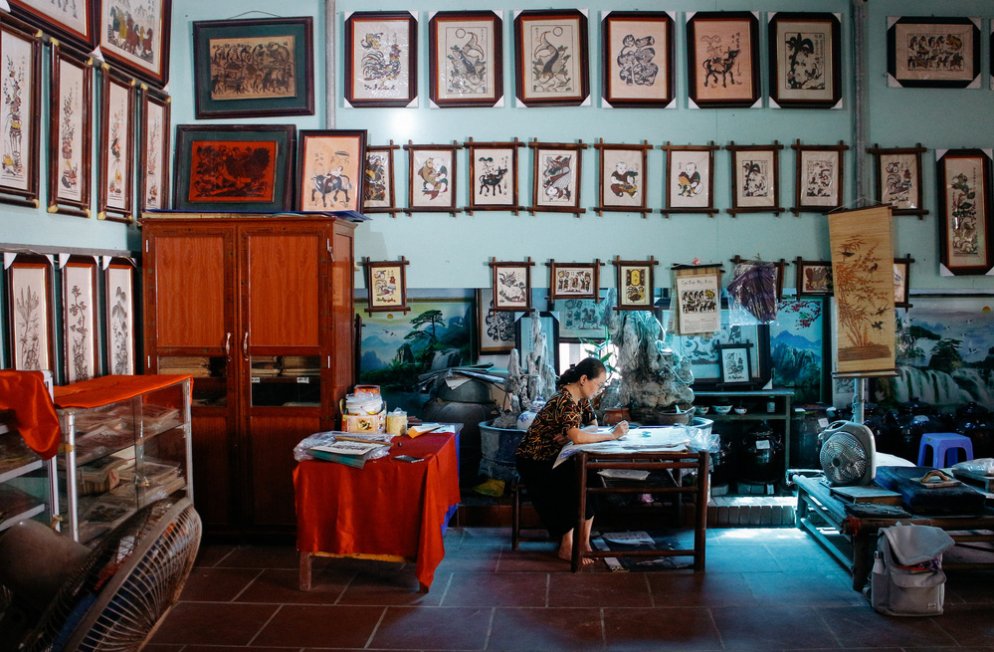 Artist Nguyen Thi Oanh has been working for about half of a century to preserve Dong Ho's traditional folk paintings. (Photo: VGP)
As well as traditional subjects, she has modernized the art form by integrating new themes into images and diversifying products featuring Đông Hồ folk paintings to attract more customers, for example replicating them on notebooks, calendars, and even wooden prints, said Vietnam Tourism.
Prior to receiving the title of Meritorious Artisan, Oanh's contribution to the traditional art was recognized with the titles "Artisan of the Vietnamese craft village" and "Artisan of Bắc Ninh Province", presented by the Ministry of Culture, Sports and Tourism. "It is a great source of happiness and honor to have my efforts recognized," she said.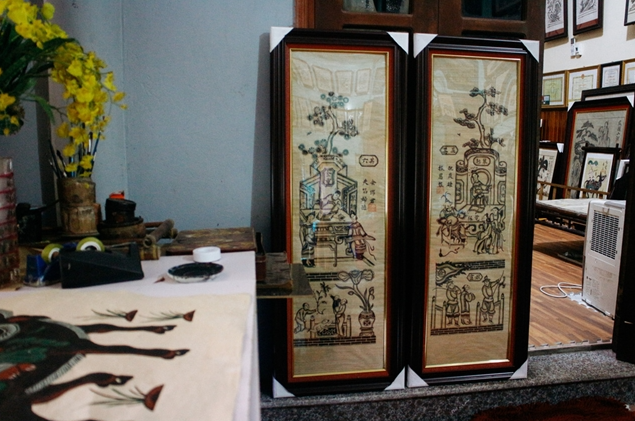 Century-old Dong Ho paintings preserved at Oanh's house. (Photo: Vietnam Tourism)
Upholding the tradition
First created in the 16th-17th centuries in a small village in Bac Ninh's Thuan Thanh District, Dong Ho paintings are one of the most famous art genres in Việt Nam, combining cultural beauty and values that represent the country's national heritage. Paintings depict subjects found in everyday life and reflect people's dreams for a prosperous and happy life.
A special feature of this woodblock printing art is that all materials are natural and found locally. Black color, for example, is taken from burned bamboo or straw, while the white color comes from ground shells of scallops. The visual language used is simple and easy to understand and so tends to leave an everlasting impression on viewers. It takes an artisan one or two days to complete one simple painting with little in the way of detail. More sophisticated works take longer, sometimes running into weeks.
The impact of the COVID-19 pandemic has hit most businesses and Đông Hồ folk paintings have not escaped the fallout. The village has scarcely welcomed any foreign tourists since the first outbreak. "We still have plenty of calendars in stock, while normally they sell like hotcakes," she said.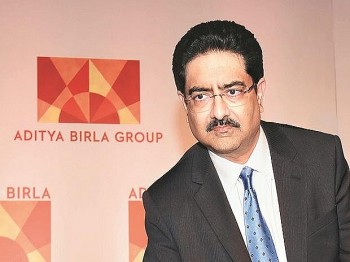 World
India is becoming more famous with many wealthy business billionaires, and the cumulative wealth of India's richest saw a rise of 50 percent in the year two of the pandemic, according to Forbes magazine. Take a look at these richest Indian billionaires in Asia and their huge net worth.