Homemade Mid-Autumn Festival Lanterns Harkens Back to Vietnam's Difficult Past
During Vietnam's troubled history, cheery lanterns were still made from scrap materials. Now during the country's worst wave of Covid-19, the tradition resumes.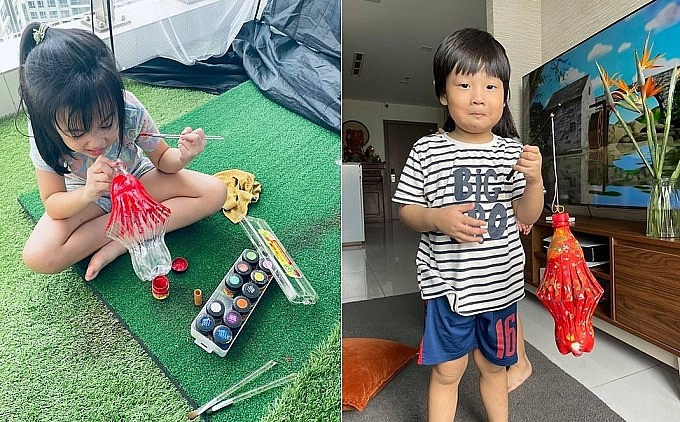 Gia Khanh made her own lantern to play with her brother. Photo: VnExpress
On September 15, Xuan Thanh, 29 years old, in Vinh Loc B commune, Binh Chanh district, sat down to cut milk cartons to make a lantern for his 11-month-old son, Duy Phuc. Phuong Nguyen, his wife, also sat next to him, she cut a candle to prepare to attach to the lantern.
Ho Chi Minh City is still in the days of social distancing because of the Covid-19 pandemic, so Mid-Autumn Festival activities are very quiet. Not wanting their children to lose the first Mid-Autumn Festival, Thanh and his wife discussed to try to make toys for their children.
In an apartment in Binh Thanh district, 7-year-old named Gia Khanh, daughter of Tran Sy laughed as she made a lantern from soft drink bottles. The body of the lantern is supported by the father, while the child is in charge of coloring.
The mid-autumn lantern made from milk cartons and soft drink bottles of Phuc or Khanh is the product of the trend of homemade lanterns this year in many families.
DIY (do it yourself) videos teaching how to make lanterns or Mid-Autumn Festival toys have been available on social networks for many years. This year, when the shops selling toys for the Mid-Autumn Festival were closed, the trend to make lanterns grew stronger. This trend exploded online from the end of August. On the evening of September 18, on a group of nearly 2 million followers, the topic of homemade mid-autumn lanterns amid Covid-19 had more than 3,000 discussions and exchange of experiences.
On September 19, at an apartment building in Quan Bau ward, Vinh City (Nghe An), Minh's daughter and a group of friends near her house practiced making Mid-Autumn lanterns. This year, the pandemic is still complicated, so the apartment management board does not organize the Mid-Autumn Festival like every year. To create atmosphere for the children, she and the residents of the same floor organized to make lanterns out of beer cans.
The lanterns made of milk cartons are more complicated, requiring the use of drills and cutters. After cutting the milk carton, Xuan Thanh used a clothes hook as a wire to attach the two milk cartons together. When the lantern was complete and spinning with the light yellow light of the candle, his child - Phuc laughed with delight. Thanh's products have sparked the trend of homemade lanterns in the alley.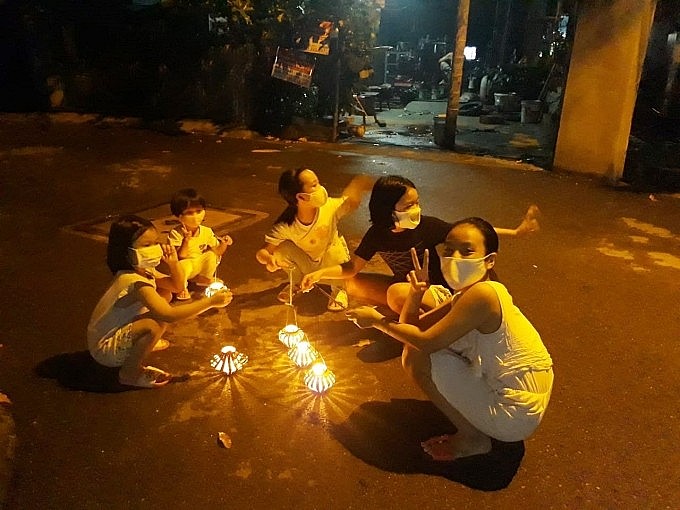 Children in the alley play with lanterns made from beer cans made by their parents. Photo: VnExpress
The creative crafts capture the wonder of children across Vietnam. Tran Sy, Gia Khanh's father said: "From an old soft drink bottle, I was assigned the task of cutting it, and my daughter took over the coloring. After she finished painting, she asked me to tie a string to hang on the chopsticks, then my children go out to play together."
Making lantern, Lien in Hoai Duc district (Hanoi) and her children reused old toys. "My child found an old dinosaur egg, then I instructed him to make the lantern. Being able to do it himself, he liked it very much," said Lien.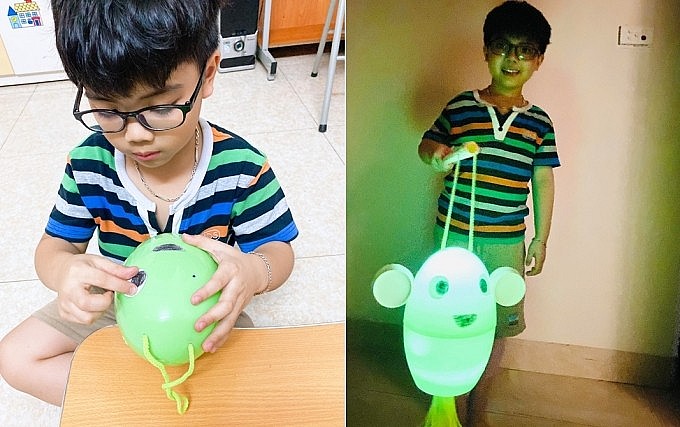 Mid-autumn lantern made of old dinosaur eggs of Quoc Tuan, 6 years old, son of Lien. Photo: VnExpress
Homemade lanterns help children have more experiences but also give adults a chance to relive childhood memories. Truc Ngan shared: "I like these homemade candle-lit lanterns rather than electric ones. The adults in the neighborhood feel as happy as returning to the Mid-Autumn Festival like the old days."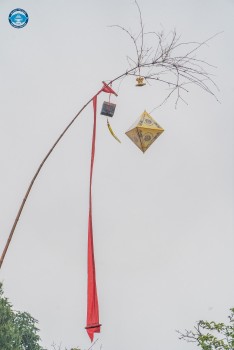 Viet's Home
In the past, the Neu pole (a tall bamboo pole with red garment strips used to ward off evil spirits during the lunar New Year) lowering ceremony at the royal palace of the Nguyen Dynasty was performed to mark the end of the New Year holiday and prepare to enter a new working year.