Hon Noi - The only swiftlet island open for tourists in Khanh Hoa
Among 33 islands exploiting birds' nest, only Hon Noi welcomes tourists to visit. Each year, this island only receives guests for 5 months, maximum of 300 guests per day to preserve the marine environment and sustainable development.
Hon Noi Island is about 13 nautical miles from the mainland. Starting from the port of Khanh Hoa Salangane Nests, visitors will get to Hon Noi after taking a 30-45-minute canoe journey, or a 1 and a half hours traveling by boat. This is an island with a long history of traditional industries for more than 700 years and was put into use in tourism in 2003 when the city. Nha Trang (Khanh Hoa) organizes the Sea Festival event.
In Nha Trang waters, swiftlets nest a lot on scattered islands offshore. Therefore, tourists will see a picture of green tents standing out on the yellow and brown color of the rock island. The tour guide named Cong said that these are the nest tents.
Normally, Hon Noi island only welcomes guests from April to September every year.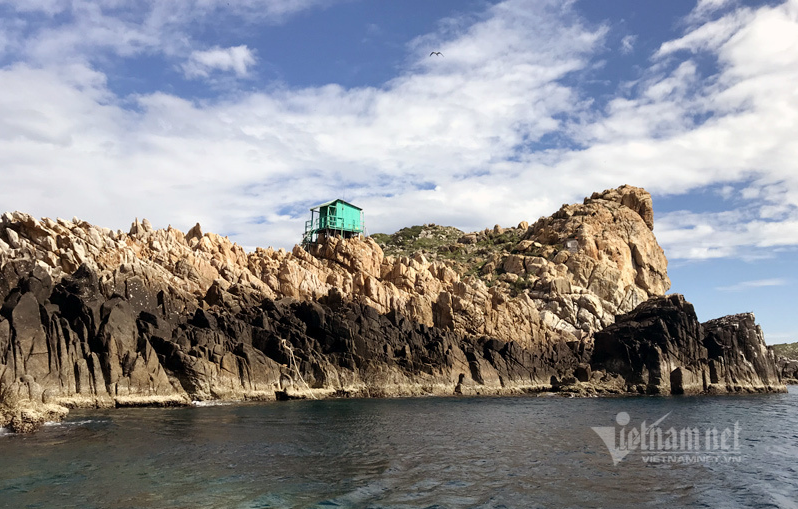 Green tents imply that the island has birds' nest (Photo: Vietnamnet)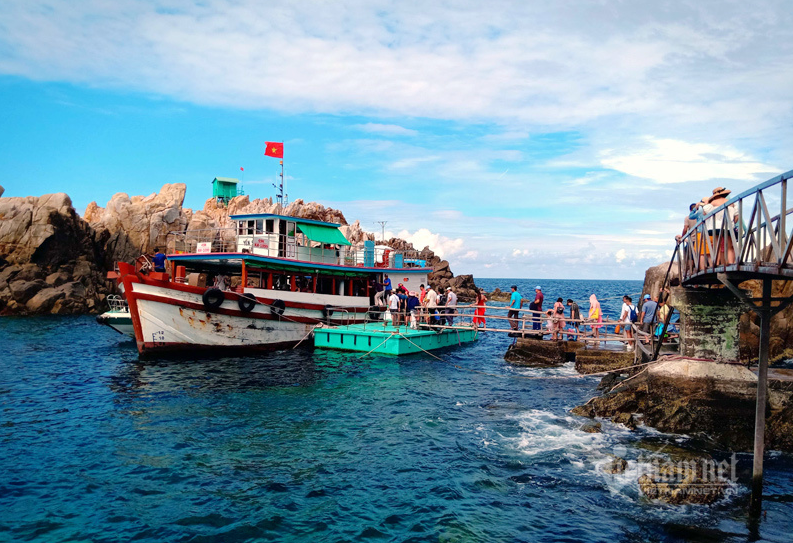 The travel company only sells 300 tickets per day to visit Hon Noi Island. (Photo: Vietnamnet)
In an interview with Vietnamnet reporters, Mr. Nguyen Ngoc Hai, Director of Sanest Tourist Company, said that in order to preserve the marine environment and ensure sustainable development, the company did not receive massively visitors. With 2 canoes and 2 wooden boats, only 300 guests can go to Hon Noi island per day. Before going to the island, passengers are asked to disinfect their shoes. They are not allowed to smoke or stay overnight on the island.
When visiting Hon Noi, tourists will have the opportunity of getting into Hon Sam cave to see how swiftlets nest, and learn the tradition of Khanh Hoa bird's nest profession. However, it is not Hon Ngoai that is considered as the largest natural nest cave in Vietnam. Unfortunately, visitors can only observe Hon Ngoai from a distance while only professional bird's nest worker can access.
The swiftlets have the habit of flying away to eat from early morning until evening, then return to the island. Therefore, in Hon Noi swiftlet island, there are only a few swiftlets who are busy nesting.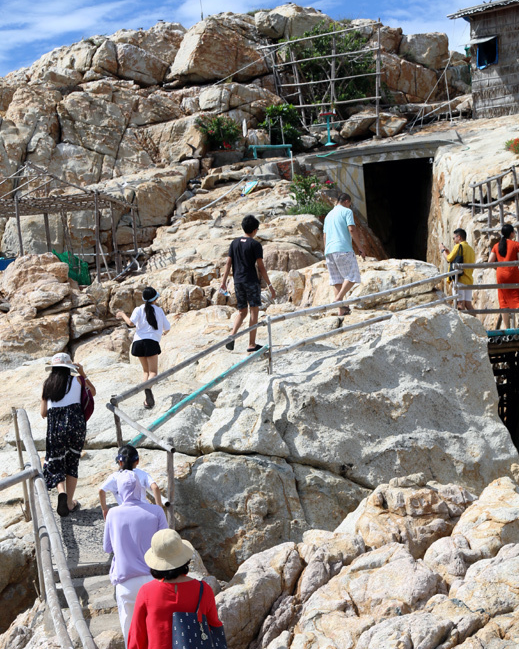 Photo: Vietnamnet
Mr. Nguyen Ngoc Hai said that bird's nest is distributed mainly in the coastal provinces of Central and South Vietnam, namely from Quang Binh to Con Dao, Phu Quoc. In particular, Khanh Hoa has a growing population of swiftlets at the fastest and most stable compared to any other part of Vietnam, about 173 swiftlet caves distributed on 33 islands. Khanh Hoa's swiftlets belong to the species that produces the world's top-quality nest, bringing high economic value.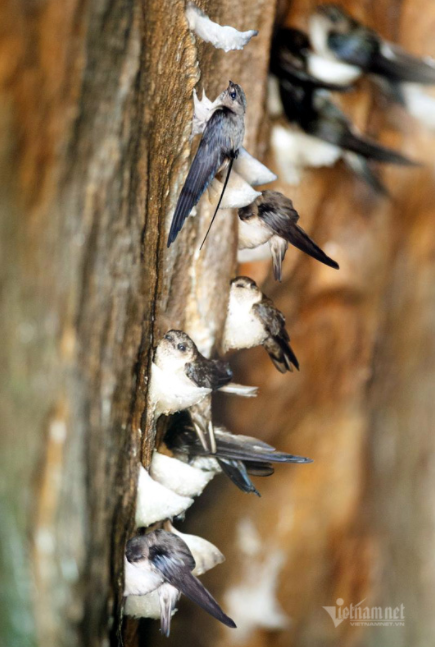 Photo: Vietnamnet
"The swiftlets fly out in the daytime and come back in the evening, so the visitors do not have much influence on their nesting." However, this island is determined to be an eco-tourism attraction. Therefore, we still put a limit in the number of tourists that we welcome on the island", Mr. Hai said.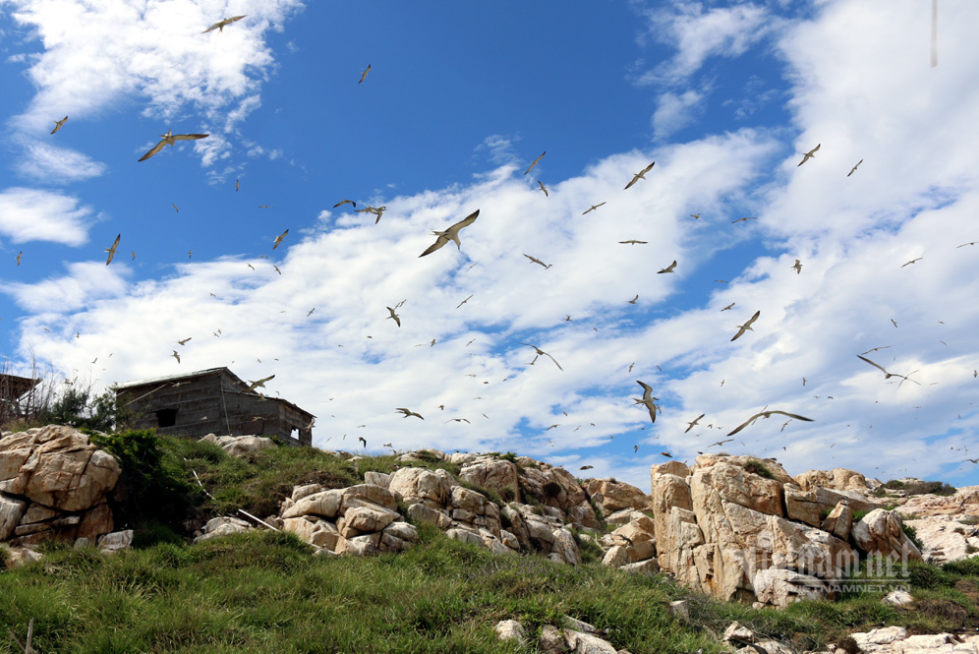 Hundreds of seagulls hover in the sky to welcome visitors (Photo: Vietnamnet)
In the imagination of tourists coming from Hanoi, the purpose of going to Hon Noi swiftlet island (Nha Trang, Khanh Hoa) is of course to watch bird's nest. However, what makes this trip special and amusing is that besides swiftlets, tourists also have chances to admire hundreds of seagulls flying around.
The seagulls flew in the air, making sounds to welcome tourists and to warn the island-watchers that strangers were coming.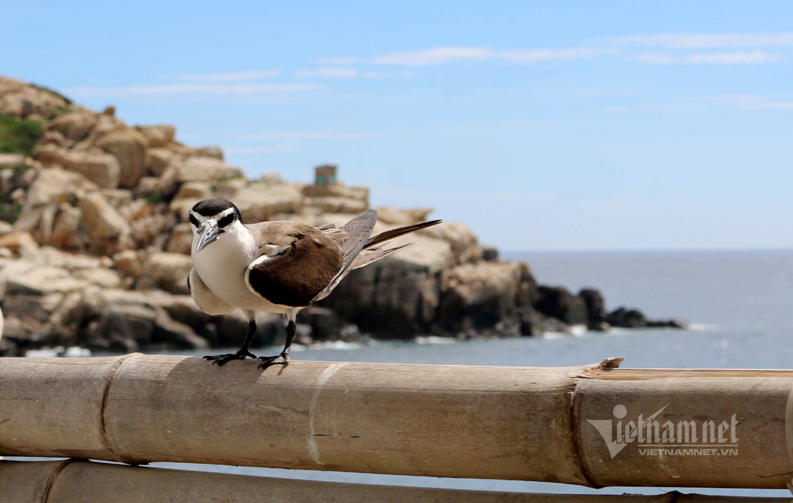 Photo: Vietnamnet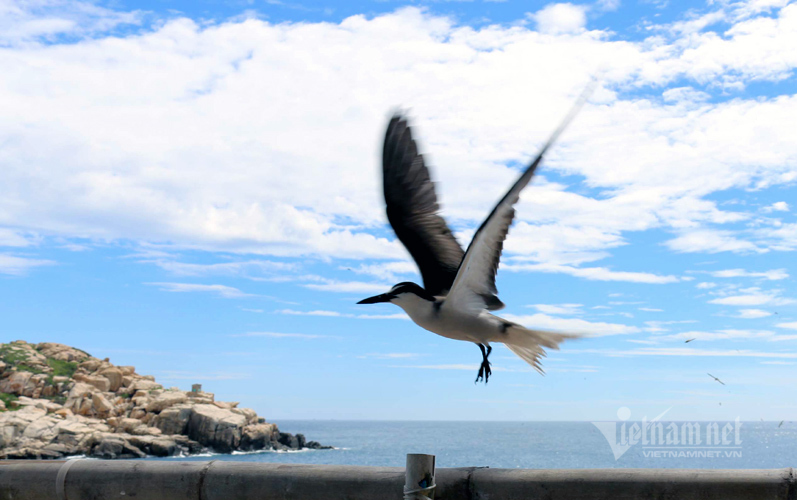 Photo: Vietnamnet
In Hon Noi, there are two types of seagulls: white seagulls and black seagulls. According to Nhat, who looks after the island of the swiftlet exploitation company, the people of the sea area have a saying "seagulls of non-land", meaning that those birds take nowhere to be home. They have the custom of choosing peaceful places to stay and move away when the sea in the area gets rough.
In Nha Trang waters, seagulls gather on Hon Noi swiftlet island from March to October every year. It is a sign of a calm sea and good weather. Relying on seagulls, seafarers can capture the conditions of the sky and sea, in order to make a reasonable exploitation plan.
Famous double beach on the swiftlets island (Photo: Vietnamnet)
After saying goodbye to the birds, visitors can climb to the top of Du Ha, 90 meters above sea level to see the double beach, separated by pure white sand. Then they can soak in the clear water of two tidal currents: one side is cool, the other is warm, one side is still while the other flaps.
In many islands being exploited for tourism, Hon Noi still retains its wild look. In islands such as Nam Du (Kien Giang), Ly Son (Quang Ngai), Co To (Quang Ninh), ... along with the development of tourism, the number of tourists is increasing, resulting in more and more garbage. However in Hon Noi Island, thanks to limited visitors and environmental protection measures, this place is still clean and rubbish-free.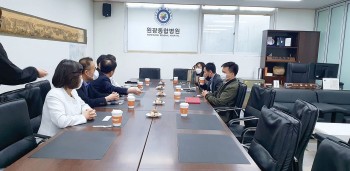 Overseas Vietnamese
A meeting was organized at the Wonkwang Hospital on the provision of medical support for the Vietnamese community in Korea in accordance with the signed cooperation agreement.