Hospitality among slowest industries in Vietnam to fully recover after COVID-19
Market researcher newspaper Savills considered hospitality among the first COVID-19 striken industries in Vietnam and will likely be among the slowest to fully recover.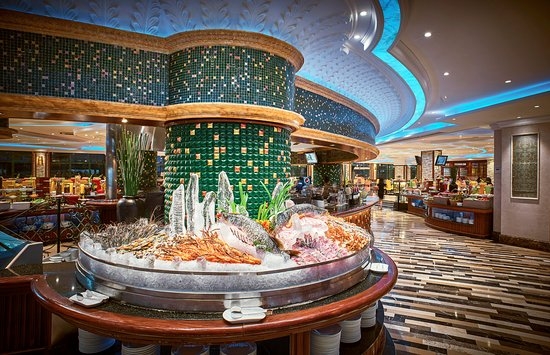 A buffet counter at Cafe Central An Dong, Ho Chi Minh city (Photo: Trip Advisor)
According to Savills, all categories are affected from international hotels, restaurant chains, multinational airlines to smaller family-owned restaurants and accommodation. This has happened across the world now with broadly similar dynamics and business consequences.
Savills attributes Vietnam's success in containing the COVID-19 to early response, saying the recent reopening of its restaurants, coffee shops and hotels has given the country a headstart over other countries. However, hospitality is seeing a careful recovery, while owners are still trying to understand the new normal and how long it will be before demand returns to pre-crisis levels.
So far, strategies adopted by restaurants and hotels have involved slowdowns or closures to cut costs, the retention of key personnel and preparations for reopening. This has helped overcome the short-term drop in revenues.
Although many of them have reopened, a full recovery is still a long way off, and they are currently relying mainly on local demand as the pandemic is still spreading elsewhere around the world.
With regard to operating costs, owners can partially manage their business activities over the short term with a temporary layoff of staff and the use of cash reserves, but for the longer term, if demand does not quickly rebound, loan repayments and property and land lease fees will have a greater impact on the bottom line, especially for restaurants and bars.
"We are hoping that financial institutions and landlords will work with owners to find mutually beneficial solutions and play constructive roles in the recovery process," Savills said.
Mauro Gasparotti, director of Savills Hotels APAC, suggested that creativity was key to generating additional revenues. "Hotels need to appeal more to local corporate guests and tourists. Staycations show one way of doing this, where hotels target 'close-by demand' with experience packages combining a room, food and beverages with full access to facilities," he remarked.
"We expect to see restaurants do the same, with more creative promotions to attract local guests such as cleverly themed weekend brunches. AirBnb establishments may also consider these types of experience packages, such as having a private chef on hand."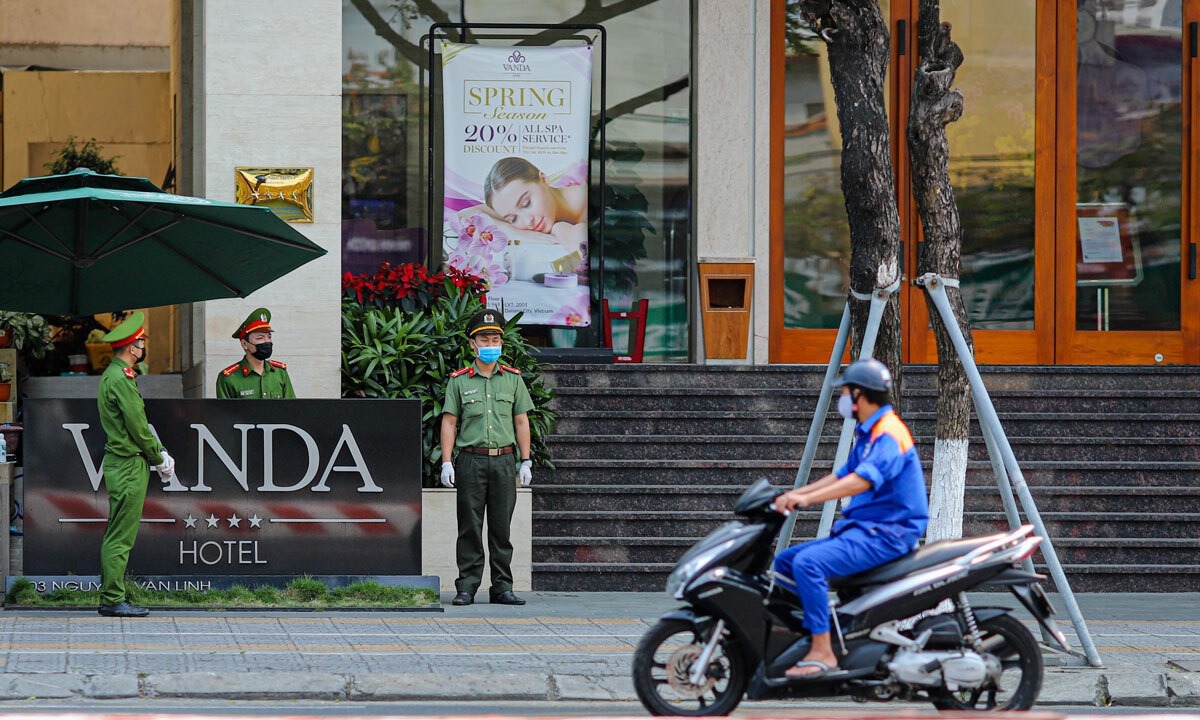 A motorbike driver rides past Vanda Hotel in Da Nang City in March 2020. (Photo: VnExpress)
According to Savills, recovery was initially expected to follow a V-shape model, which is common in the travel industry and has happened in Vietnam in the past. For example, the China and Russia inbound markets fell from June 2014 to June 2015 but both quickly recovered.
"However, the situation now is very different, and I believe most hotels and resorts should not expect a full recovery until well into 2021 as the global economic impact and evolution of the virus are both still uncertain," Gasparotti stressed.
"As mentioned, we will rely on local demand first, especially younger generations of independent travelers, followed by reopening to some major countries, to slowly return to regular services. That said, looking into the evolution of other countries like China where the government recently allowed hotels to reopen, it took only six weeks for occupancy to reach 32% by the end of March after the drastic fall in occupancy in the previous month, and this was mainly due to local travelers," Gasparotti added.
"This has allowed hotels and resorts to regain their business and resume operations. We hope Vietnam will once again prove to be a successful example for other countries to follow."
No matter what recovery scenarios occur as the nation begins to emerge from the effects of the novel coronavirus (COVID-19), this year's hotel market is expected to witness a sharp decline in terms of room capacity and will only get back to normal levels in 2021, according to VNE.
The Vietnam National Administration of Tourism expects foreign tourist arrivals to fall by 70 percent this year from 18 million last year if the disease is contained globally by June. The drop will be 75 percent if the pandemic continues until September.
Property consultancy CBRE said in a recent report that whatever the scenario there would be a huge fall in the number of tourists this year sending hotel occupancyrates plummeting.
According to CBRE forecast for the country, if the disease is controlled by June, the average room rate this year will drop by between 8% and 13% compared to 2019's figure, with the occupancy rate falling by between 46% to 51%. If the epidemic is successfully contained by September, the average room rate will decrease by between 15% to 20%, with the room capacity dropping by between 50% and 55% from last year, said the report on vov.
In Hanoi, occupancy rates could fall from over 80 percent last year to about 29 percent if the disease is contained in June, and to 25 percent if contained in September, and average tariffs would drop by 13 percent and 20 percent in the two cases, it said.
Fifteen new hospitality projects with 3,000 rooms were scheduled to enter the market by 2023, but there have been delays in construction because of the coronavirus.
In Ho Chi Minh City, rates could drop to 25 percent and 21 percent respectively from over 70 percent last year, and rents could fall 15 percent and 22 percent.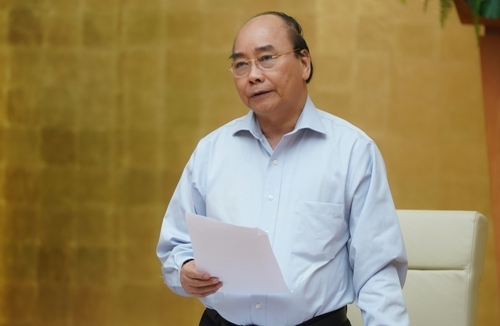 Prime Minister Nguyen Xuan Phuc presides over a meeting on COVID-19 prevention and control on May 15, 2020. (Photo: VGP)
Prime Minister Nguyen Xuan Phuc on May 15 announced the continuance of border close towards international commercial flights and foreign tourists, in a bid to prevent transmission from abroad. At the time of the issuance, Vietnam has gone nearly one month after the relaxed social distancing order and no community transmission reported. Meanwhile, Vietnam's tourism sector is trying to boost its domestic tourism.
Phuc ordered the Ministry of Culture, Sports and Tourism work with the Ministry of Foreign Affairs and the Health Ministry, among others, to promote tourism, including steps to open doors for international travelers if certain conditions are met, VNA reported.
Those tourists who come from the countries and territories which have brought the pandemic under control may be the first to enter Vietnam after a period of suspension, according to the prime minister.

The ministries should also put forward a proposal which details the period of time and the principles to phase out restrictions on entry and exit imposed as a result of the coronavirus crisis.

They should suggest steps to resume a number of international flights which are to arrange visits among family members and encourage trade, investment and tourism activities on a bilateral basis.

The prime minister called for continued efforts among police, military and healthcare workers to scrutinize all travelers coming to Vietnam.

These incoming travelers will be placed under quarantine for a fortnight's time to prevent community spread of the virus, he said.

Foreign investors, experts, skilled workers, business managers, officials, and Vietnamese students learning abroad are allowed to enter the nation but they must comply with the nation's quarantine regulations, VGP reported.

Phuc asked those officials in charge to keep a close watch on the people who travel through road border crossings.

The Ministry of Foreign Affairs should recommend overseas Vietnamese people to refrain from traveling home and take preventative measures in their host countries.

However, Vietnamese students under 18 years of age, those people who have gone overseas for medical treatment, tourists, those visiting their relatives, and those having finished their business trips will be eligible to return home.