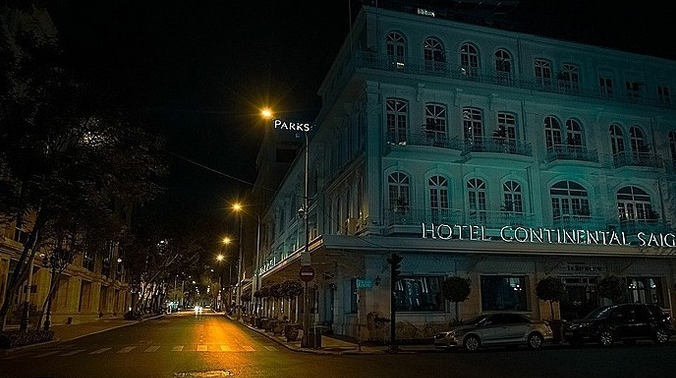 The historic Continental Saigon Hotel on the corner of Dong Khoi Street in downtown HCMC, normally bright and vibrant, stands dark and empty. Photo by VnExpress.
Hotel occupancy rates are set to plummet this year due to the coronavirus pandemic, and a recovery is only expected next year.
No matter what recovery scenarios occur as the nation begins to emerge from the effects of the novel coronavirus (COVID-19), this year's hotel market is expected to witness a sharp decline in terms of room capacity and will only get back to normal levels in 2021.
The Vietnam National Administration of Tourism expects foreign tourist arrivals to fall by 70 percent this year from 18 million last year if the disease is contained globally by June. The drop will be 75 percent if the pandemic continues until September.
Property consultancy CBRE said in a recent report that whatever the scenario there would be a huge fall in the number of tourists this year sending hotel occupancy rates plummeting.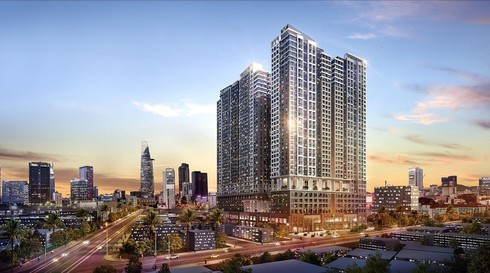 Illustration photo
According to CBRE forecast for the country, if the disease is controlled by June, the average room rate this year will drop by between 8% and 13% compared to 2019's figure, with the occupancy rate falling by between 46% to 51%. If the epidemic is successfully contained by September, the average room rate will decrease by between 15% to 20%, with the room capacity dropping by between 50% and 55% from last year, said the report on vov.
In Hanoi, occupancy rates could fall from over 80 percent last year to about 29 percent if the disease is contained in June, and to 25 percent if contained in September, and average tariffs would drop by 13 percent and 20 percent in the two cases, it said.
In Ho Chi Minh City, rates could drop to 25 percent and 21 percent respectively from over 70 percent last year, and rents could fall 15 percent and 22 percent, reported the vnexpress.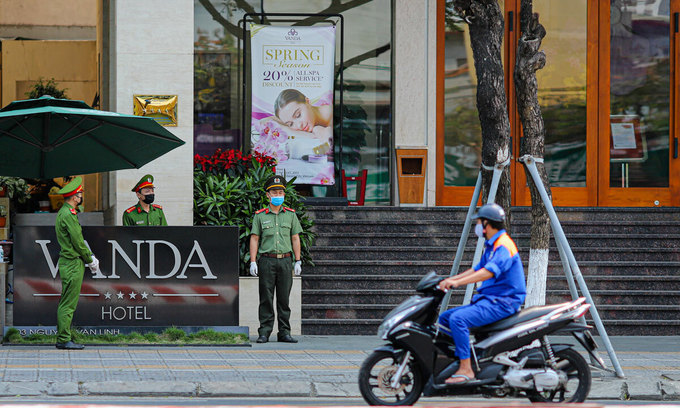 A motorbike driver rides past Vanda Hotel in Da Nang City in March 2020. Photo by VnExpress
Fifteen new hospitality projects with 3,000 rooms were scheduled to enter the market by 2023, but there have been delays in construction because of the coronavirus.
Mauro Gasparotti, director of Savills Hotels Asia Pacific, said most hotels have closed partially or fully to reduce costs, and only key personnel are still working to prepare for reopening.
In any event, a full recovery is unlikely until next year, he said.
Since international air services have yet to resume, in the short term local tourism will be the only source of demand. Younger people and independent travelers, would play a key role in the recovery of the industry, he added.
There is still uncertainty about when tourist numbers will return to pre-pandemic levels, he said.
However, the country was still said to have a fast recovering tourism industry post COVID-19 of among those whose governments prioritised health and wellbeing, and successfully contained the spread of the virus by RMIT University (Vietnam) Tourism and Hospitality Management Senior Lecturer Dr Nuno F. Ribeiro.
"The Vietnamese government has prioritised health and wellbeing during this epidemic, which is the most important thing in a people-intensive tourism industry," Dr Ribeiro said.
"The local government has also supported tourism businesses with several initiatives which will be critical to allow a quick return to operations once the pandemic is resolved. This will be much easier to do rather than rebuilding an entire economic sector if no help is provided."

It is estimated that a bright future for tourism in Vietnam after COVID-19 (Photo on rmit.edu)
In the space of only a few months, Vietnam went from millions of tourists to zero. Dr Ribeiro highlighted that this rapid decline has, and will continue to have, an enormous impact on tourism businesses, and affect the livelihood of hundreds of thousands of Vietnamese people.
The latest initiative from Vietnam's Prime Minister directed the State Bank of Vietnam to launch a credit support package worth 250 trillion VND (US$10.5 billion) for businesses, and the Ministry of Finance to offer 30 trillion VND (US$1.2 billion) for the same purpose, which Dr Ribeiro applauded.
"I think this is an excellent initiative, that will not only have immediate positive impacts right now, but also have positive effects in the future, not just for the tourism sector, but for the economy as a whole," he said.
"While this truly is an unprecedented event, the history of tourism since 1945 shows us that, while tourism is vulnerable to cyclical crises, it also rebounds faster and stronger than any other economic sector."
Vietnam Prime Minister has recently assigned the Ministry of Culture, Sports and Tourism to devise measures to develop tourism following COVID-19 pandemic.
As countries around the world are preparing to enter a race for tourism market share, Vietnam needs to make good use of images of COVID-19 prevention and control to promote itself as a "safe, friendly and health-assured" destination, while improving service quality and implementing reasonable promotional policies.
The ministry also issued Plan No.1749/KH-BVHTTDL to launch the programme "Vietnamese people travel Vietnam" in a bid to stimulate domestic tourism.
Run from June 1 to December 31, the programme aims to popularise attractive destinations and tourist products at reasonable prices, as well as introduce demand stimulus packages.
It will be launched in several tourism localities to attract the involvement of tourism associations, businesses, airlines and partners.
Localities were asked to offer ticket exemption or reduction at relic sites, museums and tourist areas, thus ensuring a safe, friendly and quality tourism environment.
Travel companies were recommended to develop new tourism products and improve professionalism in catering guests while transport firms should offer ticket reduction and work with travel agencies to build full-package tours.
Tarah Nguyen