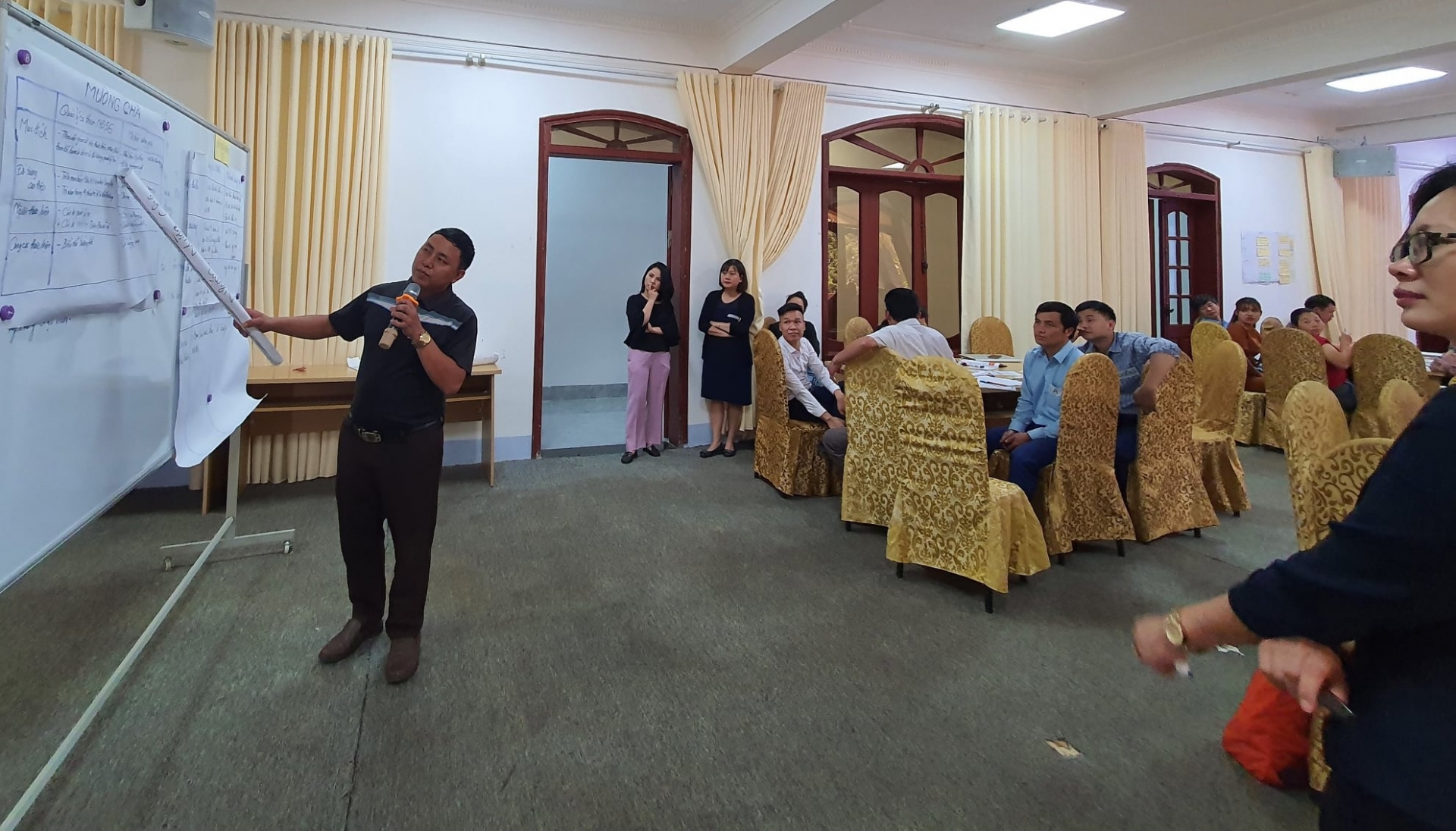 At the training course for commune and district child protection officers.
From April 12 to 14, in Dien Bien Phu City, Dien Bien Province, World Vision Vietnam joined hands with the provincial Department of Labor, Invalids and Social Affairs to organize a training on consultation - planning skills for commune and district child protection officers in project areas of World Vision Vietnam.
Through the training, child protection staff were equipped with more knowledge and skills to effectively implement community-based child protection models under the Child Protection Program for the period of 2021- 2025.
Specifically, the training helped participants explore child protection services at three levels: prevention, support and intervention; understand the role of the Household Visit Model in child protection services, know how to organize household visits.
It also help them cultivate essential skills to conduct successful household visits, such as observation skills, questioning skills, participatory planning skills, etc.
World Vision Vietnam's Household Visit Model aims to support families to better protect and take care of their children, especially those who are or are at risk of being in special circumstances.
The approach provides a platform for community volunteers (serving as home visitors) to develop supportive relationships with most vulnerable children and their families. Home visitors also connect most vulnerable children and their families to social networks and relevant services within the community.
The organization is implementing this model in 16 target communes of the Organization's Area Programs in Dien Bien Dong, Muong Cha, Tuan Giao and Tua Chua Districts.
World Vision Vietnam mainly focuses on conducting activities for children's well-being particularly in some fields like health, education, children's participation, and children protection.
This week, World Vision Vietnam, in collaboration with the Standing Committee of the Women's Union of Thanh Hoa Province, organized a training for trainers and their families on the Celebrating Families Program.
This is an opportunity for World Vision Viet Nam to improve knowledge and skills to implement the Celebrating Families Program in the community for collaborators in 10 mountainous districts of Thanh Hoa Province, of which many are World Vision Viet Nam's area programs, including Quan Son, Nhu Thanh, Ba Thuoc, Thuong Xuan, Nhu Xuan, Quan Hoa, Muong Lat, Ba Thuoc, Ngoc Lac, and Cam Thuy).
"Celebrating Families" is a model developed by World Vision to equip parents and caregivers with knowledge and skills to create a safe, loving, and happy environment for children to grow up in./.
Hannah Nguyen