How a struggling farmer became a billionaire inventor
Having completed only primary school education, Bui Thanh Tu, 54, became a billionaire with his noodle production line inventions and unique Đồng Tháp restaurants in Washington D.C.
Bui Thanh Tu factory is always crowded with workers. In one part of the factory lies six bun, pho and hu tieu noodles production lines. Rice is fed in on one end, and hot noodles come out the other. Tu's factory produces nearly 5 tons of noodles every day for markets in and outside of Dong Thap, a province in the Mekong Delta of Vietnam.
In the other part of the factory, Tu manufactures machines ordered by customers. "I just handed over the instant rice paper production line worth VND 10 billion. I never made this before, but I immediately agreed to make a machine that could produce 300 kilograms of rice paper per hour. I didn't realize what a bold decision it was until I completed the machine," Tu said.
From a struggling farmer and rice grinder….
Tu was born in a large, poor family. As the eldest son, he gave up studying after finishing primary school to take care of his family. Even after he married, Tu's family still struggled to make a living. Tu and his wife decided to move to the border district of Tan Hong to farm on wild land. As his fields were full of alum earth, the rice he grew kept dying.
"I was in a precarious dilemma. I came to Tan Hong with my bare hands and I had so much debt to pay at home. I thought of committing suicide, but when I remembered my family and the debts, I could not do it. It'd have been selfish of me to leave all the burdens for my family to handle," Tu said.
Coming back home, Tu and his wife opened a small bun noodle production workshop in Hong Ngu district of Dong Thap. They made over 10 kilograms of bun every day to earn money.
Realizing that the market was in serious need for machines to produce bun noodles, Tu attempted to make rice grinders. After successfully creating electrical, highly productive equipment, he began to provide rice grinding services. His first ever success in making machines urged Tu to pursue a long-term plan: opening a machinery workshop.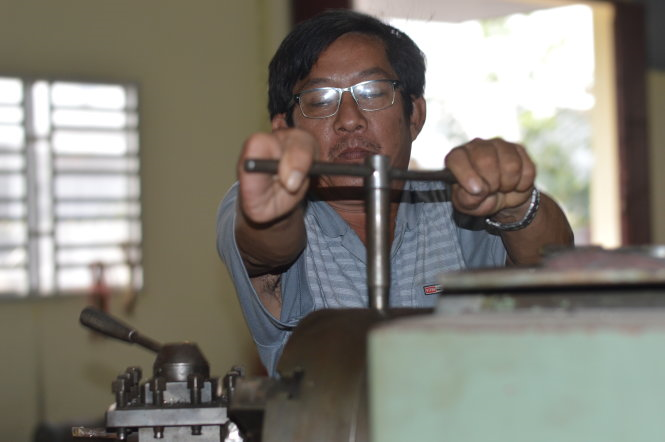 Bui Thanh Tu, an inventor without any diplomas. Photo: Tuoitre.vn
…to an engineer without any diplomas
Opportunities came in 2009, after he launched Bui Thanh Tu, the largest machinery workshop in his hometown. Tu's wife challenged him to develop a machine to produce banh hoi, a variation of bun noodles, so that "rice can turn into banh hoi immediately."
At the same time, a bun noodles producer in Long Xuyen city of An Giang province needed a similar product. Tu couldn't sleep after receiving a prepayment of VND 100 million, because he had only three months to complete the machine. His very first banh hoi production machine didn't work well. The engine stopped working after 10 minutes.
The following days, Tu spent most of his time staying beside the machine. He only stopped working when his body was exhausted. "I kept working on it and I finally discovered why my machine didn't work. I managed to get the machine to the customer on time," Tu said.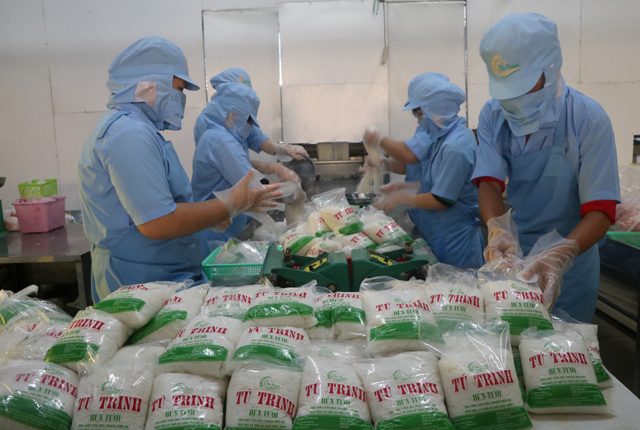 Packaged fresh bun noodles produced by Bui Thanh Tu. Photo: Bao Dong Thap
Reaching higher
From manufacturing just bun noodle makers, Tu researched and developed production lines for other types of Vietnamese noodle as well. Tu's reputation as a noodle making machine inventor soon spread throughout the Mekong Delta. His most successful invention is the banh hoi production line, which can produce around 400 kg/hour, achieving a capacity 10 times higher than manual banh hoi making.
In 2013, his machines were exported to the United States, where he helped an American Vietnamese couple to produce bun noodles from rice grown in the States. To honor the hardworking and resilient inventor, the American couple used Dong Thap, the name of his home province, as the title for their two restaurants in Portland, Oregon, and Seattle, Washington.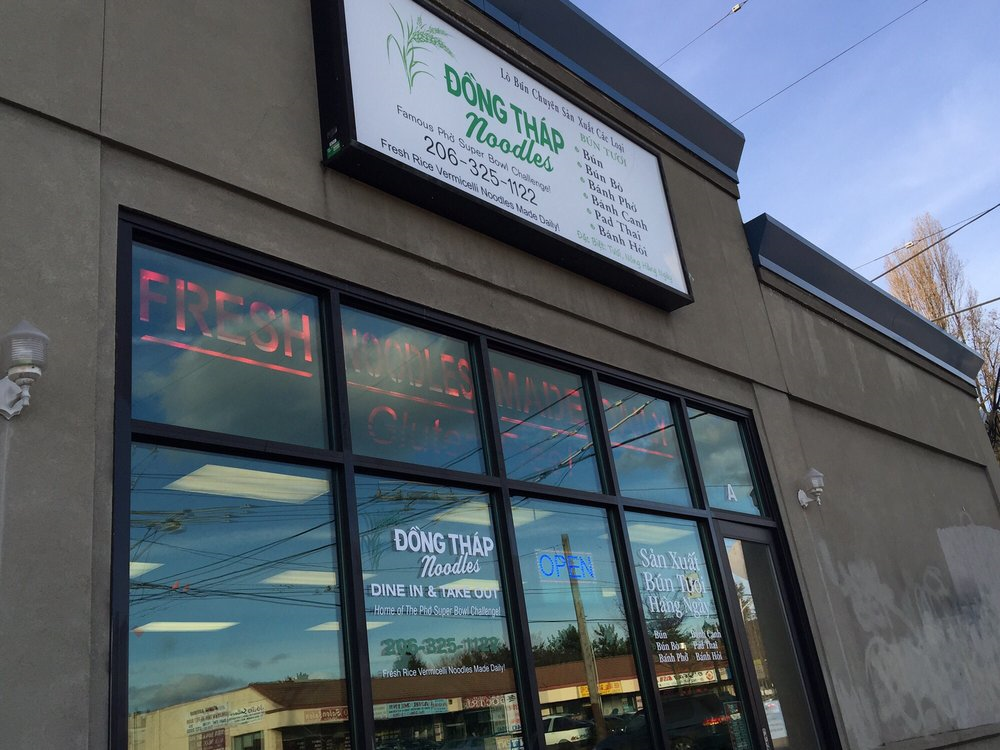 Dong Thap Noodles in Seattle, Washington. Photo: Two Hungry Blokes
Passionate about his job, Tu felt angry and disappointed when bun noodles sellers lied about the origin of the products. "They took bun from my factory in Hong Ngu district of Dong Thap but told customers the products were from Chau Doc city in An Giang, so they could sell bun at a higher price," Tu said. He discussed with his family and decided to build his own brand of bun noodles.
In 2019, Tu pioneered packaged fresh bun noodles, after observing the unhygienic way by which bun noodles were sold in the traditional market. Each package of bun produced by Tu weighed around 0.5 to 1 kilogram, with a clearly indicated brand and expiration date. Feeling confident with the quality of his products, Tu sold bun 20% higher than the market price. His turnover dropped by 50% as many sellers disagreed with his offer.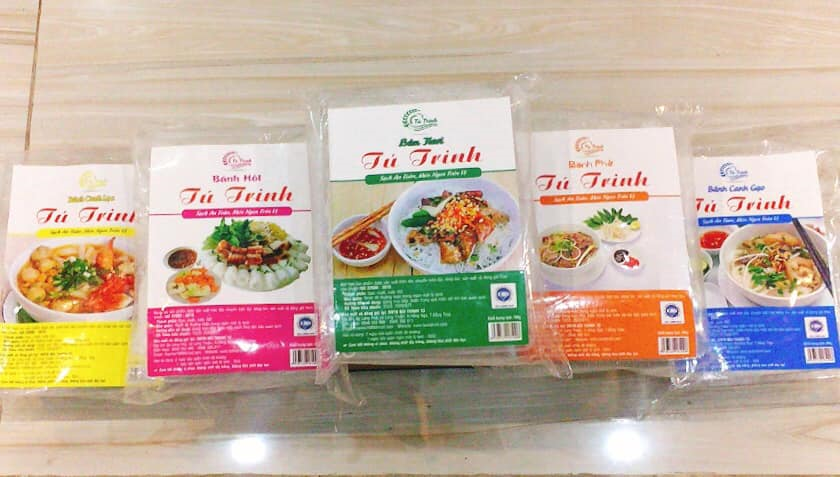 Tu Trinh noodles produced by Bui Thanh Tu. Photo: Bun-pho Tu Trinh Facebook Page
Tu patiently marketed his products. After one year, as customers began to love his products, Tu's factory increased bun noodles production from one to five tons per day. In many areas in Dong Thap, Tu's packaged fresh bun noodles account for more than 70% of the total products available.
"I only sell what I am using. I don't sell products that I myself don't dare to consume. If I am honest and dedicated to my craft, I can earn customer's trust and develop my business," Tu said.
Inspired by Tu's dedication, his children helped him enhance product quality and diversity. Together, Tu's family made dried soft bun that lasted longer without using any preservatives. The product was certified by Dong Thap and is currently exported to Korea at a rate of over 10 tons per month.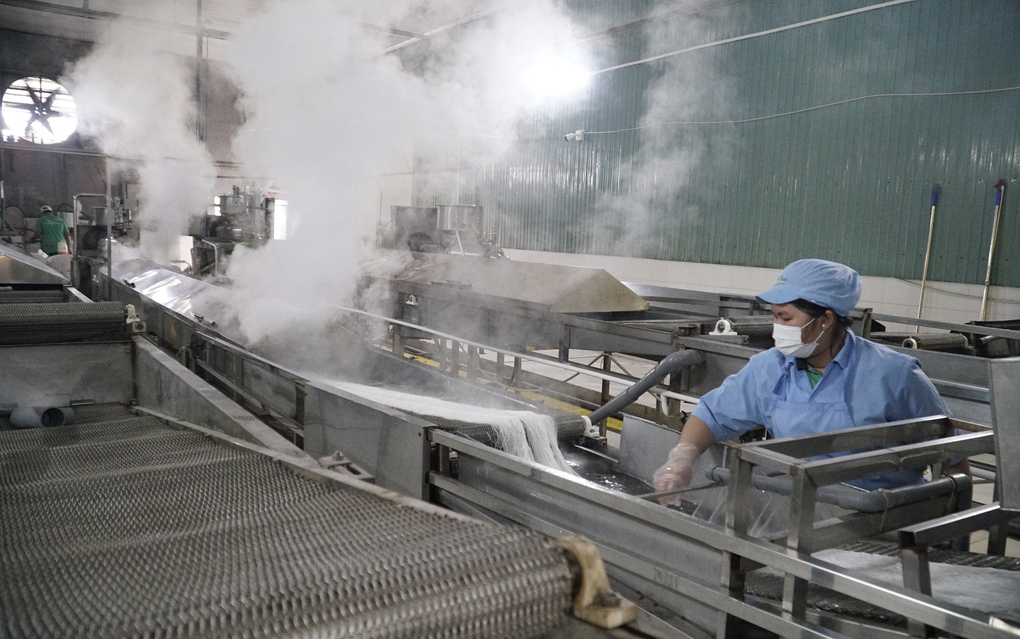 Tu's bun noodles factory is equipped with modern machines. Photo: VnExpress
Tu's products have appeared in many supermarkets and shopping malls. Le Thi My Ngoc, Tu's daughter-in-law, wishes to continue the family tradition. "He always supports whatever initiatives can elevate the quality of our bun noodles products," Ngoc said.
Tu's banh hoi production lines are highly praised and recognized by the Ministry of Industry and Trade. Tu was also awarded numerous certificates from authorities in Dong Thap.
Phan Trong Tuong, head of the Technological Management Office of the Dong Thap Department of Science and Technology, said Tu's production lines had improved the production of traditional food, effectively and practically.
"His inventions are not only valuable in terms of economic development but also in inspiring community innovation by realizing standards-based ideas and commercializing innovative products," Tuong said.