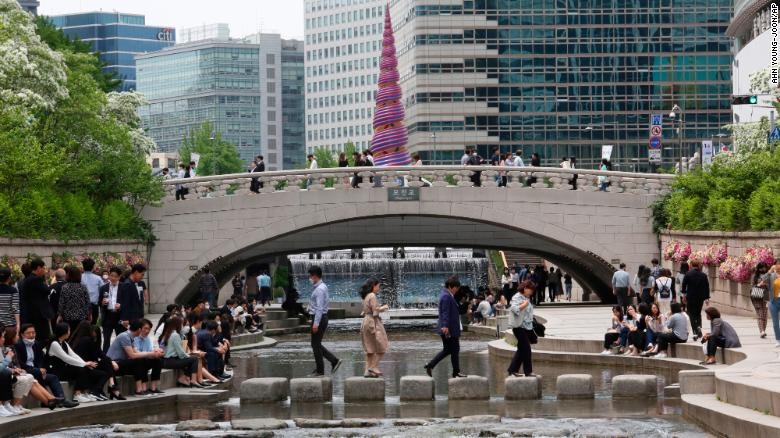 People relax at the Cheonggye Stream in the South Korean capital, Seoul, on Thursday amid a lifting of restrictions in the wake of the coronavirus pandemic (Photo: CNN).
South Korea had the largest outbreak outside of China in February. But the country used a combination of widespread testing, a strict quarantine regime and contact tracing to contain the coronavirus without having to impose a widespread lockdown.
Germany, on the other hand, had its advanced diagnostics industry at play. It was, hence, able to conduct mass testing from early on. Its coronavirus response was widely seen as a success story in Europe.
But both countries, as soon as they began relaxing its social distancing rules, had to trace back a few of its steps owing to new outbreaks -- underscoring the dangers authorities face as they try to reopen their economies, according to Wion News.
SOUTH KOREA
Against that backdrop, the South Korean government on Wednesday started to relax its strict social distancing rules, imposed on March 22, but only in line with a set of guidelines referred to as the "distancing in daily life" policy.
According to these guidelines, people should stay at home if they become sick with suspected Covid-19 symptoms, continue to keep a distance of 2 meters (6 feet) from others, wash their hands for 30 seconds and keep rooms well ventilated and disinfected regularly. Those aged over 65 and in high-risk groups should continue to stay home and avoid enclosed and crowded spaces, cited CNN.
In line with this, South Korea's baseball season resumed Tuesday -- but with games played in empty stadiums, while umpires and base coaches wore masks. In one game, instead of the ceremonial first pitch, there was a socially distant start as a boy in a big clear balloon walked from the mound to the catcher.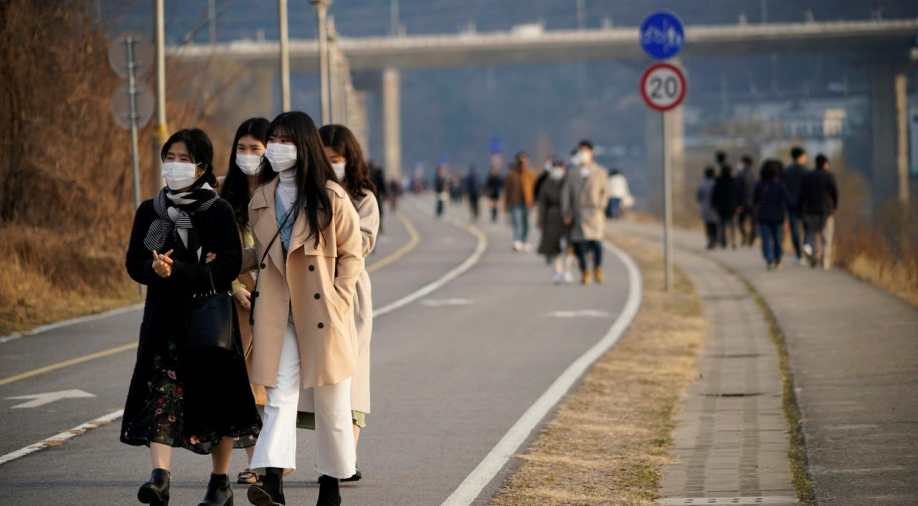 Students in South Korea will start to return to school from May 13 (Photo: Wion News)
Children will start to return to school from May 13. Speaking Monday, South Korean education minister Yoo Eun-Hae told students what to expect in this new, post-coronavirus reality.
"As soon as you arrive at a class, you will need to wipe your desk while windows should be opened frequently," she said. "You will also be required to wear a mask except for at mealtimes and maintain double arm's length distance when you are on the move or are standing in line. You must remember these rules and we urge you keep them."
South Korea's Prime Minister Chung Sye-kyun told a briefing Sunday that closed facilities would reopen gradually and that events and gatherings would be allowed as long as they abide by disinfection guidelines, reported by CNN
But outbreaks at nightclubs undid a lot of effort by the people and the government.
Seoul closed down more than 2,100 bars and other nightspots on Saturday because of a new cluster of coronavirus infections.
Many of the infections were linked to a 29-year-old man who visited three nightclubs before testing positive.
GERMANY
Germany has also been taking a step-by-step approach to reopening for business.
Chancellor Angela Merkel told Germans on Wednesday that they could "afford a bit of courage," but cautioned that "we have to watch that this thing does not slip out of our hands."
Limits on social contact would remain in place until June 5, she said, but people can now meet with members of one other household as well as their own. People must still remain 1.5 meters (5 feet) apart and cover their mouths and noses in public.
Shops can reopen but with additional hygiene measures, Merkel added, speaking at a news conference following a video meeting with the prime ministers of Germany's 16 states. "The first phase of the pandemic is behind us but we are still at the beginning and it will be with us for a long time," Merkel said.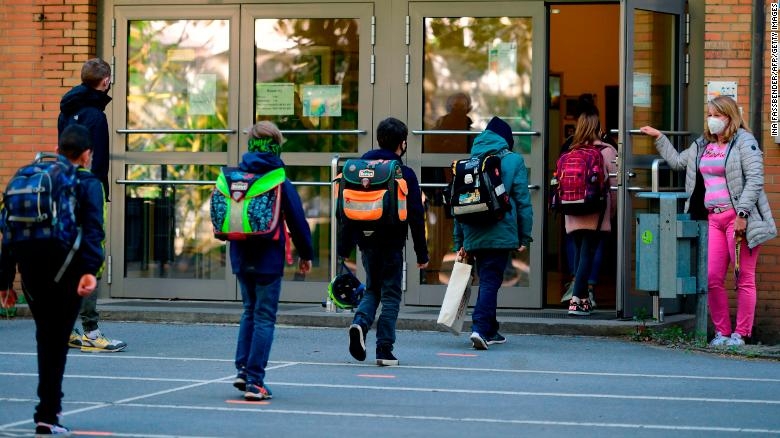 Children respect social distancing rules as they enter the Petri primary school in Dortmund, western Germany, on Thursday, as the school reopens for some pupils (Photo: CNN).
Germany's top football league, the Bundesliga, will resume play from May 16 - but under tight restrictions and without spectators.
Germany's relatively cautious approach to reopening appears prudent.
Daily new cases have dropped into the hundreds -- this is not trivial, but it's a level that can hopefully be managed with a strong system for testing, tracing and isolation.
What, however, came as a big test of the government's strategy for dealing with any resurgence of the virus were the outbreaks at three slaughterhouses, according to Wion News.
Germany's coronavirus response is widely seen as a success story in Europe. The country's Covid-19 death toll has stayed relatively low compared to other countries and its well-resourced health system allowed its hospitals to accept patients from other, more embattled, European countries. Germany's advanced diagnostics industry meant it was able to conduct mass testing from early on.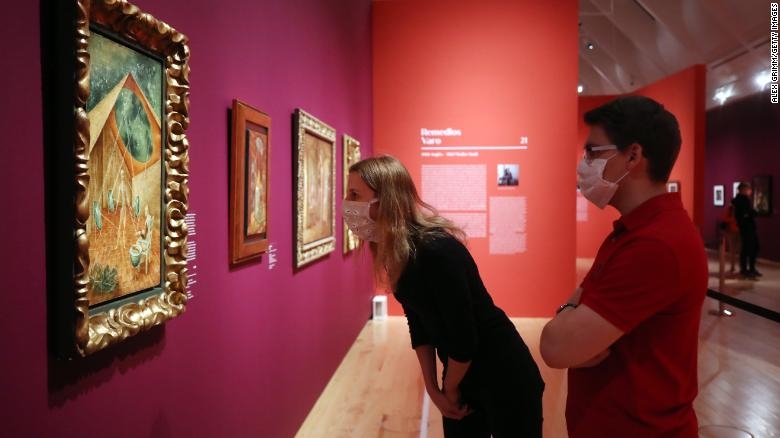 Visitors wearing face masks walk through an exhibition at the Schirn Kunsthalle Frankfurt art museum Wednesday, on the first day the museum reopened to the public during the coronavirus crisis (Photo: CNN).
DISCUSSIONS CONTINUE
Germany and South Korea have both carried out extensive testing and contact tracing and have been hailed for avoiding the mass deaths that have overwhelmed other countries, cited Time.
Urgent discussions, hence, continue on how to lift restrictions on people's lives and reboot the economy without jeopardising the progress made in containing the spread of the coronavirus.
The only way out is to address the public health crisis. Experts had already earlier warned that the lockdown was not a solution -- it was an emergency pause. And that a strategy has to be developed and prepared.
According to latest data, the novel coronavirus has infected over 4 million people and killed more than 280,000 across the world.
Candy Lee