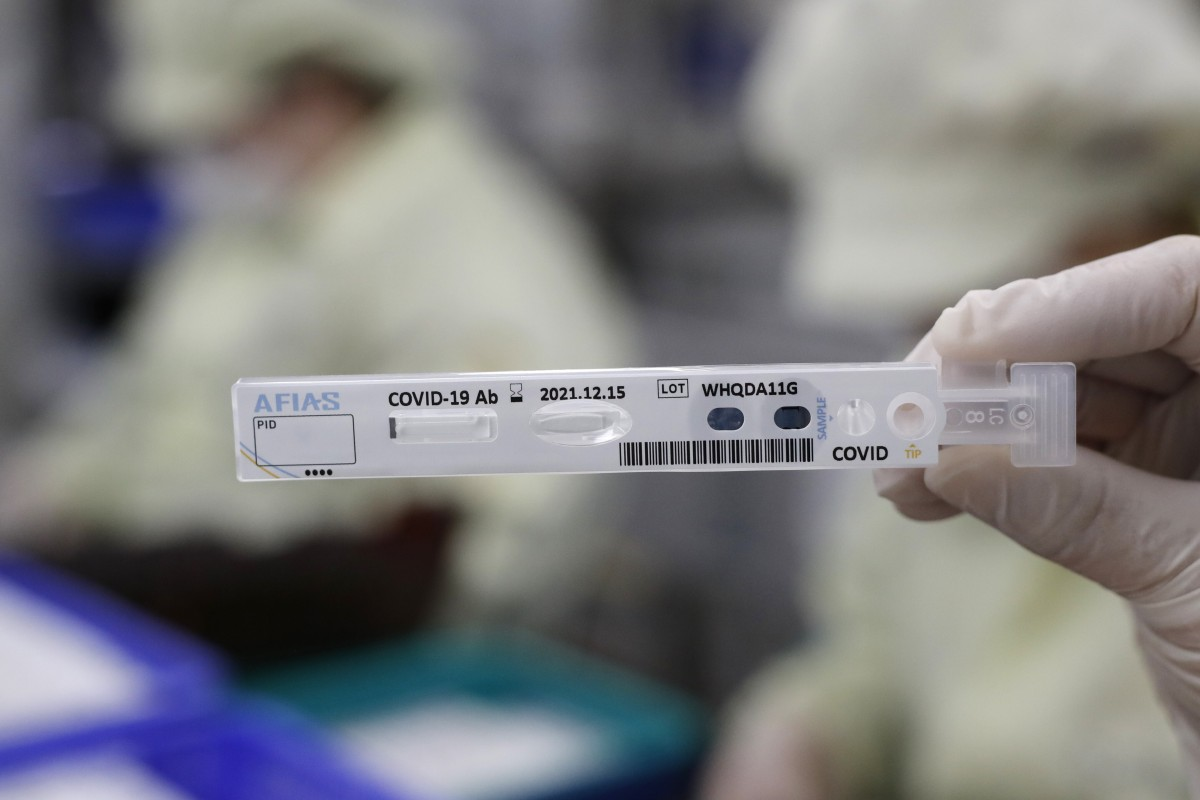 An South Korean official holds up an antibody test cartridge. Photo: AP
The information was released in a news conference featuring of the Central Clinical Committee for Emerging Disease Control in South Korea, featuring physicians and experts treating Covid-19 patients in the nation. In the event, the possibility of the coronavirus reactivation or reinfection was revealed, Korea Biomedical Review reported.
Oh Myung-don, who heads the committee, said the reactivation of the coronavirus is impossible because the Covid-19 virus does not cause chronic inflammation by going through a latent phase after invading the host gene.
The panel also noted that the Covid-19 infection and the viral proliferation occur in respiratory epithelial cells, which means that viral RNA fragments may exist in epithelial cells even after the virus is inactivated.
As for antibody testing, the committee said various antibody tests offer widely different degrees of sensitivity and specificity. Thus, researchers should pay attention to the possibility of false positives in antibody formation, it said.
Since many could show no symptoms even with the Covid-19 infection, however, health officials might use antibody testing to check asymptomatic Covid-19 infection, it added.
The central clinical committee also released clinical data of Covid-19 patients accumulated so far to advise how hospitals should manage their beds and medical resources in case a second wave of the Covid-19 outbreak occurs.
According to analysis on 1,868 Covid-19 patients registered in the Korea Centers for Disease Control and Prevention's clinical information system, the median age of the patients was 43, and it took five days from diagnosis to hospitalization on average.
On admission, 200 patients (10.7 percent) had no symptoms, and 132 (7.1 percent) needed oxygen treatment.
On the second day of hospitalization, only 0.7 percent of 1,737 patients with mild symptoms had clinical severity worsened in the next two weeks. Nine patients needed oxygen treatment, and three needed a ventilator or extracorporeal membrane oxygenation (ECMO).
Among 96 patients who needed oxygen administration and 35 severe patients requiring a ventilator or ECMO until the second day of hospitalization, 10.4 percent and 2.9 percent, respectively, experienced more severity in the next two weeks of hospitalization. On the other hand, 74 percent and 60.1 percent had the severity eased, respectively.
Throughout the outbreak, the Korean public's opinions about surveillance have been overwhelmingly positive. COVID-19 fatalities in Korea are a third of the global average, and Korea is one of very few countries to have flattened the curve and so far avoided a re-emergence of virus, Brookings reported.
Lyan Vu