There are about 200,000 Korean citizens living and working in Vietnam. They are supported and represented by the Korean Association in Vietnam (the Association). In an interview with Vietnam Times, Mr. Yoon Sang Ho, President of the Association expressed his admiration for Vietnam's achievement in the COVID-19 fight. At the same time, he affirmed the Korean community have always obeyed local regulations as well as believe in the Vietnamese Government's measures on COVID-19 prevention and control.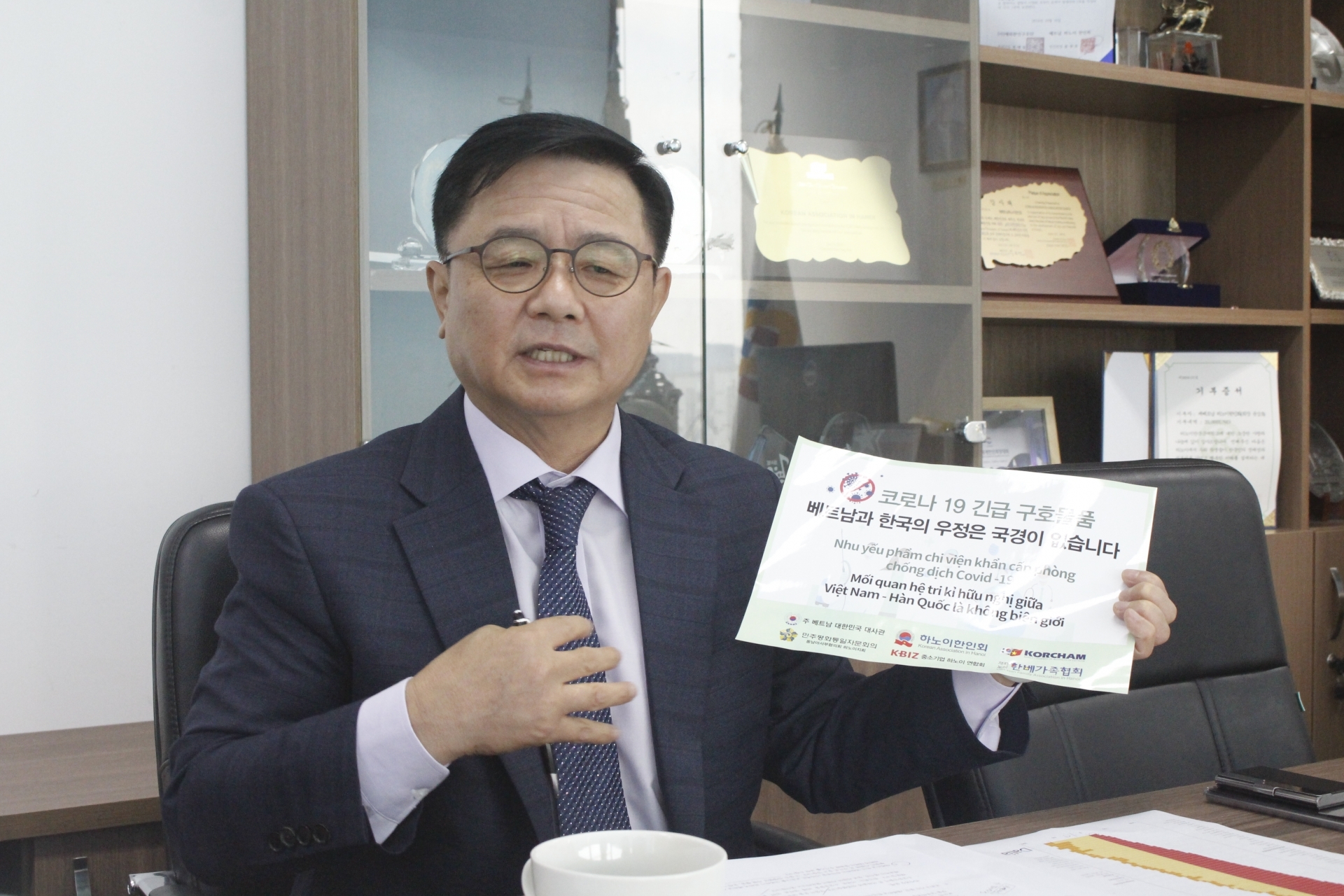 Mr. Yoon Sang Ho, President of the Korean Association in Vietnam
What do you think about COVID-19 prevention and control in Vietnam?
In my opinion, the COVID-19 prevention and control in Vietnam is done in a very flexible and appropriate manner. Firstly, you have been very active, drastic and united. Vietnam had well prepared even before the WHO made recommendations about the pandemic. Secondly, Vietnamese Government are very assertive, accurate in taking strong measures to prevent the spread of the coronavirus.
Importantly, the measures of the Government have received great support from the people. According to a reliable survey, Vietnamese show highest satisfaction with the Government's measures to prevent and control the COVID-19.
What were you most impressed by in Vietnam's COVID-19 fight?
My first impression is the quick and drastic response of the Government. However, I'm more impressed by the solidarity of the Vietnamese people.
At first, some Koreans thought that Vietnam's measures were a bit more drastic than needed. But soon, when the COVID-19 broke out uncontrollably across the world, they realized that the country was very wise.
What do you think about Vietnam's coronavirus quarantine facilities?
As soon as the first Koreans were put into Vietnam's quarantine facilities, we came to support our citizens. I saw people here coming from different countries, both Vietnamese and foreigners. They are all taken care of dedicatedly by medical staff. Though, Vietnamese probably suffer more difficulties and inconveniences than foreigners because they include children, the elderly and pregnant women.
Particularly for Korean who are put under quarantine, they all abide by Vietnamese regulations and believe that Vietnam's measures are correct. They understand that, if not do so, there may be a bad scenario for Vietnam, affecting their own health and lives.
Our Association is fully aware and empathetic to Vietnam's message 'No one is left behind'. Therefore, we have been very actively involved with Vietnam in the fight against the COVID-19. Specially, we constantly keep our citizens updated news, guidance and recommendations of Vietnam. We update information daily, hourly and share on social networks of Korean community.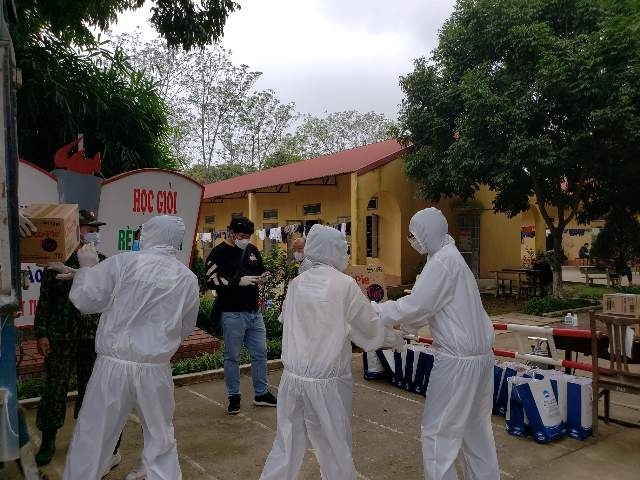 The Association support Korean citizens who are put under Vietnam's COVID-19 quarantine facilities.
What is your opinion about some Korean tourists complaining about the inconvenience in Vietnam's quarantine facilities?
In my opinion, to fight against the COVID-19 pandemic, it is impossible to avoid difficulties or inconveniences in daily life. However, that is certainly much more comfortable than being infected, dying and having an outbreak. Being put under quarantine, it could not be as comfortable as staying at home or having fun like travelling. As I mentioned above, everybody in quarantine facilities, no matter they are Vietnamese, Korea or another country, they are all equally and dedicatedly taken care of medical staff. Strictly speaking, it is Vietnamese who suffer more inconvenience.
Most of us understand that the measures taken by Vietnamese Government is to protect all everyone including us, 200,000 Koreans living and working in Vietnam. In fact, the complaints are not significant.
In the coming time, what will the Association do to strengthen friendly relationship between the two countries?
In the coming time, what will the Association do to strengthen friendly relationship between the two countries?
Korea is now the largest foreign investor in Vietnam. In the future, we need to cooperate and interact more deeply with each other in culture, science, education and life. This is not only the political goal of the two Governments but also the aspirations of the people of the two countries. Korea and Vietnam have many similar cultural factors, traditional history as well as present, so it is a valuable foundation to develop people-to-people diplomacy to new heights.
The Korean Association in Vietnam is offering programs to help Koreans better understand Vietnamese culture, helping the two sides to understand about each other's similarities and differences, to accept them in a tolerant and friendly way.
Vietnam has a very special meaning to me. I came here in my 40s, the most important stage in my life. The country has brought me many happiness in life and career. Vietnam, the country has changed my outlook on life and gave me many very special gifts.
Do you have any message to Koreans in Vietnam about the fight against the COVID-19?
In my opinion, regardless of nationality, everybody can be infected with the coronavirus if we do not have good control. Therefore, despite the inconvenience in daily life, we must keep in mind that these measures are to protect us – the Koreans living in Vietnam. Therefore, we must always abide by the local regulations and support Vietnamese Government in COVID-19 prevention and control.
Secondly, I would like to remind the Koreans in Vietnam that Vietnam and Korea have good and long-standing friendships, so this is also the time for us to know each other better, to promote friendship through the solidarity and mutual understanding.
Koreans need to show their civilization and friendliness to the Vietnamese people through kindness activities, as well as their compliance with Vietnam's COVID-19 regulations.
The Korean Association in Vietnam was founded on December 22, 1992 in Ho Chi Minh city. Since Vietnam started the 'Doi Moi' policy in 1986, South Koreans have paid more attention to investing in the country.
In period of 2005-2008, Samsung made a historic decision to set up a large-scale production complex in Vietnam.
Now, there are about 200,000 Koreans and 8,000 Korea business working in Vietnam.
Thank you for the interview!
To read the article in Vietnamese, click here
https://thoidai.com.vn/chung-suc-chong-dich-voi-viet-nam-ong-yoon-sang-ho-chu-tich-lien-hiep-hoi-nguoi-han-tai-viet-nam-20-van-nguoi-chung-toi-dong-hanh-va-tin-tuong-107625.html
Jennifer Tran