How to make 'banh mi': Check different regional styles in Vietnam - Video
Each region in Vietnam has its own ways of making and enjoying banh mi (Vietnam-styled sandwich).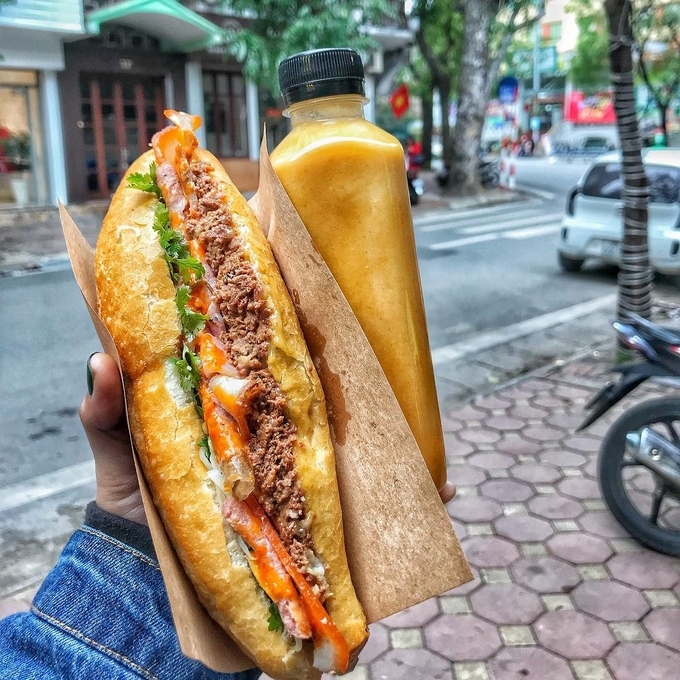 Photo: Banhmibacan/Instagram
Banh mi in Hanoi has a crispy crust eaten with pate, salted shredded meat while in Saigon, it is full of grilled meat, ham, char siu or with beef ofal.
In Hanoi, banh mi is a popular breakfast dish, or a lunch dish when you want to change your taste. In the past, banh mi was usually filled with pate, sausage, fried egg, coriander and chili sauce. Today, banh mi has many types of fillings such as grilled meat, ham, char siu or dipped with a bowl of wine sauce. The conspicuous feature of Hanoi banh mi is that it's is not too thick, the crust is crispy and spongy.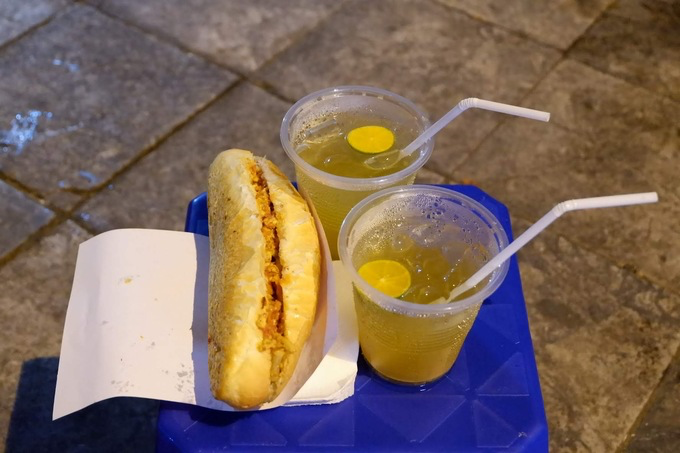 Photo: VnExpress
When going out at night, visitors can enjoy banh mi at the corner of Tran Nhat Duat, Cao Thang. Banh mi here has a crispy crust with egg filling, pate, butter, sausage, stir-fried sausage, served with cucumber and herbs.
Video: VnExpress
In Hanoi, it is also easy to see vendors selling bread with steak, pate, omelet, french fries, and beef drizzled with hot sauce on a cast iron pan. This dish is also available in many places in Central Vietnam.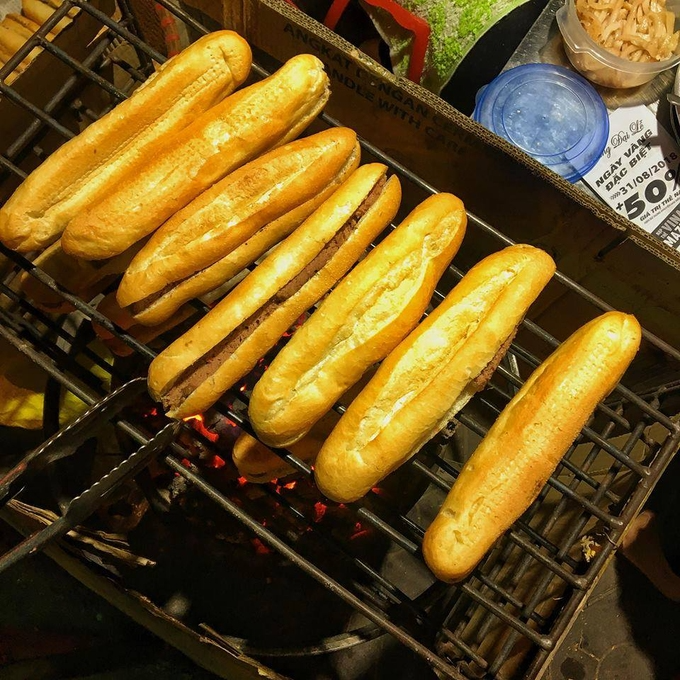 Photo: VnExpress
Hai Phong is famous for its bread sticks, usually about the size of 2-3 fingers combined, the crust is crispy and the core is not thick. Bread sticks with pate filling with hot chili sauce or buttermilk. The cake is usually baked with charcoal before being greased to make the crust more crispy.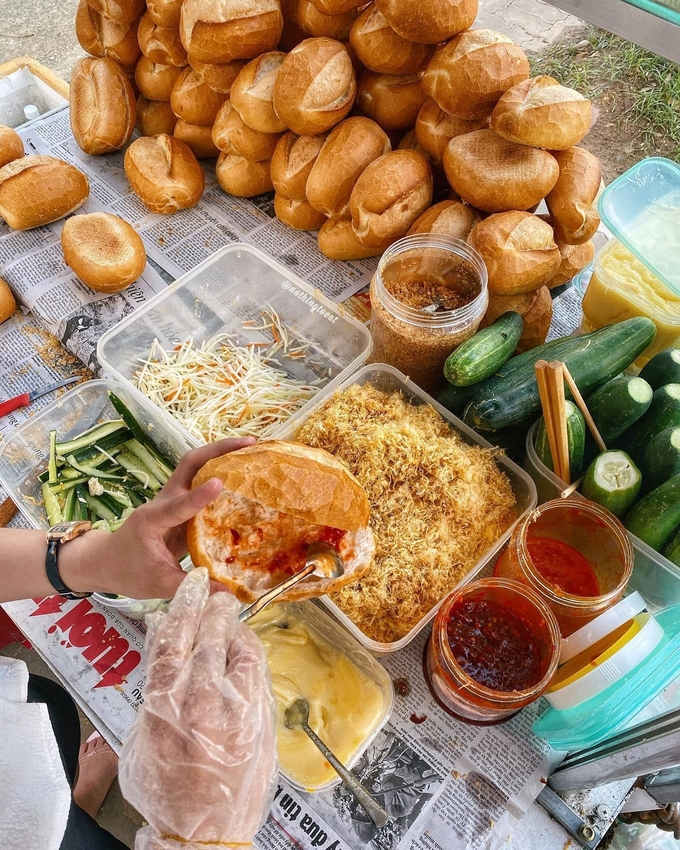 Photo: Nothingtoeat.
Coming to Da Nang, visitors can enjoy banh mi with chicken which is almost the length of a hand, crispy shell and spongy core. Banh mi with chicken is often stuffed with egg butter, shredded chicken, dried onion, cucumber, sour food and especially indispensable sweet chili sauce in Da Nang. The dish can be eaten in the morning or in the afternoon because there is not too much meat.
Photo: VnExpress
In Da Nang, there is also a special banh mi served with rice dumpling cake. The banh mi is a long, with various filling.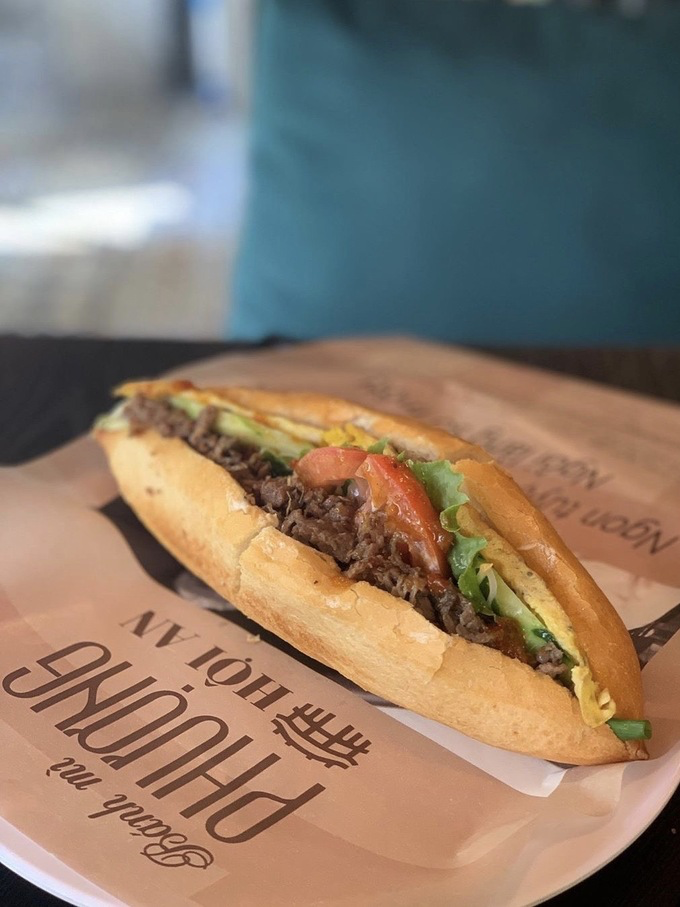 Photo: Etoffekim
Hoi An Phuong banh mi was once praised by the late famous American chef, Anthony Bourdain, as "the best sandwich in the world". Bread has a variety of fillings such as grilled meat, pate, chicken with butter, beef roll with cheese, bacon, mixed. In particular, this banh mi cannot be without the sweet and salty sauce that softens the its core.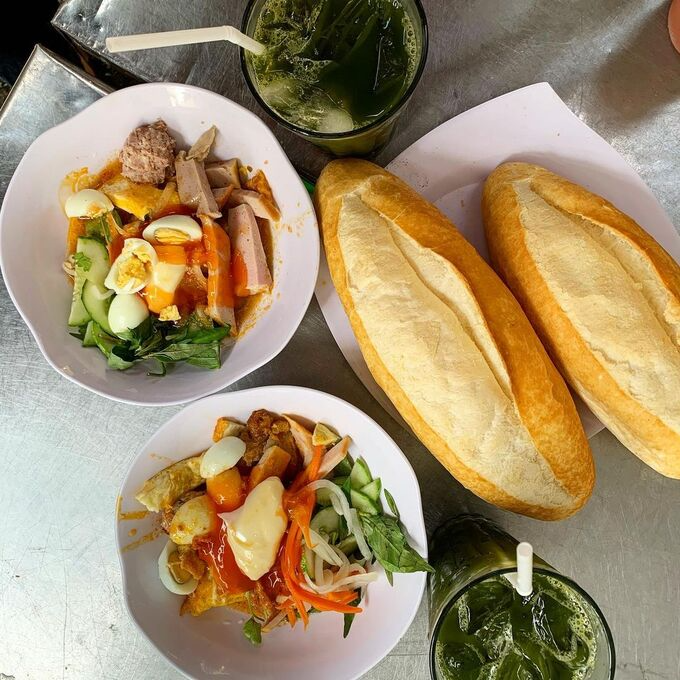 Photo: VnExpress
Besides sandwiches, Nha Trang has banh mi dipping with bowls of quail eggs, fried eggs, char siu, cucumbers, vegetables and sweet and sour foods, chili sauce, and egg sauce. The accompanying bread is a solid type, always placed in the oven to keep it hot and crispy. When eating, diners tear the bread and dip it in the sauce and then eat with the filling.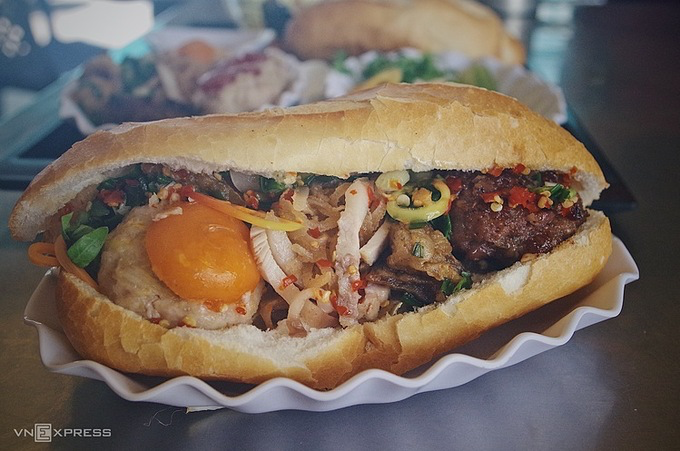 Photo: VnExpress
Saigon banh mi features a variety of fillings such as grilled meat, ham, rolls, char siu and eggs. The most obvious feature of Saigon banh mi is the large, thick core and plump filling. Banh mi is often served with herbs, sour foods, and sauces to make the taste more harmonious.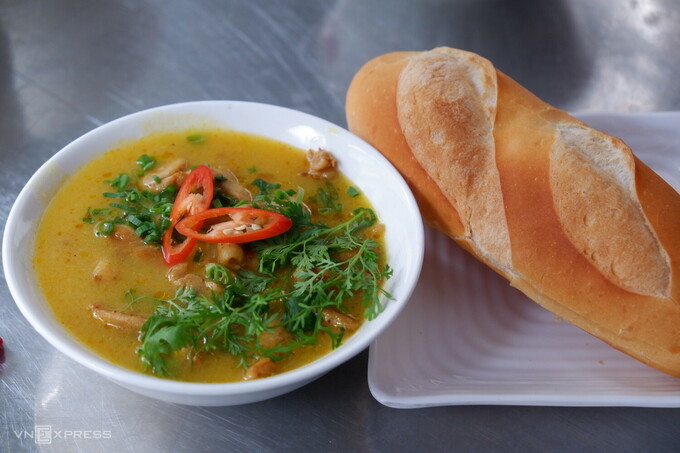 Photo: VnExpress
Saigonese also enjoy banh mi with chicken curry or beef ofal, which is cooked from beef and offal such as liver, spleen, and stomach, modified from original Chinese dishes.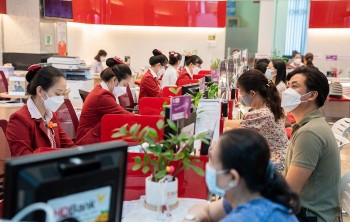 Economy
Vietnam Business & Weather Briefing (August 12): Air passengers reach a record number in July, seafood exports expected to reach 3 billion USD in Q3