SCMP names Vietnam's banh mi a top breakfast choice in Asia
HongKong's prestigious news outlet South China Morning Post has recently listed Vietnam's banh mi (bread) among the top 6 best breakfast delights in Asia.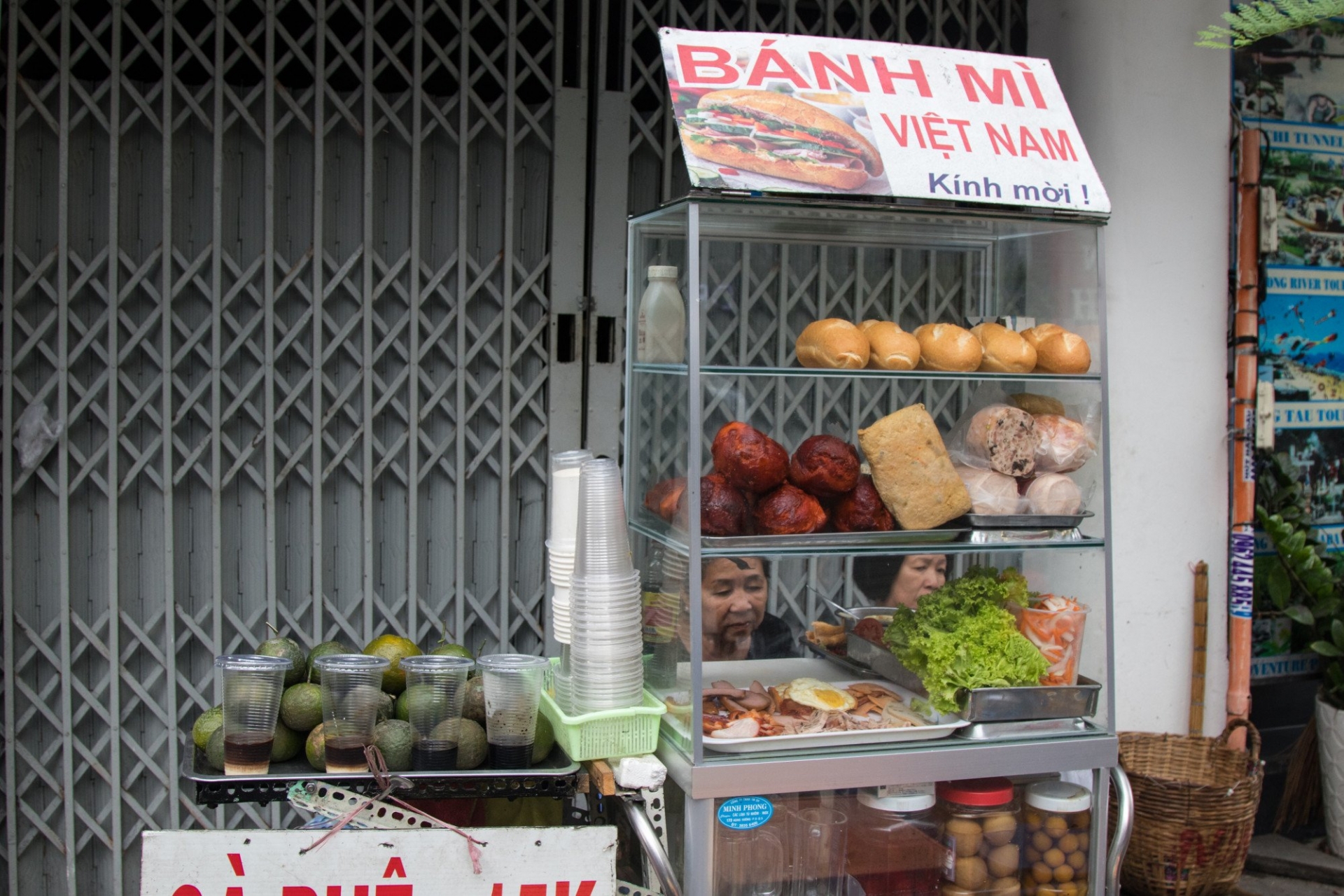 A banh mi stall in Ho Chi Minh City. Photo: Shutterstock
"The fast food breakfast choice in Vietnam is the banh mi, a small baguette that must rank as one of the world's best sandwiches, sold on stalls across the country", the article wrote.
It goes on by describing the local ingredients included in a typical banh mi, including pork sausage, coriander leaf, cucumber, pickled carrots, pickled daikon, pâté and mayonnaise. Added extras may include chopped meat, cheese, eggs and spicy sauces.
SCMP also tells the history of Vietnam's banh mi, which was influenced and inherited from the French colonial rulers.
It said the Franco-Viet taste bomb came around in late 1950s Saigon, when Vietnam was sliced in half. This was when the Vietnamese were first officially permitted to modify French cuisine, and so Mr and Mrs Le – refugees from the north – decided to add local ingredients to their morning baguettes. The Le family still have a restaurant, called Banh Mi Hoa Ma, serving sandwiches to the people of Saigon (now Ho Chi Minh City).
Pho and Bun Bo Hue noodle soups are also named among the popular breakfast dishes in Vietnam.
In another article published in June 2020, SCMP explained how Vietnamese banh mi becomes a global favorite.
Journalist Kayla Hill opens her article by referring to the ubiquity of banh mi in Vietnam, saying "If you spend any time in Vietnam, you'll be hard-pressed not to find a banh mi stall nearby".
What started as street food in the late 1950s in then-Saigon has permeated into other countries, brought by Vietnamese immigrants after the fall of the city.
Journalist Kayla Hill believes the exquisite tastes is what makes the Vietnamese staple a top choice of not only local people but also many tourists, advancing the iconic to the world.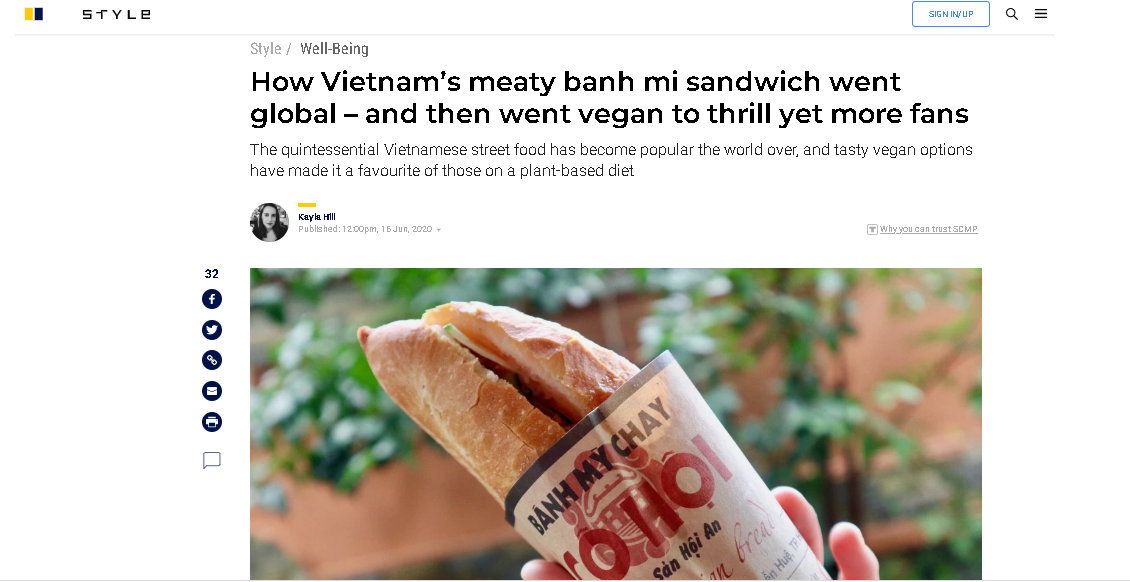 SCMP explains how Vietnam's banh mi went global
Banh mi is a fusion of cultures and an explosion of tastes. "With a soft, yet crunchy baguette filled with pickled veggies like carrots and radishes; juicy meats such as pork sausage, cold cuts, and meatballs; spicy sauces like chili and mayonnaise; and delicate herbs such as coriander, banh mi is customizable and accessible to everyone".
On top of that, both meaty and vegan banh mi is customizable, offering eaters various choices of toppings.
Another contributor to the worldwide explosion of banh mi is the familiarity of its ingredients among Westerners. Westerners, in general, are already fans of fluffy bread, cold cuts and creamy sauces.
"Today, this means that foodies no longer need to travel to Vietnam to get their banh mi fix". Therefore, Western countries have been quick to adopt this remarkable sandwich.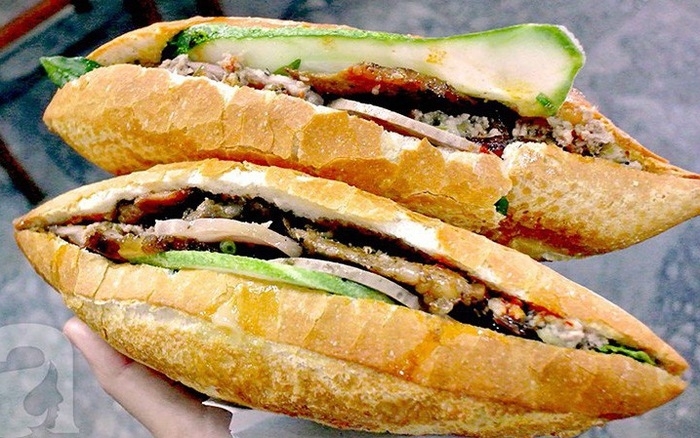 Banh Mi is a favorite staple in Vietnam (Photo: CafeF)
Banh mi appears on the menu of many restaurants the world over, including Australia, the US, the UK, Korea, etc. There are also many stalls selling banh mi only in foreign countries, proving the popularity of Vietnam's most symbolic street food globally.
According to SCMP, even for major meat-eaters cannot deny that the evolution of the vegan banh mi is impressive. With innovative and tasty toppings, this ever-changing sandwich is giving major food envy to omnivores and vegans alike.
The other five breakfast choices in Asia listed by SCMP include Turkish's kahvalti, Sri Lankan hoppers and string hoppers, Malaysia's nasi lemak and roti canai, Japan's steamed rice served with miso soup, grilled fish, tsukemono, omelette, and the congee rice porridge which is considered a breakfast staple in most of Southeast Asia.
According to the article, breakfast – the most important meal of the day – has been skipped or skimped by many people due to daily hectic schedules. Modern Western options such as cereals, toast or even granola bars now rule many a breakfast roost.
Morning dining routines around the world often stem from deep roots. Breakfast culture is alive and kicking in many parts of Asia, even as fast-paced Western alternatives muscle their way in. Being such a huge and varied continent, Asia is home to culinary and cultural extremes, richly reflected in its choices and attitudes towards breakfast.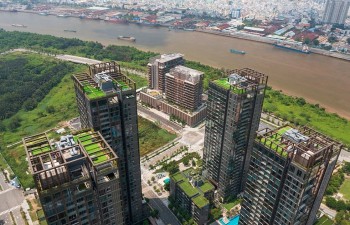 Economy
Vietnam Business & Weather Briefing (August 11): Vietnam to increase coal imports in 2025-2035 period, ten tonnes of Vietnamese longan exported to Australia.