HUFO handed over rice ATM and supported rice to people in difficulties due to Covid-19 epidemic
On Friday morning, May 8, the Union of Friendship Organizations in Ho Chi Minh City coordinated with the Vietnam Fatherland Front Committee of Binh Tan district to present a "rice ATM"  at 77/64, Pham Dang Gian Street, Binh Hung Hoa Ward, Binh Tan District to support people in difficulties.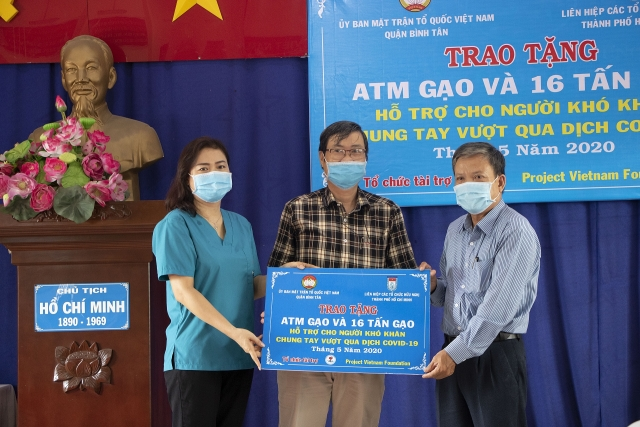 Mr. Nguyen Duc Hoang Quan, President of Ho Chi Minh City Union of Friendship Organizations, gave a rice ATM and 16 tons of rice to Binh Tan district.
71-year-old Nguyen Thi Hai stays on Le Trong Tan Street, Binh Hung Hoa Ward , Binh Tan District , with her 5-year-old niece to walk a few kilometers under the blazing sun of summer to come to receive rice and a bottle of cooking oil, touched: "I came here early, until now, my children have work ed for a company with a very low salary. Room rental costs vnd1.7 million (usd 78), with electricity and water paid more than vnd 2 million (usd 100). This a little rice also helps us so much. I am very happy".
Holding a bag of affectionate rice, Nguyen My Phuong, a sewing worker in Binh Tan, said that her monthly income was vnd 5 million (usd 240), but since February, her sewing factory has closed causing her lose job "My family has 2 small children, my grandmother lives with me, my husband is constantly sick so I cannot sell lottery tickets but need to feed our 5 mouths every day. I only spend from vnd 20 to 30 thousand (usd 1-1,5) buying daily food for the whole family while the monthly house rental costs vnd 2 million (usd 90). If the epidemic persists, our whole family does not know how to survive. As known of there was a free rice ATM distributed to the poor, she was so glad that she came here to line up in the early morning: "I could not work to afford my family's life. Now I see that rice comes to help my family to survie day after day, and to me it means a lot ".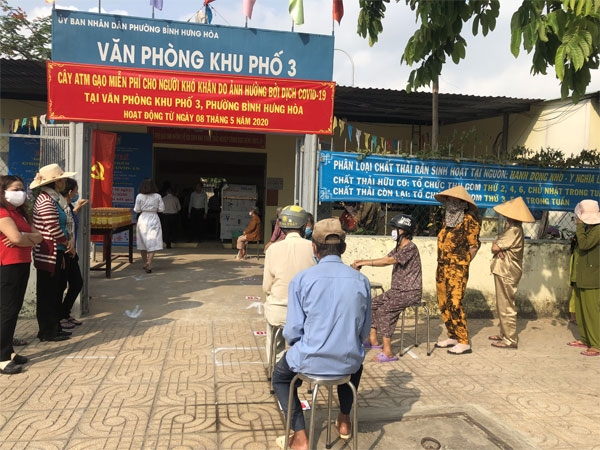 People line up at the right distance to get free rice.
The sponsor of the rice ATM and some extra necessities, Ms. Le Van, representative of Project Vietnam Foundation (USA) said: "The Project Vietnam Foundation wants to make its small contribution to assist people in difficulties. Because of the fact that manual laborers and lottery ticket vendors in this Covid-19 time really find them very difficult to continue normal lives, my side will continue calling for the sponsors, both national and international ones on "the good feels like for the poor" spirit to help people overcome some difficulties. "
Mr. Le Van Bay, Chairman of the Vietnam Fatherland Front Committee of Binh Tan District, thanked HUFO and PVF for timely supporting disadvantaged people in the locality most affected by the epidemic.
The Chairman of the Binh Tan District Fatherland Front Committee also said that most of these households are elderly, lonely, and work as hired workers or lottery ticket sellers. Therefore, when the epidemic occurs, many people are facing difficulties without jobs. The rice ATM machines invented really help people overcome their misery. Every day 5 rice ATMs in the area serve more than 10 tons of rice / day: "Binh Tan District is a densely populated district, and most of them are workers. Up to now, the district has spent over vnd 20 billion (nearly usd 1million) for the rice ATM project. Each ATM serves 3 tons of rice per day on average, and Binh Tri Dong B rice ATM is available for 4 tons per day to provide 2 kg per receiver. Each 10 tons is calculated to solve the problem of thousands of people in feeding need during this difficult time, making people excited so much "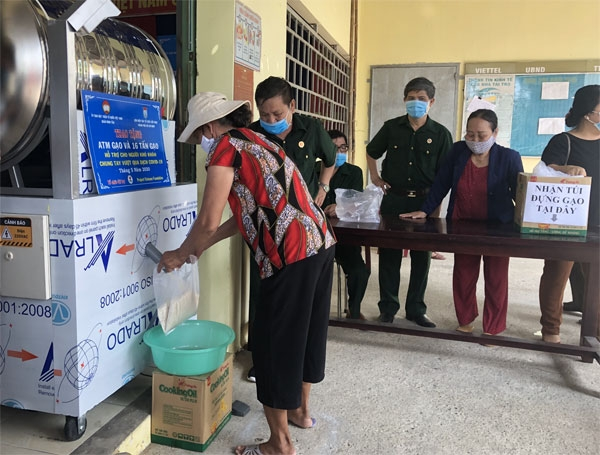 On average, each person receives 2 kilograms of rice / time.
Vice President of Ho Chi Minh City Union of Friendship Organizations, Ms. Tran Hoang Khanh Van said that in recent times, HUFO and its members have collaborated with a number of international non-governmental organizations, businesses and generous people for donations of finance, medical supplies, masks, ... to people struggling with the Covid-19 epidemic as well as to some countries' Consul General in the city.
In the coming time, HUFO will organize the delivery and transfer of medical supplies including medical masks, drops splashes, disinfectant solution, protective clothing ... to the Consulate General of Japan, the United States and Russia. ... At the same time, the organization continues donating to support teachers, students, poor people in the city facing difficulties due to Covid-19 epidemic.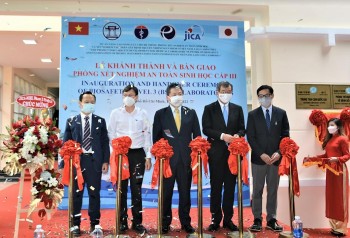 Friendship
The Pasteur Institute in Ho Chi Minh City (PI HCMC) hold an inauguration of its new Biosafety Level-3 Laboratory (BSL-3) on January 17th, 2022. For this new laboratory, the Japan International Cooperation Agency (JICA) has supported the main materials and equipment such as the air conditioning system, the wastewater treatment system, and the two-door autoclave, with a total value of 200 million yen (nearly 40 billion VND).