Exclusive 'Rice ATM' launched in Vietnam amid coronavirus pandemic
Hoang Tuan Anh came up with the idea of creating a "Rice ATM", or automatic rice dispenser, to offer the disadvantaged free rice 24 hours a day, expecting to curb the potential nCoV cross transmissions when rice from charitable organizations are distributed in person. 
(Video: Vietnamnet)
Tuan Anh is the director of an electronic lock company in Tan Phu district, Ho Chi Minh City. Witnessing a large number of individuals, organizations gathering to give gifts, rice, noodles, etc., to those in need, he realizes the good deeds could stir nCoV transmission and probably turn into a disaster. "The crowd could also jostle each other, defacing the city", he adds.
Tuan Anh then came up with the idea of a "Rice ATM". He immediately utilized the equipment available in his company's warehouse and drew on the experience he accumulated. With the assistant of three technical staff, the 35-year-old finished his first rice dispenser within one day.
"It's quite urgent, we didn't have time to have it tailor-made, so I removed the motor in one of the lock testing machines in our company and turned it into this rice dispenser", Tuan told VnExpress in a statement.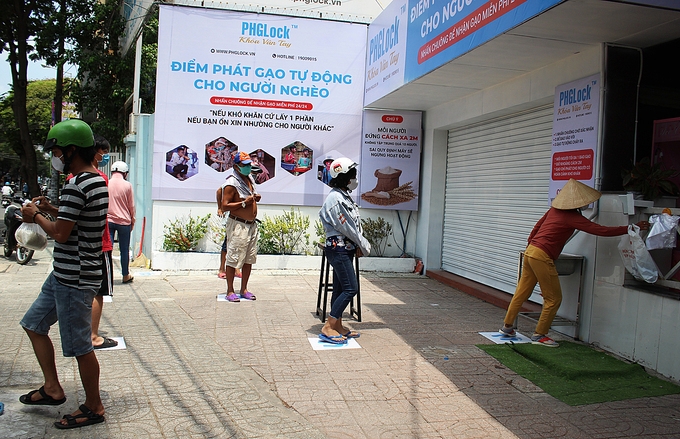 People line up at a safe distance, waiting for their turn in front of the rice dispenser (Photo: VNE)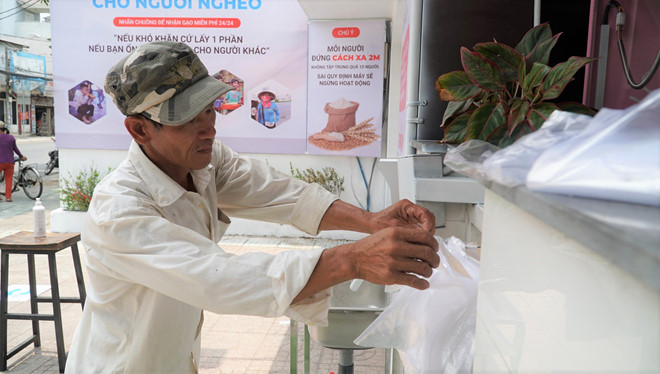 Each individual can grab 1.5kg of rice per day. Photo: Thanhnien.
The machine is quite simple. It includes an automatic rice dividing system, a camera and buttons controlled by a phone application, and costs him VND 10mil (US $425) to make. When someone in front of the camera presses the button, the valve automatically opens, around 1.5 kg of rice from the tank flows down the pipeline.
Tuan Anh hires three employees who take turn watching the camera and would press the "off" button on the phone app if they identify anyone who wants to take the charitable twice a day. "I just want to make sure one gets enough proportion for the day and there're enough left for others", Tuan said.
He also sets up several resilience cameras around to keep security, marks each standing place at a safe distancing that meets social distancing rules. Moreover, hand sanitizers are placed right next to the dispenser so that everyone can wash their hand before using the machine.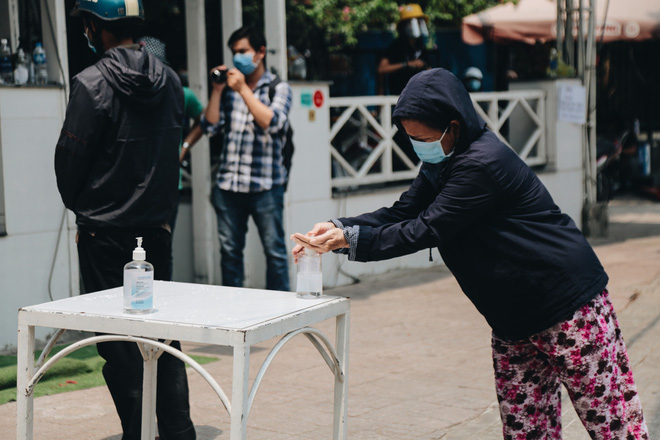 People must wash their hands before using the machine. Photo: Trithuctre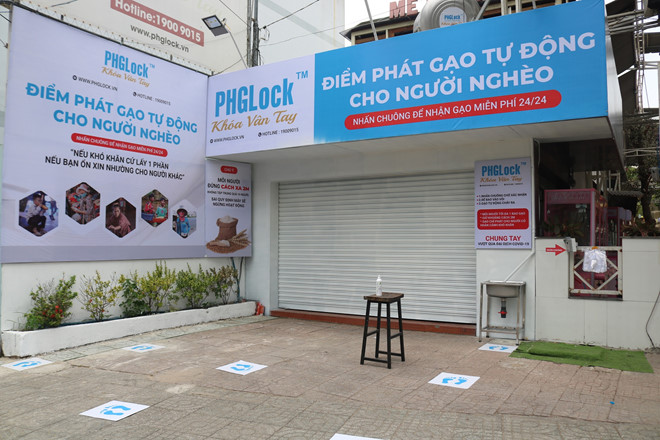 The "Rice ATM" area . Photo: Thanhnien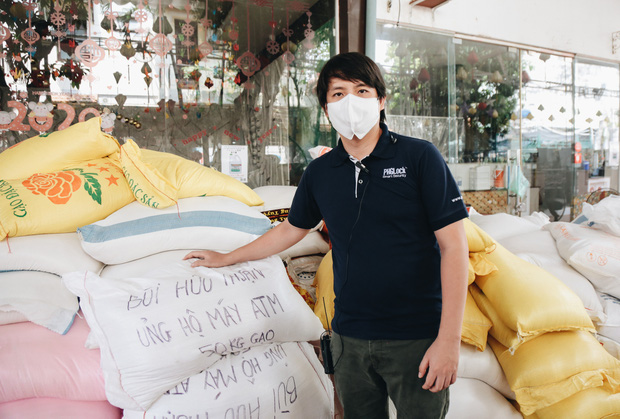 Nguyen Tuan Anh's project has received an unbelievable large amount of rice donation. Photo: CafeF.
The rice dispenser can be used 24 hours a day to avoid mass crowding. The rice container has a capacity of up to 500kg and will notify the app if it is running out of rice.

Initially, Tuan Anh's company intended to deliver around 500kg rice each day, but it actually amounted to one ton on the first day. Many individuals and organizations had donated tens to hundreds of kg to Tuan Anh's meaningful project. Some even drove their truck with tons of rice to the place.
"I'm gonna do this until the COVID-19 pandemic ends. I'm also planning to make another 100 rice dispensers to help those in need", Tuan Anh said. "Vietnam is facing a shortage of rice in the middle of COVID-19 time. Thus, hopefully, the community will join hands and help me with the incoming project".