Hundreds of illegal entry caught in Vietnam's Northwest - Video
Border Guard units in Ha Giang and Lao Cai found out hundreds of illegal entry on January 17-18.
(Video: VN Express)
Major Mua Mi Cay, Politician of the Xin Cai Border Guard (Meo Vac, Ha Giang), said the working groups stopped 2 groups of about 40 people from illegally crossing the border in Thuong Phung commune at dawn and late afternoon on January 18.
From 2:00 p.m. to 4:00 p.m. on the same day, the unit three times recorded workers who illegally crossed the border from the Tian Bao Border Police Station (China) and returned them back to China. Each turn of entry was one hour apart, with a total of 38 citizens. 78 people who entered illegally during the day were sent to medical isolation. "Some people take the initiative to go home in time so that they can have 14 days quarantine before Tet, but there are also some fleeing to their locality. The soldiers have to constantly patrol, even when the temperature drops below 0", major Cay said.
To manage 24km of the borderline in Thuong Phung and Xin Cai communes of Meo Vac district, the border guard unit maintains six posts and three quarantined centers for controlling the COVID-19. The favorable topography leading to the mainland provinces of China makes this place most chosen by illegal entry cases. Since February 2020, more than 7,400 illegal entry cases have been reported.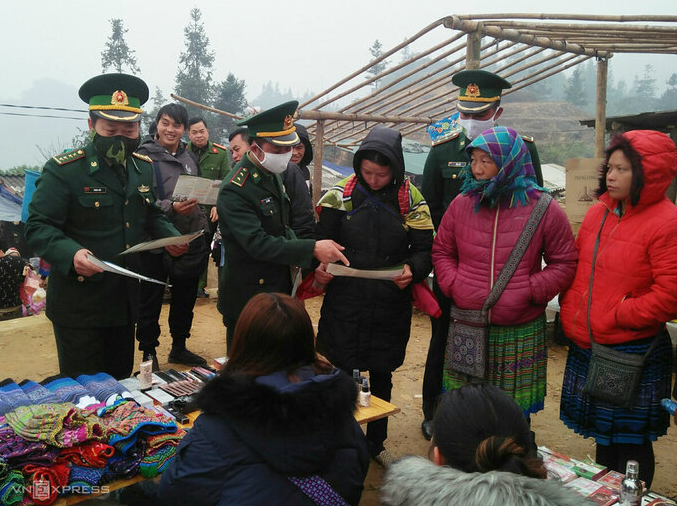 The working group of Pha Long Border Guard came to the local market to ask people not to use firecrackers, and to denounce those entering and leaving illegally. (Photo: VN Express)
In the province of Lao Cai, in the morning of January 17, the working group of Pha Long Border Guard prevented 35 people from entering illegally across the border markers of Ban Pho village, Ta Ngai Cho commune. The group of workers crossed the border in the morning when it was foggy and cold because they thought that "the guard would ease their patrol".
17 male and 18 female, aged 18 to 46, mainly ethnic minorities living in Lao Cai, crossed the border to China in September, working as hired labor in woodcut factories in Guangxi. These people were brought to the temporary isolation area of ​​Ta Ngai Cho commune for COVID-19 prevention. Along the 203.5 km long border line bordering Yunnan province (China), only on January 17, Lao Cai border guard discovered 61 people entering illegally, under the management of the Fort. A Mu Sung, Ban Lau, Muong Khuong, Pha Long, Si Ma Cai.
"As Lunar New Year is coming near, people working on the other side of the border rush back to their hometowns. Most of them are ethnic minorities in the border area," said Major Nguyen Trong Chinh, Assistant to the Border Guard Command of Lao Cai province. The headquarters has ordered 77 officers for posts to preventing people from entering and leaving illegally at the end of the year.
Over the last year, the border guards prevented and handled nearly 31,600 citizens from entering illegally; prosecuted, handed over to the authorities 83 cases with 153 individuals transporting people in and out illegally.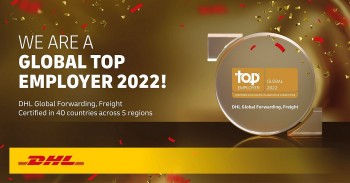 Economy
DHL Global Forwarding, the air, ocean and road freight specialist of Deutsche Post DHL Group, has again been certified as Top Employer 2022 in Asia Pacific.