Last illegal entrant from Covid-19- infected group found by HCMC Authorities
The last of nine people who entered Vietnam illegally from Cambodia on December 24, 2020, some of whom tested positive with Coronavirus, has been found.
According to Vnexpress, the illegal entrant is a woman living in an apartment in HCMC's Tan Phu District, found by city authorities on Thursday night. She tested negative for the novel coronavirus.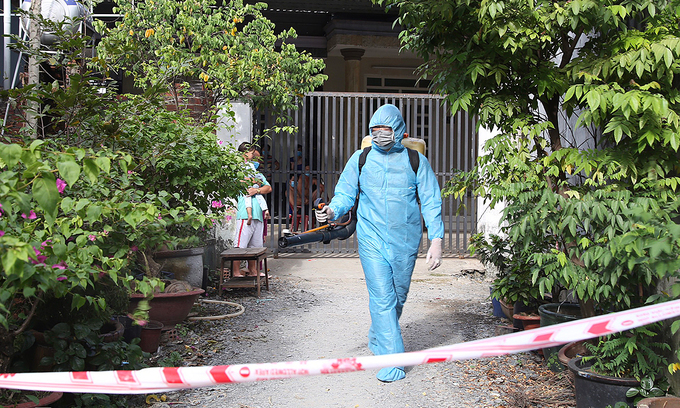 A medical worker disinfects an alley in HCMC's District 9 after a man, part of a group who illegally entered Vietnam from Cambodia, tested positive for the novel coronavirus, December 29, 2020. (Photo by VnExpress/Dinh Van.)
Also on Thursday night Phan Thanh Hung, 39, who is suspected to run a human smuggling gang operating between Cambodia and Vietnam, was arrested while hiding in Binh Duong Province, said Lam Thanh Sol, deputy director of An Giang Province's Police Department.
The woman is one of nine illegal entrants who entered An Giang Province from Cambodia on December 24 through the land border. The group's activities came to light after the mother of one of them, a 32-year-old man, reported him to the authorities for quarantining when he visited her in Vinh Long Province, told VnExpress.
Of the group, all Vietnamese nationals, four have tested positive for the novel coronavirus, and four others are in quarantine after reporting themselves to or being tracked down by authorities. They had traveled from Myanmar to Thailand by truck on December 15 and stayed there until December 22 before leaving for Cambodia on December 23.
They paid people smugglers to sneak through borders into Vietnam, without reporting to border guards to be quarantined upon entry.
The HCMC CDC has since called for all illegal entrants to report themselves and get tested for the sake of the community at large.
"Patient 1440" and one of the other five, a woman, went to the Mekong Delta while the other four came to HCMC.
When "patient 1440" arrived at his home in Vinh Long Province, his family turned him in and as soon as he tested positive on Saturday, aggressive contact tracing began to find the rest of the six and anyone else who came into close contact with them.
The remaining two were tracked down to Districts 1 and Hoc Mon in HCMC, but they have tested negative.
"The Covid-19 outbreak from July to September in Da Nang City is a testament to the danger posed by unchecked community transmissions. If the same thing happens in HCMC, Vietnam's most populated locality and its economic spearhead, the consequences would be unpredictable," Nguyen Tri Dung, director of the HCMC Center for Disease Control (CDC), said, according to VnExpress.
Public security minister To Lam on Tuesday said authorities have caught around 14,000 people crossing the border illegally this year, adding that there is still much demand for Vietnamese to return home, especially at the end of the year.
Many Vietnamese are working in Cambodia, China, Laos and Thailand. There has been a large influx of people returning to Vietnam from China and Cambodia lately, Lam said. "There needs to be good measures to both welcome our people back home and prevent Covid-19," he said.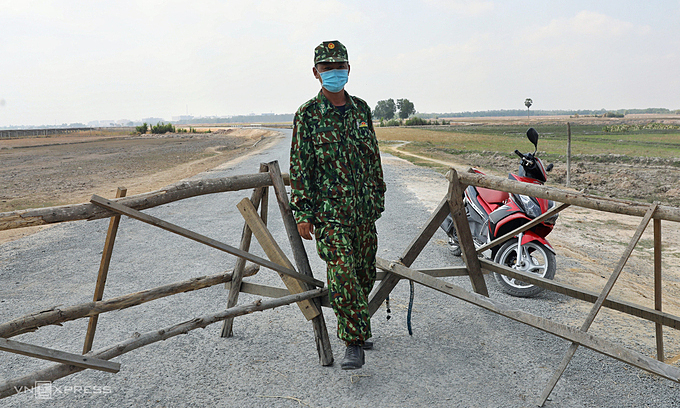 A soldier stands guard along Vietnam-Cambodia border in Tay Ninh Province, March 2020. (Photo by VnExpress/Huu Khoa.)
"After knowing that the police were hunting for those who enabled "patient 1440″ to illegally enter [the country], Hung escaped to Binh Duong," Sol said, adding that he has been quarantined and tested.
Once his quarantine period is over, authorities will investigate his activities further.
Vietnam has recorded 1,465 Covid-19 cases so far, with 102 still active and 35 dead. No community transmission has been recorded nationally for about a month.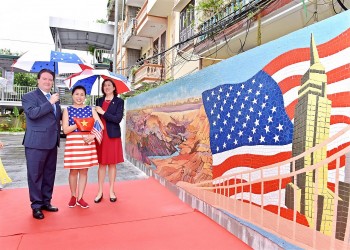 Multimedia
A ceramic mosaic mural named "Vietnam - US friendship" depicting the natural and cultural heritages of the two countries, was just revealed in Hanoi