IMF ranked Vietnam's GDP growth among highest worldwide
The International Monetary Fund has revised upward its forecast for Vietnam's 2020 GDP growth by 0.8 percentage points to 2.4 percent.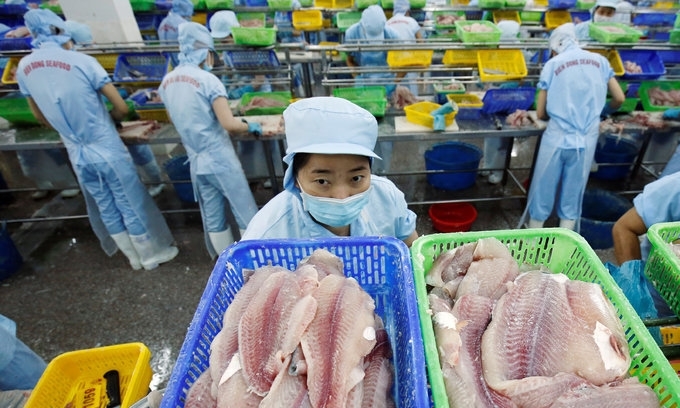 Workers make fillets of catfish at a factory in the southern city of Can Tho. (Photo: Kham)
"Thanks to the successful COVID-19 containment, Vietnam's growth would be among the highest in the world", Era Dabla Norris, mission chief to Vietnam and division chief in the IMF's Asia and Pacific department, was quoted as saying at the end of the team's virtual mission to Vietnam from October 15 to November 13.
As reported by VNE, Vietnam has benefited from prudent fiscal policies, largely geared toward supporting vulnerable households and firms, Norris said.
Monetary policy easing and financial relief provided by the State Bank of Vietnam (SBV) have alleviated liquidity pressures, lowered the cost of funding and facilitated the continued flow of credit, she said.
She expected a strong economic recovery in 2021, with GDP projected to grow by 6.5 percent and inflation contained at 4 percent.
But these are subject to uncertainties from possible renewed outbreaks, a protracted global recovery, ongoing trade tensions, and corporate distress, which could translate into firm closures and bankruptcies and labor market and banking system strains, she warned.
"Given these uncertainties, being flexible about the size and composition of the policy support will be important. Fiscal policy should play a larger role in the policy mix," she said.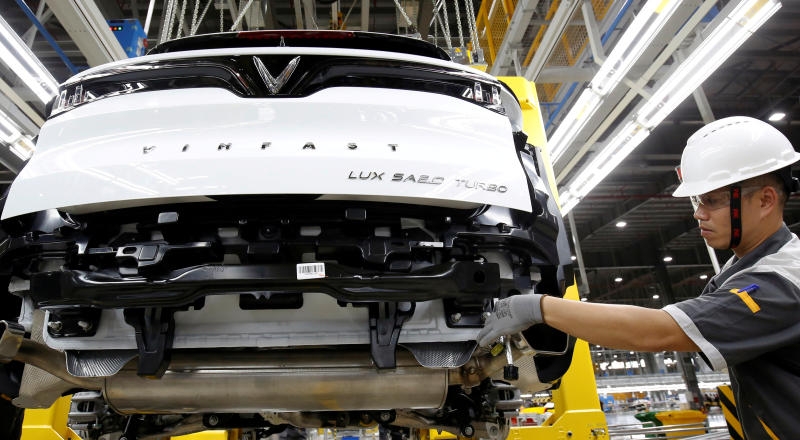 A man works at an assembly line of Vinfast Auto factory in Hai Phong city, Vietnam, June 14, 2019. (Photo: Reuters)
This year, the fiscal deficit is expected to widen due to a decline in revenues and higher cash transfers and capital spending, and so fiscal support should prioritize improvement in efficiency in the short term, she said.
But she suggested that in the medium and long terms the emphasis should be on mobilizing revenues for green infrastructure projects, strengthening social protection systems and safeguarding debt sustainability.
"Monetary policy should remain supportive in the near term. Greater two-way exchange rate flexibility within the current framework would reduce the need to build reserve buffers and facilitate the adjustment to a potentially more challenging external environment."
The IMF also believed that the SBV has struck an appropriate balance between supporting the recovery and banking system resilience.
Close monitoring of risks in the banking sector remains crucial given that capital buffers are weaker than in other regional countries and uncertainties are associated with the economic outlook, it said.
Vietnam also needs to further strengthen its banks' capital positions and develop its capital markets to improve financial resilience and promote long-term financing, it said. Vietnam should give priority to improving access to land and financial resources, particularly for small and medium enterprises (SMEs), it said.
Establishing an expedited SME-specific insolvency regime would help unlock capital and prevent unnecessary liquidations, while reducing labor skill mismatches and increasing human capital and technology access would boost labor productivity, it added.
Last year, GDP growth was 7.02 percent, the second highest growth figure in the last decade, after the record 7.08 percent in 2018.
In the October report, IMF said Vietnam was expected to surpass Singapore and Malaysia to become the fourth biggest economy in Southeast Asia in 2020.
Vietnam's gross domestic product (GDP) is estimated to reach 340.6 billion USD this year, making it the fourth-largest economy in Southeast Asia. This is revealed in the International Monetary Fund (IMF) World Economic Outlook released this week.
Meanwhile, in mid-October, World Bank (WB) released report on Vietnam's macroeconomic situation in October 2020 which says that Vietnam's GDP could grow at 2.5-3.0% in 2020.
"Vietnam economy rose 2.1% in the first nine months of 2020. This is much lower than the growth rate of 7% in the same period in 2019, but it is still considered a spotlight in the context of COVID-19 pandemic globally ", said the report.
Vietnam's trade surplus reached US$ 16.8 billion in nine months, partly due to the trade surplus of US$ 2.8 billion in September. FDI inflows into Vietnam in September increased nearly double August's.
In spite of giving positive forecasts, World Bank said Vietnam should pay special attention to minimizing risks in public finance in the face of uncertainties both domestically and globally.