Imported pork is conquering domestic market
According to statistics of the Department of Animal Health, volume of imported pork and related products reached of 93,248 tonnes during the opening seven months of the year, mainly from Canada, Germany, Brazil, Russia, and the US, increasing 223% against the same period last year.
vov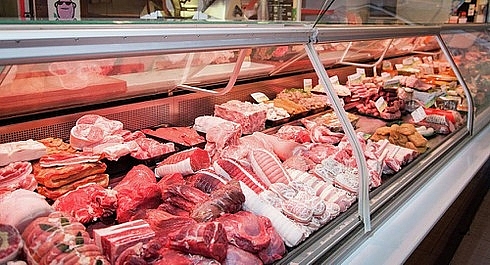 imported pork in suppermarket. Photo: VOV
With regard to breeding pigs, up to 27 enterprises nationwide registered imports of 292,590 pigs during the reviewed period.
Between the beginning of the year and August 1, a total of 15 enterprises imported 16,537 breeding pigs, mostly from markets such as the US, Canada, Thailand, and Taiwan (China).
Furthermore, 36 Vietnamese businesses registered the import of more than 4.7 million live pigs from Thailand between June 12 and August 1, with 15 firms importing 75,334 live pigs for slaughter.
At present, Vietnam has permitted over 800 businesses from 19 countries to export pork and pork products to its market.
Vietnam has decided to import pork and live pigs from overseas to deal with supply shortages in the market due to the impact of the African swine fever (ASF) epidemic.
The Department of Animal Health said that since the beginning of the year to August 2, the ASF outbreak was reported in 44 provinces and cities nationwide, with 39,000 pigs culled.
The Ministry of Agriculture and Rural Development has requested that the Department of Animal Health dispatch technical missions to localities to help stamp out the outbreak and prevent a recurrence of the epidemic.
Deputy Minister of Agriculture and Rural Development Phung Duc Tien suggested applying biosafety in breeding as a means of meeting domestic demand for pork by the end of the third quarter and at the start of the fourth quarter this year.
VOV