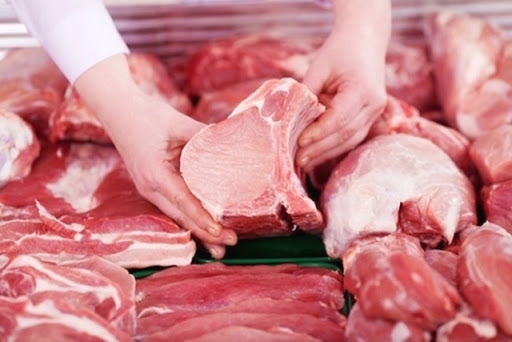 (Photo: Urban Economy)
Department of Animal Health (Ministry of Agriculture and Rural Development) said that by 2020 (as of April 13, 2020), Vietnam has imported more than 46,402 tons of pork and pork products, an increase of more than 300% compared to the same period in 2019. Of which imports from Canada account for 24.59%, Germany 19.32%, Poland 14.14%, Brazil 9.50%, United States 8.39%, Spain 6, 72%, Russian Federation 4.04%...
A study of some shops and supermarkets in Hanoi showed imported pork products were cheaper than meat sold in wet markets.
At a shop in downtown Hanoi that exclusively sells imported food, Russian pork costs VND130,000 ($5.5) per kilogram, while Canadian ribs start from VND115,000 ($4.9) per kilogram.
At some supermarkets, thigh and pork belly prices range from VND140,000 to 150,000 per kilogram (US$5.98 - US$6.41), while pork ribs are about VND120,000 per kilogram (US$5.13). At Big C, a major supermarket chain in Vietnam, imported pork costs 20-40 percent cheaper than domestic pork.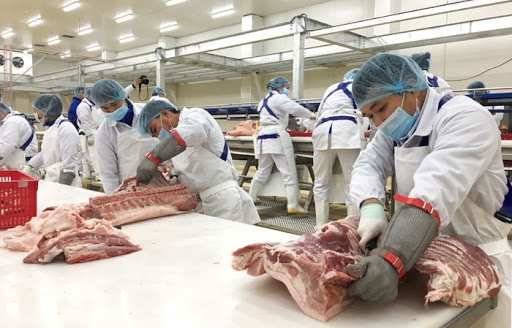 (Photo: Industry and Trade Magazine)
The Department of Animal Health also informed that, at the present time, Vietnam has approved for 24 countries to export meat and poultry products to Vietnam, of which 19 countries can export pork and pork products into Vietnam. Currently, 788 enterprises in 19 countries are allowed to export pork and pork products to Vietnam, according to Investment News
The number of Vietnamese businesses importing pork and pork products varies from time to time, depending on the business needs and the market situation.
In 2019, 600 Vietnamese enterprises imported meat and poultry products (up 48 enterprises compared to 2018), of which 150 businesses imported pork and pork products (up 50 enterprises compared to 2018). Since the beginning of 2020, 108 Vietnamese enterprises have imported pork and pork products.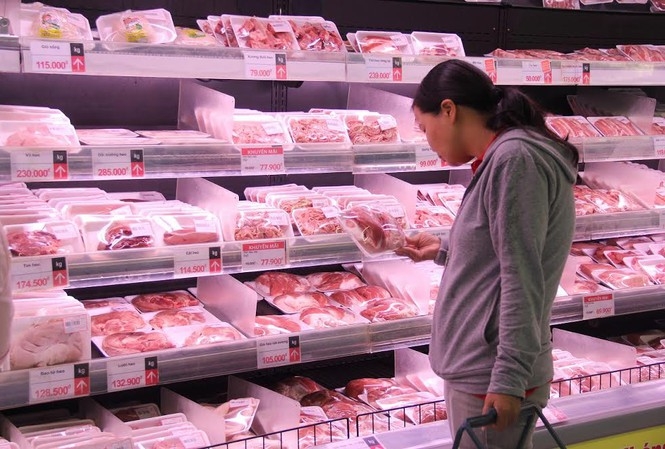 (Photo: Tien phong)
In addition to pork, our country has also increased imports of cattle and poultry meat. Particularly, buffalo and cow meat as of April 13 were imported more than 37,104 tons, of which beef increased by about 200% and buffalo meat increased by 135% over the same period in 2019. Buffalo meat are imported 99.6% from India, beef imported mainly from Australia 52.23%, the United States 29.62%, Russian Federation 5.53%. Canada 3.90%...
Regarding poultry and poultry products, more than 78,376 tons were imported; an increase of 150% over the same period in 2019. Of which, they were mainly imported from the United States 65.09%, South Korea 14.07%, Brazil 9.90%, Poland 3.56%, Netherlands 4.44%, Russian Federation 0.35%....
Vietnam is also importing pigs for breeding purposes from the U.S, Canada and Taiwan. In the first three months of this year, 1,808 pigs were imported for livestock farming by four enterprises in Vietnam, according to VnExpress.
In the morning of April 21, concluding the meeting of the Steering Committee of Price Management, the Prime Minister stated that he will completely control inflation below 4% this year. This requires the implementation of comprehensive and effective solutions to reduce the price of live hog to about 60,000 VND/kg (US$2.56) soon.
The Prime Minister assigned the Ministry of Agriculture and Rural Development, the Ministry of Industry and Trade, the Ministry of Finance, and the Police to immediately implement solutions to stabilize pork prices, first of all to check prices, especially in large-scale livestock enterprises to take effective measures. "We encourage the development of businesses, but we must allocate profits appropriately", Prime Minister said.
Along with increasing the supply of pork in the country, the increase in imports to ensure the supply and demand of pork is both immediate and long-term. The Prime Minister has also suggested propaganda for people to change consumption habits for a more stable pork price in Vietnam, reported by Securities News.
Candy Lee