Increase in Vietnamese coffee volume exported to EU
Vietnamese coffee volume exported to  EU has been increased in the first seven  months of 2020, in which  volume exported to Poland, Belgium rised 53.7%, 20.1% worth US$23.5 million  and US$74.8 million respectively 
According to statistics from the Department of Agro-Processing and Market Development under the Ministry of Agriculture and Rural Development, an estimated 120,000 tonnes of coffee were exported in July with a value of US$213 million. This brings the volume and value of coffee exports during the first seven months of the year to 1.06 million tonnes worth US$1.8 billion, a fall of 0.1% in volume and 0.6% in value from the same period last year.
Luong Van Tu, chairman of the Vietnam Coffee - Cocoa Association, said that the EU represents the second largest market for Vietnamese coffee and accounts for over 42% of domestic coffee exports. Despite the impact of the novel coronavirus still causing numerous difficulties for the local economy and consumption, bread, milk, and coffee are still popular items with high levels of consumption among the EU. Therefore, along with the foundations put in place by the EU-Vietnam Free Trade Agreement, the coffee industry will be able to add value in the near future.
The Department of Agro-Processing and Market Development has assessed that the opening quarters of the year generally witnessed a downward trend in terms of prices. When compared to the end of 2019 however, domestic coffee prices enjoyed a surge of between VND500 to VND700 per kg after enduring a long period of very low prices.
It is anticipated that a limited supply of domestic coffee, coupled with water shortages in the Central Highlands region, will lead to lower output that will eventually drive up domestic prices in the near future.
Elsewhere, forecasts by the United States Department of Agriculture indicate a number of positive signals from major markets. Most notably, the EU is forecast to increase imports by 2 million bags to a total of 49.5 million coffee bags, a haul that makes up nearly 45% of the world's total coffee bean imports. The largest suppliers of coffee to the EU are Brazil, making up 29%, Vietnam, with 23%, Colombia, making up 7%, and Honduras, with 6%.
As the world's second largest importer, the US is also predicted to increase its import demand by 2 million to a total of 27 million bags. The leading coffee exporters to the US include Brazil, with 24%, Colombia, making up 22%, Vietnam, with 16%, and Honduras, making up 6%.
VOV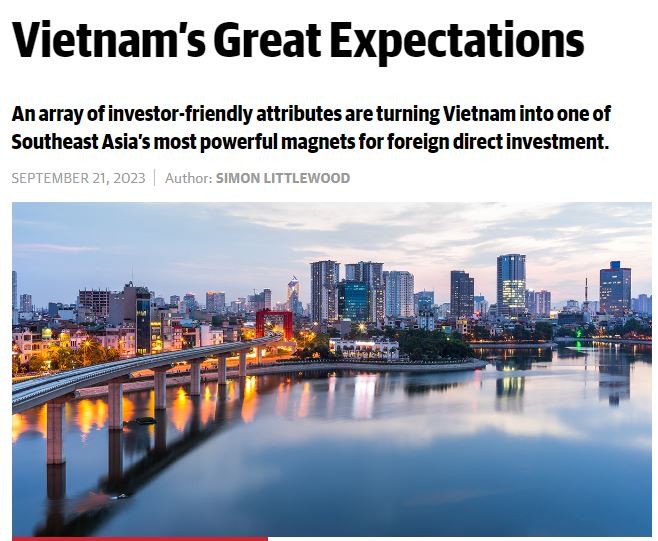 Economy
"An array of investor-friendly attributes are turning Vietnam into one of Southeast Asia's most powerful magnets for foreign direct investment," said Global Finance Magazine in a recent article.
September 23, 2023 | 16:38
Economy
Vietnam has a fast-increasing semiconductor ecosystem and possibilities to improve its position in the global supply chain. In the joint announcement of the US-Vietnam Comprehensive Strategic Partnership, the two countries acknowledged Vietnam's significant potential to become a key nation in the semiconductor industry, adding they "are supportive of the rapid growth of the semiconductor ecosystem in Vietnam."
September 22, 2023 | 09:22