According to Skymet Weather, a cyclonic circulation is over Comorin and surrounding areas. Another cyclonic system also persists over the southeastern parts of the Bay of Bengal and adjoining Indian Ocean.
A western disturbance has reached over Jammu and Kashmir. This system is not very active, although will give some areas on the mountains.
A cyclonic circulation is seen over Gujarat and adjoining areas. During the next 24 hours, heavy rains are expected over Andaman and Nicobar Islands and coastal parts of Tamil Nadu with light to moderate rain in some places. Light rains are expected over interior Tamil Nadu and Kerala.
Cold conditions will prevail over Punjab, Haryana, Delhi, Rajasthan, Uttar Pradesh, North Madhya Pradesh, Bihar, and Gujarat.
In eastern India, the minimum temperature may decrease by 2 to 3 degrees, which may increase the cold wave. Cold conditions are also expected in Vidarbha.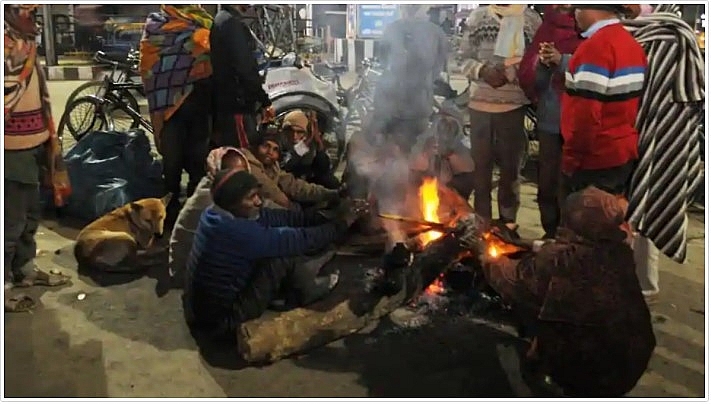 Icy winds coming from the northern hilly regions made the mercury dip by 5 to 6 degrees in the state.(HT PHOTO.)
There is a possibility of ground frost in the next 24 to 48 hours in the Gangetic plains.
According to Hindustan Times, cold wave conditions persisted in the Capital as Delhi recorded the season's lowest temperature on Saturday although abundant sunshine during the day lent some respite, weather scientists said.
Safdarjung Observatory, taken as representative for the city, recorded a minimum temperature of only 3.9 degrees Celsius, the lowest seen in the winter months so far and four notches below normal, India Meteorological Department reported.
Mercury dipped to 3.3°C and 3.4°C at Lodhi Road and Ayanagar stations, respectively, as icy winds from snow-laden western Himalayas continued to sweep the city, IMD said.
However, 'cold day' conditions -- when temperatures are lower than a specified threshold -- abated on Saturday, with Safdarjung recording a maximum temperature of 21.8°C, one degree below normal.
"Cold wave conditions are likely to persist over Delhi for a few days. Cold day conditions have abated in most parts of northwest India which means there is clear sunshine, which is able to warm the surface. The layer of fog has moved away. We are expecting a western disturbance to impact the region around December 22, when moisture will increase and dense fog is likely in the entire region. There may be cold wave conditions also," said Kuldeep Srivastava, head of the regional weather forecasting centre.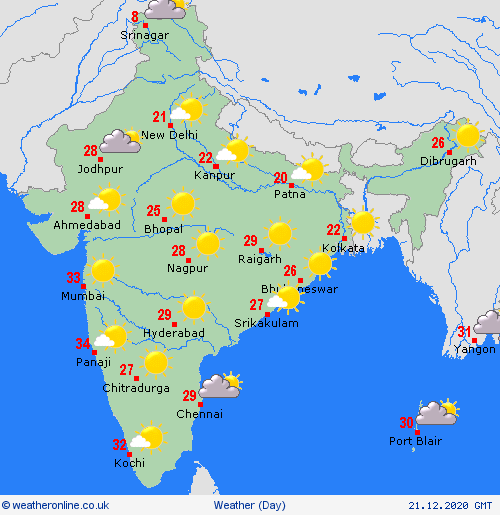 Photo: Weather Online
A cold day is recorded when minimum temperature is under 10 degrees C and maximum temperature is 4.5 degrees C below normal. A "severe" cold day is seen when the minimum temperature is under 10 degrees C and maximum temperature is 4.5 degrees C below normal.
A cold wave occurs in plains when the minimum temperature is 10 degrees Celsius or below and/or is 4.5 notches lower than the season's normal for two consecutive days. A cold wave is also declared when the minimum temperature is less than 4 degree C in the plains. Witnessing a cold day and cold wave together means the gap between day and night temperatures was lower than normal.
IMD has forecast that there is likely to be a gradual rise in maximum temperatures by 2-3 degrees C in the next two days, but minimum temperatures could drop 2-4 degrees C during the same period over central and east India.
Cold wave/ severe cold wave conditions may persist in some places over Punjab, Haryana, Chandigarh, Delhi and Uttar Pradesh; at isolated places over Rajasthan, Jammu and Kashmir, Himachal Pradesh, Uttarakhand, Madhya Pradesh, Chhattisgarh, Bihar and Gangetic West Bengal during next three days and decline thereafter, the IMD's bulletin stated.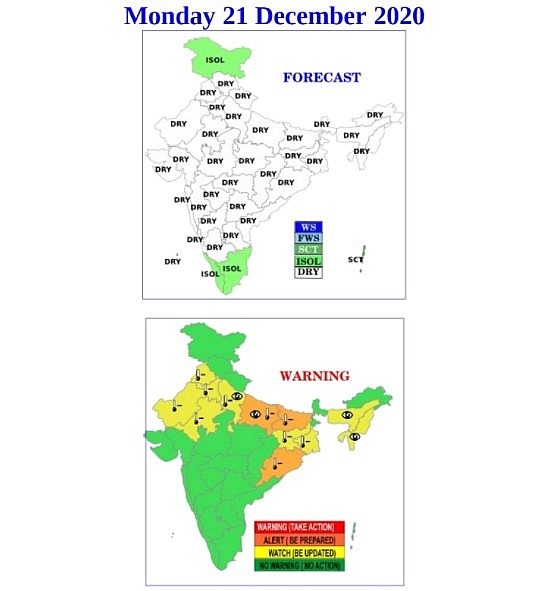 Photo: IMD
Cold day/severe cold day conditions are also likely at a few places such as Uttarakhand, eastern and western Uttar Pradesh, and Madhya Pradesh during next 48 hours. Cold day conditions are likely to recede from these regions from December 21, it added.
Delhi's air quality remained in the "poor" category, with average air quality index (AQI) standing at 290 on Saturday. "Air pollution levels may begin rising from December 21 because wind speed is likely to reduce and dense fog is likely to impact the entire northwestern region," said Srivastava.
Cold wave weather conditions continued in Noida and neighbouring areas on Saturday, as the mercury fell by at least three degrees over the past 24 hours.
According to weather analysts, cold wave conditions will continue on Sunday, and return from Tuesday December 22 again after a short breather on Monday.
"Icy cold winds will continue their effect on the region towards Sunday as well, with the minimum temperature likely to hover around 5 degrees Celsius and the maximum around 22 degrees Celsius, respectively," said an official from IMD.
Experts said that the mercury will, however, rise by two to three degrees on Monday, briefly pulling the region out of the cold wave situation.
Ruby Lee