India weather forecast latest, November 26: Cyclone Nivar sets to cross the coasts of Tamil Nadu and Puducherry
A severe cyclonic storm named Nivar is forecasted to make landfall with a wind speed of 120 to 130kmph gusting ton 145km.
According to Hindustan Times, cyclone Nivar, which has already intensified into a severe cyclonic storm over the southwest Bay of Bengal, is likely to cross the coasts of Tamil Nadu and Puducherry on Wednesday night. It may further intensify into a "very severe cyclonic storm" with a wind speed of 120 to 130kmph gusting to 145kmph.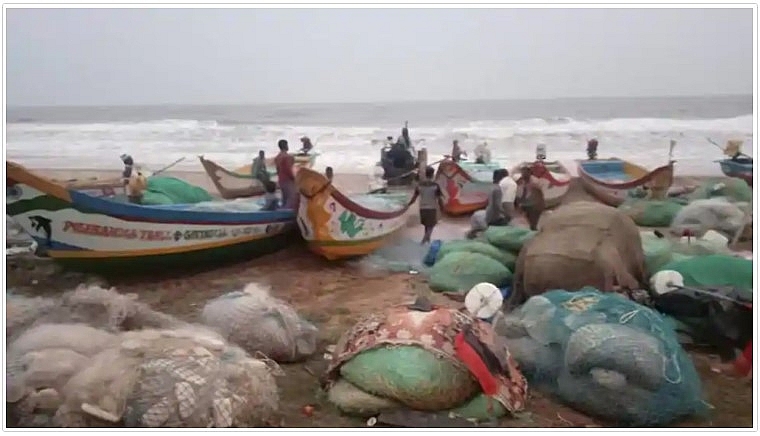 Fishermen pull their boats along the shore before the landfall of Cyclone Nivar, at Kothapatnam in Prakasam district, Tuesday.(PTI File Photo )
Nivar moved west-northwestwards with a speed of 6kmph in the past six hours and lay centred over southwest Bay of Bengal about 300km east-southeast of Cuddalore, about 310km east southeast of Puducherry and 370km south southeast of Chennai.
The India Meteorological Department (IMD), which had said earlier that cyclone was going to make landfall in the evening, updated the forecast to late Wednesday in its 6am bulletin. Nivar is expected to make landfall between Mamallapuram and Karaikal.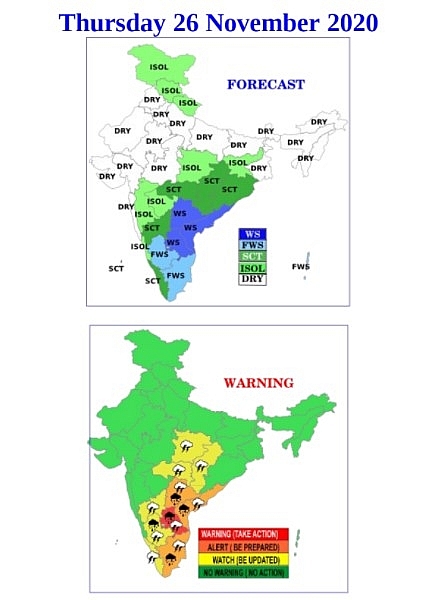 Photo: IMD
Heavy rain lashes Chennai: Tamil Nadu's Chennai is witnessing heavy rainfall for the past two days. During to the prevailing weather and Cyclone Nivar set to make landfall tonight, authorities declared a holiday on Wednesday, have banned public gatherings, and closed shops and have mobilised thousands of rescue personnel.
According to Skymet Weather, during the next 24 hours, cyclone Nivar will intensify into the severe cyclone and make the landfall in the shores of Tamil Nadu near Puducherry on the evening/night of November 25.
Heavy to very heavy rainfall is expected over coastal Tamil Nadu and northern Tamil Nadu as well as south interior Karnataka, Rayalaseema and south coastal parts of Andhra Pradesh.
Photo: Weather Online
Light to moderate rains and snowfall may also occur from Jammu and Kashmir to Himachal Pradesh and Uttarakhand.
Light rains are expected over parts of Punjab and Haryana as well as northwest Uttar Pradesh. Minimum temperatures may increase in the plains and mountainous states of northwest India.
Friendship
Prime Minister Pham Minh Chinh on August 14 attended a conference reviewing the 30-year cooperation between the President Ho Chi Minh Mausoleum Management Board and the All-Russian Scientific Research Institute of Medicinal and Aromatic Plants (VILAR) in preserving the corpse of the late Vietnamese leader.