India weather forecast latest, November 21: Winter arrives early, recording temperatures under 10 degree Celsius
In many north-western towns and cities of India, data shows that minimum temperature has dropped to single digit numbers as a sign of early winter.
According to Hindustan Times, winter is arriving early this year with many parts of northwest India recording minimum temperatures of under 10-degree C. On Friday, the minimum temperature recorded in Delhi was 7.9 degrees Celsius at 6.30am.
Data with regional meteorological centre, Delhi, shows that minimum temperature has dropped to single digit numbers in many north-western towns and cities.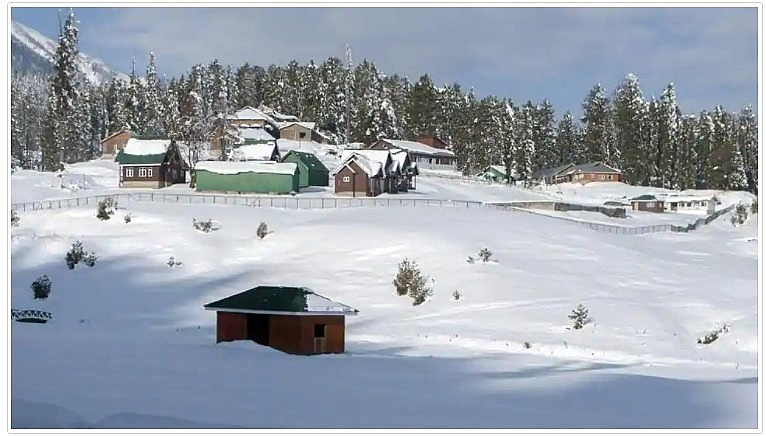 Photo: Hindustan Times
Snow and rainfall was reported in Sonmarg and Drass areas of Kashmir and Ladakh. The India Meteorological Department (IMD) has predicted an improvement in the weather for the next two days in Jammu and Kashmir and Ladakh.
However, IMD has also predicted another spell of rain and snowfall from November 22. "Another spell of rain and snowfall could likely take place on the evening of November 23 to November 25.The main activity could be on November 24 which may lead to temporary closure various vulnerable passes. The spell seems to lesser than earlier ones," said IMD, J&K and Ladakh.
Meanwhile, a low pressure area is likely to have formed over central parts of south Arabian Sea on November 19. It is very likely to move west-north-westwards and concentrate into a depression over central parts of South Arabian Sea and adjoining central Arabian Sea during subsequent 48 hours. The easterly wave due to the low-pressure area will bring widespread rains to Kerala, Lakhshadweep and Andaman and Nicobar region.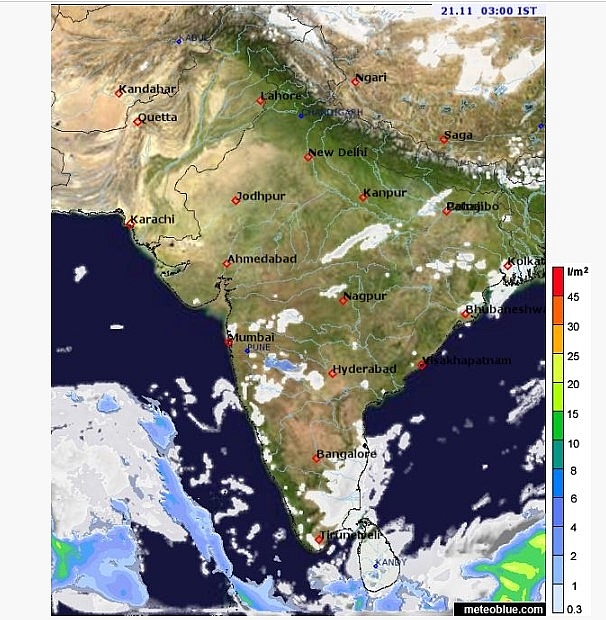 Photo: meteoblue
According to Skymet Weather, during the next 24 hours, rain activities will decrease further over the South Peninsula. Scattered light to moderate rains is expected over Tamil Nadu, Kerala, and Lakshadweep.
In the wake of fresh Western disturbance, scattered rain and snow activities are possible over Jammu and Kashmir, Gilgit Baltistan, Muzaffarabad, isolated pockets of Ladakh, and Himachal Pradesh.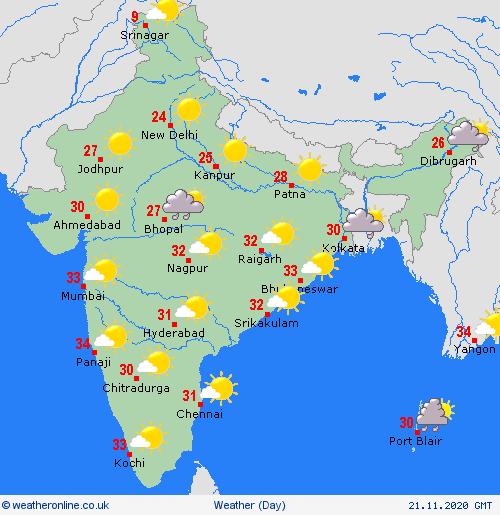 Photo: Weather Online
Due to the formation of a confluence zone, light to moderate rains may occur over Vidarbha, Marathwada, and isolated pockets of Madhya Maharashtra.
Isolated light rain with one or two moderate spells are possible over parts of Madhya Pradesh, isolated pockets of east Uttar Pradesh, north east Madhya Pradesh, Bihar, and Jharkhand as well as over north eastern part of the country.