Indian Naval Fleet Pays Friendship Visit to Ho Chi Minh City
At noon on November 30, the Indian Navy fleet consisted of the multi-role stealth frigate INS Shivalik and corvette INS Kamorta docked at Nha Rong port, starting a 3-day friendship visit to Ho Chi Minh City.
The INS Shivalik numbered F47 was operated by Colonel Sauabh Thakur, and the INS Kamorta numbered P28 was led by Lieutenant Colonel Modit Soni. Following the fleet are 670 Indian officers and sailors.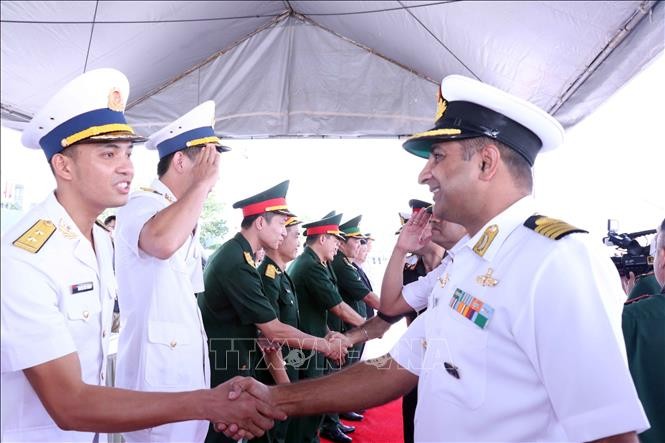 Officers and soldiers of the Navy Region 2 Command greeted Colonel Sauabh Thakur, captain of the INS Shivalik. (Photo: VNA)
The visit aims to contribute to enhancing cultural exchanges, tightening friendship, and bilateral defense cooperation between the two militaries in general and the two navies in particular on the occasion of the 50th anniversary of the establishment of Vietnam - India diplomatic relations (1972-2022).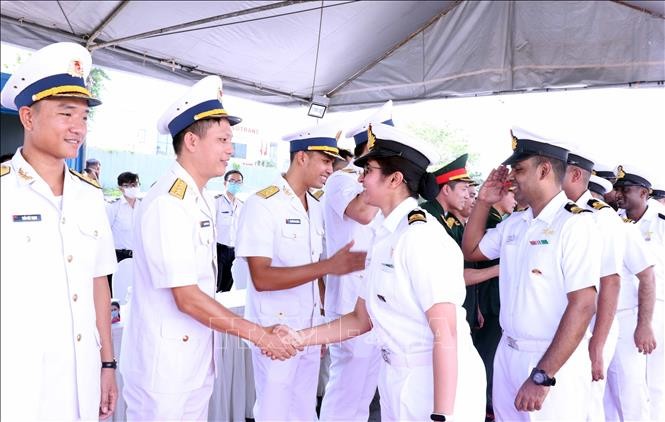 Officers and soldiers of the Navy Region 2 welcome officers and crew of the Indian Navy ship. (Photo: VNA)
During their visit to Ho Chi Minh City, officers and sailors of the Indian Navy Fleet will pay a courtesy visit to the leaders of Ho Chi Minh City, the Command of Military Region VII, the Command of Naval Region II and lay a wreath at the President Ho Chi Minh Monument.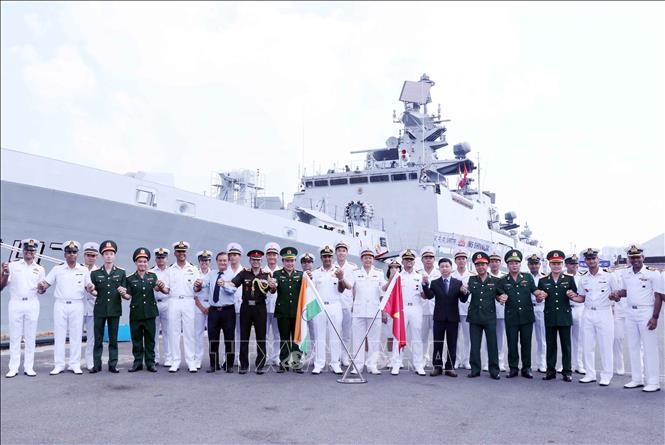 Representatives of the City's Department of Foreign Affairs and the Commander of Naval Region 2, the City Border Guard took a photo with officers of the ships INS Shivalik and INS Kamorta. (Photo: VNA)
Within the framework of the visit, Indian officers and sailors will also participate in friendship activities, namely the sports competitions with officers and soldiers of the Command of Naval Region II; exchange of maritime expertise in several maritime fields, passing exercises (PASSEX), and visits to historical sites in Ho Chi Minh City.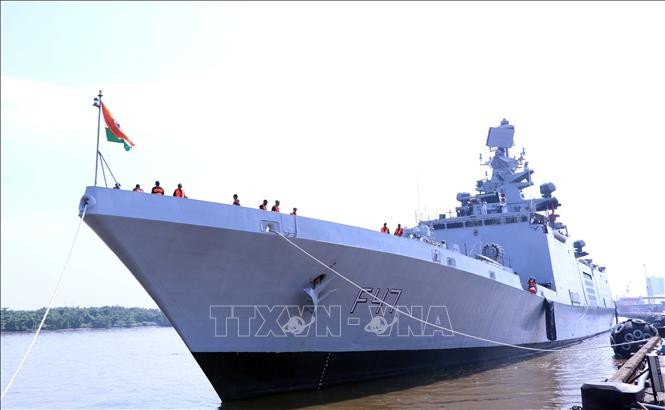 Stealth destroyer INS Shivalik docked at Nha Rong harbor. (Photo: VNA)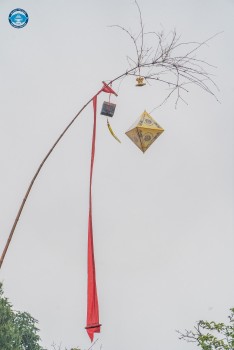 Viet's Home
In the past, the Neu pole (a tall bamboo pole with red garment strips used to ward off evil spirits during the lunar New Year) lowering ceremony at the royal palace of the Nguyen Dynasty was performed to mark the end of the New Year holiday and prepare to enter a new working year.