Indian police found bodies buried along the riverbanks, suspecting Covid-19 remains
Indian police are investigating the case of dead bodies buried in shallow sand graves or washing up on the Ganges River banks, suspecting that they were the remains of Covid-19 victims.
In jeeps and boats, the police used portable loudspeakers with microphones asking people not to dispose of the bodies in rivers. "We are here to help you perform the last rites," police said.
On Friday, rains exposed the cloth coverings of bodies buried in shallow sand graves on the riverbank in Prayagraj, a city in Uttar Pradesh state, according to CNBC.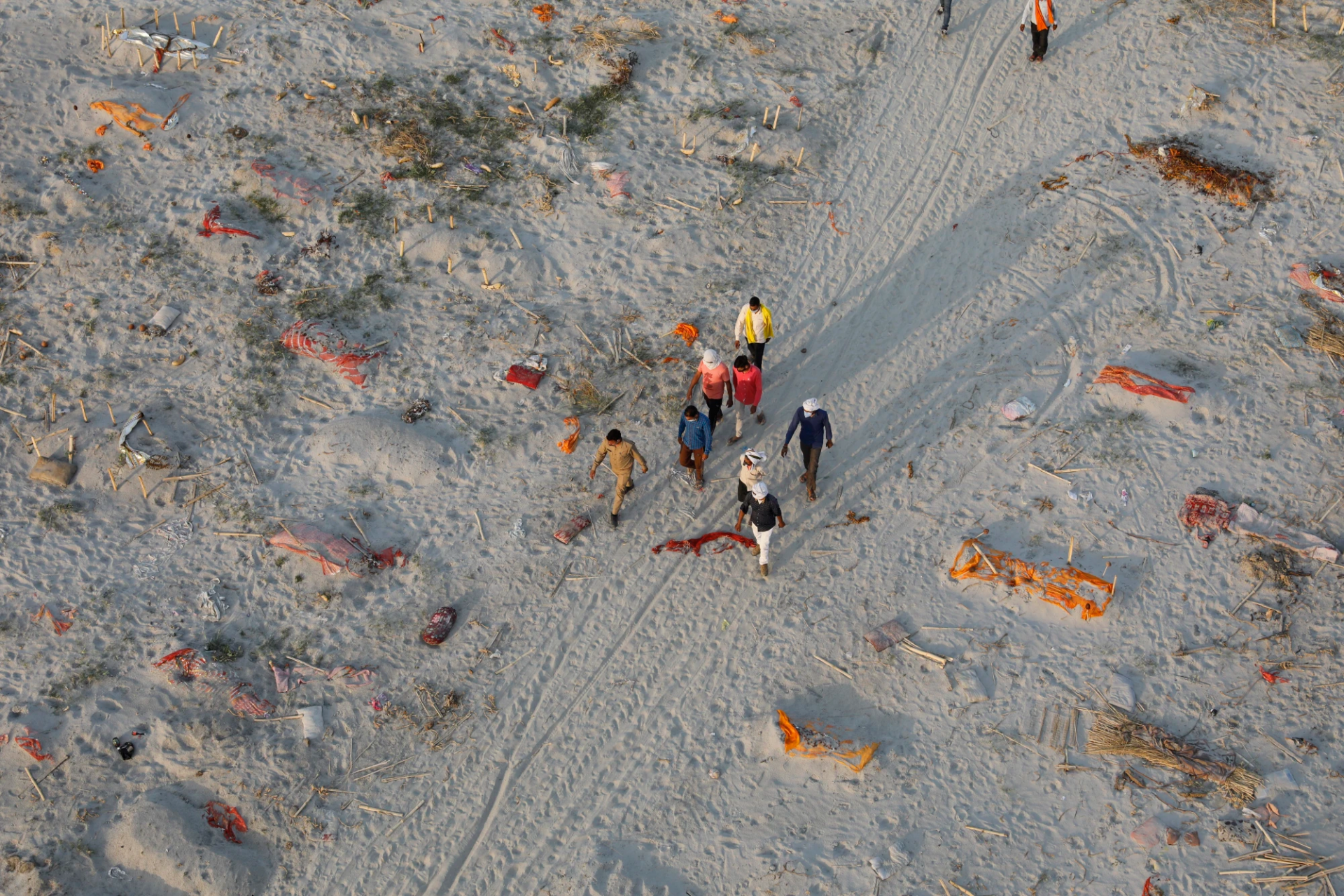 Bodies of suspected Covid-19 victims are seen in shallow graves buried in the sand near a cremation ground on the banks of Ganges River in Prayagraj, India on Saturday.Rajesh Kumar Singh / AP
Navneet Sehgal, a state government spokesman, on Sunday denied local media reports that more than 1,000 corpses of Covid-19 victims had been recovered from rivers in the past two weeks. "I bet these bodies have nothing to do with Covid-19," he said.
He said some villagers did not cremate their dead, as is customary, due to a Hindu tradition during some periods of religious significance and disposed of them in rivers or digging graves on riverbanks.
K.P. Singh, a senior police officer, said authorities had earmarked a cremation ground for those who died of Covid-19 on the Prayagraj riverbank and the police were no longer allowing any burials on the riverfront.
Ramesh Kumar Singh, a member of Bondhu Mahal Samiti, a philanthropic organization that helps cremate bodies, said the number of deaths is very high in rural areas, and poor people have been disposing of the bodies in the river because of the exorbitant cost of performing the last rites and shortage of wood. The cremation cost has tripled up to 15,000 rupees ($210).
Health authorities last week retrieved 71 bodies that washed up on the Ganges River bank in neighboring Bihar state.
India hopes COVID-19 cases stabilising even as daily deaths stay near 4,000
India reported its smallest daily increase in coronavirus infections in nearly three weeks on Saturday, with deaths still near the 4,000-mark, but federal health officials said cases and fatalities are rapidly stabilising in this wave of the pandemic.
The overall rate of positive cases per tests had dipped to 19.8% this week from 21.9% last week, federal health officials said in a briefing, but warned that cautiousness must continue, Reuters reported.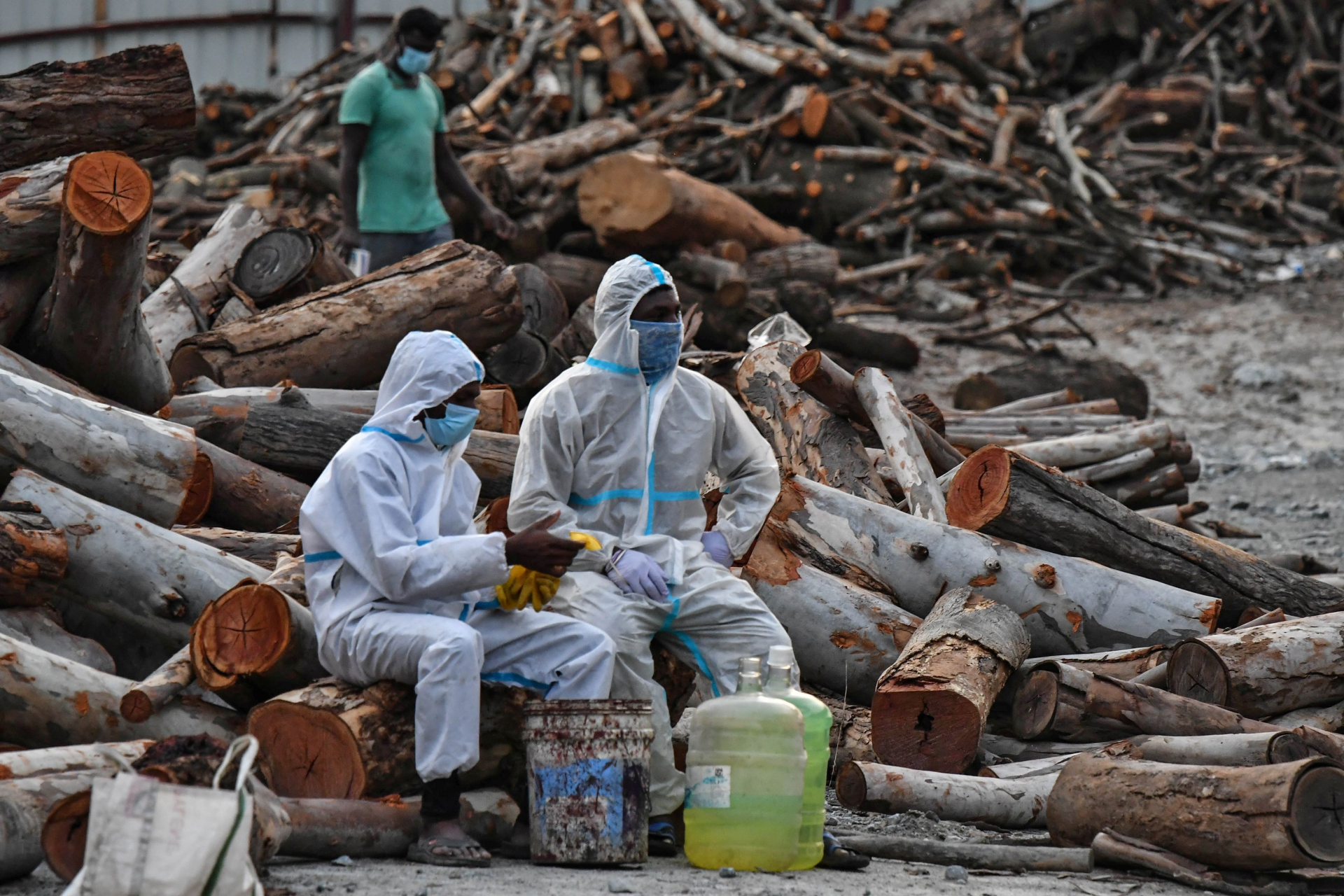 Photo: Reuters
Randeep Guleria, director of AIIMS Hospital in Delhi warned that secondary infections like mucormycosis or "black fungus" were adding to India's mortality rate with states having reported more than 500 cases recently in COVID-19 patients with diabetes.
Earlier in the day, Prime Minister Narendra Modi told officials to focus on distributing resources including oxygen supplies in the hard-hit rural areas, according to a government statement.
He also called for more testing in India's vast countryside, which is witnessing a rapid spread of the virus, it added.
In the past 24 hours, India added 326,098 new infections, taking its tally to 24.37 million, with 3,890 deaths, for a toll of 266,207, health ministry data shows. But the slow growth may also reflect test rates that are at their lowest since May 9.
In Geneva, the World Health Organization's chief said India was a huge concern, with the second year of the pandemic set to be more deadly than the first.
Tedros Adhanom Ghebreyesus spoke to an online meeting after Modi sounded the alarm on Friday over COVID-19's rapid spread through the countryside.
Four thousand WHO-supported oxygen concentrators arrived in Delhi on Saturday and will be rushed to states over the next 2-3 days to support the COVID-19 response, Tedros tweeted.
During the past week, the south Asian nation has added about 1.7 million new cases and more than 20,000 deaths in a second wave of infections that has overwhelmed hospitals and medical staff.
India promises more vaccines
The number of deaths from COVID-19 in the past 24 hours in India has risen more than 4,000 for the fourth time in a week, with Sunday's 311,170 new infections representing the lowest single-day rise in more than three weeks.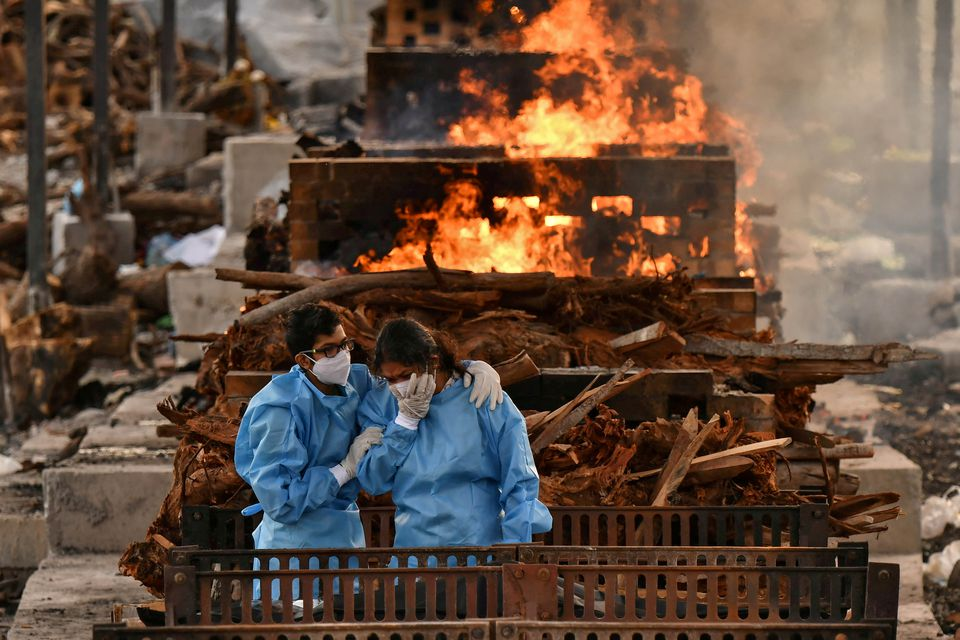 Family members of Vijay Raju, who died due to the coronavirus disease, mourn before his cremation at a crematorium ground in Giddenahalli village on the outskirts of Bengaluru, India, May 13, 2021. REUTERS/Samuel Rajkumar/File Photo
Federal health officials warned against any complacency over a "plateauing" in the rise of infections, however, and urged states to add intensive care units and strengthen their medical workforces.
The northern states of Delhi and Haryana extended lockdowns, slated to end on Monday, by a week.
Delhi's Chief Minister Arvind Kejriwal said the rate of positive cases compared with overall tests carried out had come down to 10% from as high as 30% earlier this month.
"The gains we have made over the past week, we don't want to lose them. So we are going to extend the lockdown for another week," Kejriwal told reporters.
The southern state of Kerala, which has previously announced a lockdown extension, also introduced stricter restrictions in some districts on Saturday. It warned that people not wearing masks where required or violating quarantine protocols faced being arrested, with drones used to help identify violators.
The government said it would send an additional 5.1 million doses of COVID-19 vaccines to states over the next three days.
Even though India is the world's largest vaccine-producing nation, only 141.6 million people have received at least one vaccine dose, or roughly 10% of its population of 1.35 billion, according to health ministry data.