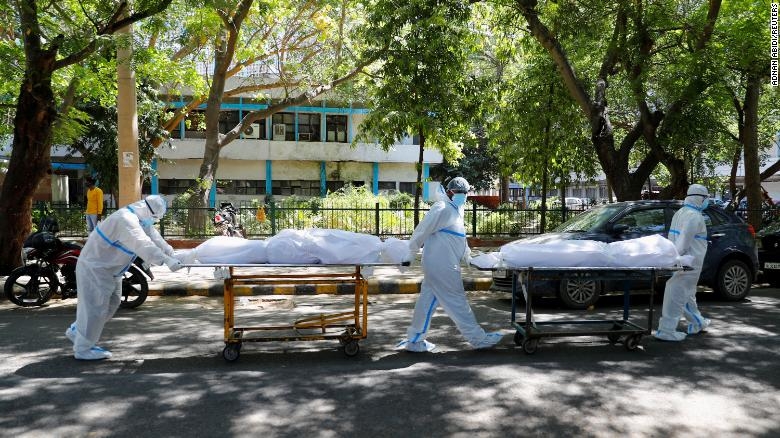 Health workers wearing personal protective equipment carry bodies of people who were suffering from Covid-19 outside the Guru Teg Bahadur hospital, in New Delhi, India, on April 24.
Just six weeks ago, India's Health Minister declared the country was "in the endgame" of the Covid-19 pandemic.
But on Monday, the country reported 352,991 new cases and 2,812 virus-related deaths. The situation is particularly dire in the capital New Delhi, which is under lockdown until May 3. The city is facing severe oxygen shortages. Delhi does not produce its own oxygen and relies on resources supplied by the central government, according to Delhi's Chief Minister Arvind Kejriwal.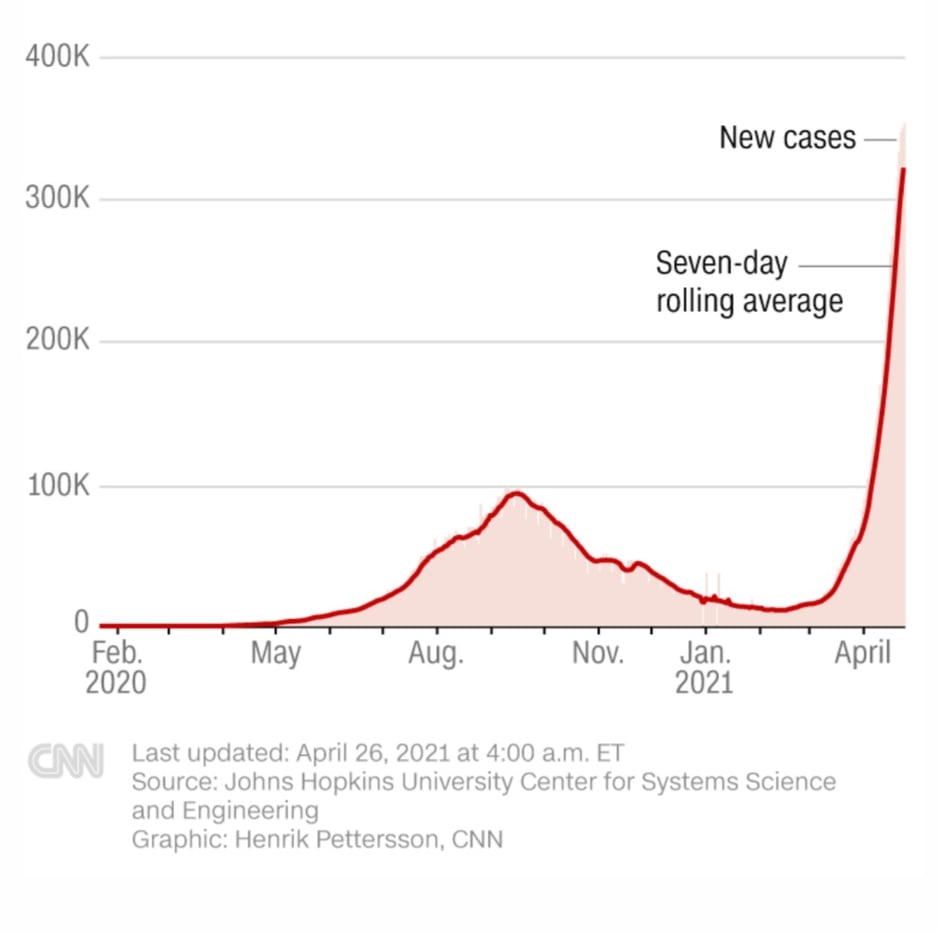 (Line graph: CNN)
Severe shortage of oxygen
Given the escalating new infections day-on-day reported, medical facilities across India have been running out of oxygen, ICU beds, medicine, and ventilators in the past two weeks, with patients left outside hospitals waiting for care. Bodies are piling up in morgues and crematoriums, and authorities have been forced to hold mass cremations at makeshift sites.
According to CNN, several Delhi hospitals tweeted SOS messages over the weekend appealing for oxygen supplies. On Saturday, at least 20 critically ill patients died after oxygen supply was delayed at one Delhi hospital.
In a tweet Sunday, Prime Minister Narendra Modi said his administration will set up 551 oxygen generation plants "in every district to ensure adequate oxygen availability."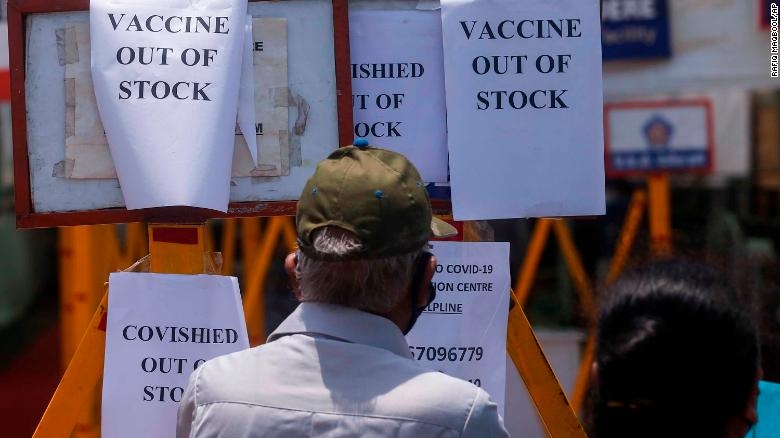 Notices about the shortage of Covid-19 vaccines on the gate of a vaccination centre in Mumbai, India, on April 20. (Photo: CNN)
The central government has come under fierce criticism within the country for its handling of the outbreak, which has seen overwhelmed hospitals and residents post pleas on social media for more supplies from state and federal officials. Many have turned to the black market in a desperate attempt to save their loved ones.
Modi only addressed the nation on the crisis for the first time last week, having held political rallies and largely downplayed the second wave's urgency in the weeks before.
During his monthly radio program on Sunday, Modi said he had held meetings with experts from the pharmaceutical industry, vaccine makers and oxygen producers on how to tackle the second wave.
Modi: 'This storm has shaken the nation'
Despite administering the most number of coronavirus vaccines in the world after the United States and China, India ranks lower than many countries in per capita vaccination.
The country on Monday announced that those aged 18 or older will be eligible for a Covid-19 vaccine starting May 1. Private vaccination providers will also be able to charge and provide vaccines.
In his monthly radio program, Indian Prime Minister Narendra Modi on Sunday stressed the importance of getting vaccinated and referred to the second Covid-19 wave as a "storm" that had "shaken the nation."
"I'm speaking to you at a time when Covid-19 is testing our patience and capacity to bear pain. Many of our loved ones have left us in an untimely way. After successfully tackling the first wave, the nation's morale was high, it was confident. But this storm has shaken the nation," Modi said.
The surge leaves many countries to announce travel restrictions for India
Germany and South Korea announced new travel restrictions for India starting Sunday amid growing international concern over the B.1.617 coronavirus variant first detected in the country, which includes a number of mutations. The Indian Health Ministry has said such mutations increase infectivity and aid in escaping immune response.
"In order not to jeopardize our vaccination campaign, travel to India must be significantly restricted," tweeted German Health Minister Jens Spahn. Starting Sunday night, only German citizens with a negative Covid-19 test will be allowed to enter the country from India and must quarantine immediately upon arrival for 14 days.
"Flights carrying South Korean citizens will be allowed but at a limited capacity," South Korea health official Son Young-rae said in a briefing.
Countries pledge to send rapid aid as COVID rages in India
Several countries have promised to rapidly send supplies to help India as the country reels from shortages of oxygen and medicines amid a devastating second wave of the coronavirus, Al Jazeera reported.
The White House said in a statement it had identified sources of raw material urgently needed for India's manufacture of the Covishield vaccine and will make those available.
European Commission chief Ursula von der Leyen tweeted that the organisation was "pooling resources to respond rapidly to India's request for assistance".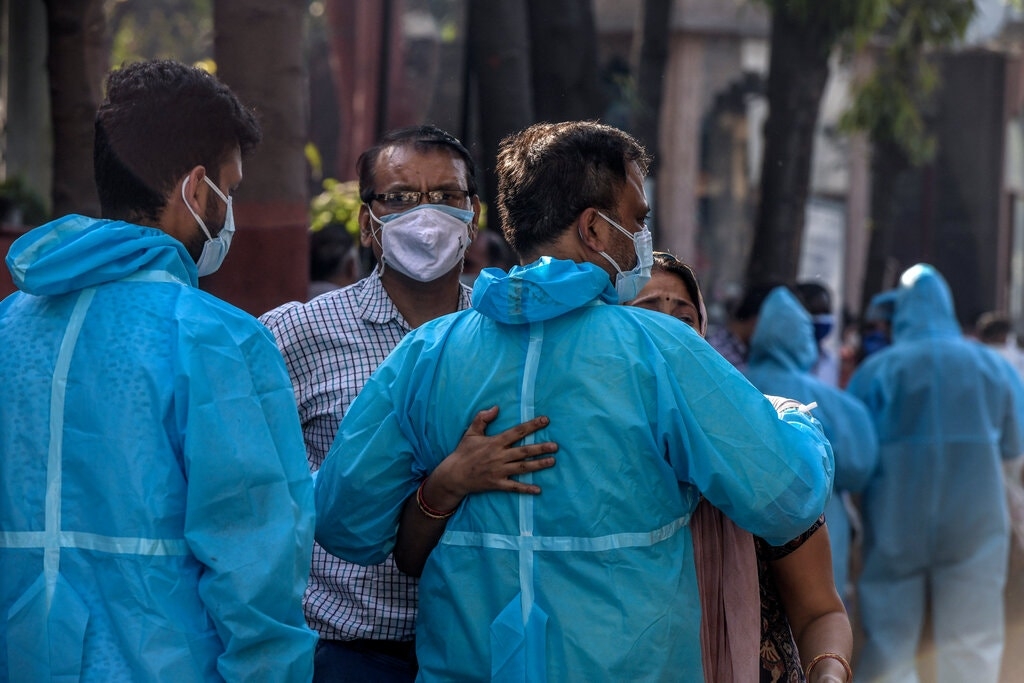 A family hugging during the cremation of a loved one who died from the coronavirus in Delhi. (Photo: NY Times)
France, the United Kingdom and Germany also promised rapid support. Neighbouring rival Pakistan offered medical equipment and supplies after Prime Minister Imran Khan tweeted prayers for a "speedy recovery".
Australia PM Scott Morrison says that his government is currently working with India's to determine how it can assist. The two countries together with the US and Japan, are in a bloc called the Quad, that have pledged to supply a billion doses of the Covid-19 vaccine across Asia.
China Foreign ministry spokesperson Zhao Lijian says that Beijing is "ready to provide support and help according to India's need." Suspending old rivalries, they are currently in talks with Indian health officials.
Germany sent 23 mobile oxygen generation plants for use in military units tending to Covid-19 patients. They're expected to arrive in India this week, according to QUARTZ.
Mass funeral pyres reflect India's COVID crisis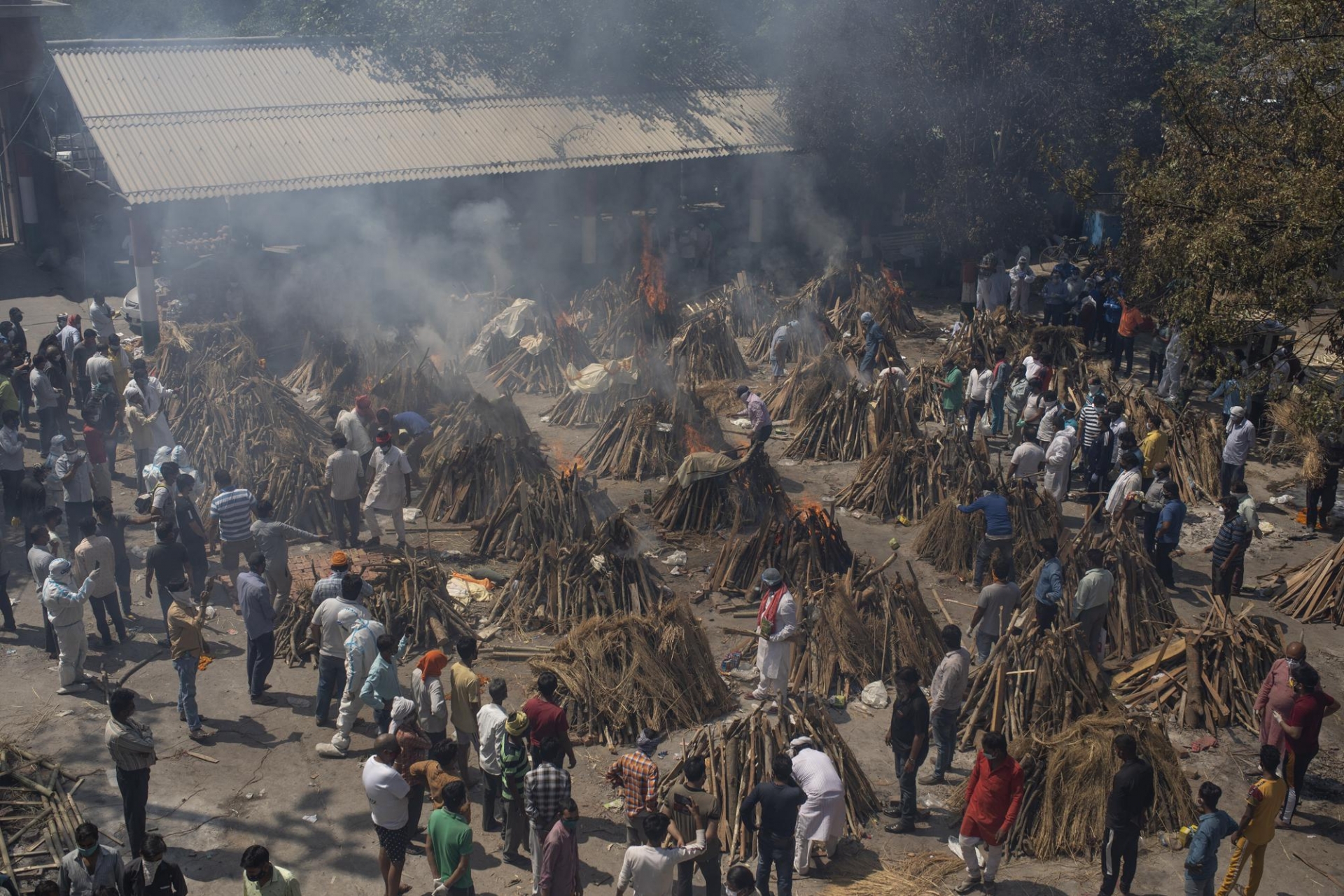 Embedded Photo Alignment (DESKTOP ONLY): Multiple funeral pyres of those who died of COVID-19 burn at a ground that has been converted into a crematorium for the mass cremation of coronavirus victims, in New Delhi, India, Saturday, April 24, 2021. (AP Photo/Altaf Qadri)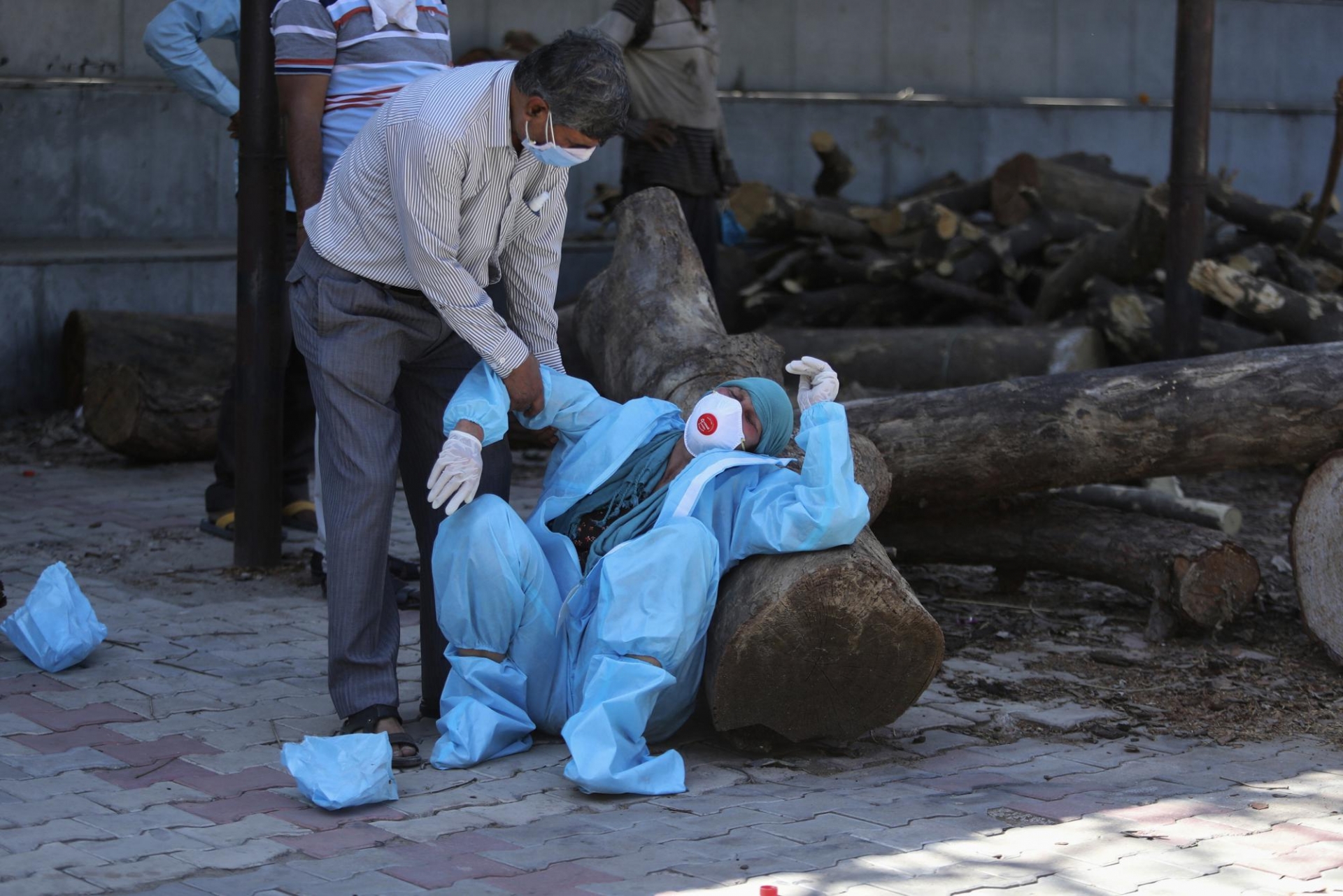 A relative of a person who died of COVID-19 breaks down during cremation in Jammu, India, Sunday, April 25, 2021. (AP Photo/Channi Anand)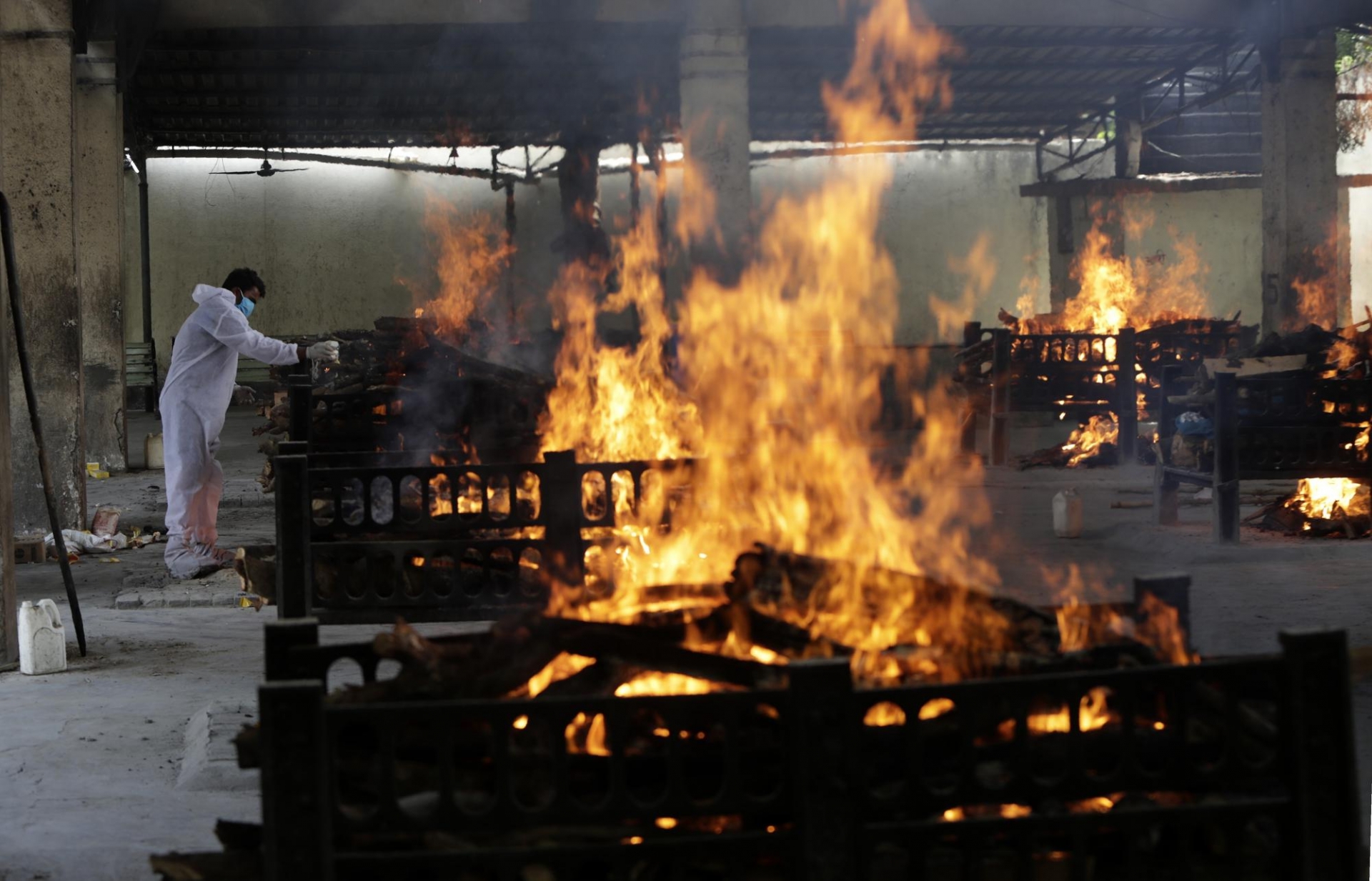 Flames rise from cremation pyres of 13 COVID-19 patients who died in a fire that broke out in Vijay Vallabh COVID-19 hospital, at Virar, near Mumbai, India, Friday, April 23, 2021. (AP Photo/Rajanish Kakade)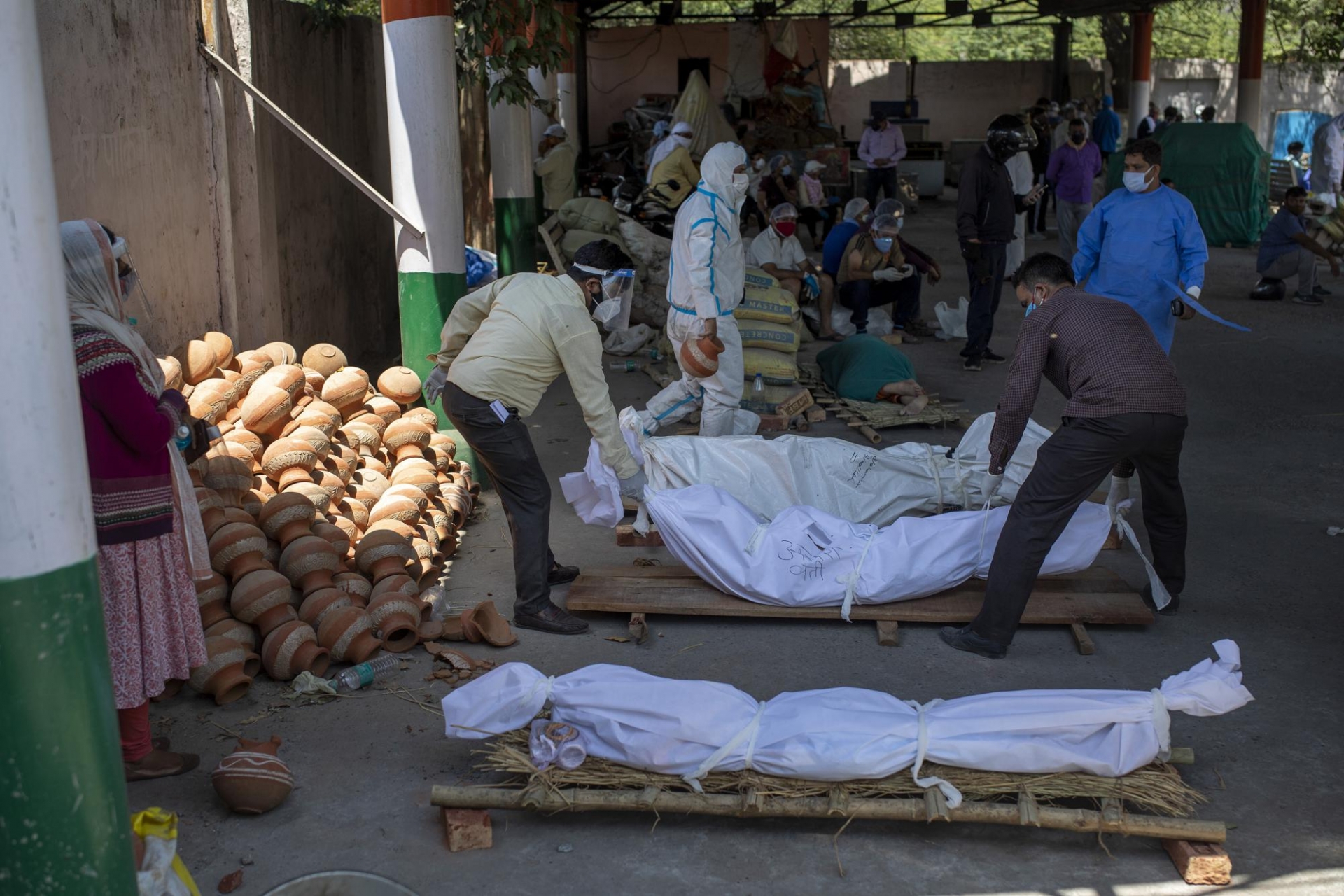 People line up dead bodies of those who died of COVID-19 at a crematorium, in New Delhi, India, Saturday, April 24, 2021. (AP Photo/Altaf Qadri)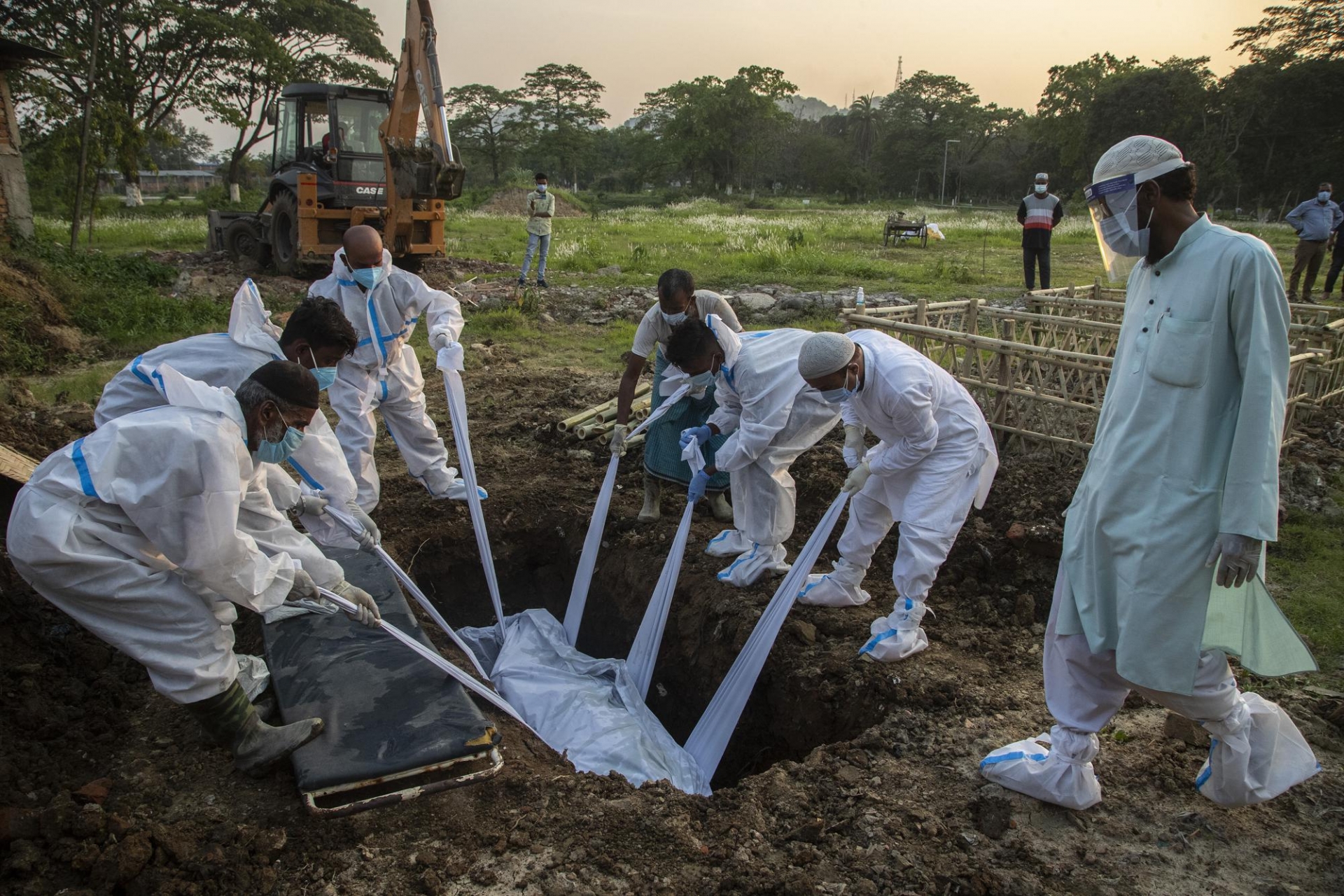 Relatives and municipal workers in protective suit bury the body of a person who died due to COVID-19 in Gauhati, India, Sunday, April 25, 2021. (AP Photo/Anupam Nath)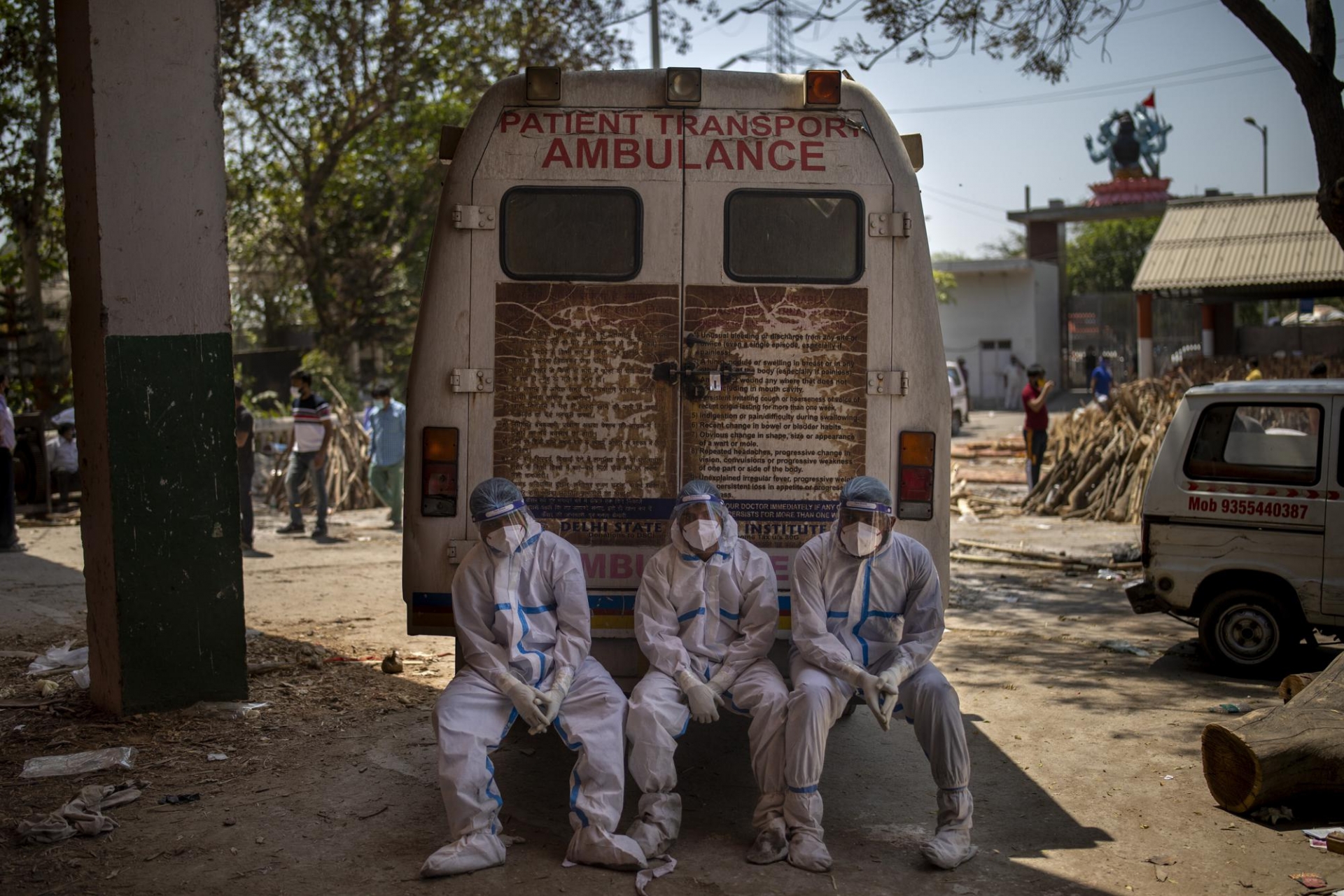 Exhausted workers, who bring dead bodies for cremation, sit on the rear step of an ambulance inside a crematorium, in New Delhi, India, Saturday, April 24, 2021. (AP Photo/Altaf Qadri)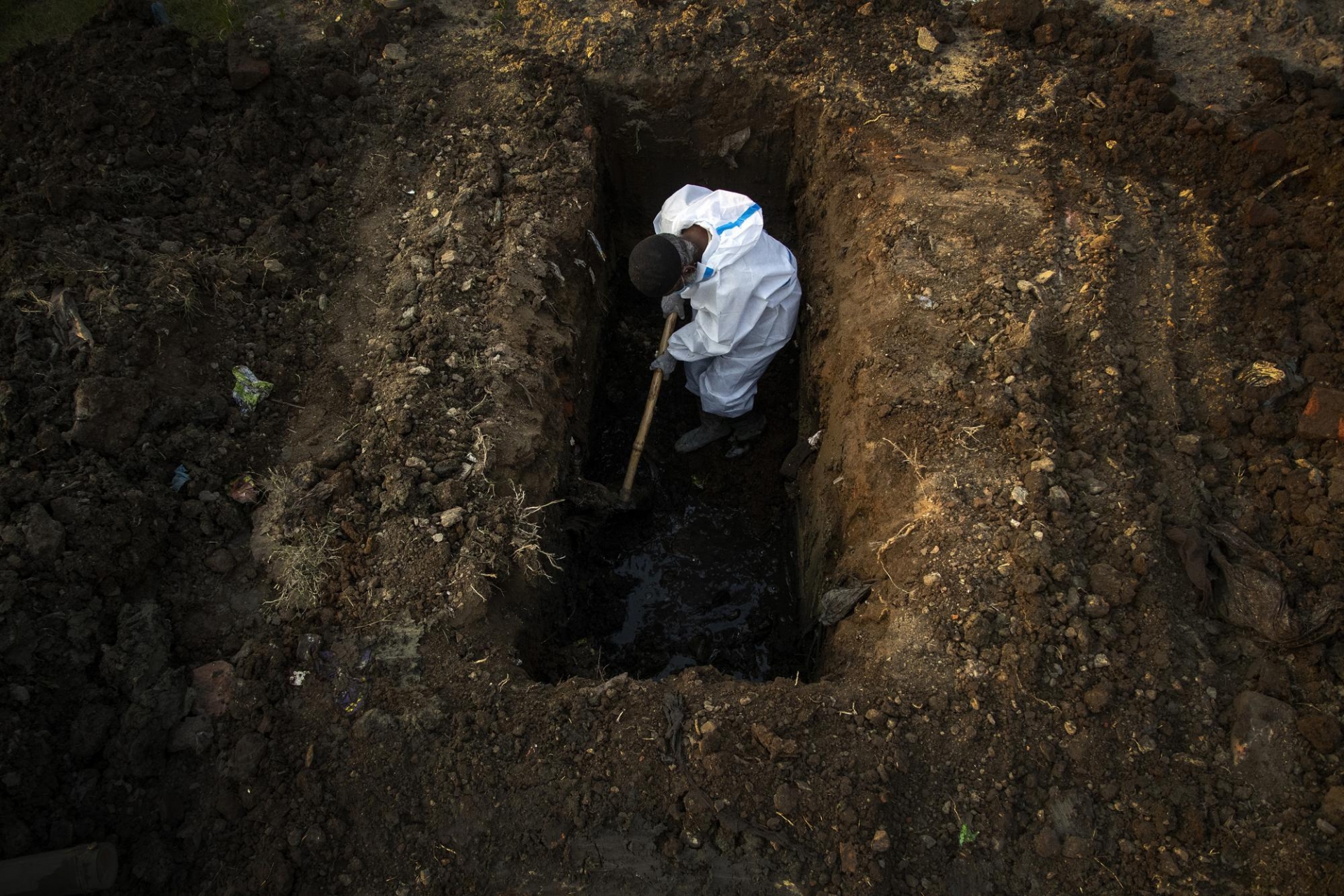 A man in protective suit digs earth to bury the body of a person who died of COVID-19 in Gauhati, India, Sunday, April 25, 2021. (AP Photo/Anupam Nath)
Jasmine Le