Vietnamese Americans vulnerable to COVID-19 misinformation
Doubt around vaccines and conspiracy theories have left young Vietnamese Americans scared for their parents' safety. They're begging social media companies to pay attention.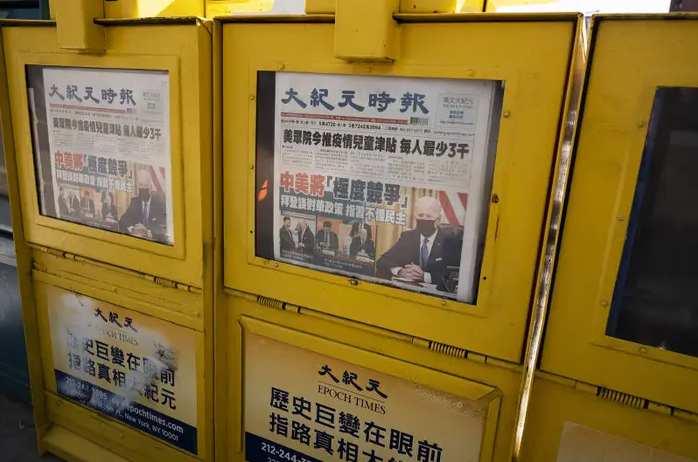 Copies of the Epoch Times in newspaper boxes on Feb. 8, 2021, in New York's Chinatown. (Photo: AP)
Young Vietnamese Americans are desperately trying to counter social media algorithms and far-right YouTube personalities that have pulled their families into conspiracy theories, strained relationships, and caused paranoia about the safety of vaccinations.
"If you spoke to any young Vietnamese American now, they'll probably talk about how horrified they are about what their parents are watching," said Anh Thu Bui, a board member of the Progressive Vietnamese American Organization (PIVOT), a group of progressive organizers who launched Viet Fact Check, a volunteer-led project to fact-check misinformation.
Organizers and family members who spoke to BuzzFeed News cited language barriers and the vacuum of credible news channels that broadcast in Vietnamese and English as the key factors for the widespread issue. Because of the vacuum, they said, many people turn to YouTube channels and Facebook livestreams that post daily content in Vietnamese that feels familiar and reliable but often contains misinformation. "They see YouTube and Facebook as a big brand, so if it's on YouTube, it must be OK," Diep Tran, the managing editor of Viet Fact Check, told BuzzFeed News.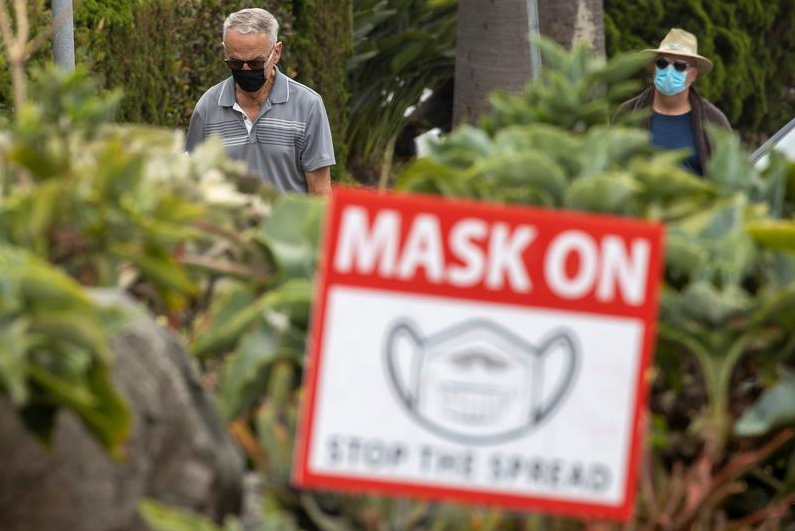 A street scene in Del Mar, California, the U.S., on July 30, 2020. (Photo: Reuters)
The group recently surveyed where community members were getting information, and the sources cited included an array of YouTube channels and outlets. The survey's top source was Nguỵ Vũ, a Vietnamese refugee, author, and longtime radio host known as The KingRadio. When asked about the claims he makes about COVID-19 in his videos, The KingRadio told BuzzFeed News: "The media for my people, for my community, is different from your media."
In Southern California, Michelle Pham, a 22-year-old nursing student, is worried about her 54-year-old mom who has sworn off the vaccine ever since The KingRadio incorrectly told her it contains aborted fetus cells. "She thinks the vaccine won't work on anyone who's not a caucasian male, because the videos said they only used cells from male fetuses for testing," Pham explained, frustrated she's been unable to convince her mom otherwise.
Misinformation is one of the most serious threats to public health, and it is most damaging when it fuels vaccine hesitancy, Pan American Health Organization Director Carissa F. Etienne said earlier in April. "Every person in a vulnerable group that is hesitant to get the vaccine can become part of the sad statistics, one of the thousands of deaths that occur daily due to COVID-19. Vaccines are saving lives now and will contribute to controlling transmission in the near future when we achieve high immunization coverage," she told a press briefing, according to PAHO.
A still from an episode of The KingRadio. (Photo: Buzzfeed News)
"Because unreliable information spreads quickly, PAHO is collaborating with tech companies like Twitter, Google, and Facebook to address fake news and ensure the public can easily find accurate information," Dr. Etienne added.
Political organizers who spoke with BuzzFeed News said they've heard from concerned family members who say these YouTube videos play all day in their homes and that the channels put their audiences in danger.
Organizers who've tried to combat the fake news say they understand why it's happening, but they blame the social media companies for ignoring repeated reports and complaints about the content of the videos and threats they've received from creators who they've called out. Organizers with Viet Fact Check have directly spoken with YouTube staff members about videos that violate YouTube's policies in the past and have offered to help find translation services for foreign language videos.
In an email exchange between Nguyen and a YouTube representative viewed by BuzzFeed News, the employee declined to partner with Viet Fact Check on flagging misinformation but said they would pass along the feedback to the company. Nguyen never heard from them again. Unless YouTube steps in, organizers said moderating and countering the content must happen on an interpersonal level.
Economy
In the first two months of 2023, India's mobile phone exports exceeded $2 billion, equivalent to over Rs16,500 crore, due to increased production and shipments from manufacturers, particularly Apple and Samsung. This surge in exports brings the total export value to over $9 billion since April 2022.