Indonesia replicates Vietnam's 'Rice ATM' to support those in need during COVID-19
Vietnam's Rice ATM have been replicated in Indonesia as a way to support the poor people who are affected by the COVID-19 pandemic.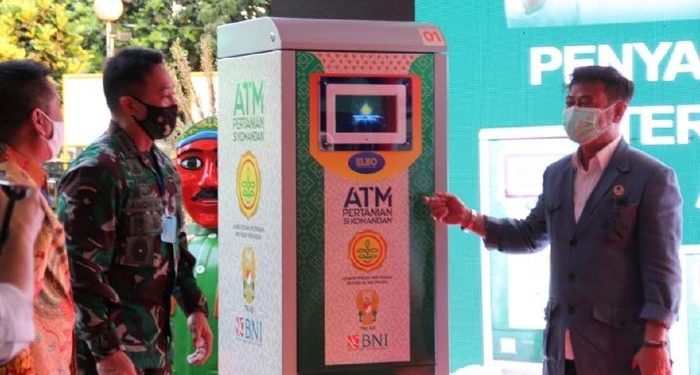 Vietnam's Rice ATM replicated in Indonesia. Photo: Indonesia's Agriculture Ministry
The ATMS are a result of the join efforts of the Ministry o Agriculture and the Indonesian Armed Forces with the National Bank of Indonesia.
Indonesia capital Jakarta has imposed 'large-scale social restrictions' to curb the spread of coronavirus. The measures left millions of Indonesian unemployed.
Fira, one of millions of unemployed due to the COVID-19, has no choice rather than go begging for meals.
Fortunately, good news came to her as Rice ATM made its appearance in Jakarta.
Fira expressed her delight "Now my family will receive 1.5 kilos of rice per day. That is enough to feed my whole family for one day. I am very grateful to the Government for helping us".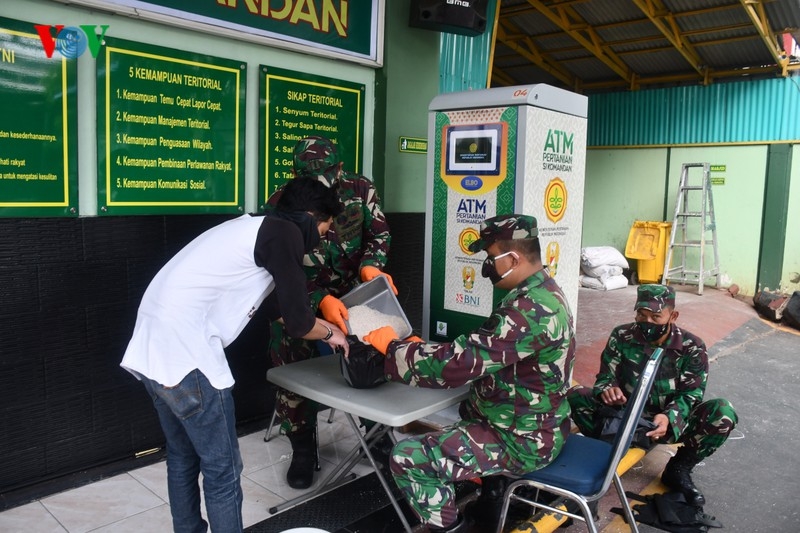 Each resident can receive 1.5 kilos of rice perday. Photo: VOV
Indonesia's Agriculture Minister Syahrul Yasin Limpo said that anyone who wants to get rice from the machines could come to the nearest headquarters of military district command (Kodim).
To collect the rice, eligible Indonesians — whose names are listed in a government registry of recipients — will be required to visit their nearest Kodim to collect a card by the state-owned bank Bank Negara Indonesia (BNI).
They will be required to hand over their identity cards to military personnel upon collection.
After the verification process, they will be asked to place their tickets into the machine.
Minister of Social Affairs Juliari Batubara on Monday (27 April) announced the first batch of aid distribution to 1.2 million households in Jakarta, due to be fully distributed by 5 May.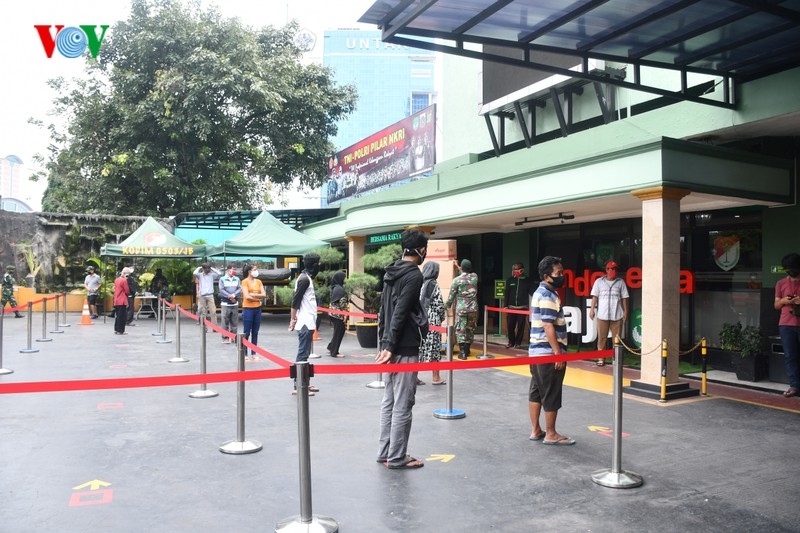 Receivers are required to line up at a safe distance while waiting to their turns. Photo: VOV
Recently, Vietnam's Rice ATM dispensers has become international media spotlight, receiving much attention around the world. And Indonesia quickly learn this Vietnam's idea.
Earlier, the Indonesian government announced a Rupiah 110 trillion package to support the poor people affected by the COVID-19.
The introduction of Rice ATM will further support the government's social assistance policy, targeting who have not receive aid from the local government.
A worker in Depok told a The Online citizens correspondent in Jakarta that he has yet to receive aid from the local government and that that the rice ATM will be helpful.
"I heard that there is a rice ATM … At least I can get the rice for my family while waiting for the aid from the central government," he said.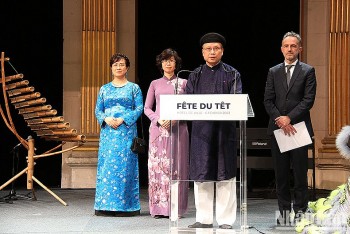 Friendship
Speaking at the celebration on the occasion of Lunar New Year for the overseas Vietnamese in France on February 6, Ambassador Extraordinary and Plenipotentiary of Vietnam in France Dinh Toan Thang emphasized that 2023 is an important milestone to promote the friendship and cooperation between Vietnam and France to the next level.