Indonesian Foreign Minister urges all parties to respect international law in East Sea
Indonesian Foreign Minister Retno Marsudi has expressed concern over recent activities over the South China Sea (called the East Sea in Vietnam), noting that they may potentially escalate tensions at a time when global collective effort is vital in fighting COVID-19.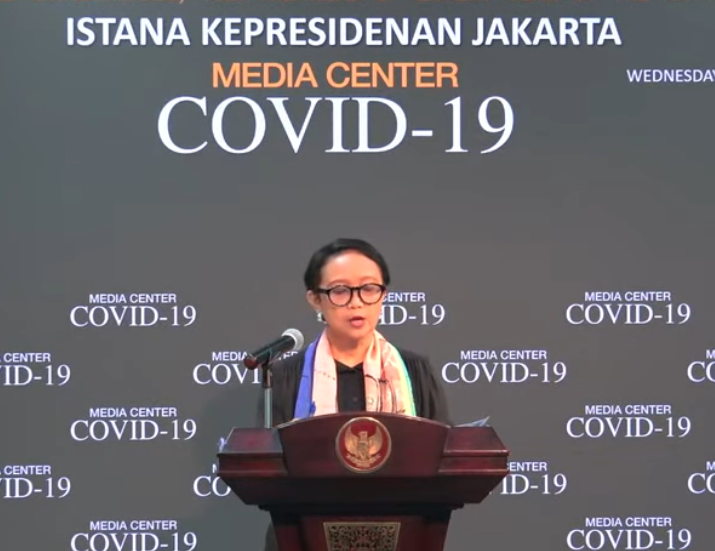 Indonesian Foreign Minister Retno Marsudi. Photo cut from YouTube video.
Speaking at a press conference on May 6, Marsudi said Indonesia has continued to follow recent developments in the South China (East) Sea closely, reported CNA.
She underlined the importance of maintaining peace and stability in the region to ensure freedom of navigation and overflight.
The minister also urged all parties to respect international law, particularly the United Nations Convention on the Law of the Sea (UNCLOS) 1982.
"Indonesia calls on all relevant parties to exercise self-restraint and to refrain from undertaking action that may erode mutual trust, and potentially escalate tensions in the region," she stated.
She added that Indonesia remains committed to ensure the conclusion of a code of conduct that is effective, substantive and actionable despite the current circumstances of the COVID-19 pandemic.
Marsudi was referring to the Code of Conduct in the East Sea (COC) among China and ASEAN members, aimed at preventing future negative actions that run counter to international law and only serve to complicate an already challenging situation.
The recent Chinese actions have led to a more complicated and tense situation in the East Sea amid the COVID-19 situation.
The Chinese Haiyang Dizhi 8 survey vessel has returned to waters within Vietnam's Exclusive Economic Zone (EEZ), Reuters cited ship tracking data on April 14.
The ship, which is used to conduct offshore seismic surveys, on April 14 could again be seen 158 km (98 miles) off Vietnam's coast flanked by at least one China Coast Guard vessel, according to data from Marine Traffic, a website that tracks shipping.
It comes after China's sinking of Vietnamese fishermen's boat with eight crew members onboard on April 4 off the waters of Hoang Sa (Paracel) islands, an incident not only drew sharp criticism from Vietnam, but also earned condemnation from the US and the Philippines, who is also a territory claimant in the resource-rich seas, as well as international experts.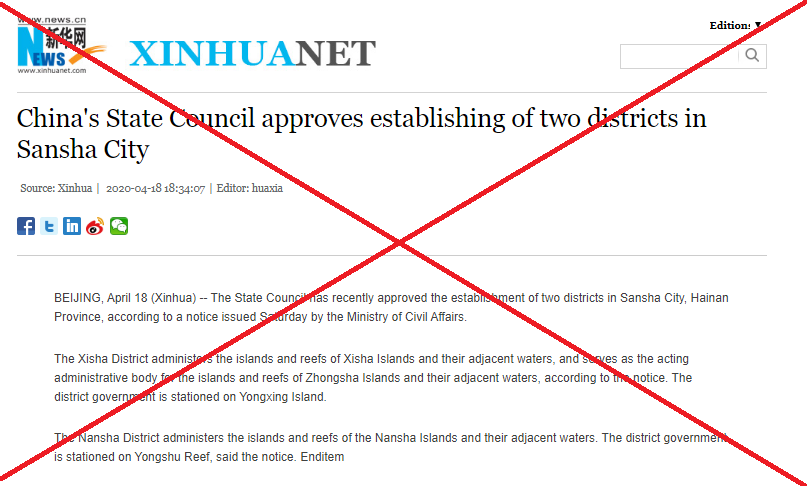 China's Xinhua News Agency reports the notice from the Chinese Ministry of Civil Affairs.
Then China has once again defied international law by recently establishing two administrative districts on Paracel and Truong Sa (Spratly) – the two archipelagoes that belong to Vietnam in East Sea, VOV reported on April 19.
The country also has given names to 80 geographical features, include 25 islands, shoals and reefs and 55 oceanic mountains and ridges, in the Paracel and Spratly islands, The South China Morning Post reported on April 20.
China seized the Paracel Islands from South Vietnam by force in 1974 and has since been occupying them illegally. China also formed what's called the "Sansha City" on Woody Island since 2012, with the intention of taking control of islands in the East Sea. China has also been illegally building artificial islands in recent years.
Vietnam has requested China many times to stop its illegal actions, which complicate the situation and threaten peace and stability in the East Sea. Vietnam also sent a diplomatic note to the United Nations to protest China's unfounded sovereignty claims over the East Sea.
After China announced the establishment of what it calls the "Xisha" and "Nansha" districts in Vietnam's Paracel and Spratly Islands on April 18, the spokesperson of Vietnam's Foreign Ministry Le Thi Thu Hang said: "Vietnam has strongly affirmed many times that it has sufficient historical evidence and legal foundation to assert its sovereignty over the Hoang Sa and Truong Sa archipelagos."
Vietnam strongly protests the establishment of the so-called "Sansha city" and related acts as they seriously violated Vietnam's sovereignty, she said.
The Fiery Cross Reef is one of the seven marine features in Vietnam's Spratly archipelago where China has illegally built artificial islands and constructed various civilian and military structures.
China has vowed not to militarise the islands, but the action runs counter to what it has already pledged.
In its latest moves, China announced its annual summer fishing ban in parts of the South China (East) Sea, Xinhua news agency reported on May 1. China has been issuing similar fishing bans every year in recent times and Vietnam has always condemned them./.