Instant Noodles and Amazing Views: A New Vietnamese Internet Trend
Recently, many young tourists have been sharing photos of themselves enjoying instant noodles in front of the impressive natural sceneries of Vietnam, especially in the northern mountains like Hoang Su Phi and Mu Cang Chai.
A familiar dish, an unusual trend
Mai Huong (22 years old, a student at Hanoi University of Science and Technology) was one of the first to post a photo following the trend of "eating cheap instant noodles while looking at the million-dollar views." After only 2 days of posting, the photo received up to 5,000 interactions. According to Huong, her photo was taken at a lovely homestay in Khoa Ha village, Nam Khoa commune, Hoang Su Phi district, during her recent 3 days 2 nights trip to Ha Giang (September 19 - September 21).
"When I shared the picture, I didn't expect people to love it and respond to it to that extent. A lot of people simultaneously showed off photos of themselves enjoying instant noodles in an impressive natural setting. Our country is so beautiful!", the girl who is passionate about travel added. During the 3 days and 2 nights trip to Ha Giang, in addition to admiring the rice fields in Hoang Su Phi, Mai Huong also went to the extremely trendy check-in point - Suoi Thau steppe. This place's beauty is likened to that of Europe. She also visited Thong Nguyen and Du Gia during her lovely holiday.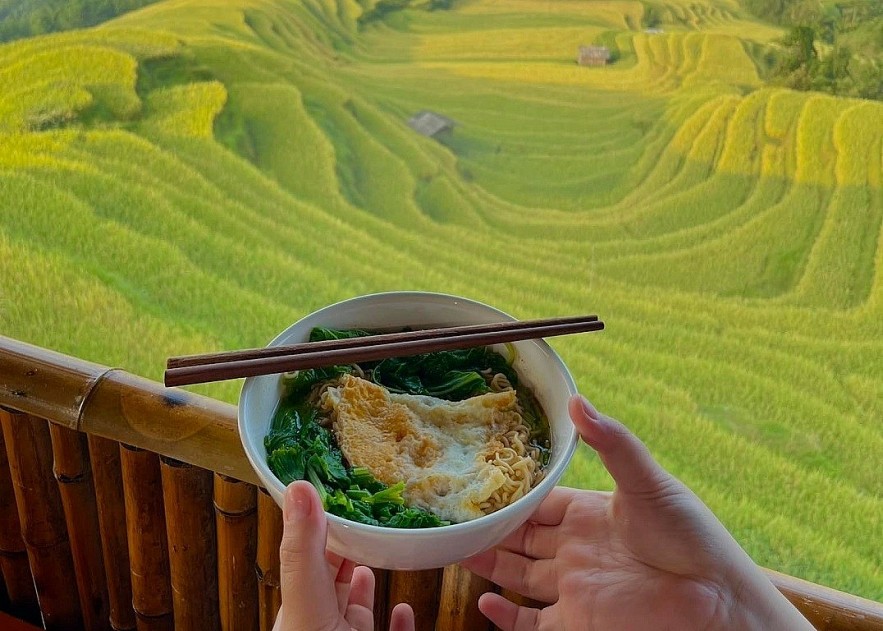 Photo: Mai Huong Nguyen
Another photo "eating cheap instant noodles and enjoying a million-dollar view" is also receiving thousands of likes on social networks. The photo was taken by tourist Trung Onionn (29 years old, Hanoi) at a homestay in Ta Van village, Sa Pa, Lao Cai in September 2022. "I enjoy eating a bowl of instant noodles while admiring Muong Hoa valley in the beautiful rice season. This is definitely the best bowl of noodles I've ever eaten. I feel so proud to be born in a country with such a majestic and beautiful natural landscape," said Trung.
Photo: Trung Onionn
Hoang Bich Phuong (Hanoi) has just taken a 3-day 2 nights trip to Yen Bai to experience paragliding and admire the rice fields. During this trip, Phuong stayed at a homestay in La Pan Tan, Mu Cang Chai. The room has a super nice view of the ripe rice terraces. "I had to search for a long time to find an empty room at this homestay. The journey here is quite far but the scenery is so wonderful. When I enjoy a simple breakfast of instant noodles and omelets in this setting, I feel much more appetizing," Phuong shared.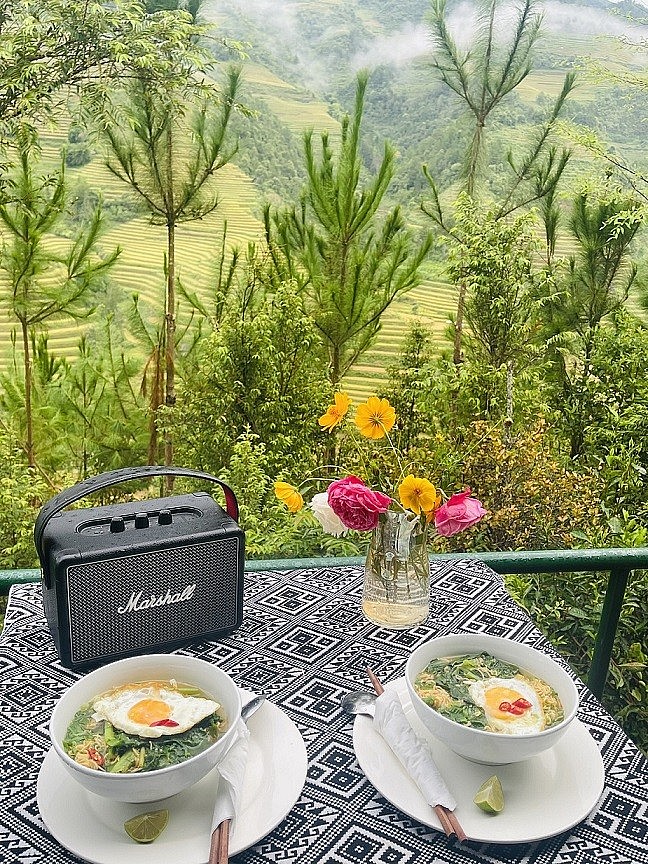 Photo: Hoang Bich Phuong
When instant noodles surpass fancy dishes
As a young person who loves to travel and who has recently caught the trend of sharing pictures of a bowl of instant noodles with a million-dollar view, Truong Hong Nhung (24 years old, currently living in Trieu Khuc, Thanh Xuan District, Hanoi) said she has seen this trend appear a lot on Facebook recently, including social networking channels that are loved by young people like TikTok and Instagram. The last time Nhung had a trip to experience Mu Cang Chai, her homestay served breakfast with a bowl of instant noodles.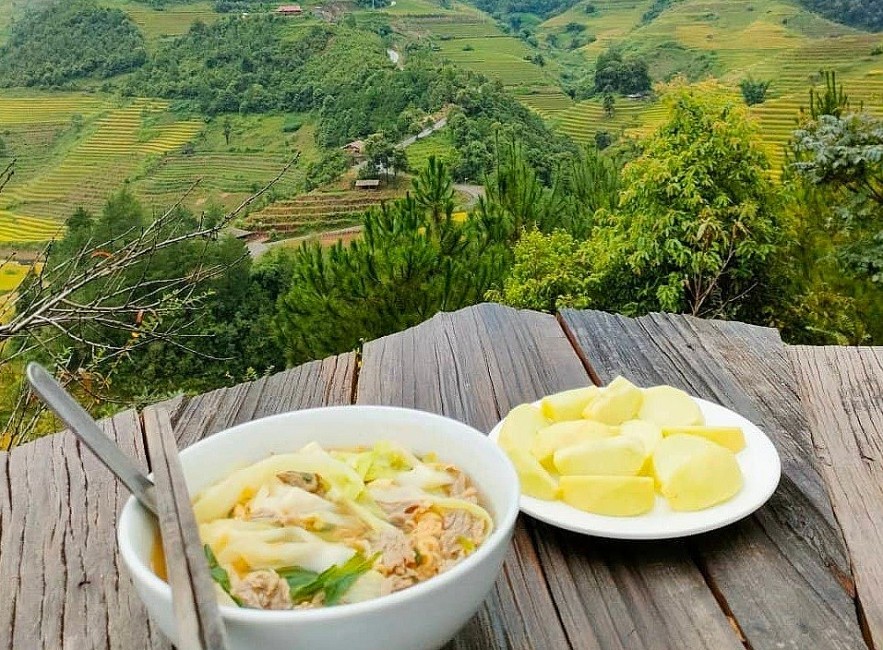 Photo: Nhung travel
"I see that there are similar bowls of instant noodles in Ha Giang, most of these bowls of noodles are often seen when tourists travel in the northern mountainous provinces, especially where there are rice or terraced fields. Instant noodles are a familiar breakfast dish for backpackers, different from noodle soup because it exudes an idyllic look associated with young people who love to travel and experience life," Nhung shared.
Nhung expressed: "The weather in mountainous provinces will have a lower temperature than in other places, in the morning when it is cold, there is nothing better than eating a bowl of hot noodles. In addition, the scene in front of my eyes is vast, which is difficult to see in large cities with a lot of people. The air in the highlands is also fresher and more pleasant. Those factors combined are enough for me to feel that it is unique and interesting. That's why eating a bowl of instant noodles here is worth a million dollars."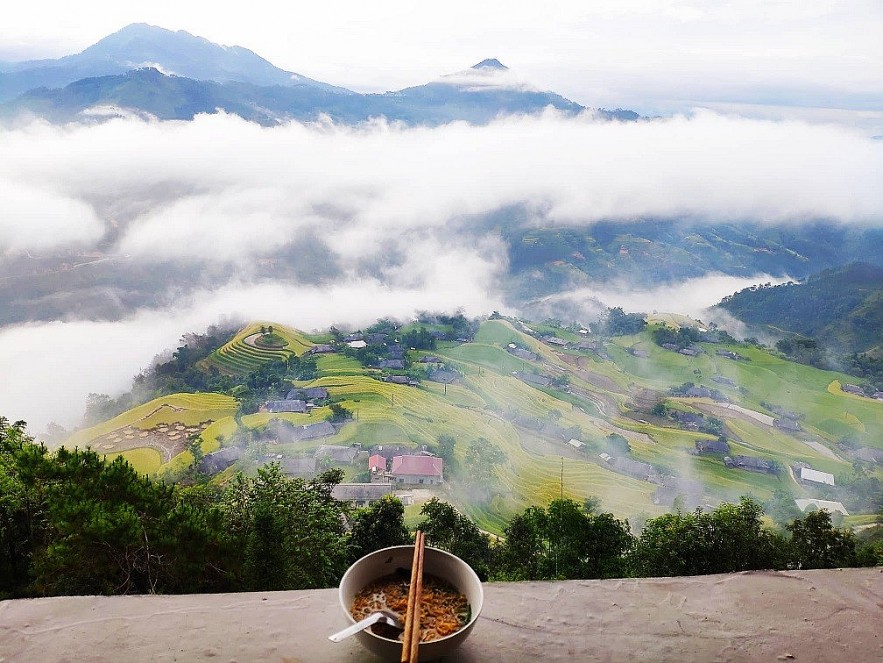 Photo: Nguyen Thi Linh
Nguyen Thi Linh used to work in Ho Chi Minh City, but because she loved the majestic scenery of the mountains and forests of the North, she moved to Cao Bang to live and is currently working as a tour guide at Green Riders Cao Bang. Recently, Linh also followed the trend and posted a picture of a million-dollar bowl of instant noodles taken in Nam Hong, Hoang Su Phi (Ha Giang province).
Linh shared: "I remember I once saw a post about a bowl of noodles next to the million-dollar view on a Facebook group, mainly scenes of the northern mountainous region, I had many opportunities to travel between the two provinces of Cao Bang and Ha Giang, so I also shared some photos in these two places."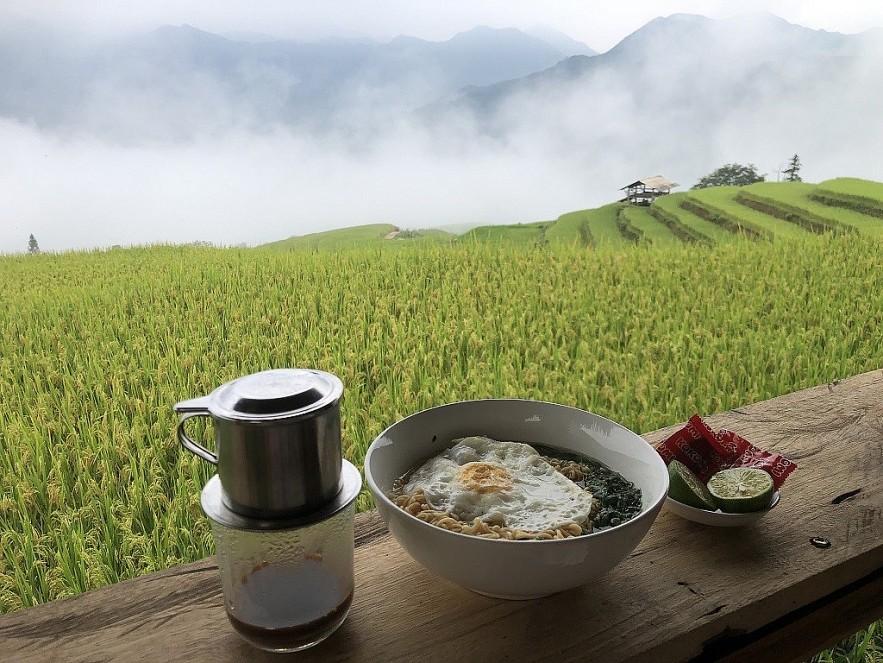 Photo: Nguyen Thi Linh
Linh added: "I used to think that a luxurious breakfast was a meal near an infinity pool, a view of the city or at the sea with a bikini and some European and American dishes. Here, the road is very difficult to travel, so people do not have the conditions to go to the market or buy breakfast, only instant noodles, boiling water, and an egg. The feeling of eating a bowl of instant noodles with clouds floating and colorful fields in front of you is wonderful. The chilly autumn weather makes me feel like there's no other taste comparable to this experience."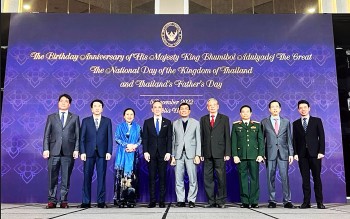 Friendship
The Royal Thai Embassy organises the reception on the occasion of celebration of the Birthday Anniversary of His Majesty King Bhumibol Adulyadej the Great, the National Day of the Kingdom of Thailand and Thailand's Father's Day on 2nd December 2022 in Hanoi.