Intense Covid's vaccines dispute between UK and EU continues, revealing the truth about vaccine nationalism
EU and UK's dispute over Covid-19's vaccine deliveries has become more intense, and whether contract means Covid jabs produced in UK must be sent to EU.
The row between the EU and AstraZeneca showed no sign of subsiding on Friday, even as the European commission published the terms of the deal struck between the two for millions of doses of the firm's Covid-19 vaccine.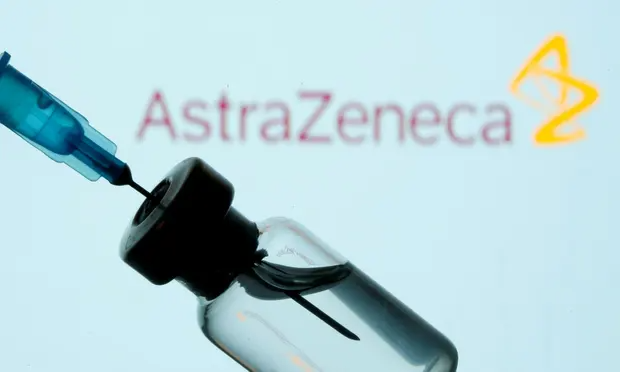 Legal figures said the dispute was likely to rumble on to litigation, such was the lack of clarity provided. Photograph: Dado Ruvić/Reuters
According to the Guardian, the commission's president, Ursula von der Leyen, said it was "crystal clear" that the contract required AstraZeneca to deliver doses produced in the UK to the EU to make up for a shortfall in orders. But the firm has said this is not the case.
AstraZeneca and the bloc on Wednesday failed to make a breakthrough as they held talks amid frustrations over the EU's inoculation programme.
As the EU and AstraZeneca's meeting ended without agreement, sources said Britain had "more than enough" jabs and could eventually donate them to other countries, according to Evening Standard.
Senior industry sources told The Times that the UK had secured the doses needed to meet its targets, and expected its deals with pharmaceutical companies to be honoured.
"We regret the continued lack of clarity on the delivery schedule," EU Health Commissioner Stella Kyriakides said in a tweet on Wednesday night.
She said the EU was requesting a clear plan from AstraZeneca for the rapid delivery of the vaccine doses the bloc has reserved for the first quarter.
Meanwhile, Boris Johnson insisted the Government is "very confident in our contracts" after EU officials told the firm it is contractually obliged to send jabs to member states.
AstraZeneca chief executive Pascal Soriot argued supply chain "teething issues" were fixed in the UK ahead of the bloc because Britain signed a contract three months earlier.
But Ms Kyriakides said: "We reject the logic of first come first served. That may work at the neighbourhood butchers but not in contracts."
She denied the bloc would impose an export ban on vaccines leaving the EU but said the contract signed with AstraZeneca, which worked with Oxford University on its vaccine, contains two factories in the UK.
There were concerns that the UK could face supply issues for the Belgium-manufactured Pfizer jab if the EU imposed export controls, as previously suggested.
But Ms Kyriakides said: "Let me be absolutely clear, the European Union is not imposing an export ban on vaccines or restricting the export of vaccines to third countries.
"What we have proposed as a commission is an export transparency mechanism. What it will do is bring clarity on the production capacity of manufacturers."
During a Downing Street press conference, Mr Johnson declined to get drawn into the row but said the vaccine is being produced in "ever growing quantities in the UK", adding: "That will accelerate, the production schedules will continue to improve."
He added: "All I can say is we're very confident in our supplies, we're very confident in our contracts and we're going ahead on that basis."
"There's an expression in German, which is our equivalent of 'clear as mud', which is 'clear as noodle soup'. And that's what I think this particular kerfuffle in the contract is. I think this is clear as noodle soup," said James Turner QC, of Quadrant Chambers, who specialises in cross-border commercial disputes.
Legal figures said the dispute was likely to rumble on to litigation, such was the lack of clarity provided, as they advanced competing arguments about where responsibility lay under the newly published contract.
Turner said he believed it required AstraZeneca to do only as much as it reasonably could to fulfil the EU's initial order of 300m doses with stock produced within the EU, which he said must reasonably be interpreted as not including the UK.
"It seems to me that, so far as the initial 300m doses are concerned, AstraZeneca has a pretty good ground for arguing that it is not required to divert vaccine manufactured in the UK.
"And that's the conclusion really … Essentially, clause 5.1 says quite clearly AstraZeneca will be using its best reasonable efforts to manufacture the initial doses within the EU."
However, Richard Parkinson – a commercial contracts partner at JMW solicitors – said he interpreted the contract as requiring the firm to supply the 300m doses from manufacturing plants including those in the UK.
"If it has produced those doses, it would appear that it would have to supply them, as its efforts to date have resulted in the creation of that volume of vaccine.
Both pointed out that the contract would come under Belgian jurisdiction. While Turner stressed that he is not qualified there, he said his analysis of the document led him to believe that – should he be proven wrong and the EU proven right – AstraZeneca would have no grounds to argue that doses must not be taken from the UK to make up the shortfall.
He explained that the contract with the EU sets out that no other deal should take precedence.
Parkinson added: "Even if the UK contract does say that it should be given priority, this doesn't affect the EU's position – though it may give the UK another ground to bring a claim against AstraZeneca."
Who should get UK-made doses?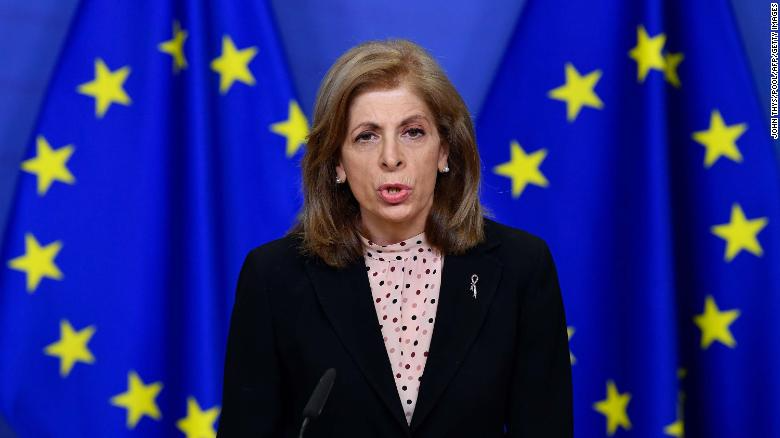 EU Health Commissioner Kyriakides gives a press statement on vaccine deliveries on January 25. (Photo: CNN)
EU leaders say AstraZeneca is prioritizing the UK in its deliveries. In response, it conducted a spot inspection of an AstraZeneca plant in Belgium on Thursday to ensure it was telling the truth about low supplies there. Some Brexit hardliners have lashed back at the moves, branding the EU as slow and incompetent.
Peter Bone, a Conservative British lawmaker, said EU leaders were "bullies" for inspecting the Belgian plant. In an interview with talkRADIO on Friday, he accused them of "trying to cover up for their own failures" and reversed the EU's accusation, saying Brussels was trying to divert UK-made vaccines to its own people.
But the EU's contract with AstraZeneca -- which Brussels published on Friday -- states that doses for the bloc could indeed come from a supply chain that includes UK-based plants. Equally, the UK is receiving doses from Europe as well -- a person familiar with the matter said that the UK is still receiving small numbers of vaccines made in European plants, and that its initial doses had come from Europe too.
The UK government, which is miles ahead of the EU in vaccinating its population, has not released its contract with the company and has repeatedly declined to disclose to CNN how many doses it has in hand, citing "security reasons."
The UK's Department of Business, Energy and Industrial Strategy (BEIS) told CNN that a "majority" of doses in the country came from within the UK, admitting some came from elsewhere.
Redactions of the published contract make it impossible to know just how badly the bloc has been hit, but AstraZeneca confirmed Friday it was aiming to ship at least 31 million doses to the EU by the end of March. Reuters had earlier reported the company had slashed the first quarter amount from 80 million doses to 31 million.
What the EU wants to know is why it isn't receiving doses from the UK. BEIS did not answer CNN's question on whether the UK had asked to be prioritized in its contract with AstraZeneca, saying only that it had ordered 100 million doses and had agreed timescales for delivery.
AstraZeneca CEO Pascal Soriot, however, said openly that the company was supplying the UK first.
"The contract with the UK was signed first and the UK, of course, said 'you supply us first,' and this is fair enough," he told Italy's la Republicca on Wednesday. The EU contract, on the other hand, did not legally bind the company to a particular schedule, he said.
The global south waits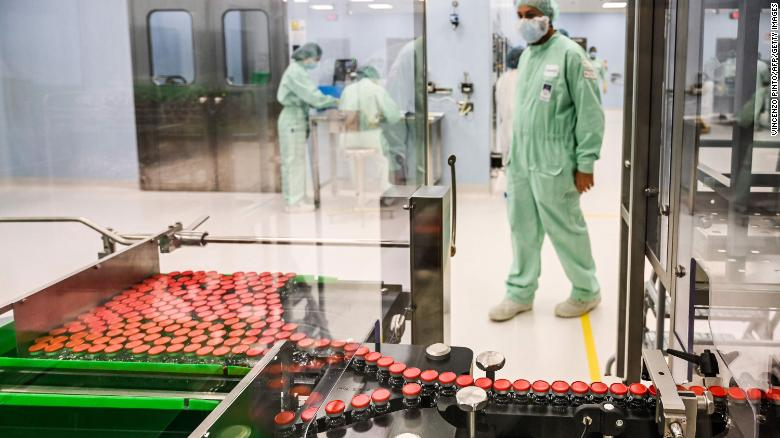 The spat began when AstraZeneca informed the bloc it would be unable to supply the number of vaccines the EU had hoped for. (Photo: CNN)
There is a huge sense of nervousness in much of the developing world: people there are watching some of the richest nations scramble for doses after buying up huge numbers of vaccines in advanced purchase agreements before they were even proven effective.
Dr. Nashwa Ahmad from the South City Hospital in Karachi, Pakistan, told CNN that she and her colleagues have been waiting for weeks to hear of news of access to vaccines.
"That means our healthcare workers still have to continue to do their jobs for endless hours without the protection of the vaccines. It's very difficult," she said.
Meanwhile, rich nations are continuing to expand their already large advance purchase agreements. The UK has secured more than 360 million doses in advance and plans to buy more than 150 million between from Johnson & Johnson and Valneva. That would be enough to cover nearly four times its entire population.
The EU has secured almost 1.6 billion doses, enough to cover the population three times. Other countries are also overstocking. Canada, for example, has purchased enough to cover its population almost four times its size.
At the World Economic Forum hosted remotely from Davos, Switzerland last week, South African President Cyril Ramaphosa slammed rich nations for hoarding, and urged them to share them with the world's most vulnerable.
"Some countries have even gone beyond and acquired up to four times what their population needs, and that was aimed at hoarding these vaccines. And now this is being done to the exclusion of other countries in the world that most need this," he said.
In anticipation of this problem, the COVAX initiative was established in June last year with the aim of making 2 billion vaccine doses available to be distributed to parts of the world where there were gaps, largely in the global south. Even that will only cover around 20% of people in each eligible country. Indeed, the same rich nations accused of hoarding are donating to the scheme, with the UK being the largest single-country donor.
The tussles for supplies have renewed calls for all countries to work within a centralized system to avoid this uneven distribution of Covid-19 shots.
"While many have commendably contributed large sums of money to COVAX, they undermine its effectiveness, and the overall effort to end the pandemic as rapidly as possible for everyone, when they simultaneously engage in vaccine hoarding," Obiora Okafor, the UN's independent expert on human rights and international solidarity, said in a statement recently.
But there appears to be little hope of that actually happening. Even the WHO -- whose chief in September said initial vaccines should reach "some people in all countries, rather than all people in some countries" -- appears to have lost hope of a truly collaborative response.
When asked by CNN at a press briefing whether the UK should be allowed to oblige AstraZeneca to provide it with vaccine doses first, WHO Regional Director for Europe Hans Kluge said that "solidarity does not necessarily mean that each country in the world starts at exactly at the same moment."
Overseas Vietnamese
Vice President Vo Thi Anh Xuan had meetings with several Thai leaders and high-ranking officials within the framework of her visit to Thailand to attend the Global Summit of Women (GSW) 2022.