Interesting Vietnamese Contest for Young Overseas Vietnamese
Introduced in 2021, Viet Channel - Happiness Station for Vietnamese language lovers in Belgium regularly organizes meaningful contests aimed at young overseas people of Vietnamese origin.
Last year, Viet Channel organized a contest "Talking Vietnamese Dishes with Children 2021." This year, the video contest "Travel with Children 2022" organized by Viet Channel took place with great enthusiasm and was appreciated for its quality from July 20 to October 23.
Encouraging the use of the mother tongue
It is clear that the contest "Travel with Children 2022" opened up many meanings of family love, encouraged generations of Vietnamese people living abroad to speak and learn Vietnamese, and promoted famous places, whether in Vietnam or abroad, spreading Vietnamese culture and increasing connection with the family roots.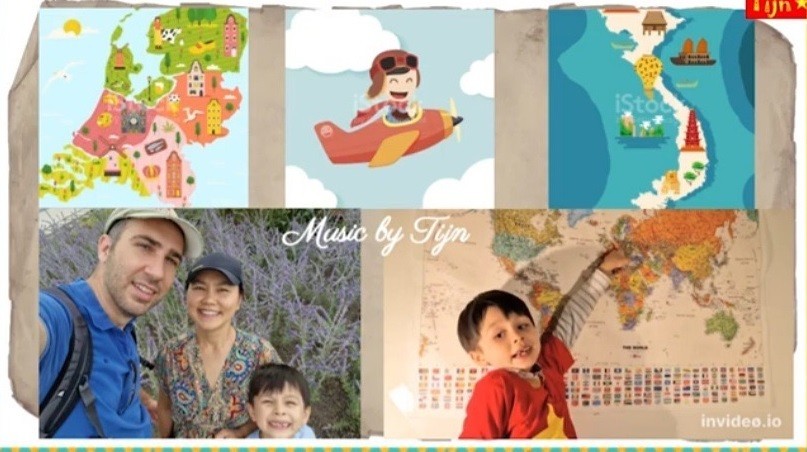 The first prize belongs to the journey "Travel with grandparents in Dai Lai - Ba Na - Hoi An - Saigon '' by Tijn Konings Le from the Netherlands. (Source: Organizing Committee)
From many entries, the organizing committee has selected 22 videos, introducing 26 Vietnamese-born "tour guides" from Belgium, Germany, the Netherlands, Laos, Japan, France, the Philippines, the Czech Republic, and Switzerland to enter the final round.
Contestants made extremely diverse travel itineraries, including touching moments that were recorded and broadcast on the Viet Channel- Happiness Station from September 3 to September 30.
The quality of this year's entries is very good, candidates are from 4 to 23 years old, and using the Vietnamese language is both rich and creative. Their smart and witty way of leading makes the destinations more attractive and lively.
Ms. Nguyen Thanh Hang, a translator in France, and a member of the jury commented on the struggles for expats to learn the homeland's language.
"In France, I used to teach Vietnamese for 8 years to children from 8 to 14 years old. It can be clearly seen that this is a very difficult age to keep Vietnamese.When children enter high school, they often have to learn many new languages ​​such as English, Italian, and Spanish. Therefore, 80% of Vietnamese teenagers in France forget Vietnamese or only remember the vocabulary accumulated from a young age, but hardly learn new words anymore.
However, Lynh Mai Moneyn (14 years old), who has a Belgian father and a Vietnamese mother who speaks Vietnamese is very commendable. Seeing her work, I can imagine how her family's efforts have trained, supported, and helped her become fond of Vietnam. In particular, the way she staged the video and chose the right Vietnamese song in each scene showed that she understood Vietnamese culture and language very well".
Through 22 entries, the organizing committee found a positive signal that the awareness, as well as efforts to preserve and learn the Vietnamese language of overseas Vietnamese, is becoming an exciting movement. Forums and many organizations teaching Vietnamese to overseas Vietnamese are promoting the utility and effectiveness of distance learning.
Bryan Minh (6 years old), and Haico (4 years old) in Belgium have maintained good Vietnamese speaking skills thanks to his mother registering to learn Vietnamese online with Vietmaster.
In Osaka district (Japan), 7-year-old Vu Duc An was also taught Vietnamese by his mother from birth by early education method. Currently, An is participating in the free Vietnamese class of Nhip Cau Sinh Ngu.
As for Phuong Vy (11 years old, France), before going on summer vacation, her Vietnamese teacher gave her the exercise "Tell me about your vacation with your family." She made a video for the contest with an effort to write and speak by herself.
Around this time last year, her Vietnamese was only at the level of "Chào cô." After studying Vietnamese every week, the girl did a great job in the clip "Summer Days on the Glacier," which surprised her teacher.
Journey to the origin
As the purpose and meaning of the contest, 22 online and offline journeys, even picnics near the home of young Vietnamese "tour guides" sent to the contest, all spread Vietnamese culture through tourism and language.
Viewers were sucked into the space and the emotional atmosphere when the children were able to return to their homeland and visit their relatives after a long time of separation because of the Covid-19 pandemic.
Tijn Konings Le (7 years old) from the Netherlands composed the song's background music himself with a gentle melody reminiscent of good memories in Vietnam. He also uses Vietnamese fluently and creatively.
At the end of the entry, Tijn Konings Le also scored meaningful verves:
"Quê hương là gì hả mẹ.
Mà cô giáo dạy phải yêu...
(What is homeland, mother?
The teacher taught me to love...".)
Bach Tung (19 years old) and Ha Linh (23 years old) - Vietnamese people in German also talked about their visit to their hometown and learning Vietnamese.
Thanks to their guidance, viewers can enter the campus of Hanoi National University - where there are many programs to teach Vietnamese to foreigners from Korea, Japan, Germany, the US, and African countries. This is an entry highly appreciated by the judges for their sense of finding their roots and cultivating Vietnamese rights in their homeland.
Pham Bao Minh (11 years old, Belgium) chose the song Bonjour Vietnam to open the meaningful contest. This summer is a "very happy" summer for her because it has been 4 years since she returned to Hanoi and Thanh Hoa to visit her grandparents, meet her cousins ​​to chat, and eat her favorite Vietnamese dishes.
Meanwhile, the night bus to Hue, Khai Dinh Tomb, etc appeared in the eyes of Nguyen Hai Van (19 years old, Czech) like a 5-minute short film.
The way of finding Vietnamese words and phrases according to the locality, calling the right names of things and phenomena of Hai Van and Vietnamese kids in Czechs makes viewers think of the journey to find the origin.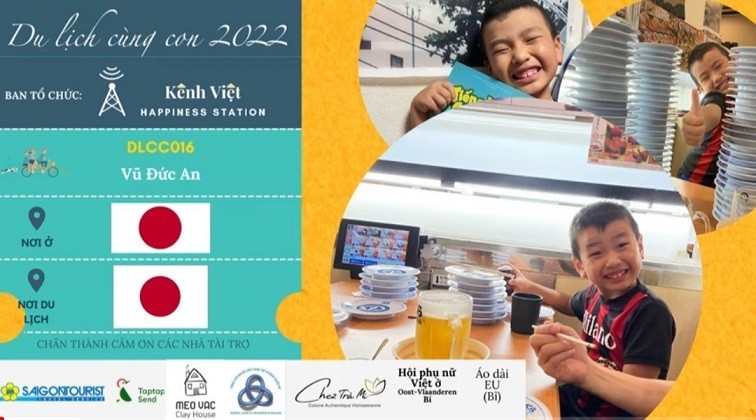 The most voted award by the audience belongs to the video by Vu Duc An from Japan. (Source: Organizing Committee)
On October 23, the organizing committee announced the results of the "Travel with Children 2022" contest with one first prize, one-second prize, four third prizes, six fourth prizes, and eight consolation prizes.
The contest ended and left good impressions about the professional and meaningful organization of the Viet Channel - Happiness Station.
It is hoped that practical and useful playgrounds like these will be spread more and more and be held more often for the young generation of Vietnamese origin abroad to express their love for their mother tongue.