International Press: Vietnam Emerging as Important Economy in Southeast Asia
The visit to Vietnam by Japanese Prime Minister Kishida Fumio from April 30 to May 1, along with the visit by his predecessor Suga Yoshihide in 2020, showed that Vietnam is emerging as one of the promising important economies in Southeast Asia, commented by global experts from India and Japan.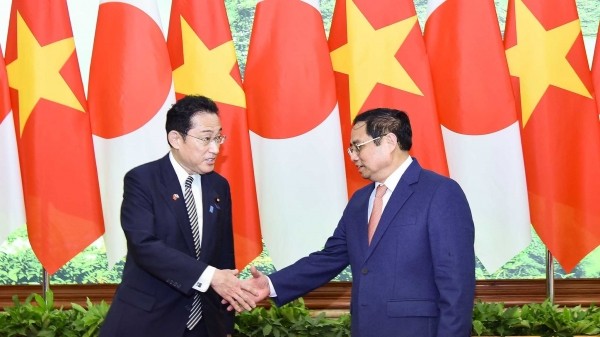 Global press and experts show great interest in the visit to Vietnam by Japanese Prime Minister Kishida Fumio from April 30 to May 1 2022. Photo: Bao Quoc Te
Pankaj Jha, Director of Indian Jindal Global University's Centre for Strategy and Security Research, wrote about Vietnam on moderndiplomacy.eu. In his article, he mentioned talks between Prime Minister Pham Minh Chinh and his Japanese counterpart Kishida, in which PM Chinh highly valued Japanese investment in Vietnam.
The scholar noted that the Japanese government leader's visit aims to explore possibilities for cooperation between the two countries in areas of developing technology parks, software industry and export processing zones, bringing Vietnam into the Japanese trade network, vocational training and tourism promotion.
He added that the implementation of the Regional Comprehensive Economic Partnership and the facilitation of regional trade is the priority of both Vietnamese and Japanese governments.
Jha highlighted that Vietnam is seeking to diversify its supply chain, adding that Vietnam and Japan can be seen as each other's natural partner in strengthening regional security, trade, investment, innovation and research as well as promoting peace and prosperity in the region.
Pankaj Jha, Director of Indian Jindal Global University's Centre for Strategy and Security Research is skilled in International Relations, Policy Analysis, Statistics, Research, and Diplomacy, he has strong education professional with a Doctor of Philosophy (Ph.D.) focused in ASEAN and newly industrialized economies from Centre for Southeast Asia and southwest pacific studies (now known as INDO-PACIFIC STUDIES).
Meanwhile, the domestic press from Japan Kyodo news agency also quoted Prime Minister Pham Minh Chinh during PM Kishida's visit: "We are committed to strengthening ties to maintain peace and stability in the region."
Another Japanese new agency Jiji Press reported on May 1 with the title "Japan will cooperate with Vietnam to diversify supply chains", saying that Prime Minister Kishida announced the idea that Japan and Vietnam would cooperate closely together to strengthen supply chains through diversification.
The article featured Prime Minister Kishida's affirmation that the COVID-19 pandemic has clearly shown the importance of diversifying the supply chains and that Japan will support supporting industries, which mainly produce components, spare parts and other intermediate goods, in Vietnam for Japanese companies doing business in the country.
NHK reported that at the talks in Hanoi, the two Prime Ministers agreed to strengthen cooperation in the fields of investment, trade, energy and environment.
Regarding cooperation in labor issues, Japan affirmed that it will expand to receive technical interns and Vietnamese international students to Japan; supporting the Vietnamese community to live, study and work in Japan. The two sides agreed to build an official website to provide necessary information for Vietnamese technical interns.
Japanese press informed that two sides discussed regional and international issues of mutual concern, in which they agreed to oppose unilateral efforts to change the status quo by force in any area.
KYODO NEWS, founded in November 1945 as a nonprofit cooperative organization, is the leading news agency in Japan. Kyodo covers accurately and promptly the ever-changing developments in Japan and the rest of the world, distributing news around the clock to domestic and overseas news media as well as international organizations and institutions. Most Japanese newspapers and broadcasting stations subscribe to Kyodo.
JIJI PRESS is a leading Japanese news agency that provides a wide range of news, data and other information to subscribers in Japan and abroad. Launched in 2000, Jiji.com offers daily news articles, along with original news content about domestic and international situations and social issues. The news site is viewed by more than 15 million visitors per month.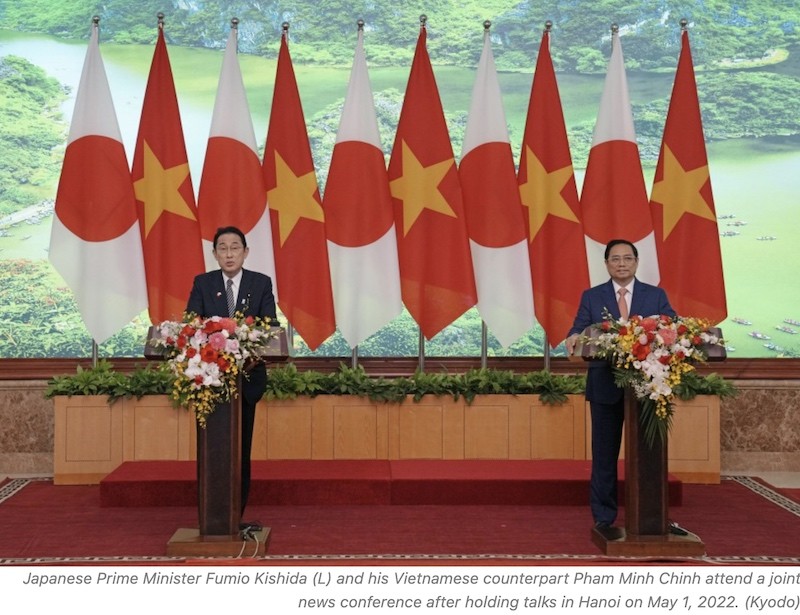 Kyodo News delivered about the talks in Hanoi between Japanese PM and Vietnamese PM. Photo: Kyodo News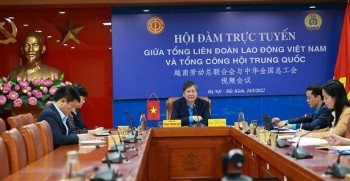 Friendship
The Vietnam General Confederation of Labour (VGCL) and the All-China Federation of Trade Unions (ACFTU) on May 24 shared their operational experience and agreed to step up their exchanges.