International vloggers: Vietnamese coffee is best in the world
In recent years, Vietnam has increasingly impressed international tourists with its unique cultural and tourism products. In particular, Vietnamese coffee culture is more and more spread and loved.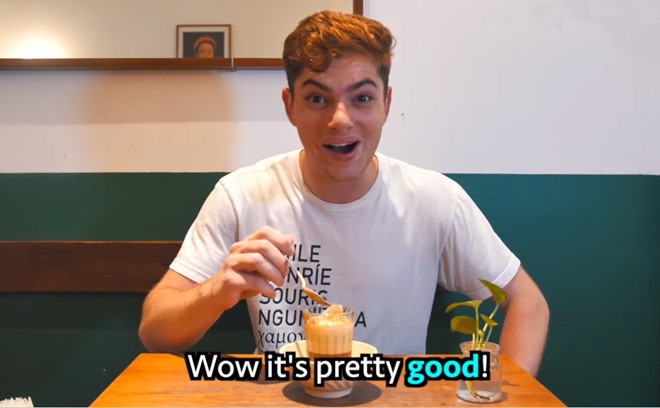 Markian enjoys egg coffee and changes his mind about coffee
Markian (born in 1988) is a famous blogger with more than 2.4 million followers on Facebook. Recently, his video titled "Coffee in Vietnam" has reached more than 3.2 million views and more than 5,000 comments. In this video, he praises Vietnam as a country with the best coffee in the world.
As soon as the video went viral, it received much feedback from followers in many countries.
In the beginning, Markian said he never drank coffee because it was bitter, expensive and insipid. But for coffee lovers, Vietnam is the place for them.
Coconut coffee, milk coffee and egg coffee are all introduced in the vlog. With egg coffee, Markian gave it an admiration.
After experiencing Vietnamese coffee, the American blogger changed his mind about coffee. He said: "The coffee here is cheap and delicious. It is so sweet!" However, the 31-year-old blogger also warned that its sweetness is fooling you because Vietnamese coffee is quite strong.
"In extreme cases, you will shiver, and won't able to walk straight. In Vietnam, coffee is more than just a drink. It is a pride and a tradition of Vietnamese people.", he said.
This is not the first time Vietnamese coffee praised by foreign bloggers. Apart from Markian, some other bloggers such as Sonny Side, Mark Wiens and Trevor Jamese have done this before.
Mark Wiens (1986) is a famous American food blogger with more than 5 million subscribers on YouTube. He came to Vietnam in 2014 and experienced Saigon street food. In one of his videos, he was enjoying black coffee at a roadside restaurant and commented: There is no beverage as good as coffee to enjoy after eating bread.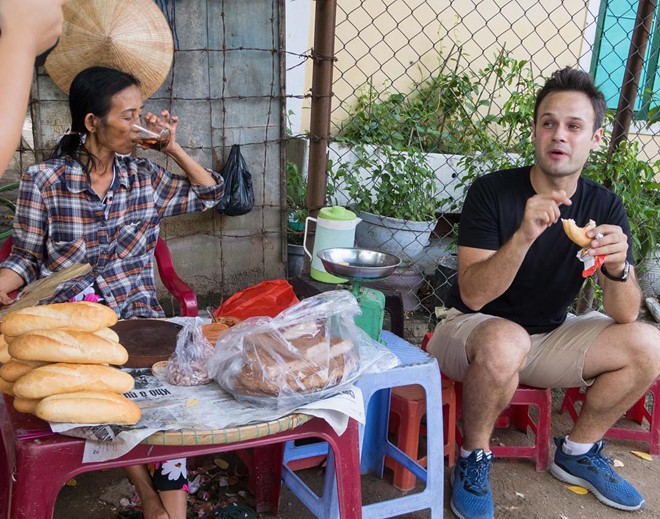 Mark Wiens drinks black coffee. He said there is no beverage as good as coffee to enjoy after eating bread.
"The Food Ranger" channel owner Trevor James once had a journey to explore cuisine across Vietnam. In Hanoi, Trevor and his wife enjoyed egg coffee. Commenting on the drink, he said "It is quite sweet and has a smooth fluffy creamy layer. It tastes like candy." Egg coffee is scored 9/10 points according to the feeling of the Canadian YouTuber.
Another American Youtuber, Sonny Side even made a clip about Vietnamese coffee culture with expensive ferret coffee. He came to Da Lat and enjoyed ferret coffee on a farm. At first, Sonny was a little worried about the taste but then, he felt its difference compared to brewed coffee.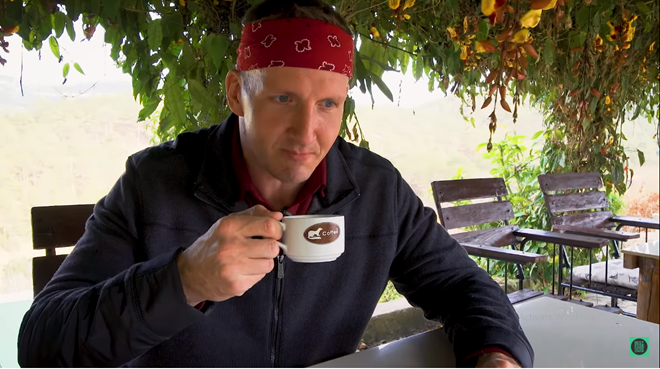 Sonny Side enjoys ferret coffee