Israeli Ambassador Sings Vietnamese to Welcome Lunar New Year
Israeli Ambassador to Vietnam sang a entire song in Vietnamese to celebrate the upcoming Lunar New Year.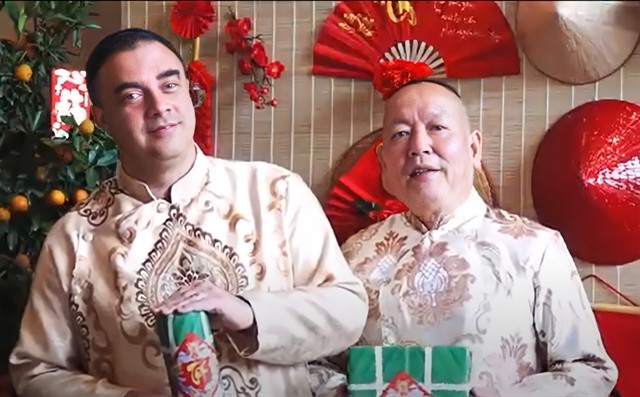 Ambassador Eshcar (left) and his driver Nguyen Luong in the music video. Photo courtesy of Embassy Of Israel In Vietnam
Ambassador of Israel to Vietnam Nadav Eshcar surprised the public by performing the entire song Ngay Tet que em (New Year's Day in my hometown) in Vietnamese with the driver.
"This is Israel's New Year's greetings for all our Vietnamese friends. We wish everyone a peaceful, prosperous and joyful Year of the Tiger. The song is also refreshed with four verses by Hebrew," the Israeli embassy in Vietnam said when releasing the video on Jan. 28.
Ambassador Nadav Eshcar and driver Nguyen Luong wore ao dai (Vietnamese traditional costume) and performed the song at many landmarks of Hanoi such as flower market, Hang Ma street and Tran Quoc pagoda. He also drank iced tea, a street drink of Hanoi and tried a sidewalk haircut.
Notably, the Israeli diplomat also added a bit of his hometown identity to the song by performing part of it in Hebrew.
He said the song is a New Year's greeting for Vietnamese friends.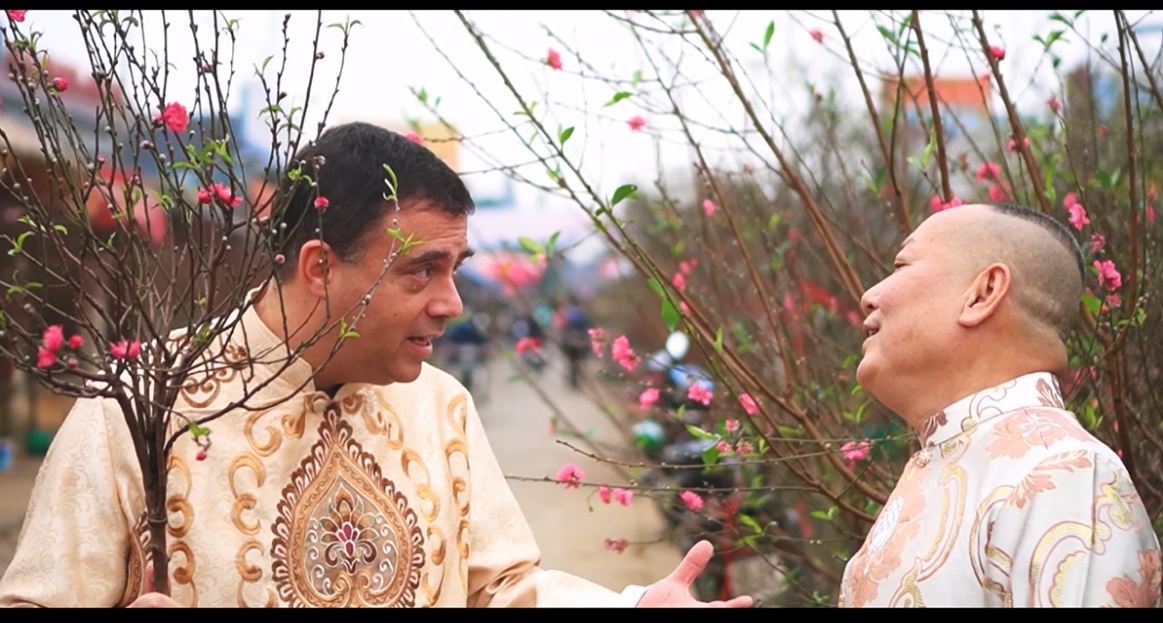 Ambassador Nadav Eshcar and driver Nguyen Luong wore ao dai. Photo courtesy of Embassy Of Israel In Vietnam
"Ambassador Eshcar proposed the idea of ​​​​making a video and considered it a gift to Vietnamese friends before the end of the 5-year term," the Israeli embassy shared with VnExpress. The video production process takes about a week from ideation to finished product.
In past Tet holidays, he has experienced making Chung cake, an indispensable dishes of Vietnamese people on Tet holiday, with kindergarten students, writing calligraphy and learning how to make ao dai.
Eshcar started his working term in Hanoi in August 2017. He said he loved Vietnamese culture and had a lot of affection for the country
For Lunar New Year, the ambassador also had an interview with Vietnam News Agency on Jan. 18 in which he said that Vietnam has had great success in its efforts to combat Covid-19, and the trade relationship between Vietnam and Israel captured many great opportunities.
The ambassador said the government had to struggle very hard to find solutions for the health element first and foremost, with the country's vaccine rollout being key.
The diplomat also complimented the country's economic resilience despite the collapse of many businesses and supply chain disruptions globally, saying it was a surprise for him to witness Vietnam - Israel trade expand 36% in 2020 and some 15-20% in 2021.
Vietnam and Israel established official diplomatic relations in 1993. Bilateral relations are increasingly developing in many fields, especially trade and high technology serving agriculture, health care, and cooperation against the Covid pandemic.
Vietnam is Israel's largest trading partner in Southeast Asia with a trade turnover of about USD 1.8 billion in 2020. The two countries are negotiating a free trade agreement which is expected to provide strong momentum for the two economies to advance further.
In regard to discussions between the two on a labour agreement to send Vietnamese to work in agriculture in Israel, which were launched last year, Eshcar said "the agreement has to be done very carefully to make sure the rights of workers are fully maintained in the best manner possible.
The Embassy of Israel in last December presented more than 22,000 plants to farmers in Bac Phong commune, Cao Phong district, the northern mountainous province of Hoa Binh, in response to the one-billion-tree growing project launched by the Vietnamese Prime Minister.
A seminar to promote agricultural trade and investment and cooperation between enterprises of the northern mountainous province of Ha Giang and Israel also has been held in the Vietnamese locality this month.
Israeli ambassador and Miss Universe Vietnam 2017 inaugurated a library for a semi-boarding ethnic minority elementary school in Minh Son commune, Bac Me district on the same day.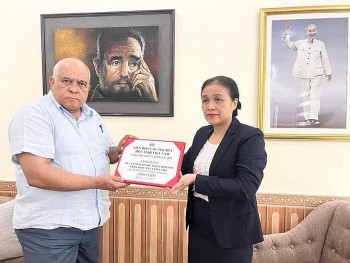 Focus
According to Cuba's News Agency Prensa Latina, on August 16, President of Vietnam Union of Friendship Organizations Nguyen Phuong Nga said that Vietnamese people will always stand by and support Cuba no matter what difficulties our friend is facing.