A 19-year-old who faked being rich on Instagram says he was 'shocked' by how easy it was
Denton used photo-editing software to turn a green couch into a private jet. (Courtesy of Byron Denton)
Byron Denton, 19, a London-based YouTuber known for his channel tbhbyron, started posting edited photos of himself on Instagram in late January, Business Insider reported.
The pictures showed him wearing designer clothing from brands like Balenciaga and Off-White, shopping at Louis Vuitton, and sitting on a private jet, among other activities you'd expect to see on a celebrity or influencer's Instagram.
After a week of posting edited photos, Denton revealed the truth on YouTube.
Speaking to INSIDER, Denton said his experiment was inspired by YouTubers like George Mason, who faked going on vacation for a week earlier this year.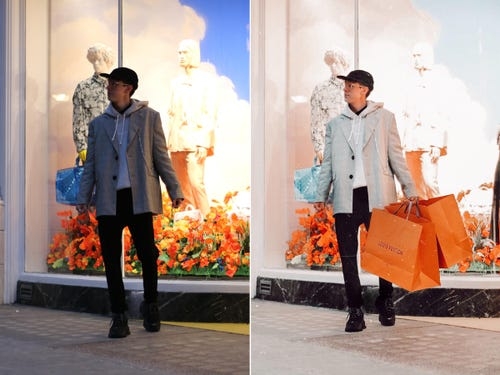 Denton digitally added Louis Vuitton bags to his left hand. (Courtesy of Byron Denton)
"I saw a lot of people faking holidays and stuff, but I thought it would be cool to take a different approach," the 19-year-old said. "I'd always wondered if the reason people are so obsessed with celebrities was due to the fact they can afford to live a life not everyone can."
The vlogger said he used two photo-editing apps, FaceTune and PicsArt, to "superimpose" images together and Adobe Photoshop Lightroom to "color the final product." On average, it took him around 45 minutes from shooting to editing to create each Instagram post.
"[The experiment has] made me question everyone's moves on social media," the vlogger said. "Do a lot of the high-profile bloggers these days actually make their way to the top by being honest or do they fake some of it?"
You Can Now Pretend to Be Crazy Rich for as Little as $1
(Video: via Next Shark)
A number of online services are now reportedly offering stock, first-person videos that flaunt wealth, which people can buy to post as their own on social media.
These clips, which can be customized with the customer's voice after purchase, include flaunting supercars, real estate, luxury products, exotic pets and wads of cash, to name a few.
Such services are available on Taobao and WeChat for as low as 6 yuan ($0.90), according to Pear Video.
The trend capitalizes on the so-called "zhuangbi," a slang term referring to pretentious people.
"With 700 videos to choose from, I can fake it for many months and years," an anonymous customer wrote in a review, according to the South China Morning Post.
One merchant called "Show-Off Video Dubbing Productions" has a library of more than 2,000 videos, all ready for customization.
Speaking to Sixth Tone, a representative for the merchant claimed that the business generates 10,000 yuan to 20,000 yuan ($1,490 to $2,980) a month, with footage of luxury cars being the most popular.
Some merchants take it to the next level with offers of fake vacation experiences, including a full English breakfast at a five-star hotel, a beach getaway in Phuket, and a hike on the famous Jade Dragon Snow Mountain in Yunnan.
It's unclear when exactly such services came to existence, but some claimed that they have already been around for roughly five years, according to Next Shark.
People are pretending to fall out of cars and posing amid strewn luxury goods for the viral 'flaunt your wealth' challenge on Instagram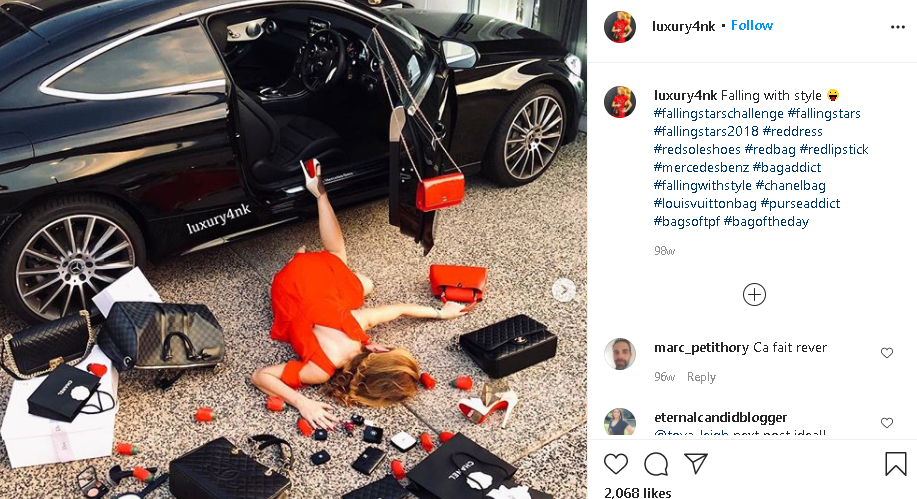 One woman joining the #fallingstar trend (Photo: Captured)
The "flaunt your wealth" challenge, which is gaining in popularity in China, encourages people to pose amid luxury goods as if they've just fallen out of a car.
Newsweek reported that over 1 million people have completed the challenge on Weibo, China's most popular social media platform. But, as with all vanity-based trends, the "flaunt your wealth" challenge has made its way to Instagram.
If you think this all looks familiar, you'd be correct. The trend is derivative of August's #fallingstars or #fallingstars2018 photo challenge, which encouraged people to pose as if they were falling out of private jets.
There are over 35,000 posts under the variations of the #fallingstars hashtag at the time of this post.
One of the earliest examples of the trend came from Catherine Ramos, who competed in Miss Ukraine in 2016.
Jasmine Le