Vietnamese woman honored by Japan for contribution in Ehon comic and reading culture
Japan Ambassador to Vietnam Yamada Takio has just awarded the Certificate of Merit from Japan's Minister of Foreign Affairs to Ms. Le Thi Thu Hien for her contributions in promoting cultural exchange between the two countries.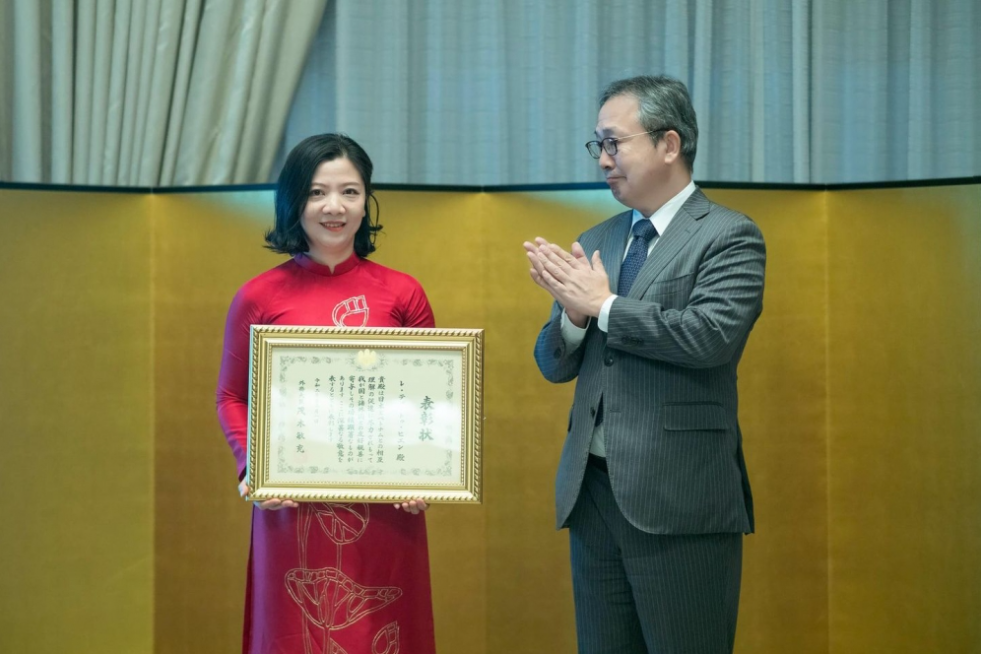 Ms. Le Thi Thu Hien received the Certificate of Merit from Japan Ambassador to Vietnam.
In December 2020, Japan's government decided to grant a Certificate of Merit from the Minister of Foreign Affairs in "the second year of Reiwa" to Ms. Le Thi Thu Hien, a representative from MORE Production enterprise. The complicated COVID-19 situation discouraged Japan from hosting the ceremony. Therefore, Japanese Ambassador Yamada Takio flew to Hanoi to award Ms. Le Thi Thu Hien the Certificate of Merit in the presence of her family, friends. and distinguished guests.
Ms. Le Thi Thu Hien, a representative from MORE Production has made a significant contribution to the cultural exchange between Japan and Vietnam through activities to promote Ehon comic and reading culture in Vietnam.
In March 2017, during the first trip to Vietnam of Japan's Emperor and Empress, Ms. Le Thi Thu Hien was encouraged by the Empress for the comic reading project for children that she was working on. In the last 4 years, Ms. Hien took those encouraging words as her motto to coordinate with her close friend, Ms. KATSU Megumi to make outstanding achievements in the development of Ehon comics (traditonal picture books) and reading culture in Vietnam.
In June 2017, Hien published 3 Japanese Ehon comics in Vietnamese translation for the first time. So far, she has translated 78 Japanese Ehon and has a total of over 450,000 books published.
In October 2018, Hien announced her publishment of "Bac Cau" (Building a bridge) - a book that tells the beauty and joy that Japan Former Empress found through reading books. This book's translation and publishing is considered a pillar and symbol for the popularization of reading culture in Vietnam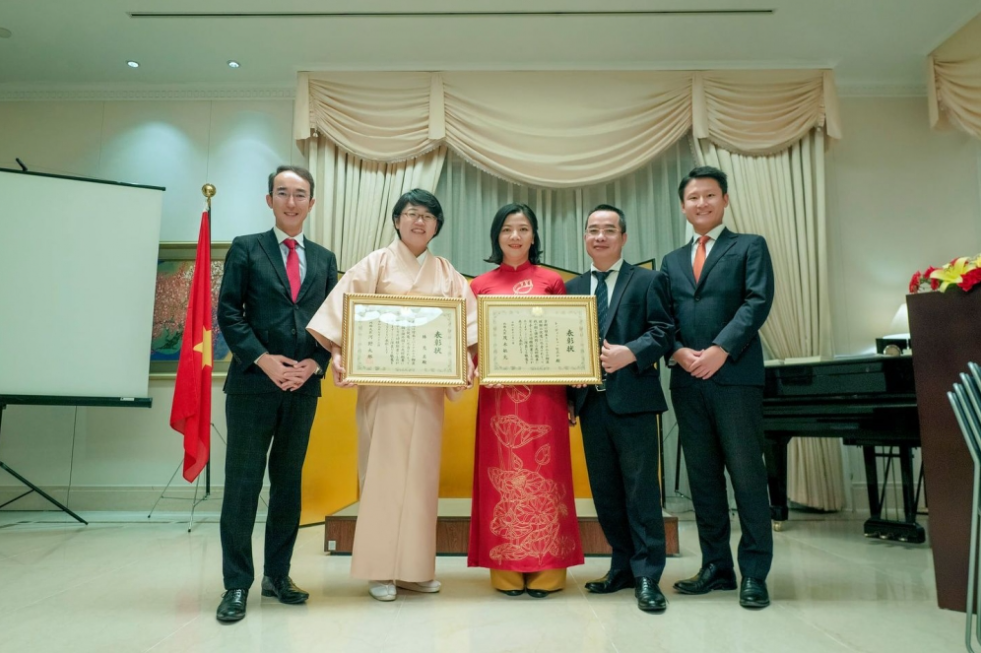 Ms. Le Thi Thu Hien and Ms. Katsu Megumi.
Since 2017, Ms. Le Thi Thu Hien has held more than 130 Ehon comic reading activities and presented over 30,000 Ehon comic books as a social contribution to children who live in mountainous areas or orphanages and do not have the opportunity to access books. In the coming time, Hien expects to cooperate with the Ministry of Culture, Sports, and Tourism to sent books to the Ministry's library and coordinate with Hanoi Medical University Hospital to present books to children in mountainous areas.
In 2018, Ms. Le Thi Thu Hien and her colleagues cooperated with ENEOS company to launch the "Flowers of Fairy Tale" - a contest of writing tales for amateur Ehono writers, aiming at promoting resources for Ehon writers. Since then, the contest's award ceremony is held annually on October 20, which is the former Japanese Empress's birthday.
By maintaining these activities, the number of works joining "Flowers of Fairy Tale" has risen from 250 in 2018 to 1351 to 2020, making a great contribution to the development of the Vietnamese Ehon writing team.
"Japan and Vietnam share many strategic interests, leaders of the two countries have deep trust, people of the two countries have close feelings toward each other. Under the guidance of Vietnam's new leaders, who came to positions this April, cooperation between two countries on fields such as politics, security, and defense, economic is sure to continue to flourish.
In that context, activities such as that of Ms. Le Thi Thu Hien have important meanings in promoting the spiritual exchange of Vietnam - Japan people," said the Ambassador.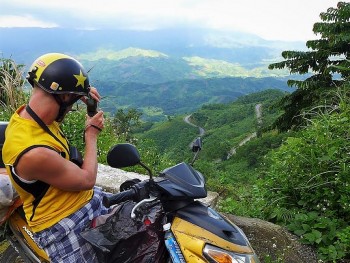 Viet's Home
Written with such love and care for Vietnam, the brilliant travel guides of Tom Divers inspire expats and foreign tourists to explore the wild, remote corners of the nation.