J'rai Women Brocade Weaving Club in Ia Mo Nong
Seemingly lost in the flow of time, the J'rai's traditional brocade weaving in Ia Mo Nong gradually came back to life under the deft hands and dedication of local people.
A difficult start
In Kep village in Ia Mo Nong commune of Chu Pah rural district in Gia Lai province, it is easy to find local women passionately weaving eye-catching brocade with traditional looms. They are members of the Ia Mo Nong brocade weaving and community tourism club.
For many reasons, brocade weaving almost fell into oblivion. And yet, while many have given up on the traditional craft, some artisans are determined to preserve the it. Ro Cham Mir, 69, is one such artisan.
Members of the brocade weaving club in Ia Mo Nong. Photo:

Vietnam Times
Nobody in Kep and the surrounding villages remember when locals started to weave brocade. Ro Cham Mir can recall seeing a women in her family performing the traditional craft since when she was a small child. Little by little, Cham Mir learned each pattern and technique to weave the J'rai's brocade. Before long, her products reached every villager.
Cham Mir said much of the traditional craft was lost in the flow of time. Many looms became unusable. The typical materials to make the J'rai's brocade were hard to find. In the past, locals grew cotton on the riverbank and gathered tree roots in the forest for dyeing colors. Cotton was gradually replaced by profitable plants such as corn and sugarcane, leading to scarcity of resources.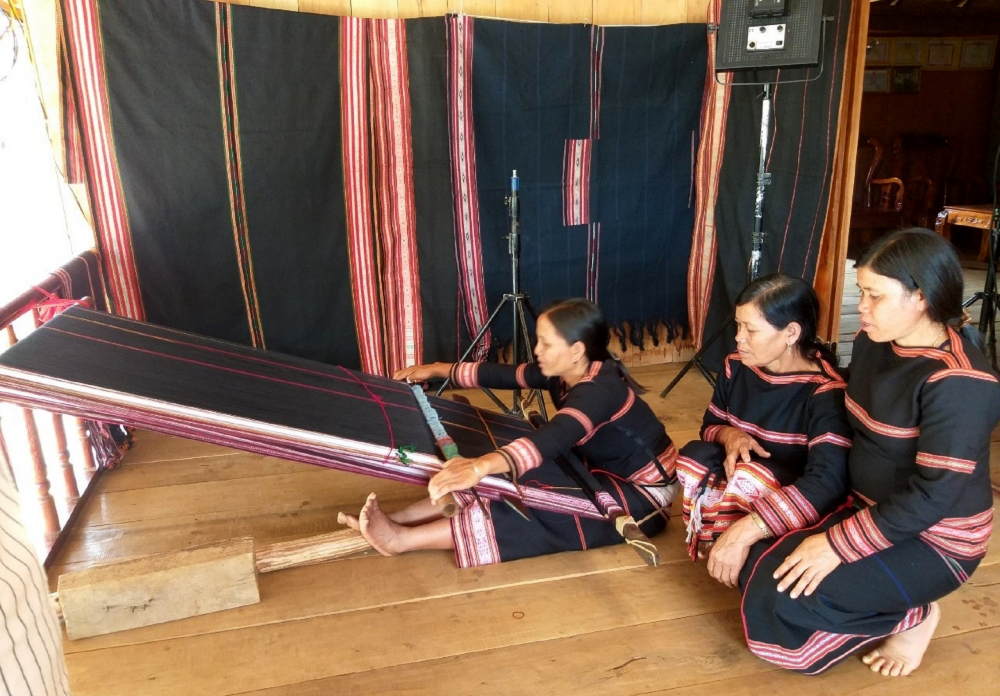 Traditional brocade weaving of the J'rai has started to rejuvenate. Photo:

Vietnam Times
Traditional J'rai brocade weaving has been revived with the efforts of villagers, but the pioneer, vice president of Ia Mo Nong Communal Women's Union H'uyen Nie, came from elsewhere. Nie met her now-husband, a doctor from Kep when was studying performing arts in Hanoi. After graduation, Nie joined the Dam San Singing Trope in Pleiku city of Gia Lai province, then followed her husband back to Kep where she was appointed vice president of the local women's union.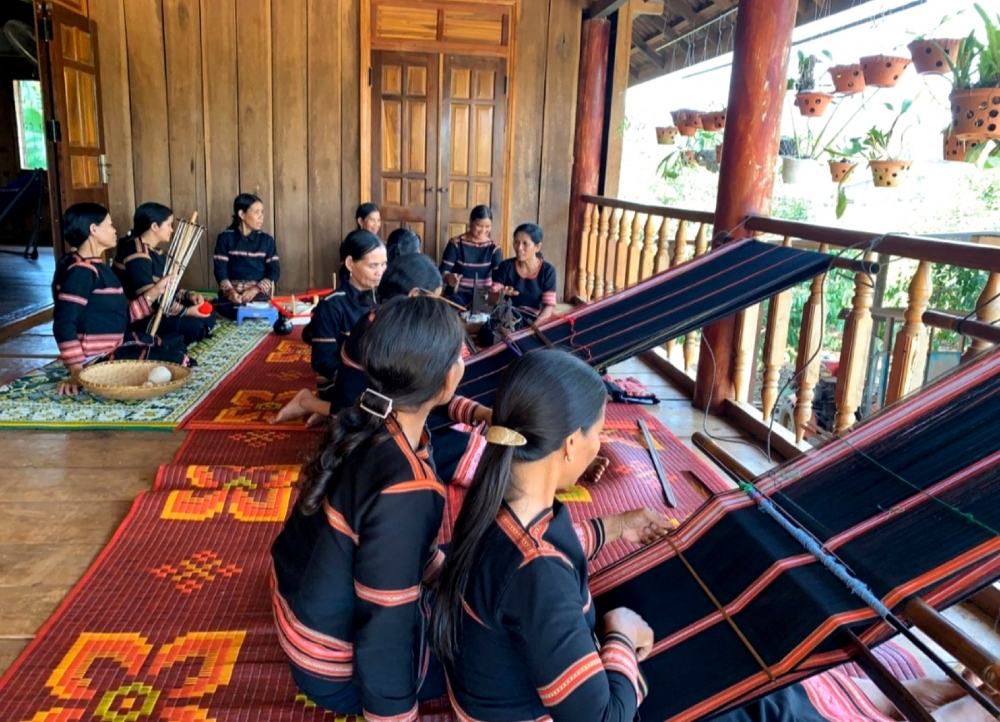 Locals can weave brocade to earn extra income. Photo:

Vietnam Times
Incorporating brocade weaving into community-based tourism
Thanks to her job, Nie had been to different villages in the commune and noticed that many people still weave the J'rai brocade in their free time. Due to the lack of market and market connection, their products were only used in the family. As urbanization was accelerated, many new jobs were born and traditional crafts were gradually replaced by industrially made products. In late 2018, Nie and some other women in Ia Mo Mong established the Brocade Weaving Club.
The club has gone to every house in the commune to mobilize their support to recover and preserve the J'rai traditional brocade weaving, incorporated in community-based tourism in Ia Mo Nong. "In the Kep 2 village, there were still some women passionate about the craft. I want to do something for the community so these artisans can find a good market for their products, so I proposed this club," Nie said. Her initiative was quickly approved by local authorities.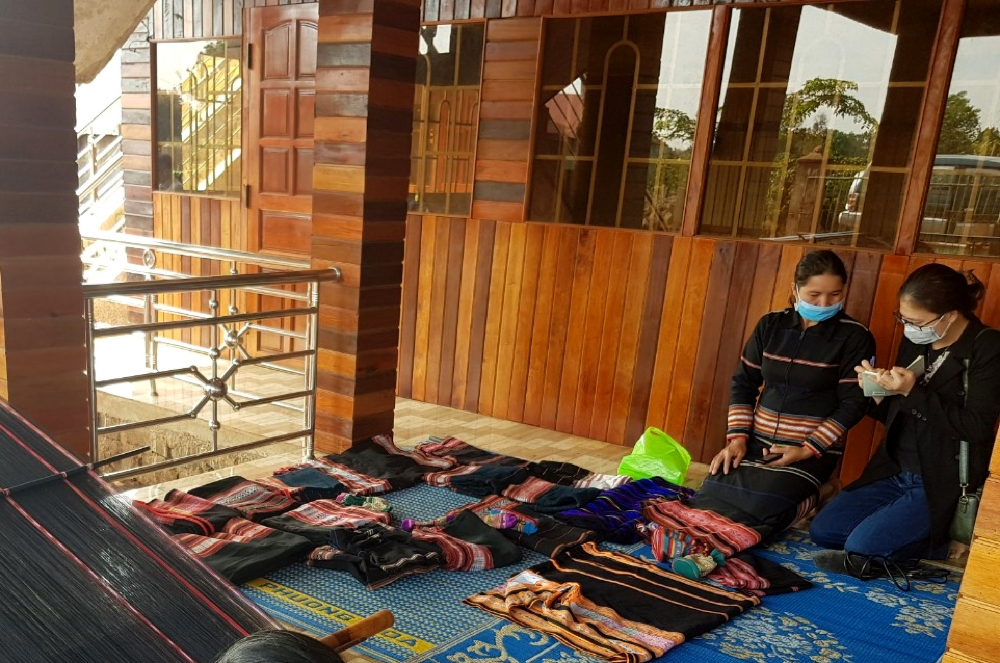 Local introducing their traditional brocade products. Photo:

Vietnam Times
After two years, the club attracted over 30 members aged from 19 to 60. Originally, villagers had to walk to other villages to sell their products. This was particularly difficult since they went to work during the day. Nie realized that the main challenge was commercialization – finding a stable market for the products. As each piece of traditional brocade is made completely by hand and has complicated patterns, it usually takes a month to complete a product. The price for each piece (VND 1.5 million/piece), therefore, is not cheap. The club and local authorities decided to incorporate the J'rai traditional brocade weaving into community-based tourism and market the products on social media and e-commerce platforms. When tourists come to Ia Mo Nong, they can experience the art of traditional brocade weaving of the J'rai. In addition, they can buy souvenirs made with brocade such as hats, bags, wallets, baskets and jewelry.
Cham Mir said "when I first returned to traditional brocade weaving, I had to walk around to sell my products, but I was glad to see the people's fondness for the J'rai craft. With this, I had some extra money to buy cows and pigs. I was given health and skills to make these products, so I am passionate about traditional brocade weaving, but I am glad others love them too!"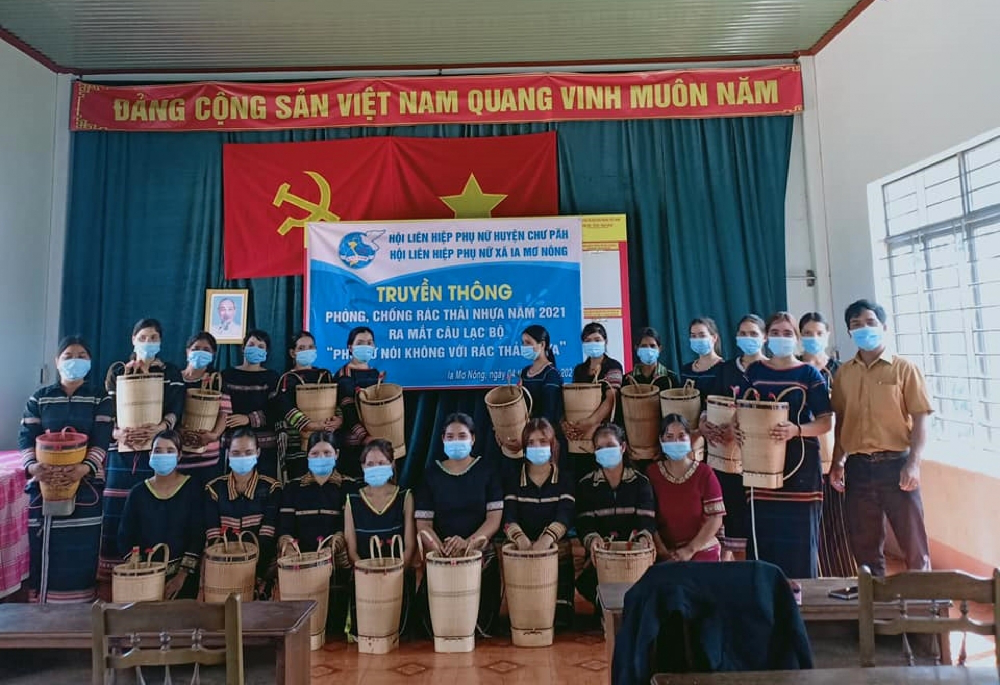 The "say no to plastic waste" club was formed recently in Ia Mo Nong. Photo:

Vietnam Times
Nie said the club's plan in 2021 is to mobilize villagers to grow cotton and produce materials suitable for their products. They will also recommend local authorities to introduce products and souvenirs made from J'rai brocade in shopping malls and trade promotion channels and create new tourism products from the traditional craft.
As well as establishing the traditional brocade weaving club, Nie has also been working with local authorities to form the "say no to plastic waste" women club to change local's habits of using plastic products. Another club to preserve traditional knitting techniques of the J'rai will also be operated soon. Ia Mo Nong hopes to develop homestay models so tourists can stay and explore the rich culture of ethnic minorities in Gia Lai.