Khanh Hoa Province Provides Support to Foreigners Struggling Due to Covid
Government agencies and political–social organizations in Khanh Hoa province have been using the province's Covid prevention fund and calling for social support to assist foreigners struggling due to the Covid-19 pandemic in the province.
Khanh Hoa province has been providing support packages and Covid vaccination to international friends present in Khanh Hoa amidst ongoing Covid.
Kontrabayeva Gulzhan, a Russian teacher in Nha Trang City, said she had to stay in the house when Covid broke out in Khanh Hoa province and struggled to purchase necessities due to lack of income. Kontrabayeva used to rent an apartment for VND 4 million per month. For many months, she could not afford to pay the rental money and utility costs. Thanks to the support from the Khanh Hoa Provincial Vietnam – Russia Friendship Association, she could rent the same apartment for VND 2.5 million per month.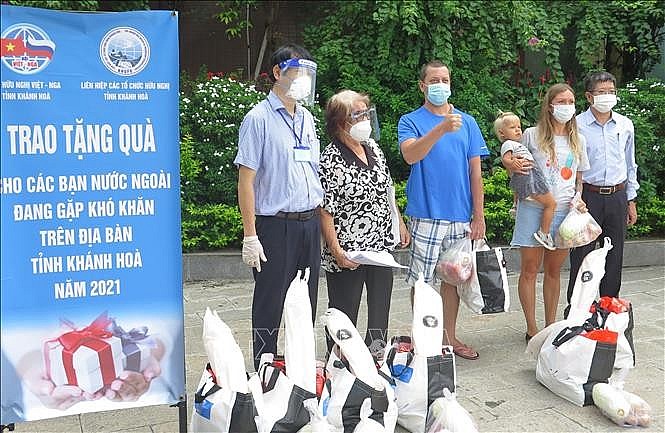 The Khanh Hoa Provincial Vietnam – Russia Friendship Association and Khanh Hoa Union of Friendship Organizations giving support packages to Russian citizens in Khanh Hoa struggling due to Covid. Photo: Vietnam News Agency
"My family at home is also facing challenges due to Covid so they could not help me much. Therefore, I appreciate the help of Khanh Hoa locals," Kontrabayeva said.
Larisa and Denis Deguna have been living in Nha Trang city of Khanh Hoa province for many years. Their 11-year-old daughter is disabled in one leg. According to Larisa, her family had received much support from the local communities
"We are impressed by the way the Vietnamese government and people have been working with each other to ensure that no one is left behind. I would like to thank the people of Vietnam for the sentiments that they have given to us," Larisa said.
Denis added that the entire family received the same support as locals in Covid prevention, without discrimination. He felt he was lucky to live in Vietnam.
President of the Khanh Hoa Provincial Vietnam – Russia Friendship Association Nguyen Thi Thu Thanh noted that the association had gone to different districts and communes in Khanh Hoa in-person to directly give support packages to those in need. Each package consisted of necessities such as cooking oil, flour, fresh milk, condensed milk, canned fish, noodles, fruits, bread and vegetables.
Deputy Director of Khanh Hoa Provincial Department of Foreign Affairs Duong Nam Khanh (right) giving a support package to the Dugina family. Photo: Vietnam News Agency
"As the bridge for the bilateral relation between Vietnam and Russia, the Khanh Hoa Provincial Vietnam – Russia Friendship Association wishes to provide the best support to Russians living here. Those who are in need are treated equally. The pandemic continues to have complicated occurrences, so we are striving to assist and encourage them to stay strong and healthy to wait for the day Covid is completely controlled," Thanh said.
According to the president of Khanh Hoa Union of Friendship Organizations Le Trung Hung, the union has been working with numerous organizations and individuals to give thousands of support packages to foreigners living in Nha Trang since the 4th Covid outbreak started to spread in June 2021.
"Foreigners living in Khanh Hoa right now need assistance and we are willing to give it to them. With every program that we carry out, we hope to promote solidarity and friendship with people from other countries. We also hope that the pandemic will be controlled soon so they can return to their normal lives," Hung noted.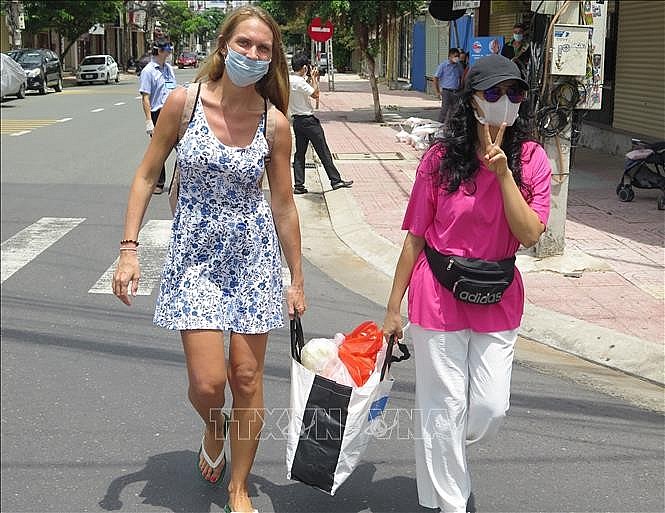 International friends were elated to receive support packages from locals. Photo: Vietnam News Agency
Deputy Director of Khanh Hoa Provincial Department of Foreign Affairs Duong Nam Khanh said over 3,000 foreigners were living, studying and working across Khanh Hoa. Due to the Covid-19 pandemic, many of those who worked in the tourism sector were forced to quit their jobs and stay home.
The province's Department of Foreign Affairs has been working to support those who are struggling in Khanh Hoa, in addition to those who want to return home.
According to the department, Covid vaccination is carried out following Khanh Hoa's policy in which all people living in the area over 18 are entitled to free Covid inoculation. By now, over 250 foreigners have received the first shot.
Covid has been controlled in Khanh Hoa, with the number of new cases plummeted. All people in the province, foreigners and locals alike, are hoping that life will soon return to normal.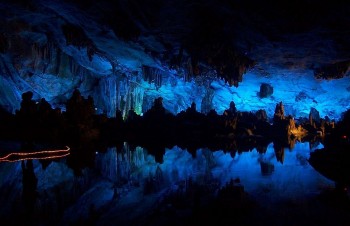 Travel
Caves are the creation of nature, charming any tourists with their mysterious and an air of danger, waiting for humans to explore the deepest secrets inside them. Take a look at these magnificent and beautiful caves around the world that you must visit once in your lifetime.
Viet's Home
According to the AFC official statement, Vietnam striker Nguyen Tien Linh won the AFC International Player of the Week after receiving the most votes out of the remaining nine players.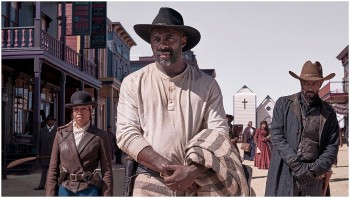 Handbook
November is coming close, and the cold outside makes us want to curl up inside our warm blanket and bing watch our favorite movies or shows. Here is the list of what is coming on Netflix in November, and some of the most expected Netflix originals for you to enjoy.