Kindness During Covid Times: Vietnamese and Expats Help the Needy
Despite the social distancing orders, coronavirus hasn't stopped people from reaching out to help others.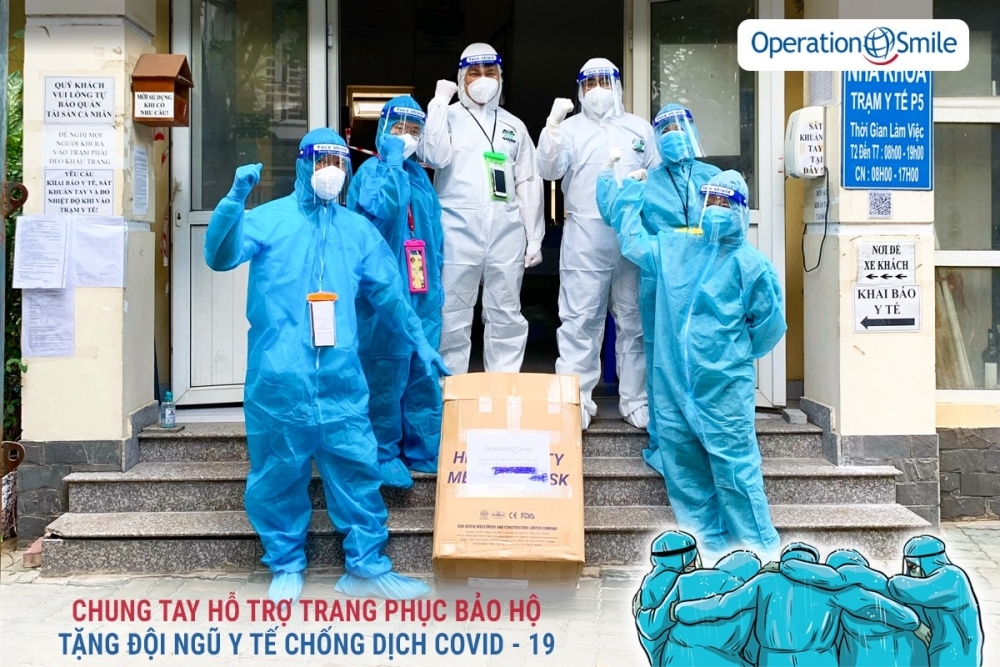 The medical staff of Hue, Hanoi University of Public Health and the Medical Center of Ward 5, District 5 received protective clothing and medical supplies jointly contributed and donated by the community and Operation Smile.
The coronavirus pandemic has spread rapidly in the recent weeks, and as a result lots of people are dealing with a new level of stress and anxiety, as well as increased self-isolation. However, there are lots of things, both big and small, that people can do to help each other out — even while practicing social-distancing.
In response to the Vietnam funding campaign and the desire to contribute in the fight against the Covid-19, Operation Smile Vietnam has been calling for the community's support, raising funds to buy protective clothing for frontline medical staff.
As of August 1, Operation Smile Vietnam has received VND 175,210,700. This amount is doubled by the commitment of the US Operation Smile, so the donation amount has now reached VND 350,421,400.
According to information from Operation Smile Vietnam, 1,000 Personal protective equipment (PPE) suits, more than 1,000 N95 masks and more than 1,100 anti-droplet masks have been packed and are being shipped to District 11 Hospital, Ho Chi Minh City Odonto Stomatology Hospital. The medical supplies also are being send to a team of doctors from Hue are on duty in District 8, and Operation Smile's medical volunteers are working at many hospitals in the city.
Also, currently raising funds for equipment, supplies serving Covid-19 fight is the VinaCapital Foundation with its "Help Vietnam Breathe – Vi Nhip tho Viet Nam" program.
Up to the morning of August 2, the campaign has successfully raised VND 3,639,566,587. 28 ventilators and 30 days of Personal Protective Equipment have been donated to Covid-19 treatment hospitals in HCM City and Long An province.
"Help Vietnam Breathe – Vi Nhip tho Viet Nam" is a program implemented by VinaCapital Foundation to raise funds for purchasing a minimum of 15 ventilators for hospitals treating Covid-19 patients and PPE suits to protect 9,000 frontline healthcare workers from high risk of infection for at least 30 days.
The program will continue to raise funds for more equipment and supplies as long as the pandemic situation remains complicated.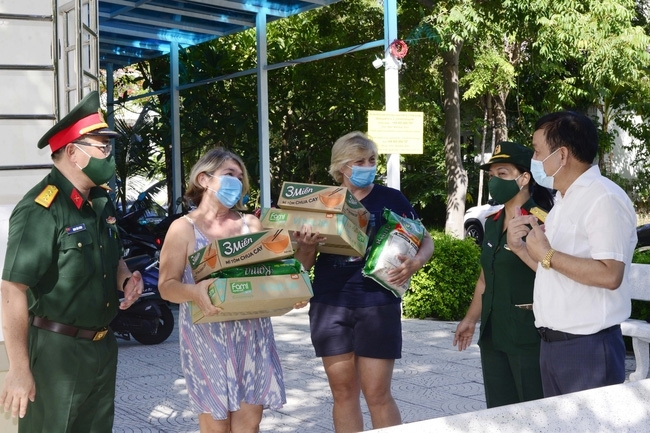 Russian residents in Nha Tran city thanked the Ministry of National Defense of Khanh Hoa province and the provincial Vietnam - Russia Friendship Association for the Covid-19 support packages.
Vietnam recorded 157,507 cases of Covid-19 as of 6am August 2. The number of infections during the new pandemic wave that began in the country on April 27 reached 153,672, with 40,383 patients having recovered.
Around 100 Russians in Khanh Hoa province have benefited from Covid-19 support packages. Recently, the Khanh Hoa provincial military command in collaboration with the Foreign Affairs Department and the provincial Vietnam - Russia Friendship Association presented 100 gifts to Russian citizens suffered from the adverse impacts of the Covid-19 in Nha Trang city.Each gift is worth VND 500,000, including a box of instant noodles, one carton of milk, 5kg of rice, and hundreds of kilograms of vegetables.
This number of gifts is extracted from the "0-VND stalls" funded by the local budget, contributions from officers and soldiers of the armed forces in the province, and the provincial Youth Union's Covid-19 support fund.
According to Hoang Van Vinh, standing vice president of the provincial Vietnam - Russia Friendship Association, there are currently more than 700 Russian citizens residing in Nha Trang city, nearly 100 families are facing difficulties. They lost their jobs and unable to return home, so they have had to ask for help from the community for many months now.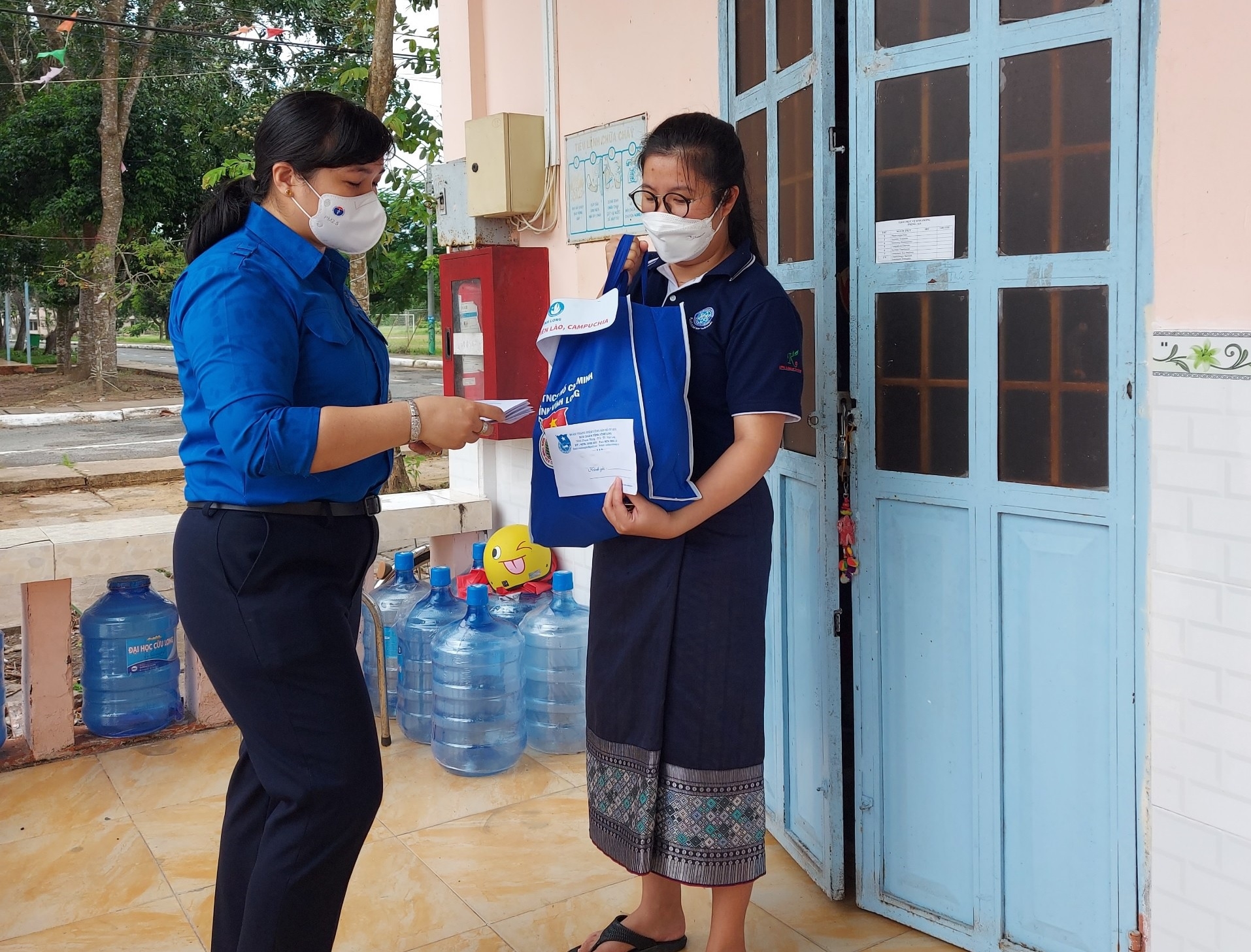 Secretary of Vinh Long Provincial Youth Union Nguyen Huynh Thu gives gifts to Lao and Cambodian students staying in school dormitory during the newest outbreak. Photo: Xuan Phuc
Vinh Long provincial youth union on August 2 also visited and gave gifts to support Lao and Cambodian students staying in school dormitory during the newest outbreak, reported Thanh Nien (Youth) newspaper.
At each place, the provincial youth union has visited and encouraged students, and gave each one a gift package worth VND 300,000.
Currently, Vinh Long province has 125 foreign students, including 106 Lao students and 19 Cambodian students studying at Mien Tay Construction University and Cuu Long University.
On the same day, Souliya Kiewphilavong, chief of Office of the Lao People's Revolutionary Youth Union Central Committee visited the Vietnamese student dormitory of the National University of Laos in Vientiane to present the students with gifts worth 12 million kip (USD 1,254).
The gifts include daily necessaries, medical masks, and hand sanitizers in aid of the students.
The National University of Laos now has 184 Vietnamese students, the most among Lao universities, according to VNA.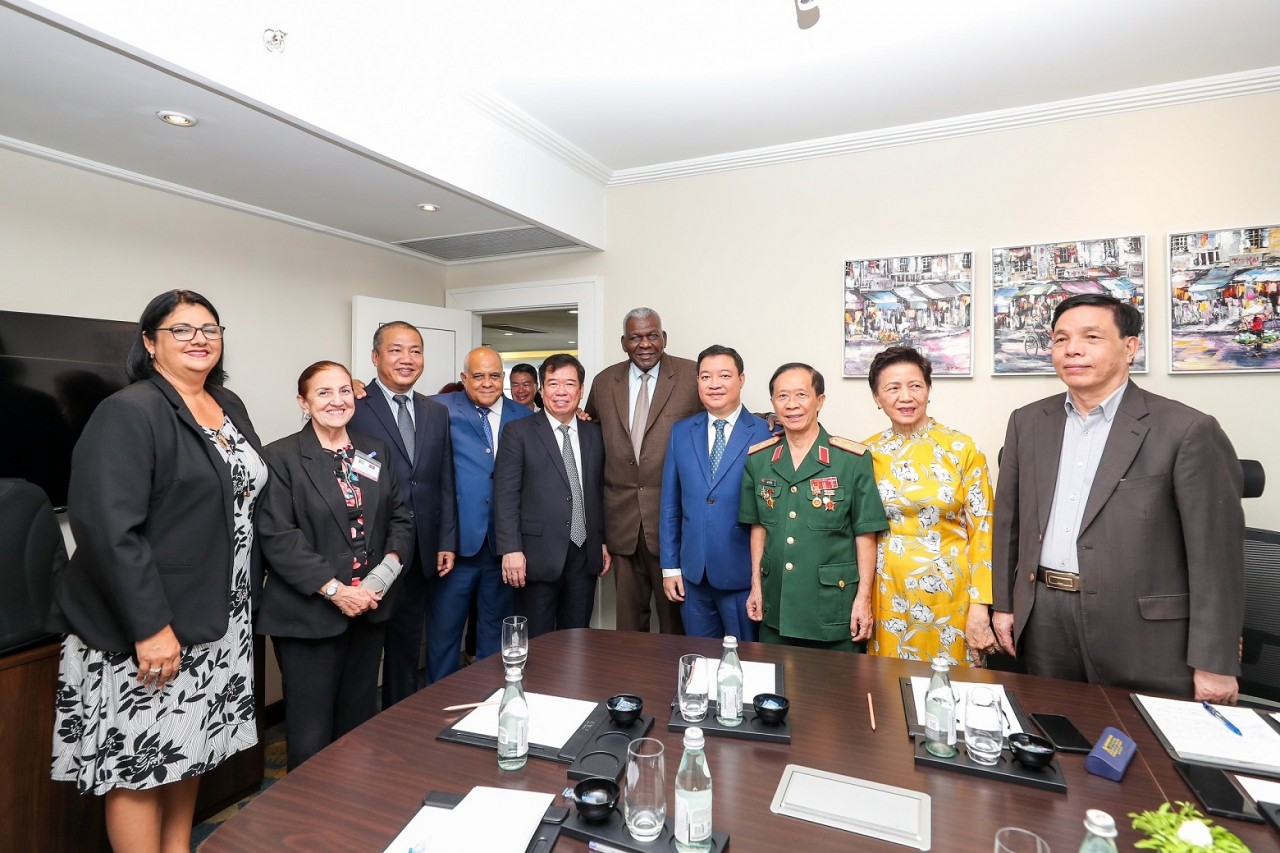 Friendship
President of the National Assembly of People's Power of Cuba Esteban Lazo Hernandez emphasized that Vietnam - Cuba is always united and faithful because they are one family.
September 27, 2023 | 15:11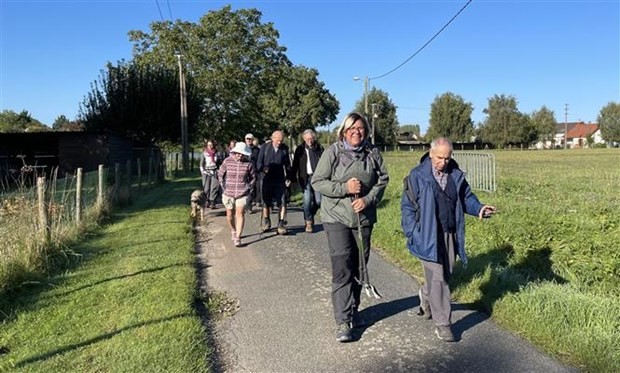 Friendship
The Children's Walk For Hope is a virtual event that will be held globally recently.
September 27, 2023 | 14:54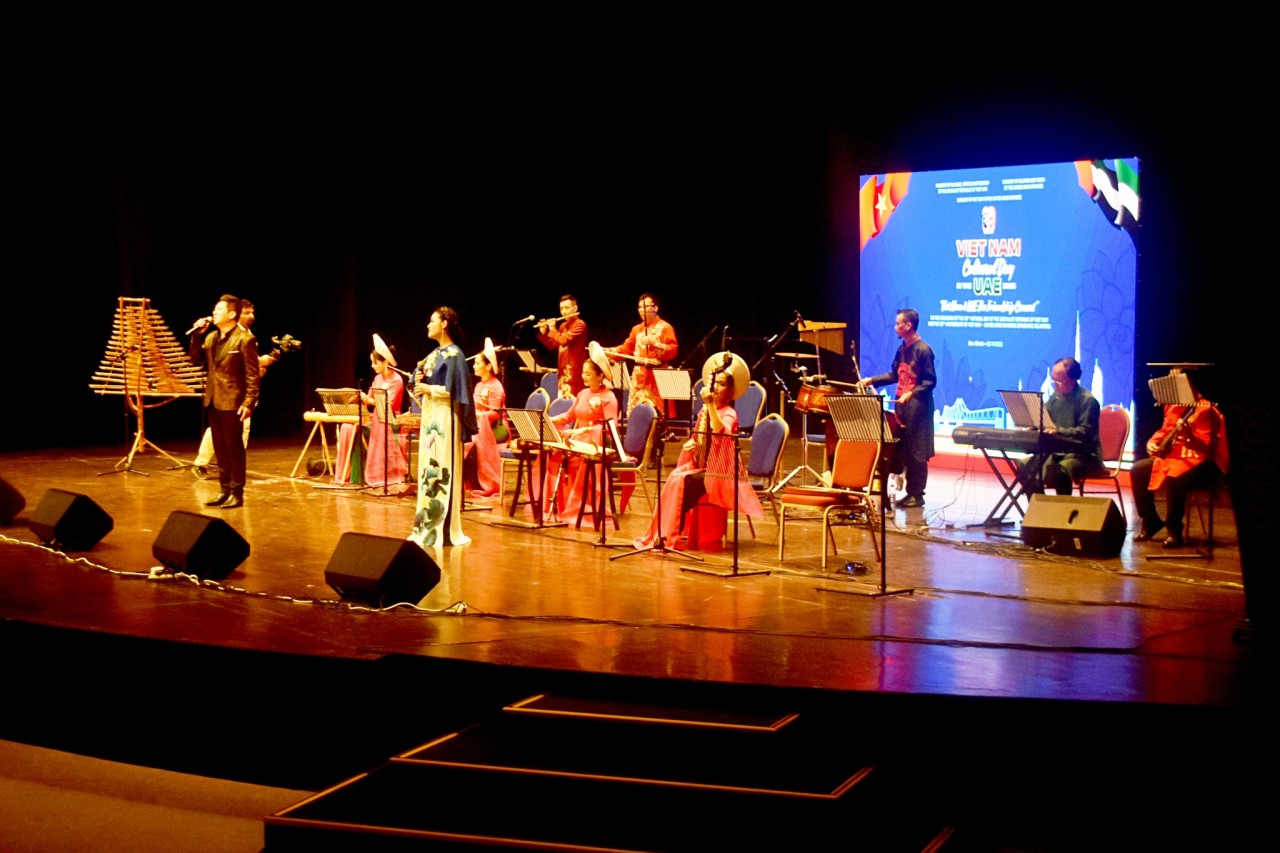 Friendship
A special art performance was held in the capital Abu Dhabi, gathering leading artists from Vietnam and the United Arab Emirates (UAE).
September 27, 2023 | 14:01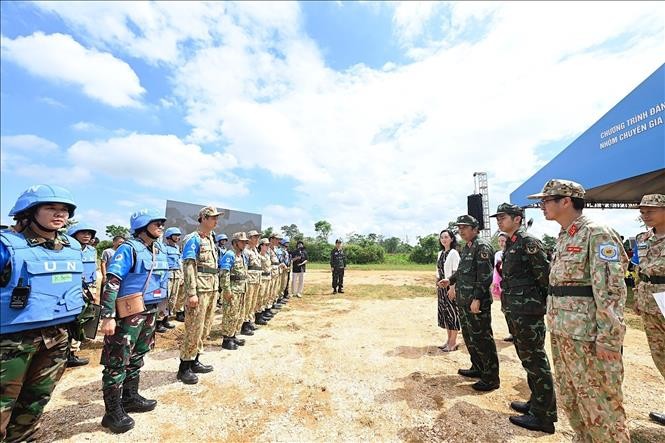 Friendship
Japan and representatives of State members of ASEAN Defence Ministers' Meeting Plus (ADMM-Plus) valued the preparations of Vietnam in hosting the Competency Evaluation Program for Prospective UN Peacekeepers (CEPPP) as well as outcomes of the program.
September 27, 2023 | 07:53