Korean Charity Aids Phu Tho Province in Covid-19 Combat
The Korea Food for the Hungry International (KFHI) has presented 200 oxygen saturation monitors SPO2 worth VND 50 million (US$2,200) to the northern province of Phu Tho to help the locality in the Covid-19 fight.
The provincial Department of Health in coordination with the provincial Department of Foreign Affairs held a ceremony in Viet Tri city on November 16 to receive the donations.
The ceremony saw the participation of Jeon Chang Hee, Project Director of KFHI; Nguyen Giang Long, Director of the Health Department; and Ta Thi Mai Hong, Deputy Director of the Foreign Department.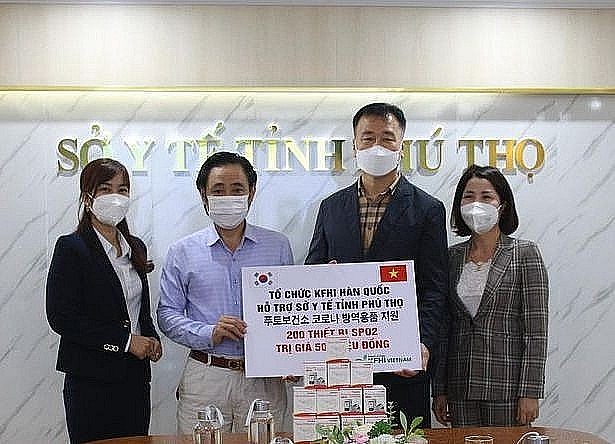 Nguyen Giang Long, Deputy Director of the provincial Health Department (second from left) receives the 200 oxygen saturation monitors SPO2 from the Korea Food for the Hungry International (KFHI).
According to the Department of Foreign Affairs, since the pandemic broke out in Phu Tho province, KFHI has provided timely assistance for needy families in Dong Cuu and Kha Cuu communes in Thanh Son district, and Dao Xa commune in Thanh Thuy district, with total funding of VND90 million ($3,960) in May 2020. The organization also presented masks and hand sanitizers to students and teachers in project areas at the beginning of the 2021-2022 academic year.
In October 2021 when the first Covid-19 infections were found in Viet Tri city and Lam Thao district, the Foreign Department coordinated with the Health Department to learn about local needs.
In response to the appeal of the Foreign Department, KFHI has decided to present 200 oxygen saturation monitors SPO2 to support Phu Tho in the pandemic combat. The machines will help Covid-19 patients monitor their health at home.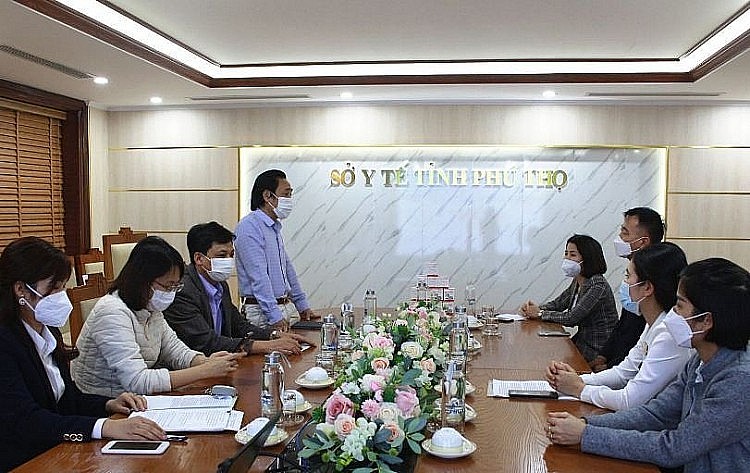 Nguyen Giang Long, Deputy Director of the Health Department speaks at the hand-over ceremony.
In his remarks, Jeon said KFHI will work to mobilize the involvement of other projects and programs in effort to help the province drive back Covid-19.
For his part, Long thanked the Korean organization for its support, and pledged to allocate and use the medical supplies effectively./.
KFHI projects improve educational, medical service quality
KFHI is a Korean NGO, established in 1989. KFHI began its operation in Vietnam in 2006, operating in the main fields of supporting community development, clean water sanitation, vocational training; sponsoring disadvantaged children and improving facilities for schools; implementing short-term projects, giving in-kind aid, awarding scholarships, sending volunteer groups to remote areas to support students and individuals in difficult circumstances.
In Phu Tho, KFHI began its operation in October 2016 with a scholarship programme for poor students in Thanh Son and Thanh Thuy districts. It is the only foreign NGO that has established a project office in Phu Tho (in 2019).
At the opening ceremony of a Korean language teaching course for officials in Phu Tho
Over the past five years, KFHI has rolled out projects in Thanh Son, Tam Nong, Thanh Thuy and Cam Khe district with a total value of $284,000 (roughly VND6.5 billion).
During its operation, KFHI has closely coordinated with the provincial Foreign Department, the Union of Friendship Organisations in Phu Tho and local authorities. Its programmes and projects have helped to improve the quality of educational and medical services for students, enhance solidarity and mutual understanding between students and people of the two countries, and deepen cooperation between Phu Tho and its Korean partners.