Vietnam, RoK beef up trade, industry cooperation
Minister of Industry and Trade Nguyen Hong Dien held a working session with Ambassador of the Republic of Korea (RoK) to Vietnam Park Noh-wan in Hanoi on June 2 to discuss measures to further facilitate cooperation between the two countries in trade, industry, and energy.
Both sides agreed that they boast major potential to further expand their economic and trade ties to match their sound political relations.
Sharing similarities in consumer interests, having a complementary goods structure, and being members of many joint free trade agreements, Vietnam and the RoK have seen increasingly tight links in the global value chain, they noted.
Believing that Covid-19 is likely to remain a complex issue and create difficulties in bilateral economic and trade ties, Dien and the ambassador sought measures to promote trade, industrial, and energy cooperation between the two sides in the future, Vietnamplus reported.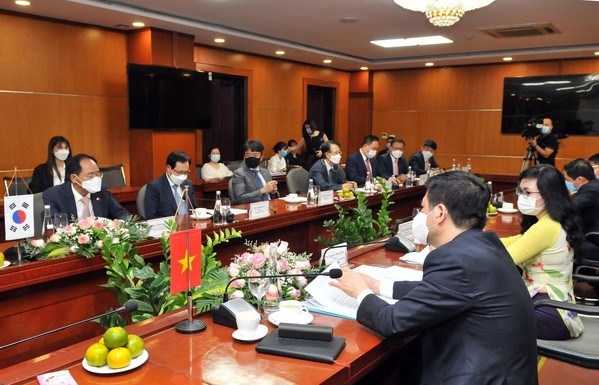 At the working session. Photo: VNA
They agreed to continue working closely together and to optimise the efficiency of existing bilateral cooperation mechanisms to reach specific goals, including in Covid-19 prevention and control, while implementing action plans to realise the target of US$100 billion in two-way trade by 2023.
Both sides will strengthen links in the Vietnam-RoK supply chain while fostering cooperation in energy, strengthening the operations of the Vietnam-RoK Centre for Consultation and Technology Solutions, and organising regular dialogues between the Ministry of Industry and Trade and RoK enterprises.
Dien shared the difficulties facing RoK-funded projects amid Covid-19, including those related to the entry of experts and high-quality human resources into Vietnam, especially in projects in Bac Giang, Bac Ninh, Vinh Phuc and Thai Nguyen provinces.
He underlined that these difficulties are only temporary and that the localities will promptly bring Covid-19 under control.
He asked for support from RoK enterprises for Vietnam's measures in Covid-19 prevention and control, to avoid the spread of the virus in the community.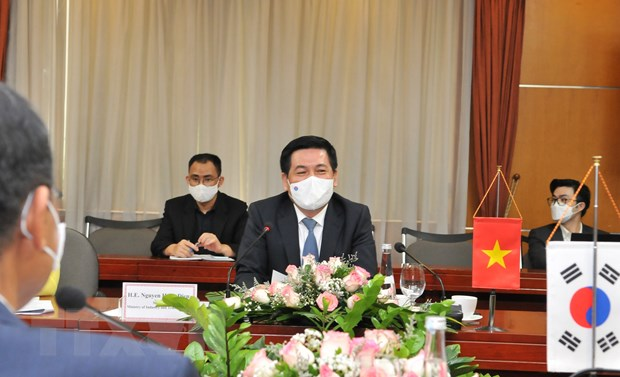 Minister of Industry and Trade Nguyen Hong Dien speaks at the working session. Photo: VNA
In order to ensure safe and continued production at foreign firms and those from the RoK, Dien asked the ambassador as well as the Samsung Group and the SK Group, which have signed agreements on Covid-19 vaccine production in the RoK with the Moderna and Novanax Groups, to assist Vietnam in accessing vaccine sources so the country can reach its goal of conducting large-scale vaccinations, especially among workers at companies in industrial parks, including those from the RoK.
For his part, Ambassador Park Noh-wan and representatives from RoK firms affirmed that they will try to provide Vietnam with better access to Covid-19 vaccines, helping the country implement its "dual targets" of protecting people's health and speeding up socio-economic development and recovery in the "new normal".
According to figures from the Asian-African Market Department, in the first four months of 2021, two-way trade between Vietnam and the RoK hit US$23.7 billion, up 15 percent year-on-year, with Vietnam's exports of US$7.1 billion being a year-on-year increase of 14.3 percent. Vietnam posted a trade deficit of about US$9.5 billion with the RoK in the period, up 9.3 percent over the same period last year.
The RoK is Vietnam's largest foreign investor, with 9,076 projects and capital of nearly US$72 billion as of May 20, 2021.
Vietnam, South Korea target US$100 billion trade by 2023
Vietnam and South Korea have agreed to boost the two-way trade to US$100 billion by 2023 with three main pillars namely energy, industry and trade.
The target was reached at the 10th Meeting of Vietnam-Korea Joint Committee on Energy, Industry and Trade Cooperation held in Hanoi on December 10-11, 2020 co-chaired by Vietnamese Minister of Industry and Trade Tran Tuan Anh and South Korean Minister of Trade, Industry and Energy Sung Yun-mo.
The two sides discussed measures for commercial balance that records Vietnam's widening trade deficit for the past years, according to Hanoitimes.
In 2019, the two-way trade hit US$69.2 billion, of which Vietnam incurred a trade deficit of US$23.02 billion.
At the meeting, the two ministers agreed with an Action Plan to put forward the trade target set for 2023.
In terms of energy, the two sides vowed to promote South Korean investment in developing liquefied natural gas (LNG)-to-power plants and renewable energy projects.
Joint efforts in scientific research and energy efficiency were also included in the discussions.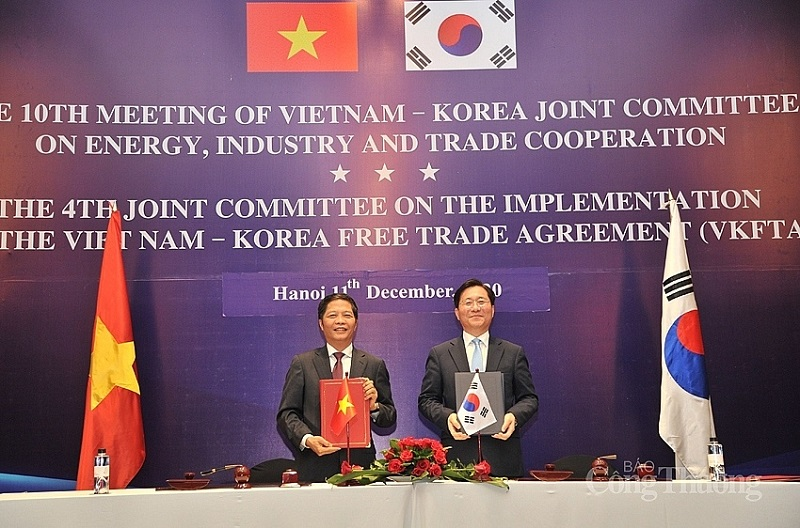 Vietnam's Minister of Industry and Trade Tran Tuan Anh (L) and South Korea's Minister of Trade, Industry and Energy Sung Yun-mo. Photo: Baocongthuong
Regarding industry, they reached consensus on advancing technology transfer, improving human resources, and promoting investment and trade, mostly in auto industry, mechanics, electronics, and garment and textile.
The moves will enable Vietnamese businesses to improve productivity and become more engaged in the supply chain in South Korea and globally.
The engagement will also enable them to take advantages brought by the bilateral free trade agreement (VKFTA).
For bilateral trade, measures to boost trade turnover included tackling technical barriers in the import and export activities, creating more room for farm produce, minimizing trade remedies, protecting intellectual property, and developing logistics and distribution systems.
To achieve the targets, the two sides agreed to proceed four key measures, including boosting South Korean investment into Vietnam, facilitating South Korea's firms operating in Vietnam; supporting Vietnamese exporters of garment and textile, footwear, woodwork, agro-fisheries and processed food to South Korea; enhancing technology transfer in automobile industry, garment and textile, chemicals, mechanics, and spare part manufacturing for better export to South Korea and other countries.
On this occasion, the two leaders also discussed measures relating to customs and certificates of origin, and the building of the Electronic Origin Data Exchange System (EODES).
Foreign Minister Bui Thanh Son and his Republic of Korea counterpart Chung Eui-yong held their first phone talks on April 28, during which they agreed to maintain all-level exchanges, especially high-level ones, through flexible forms.
Both sides reached a consensus on stepping up close cooperation between the two foreign ministries, including in implementing activities in celebration of the 30th anniversary of bilateral diplomatic ties in 2022, working to achieve a goal of 100 billion USD in two-way trade, promoting the relationship between the two countries' localities and businesses, as well as in citizen protection.
They agreed to support and coordinate closely with each other within the regional and international cooperation frameworks such as the United Nations and ASEAN-RoK.
They also exchanged views on regional and international issues of mutual concern, including the East Sea and Korean Peninsula issues. Regarding the Myanmar situation, the two ministers agreed to work closely at regional and international forums to call for relevant parties to exercise restraint, avoid the use of violence and conduct peaceful dialogue.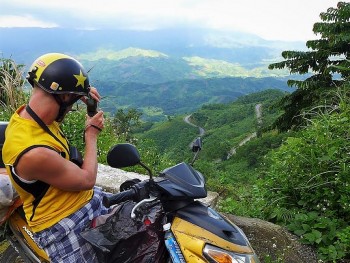 Viet's Home
Written with such love and care for Vietnam, the brilliant travel guides of Tom Divers inspire expats and foreign tourists to explore the wild, remote corners of the nation.