Koreans support Vietnam's Covid-19 fight
Donations from Korean friends have been valuable resources in Vietnam's Covid-19 fight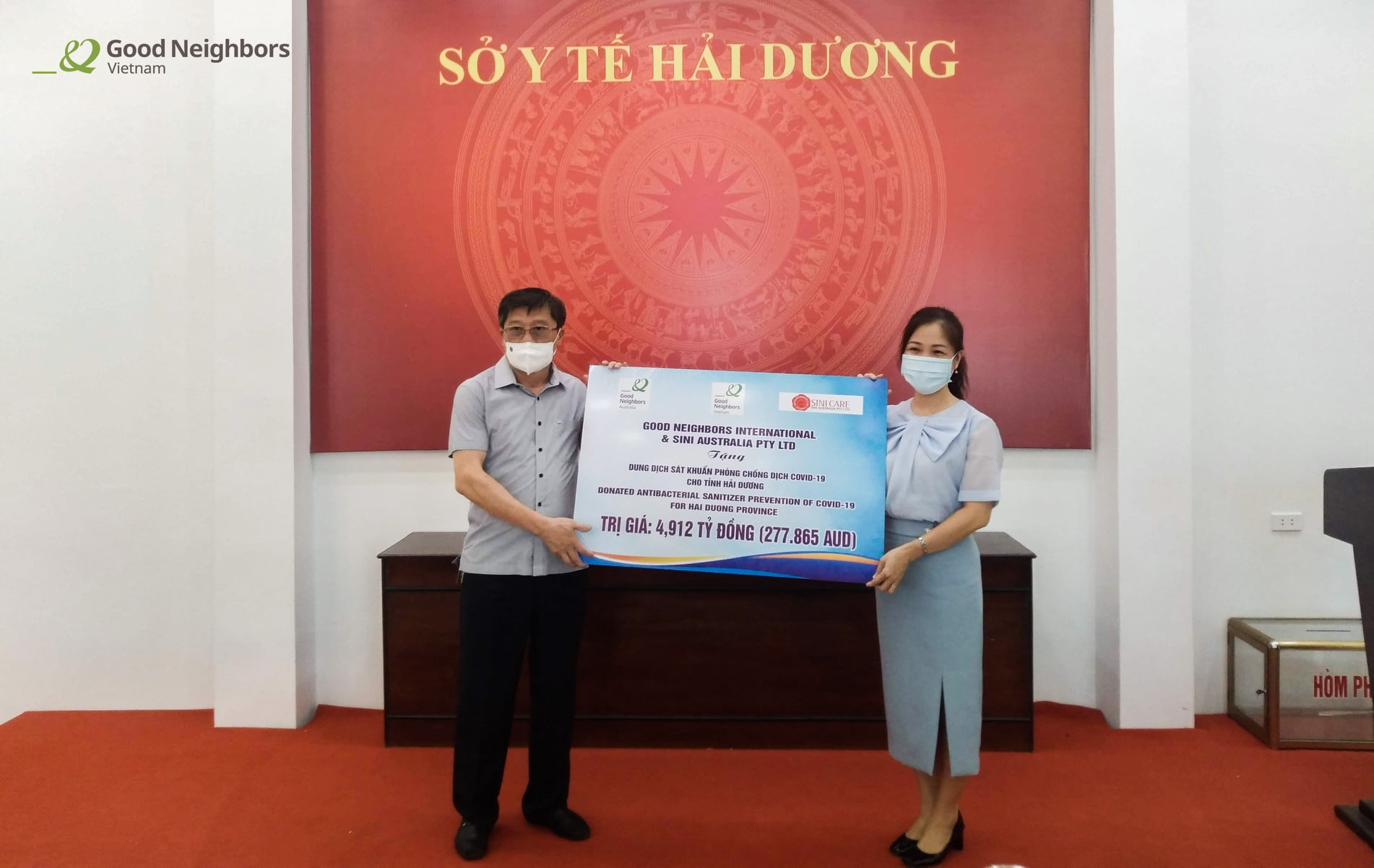 At the handover ceremony. Source: GNI
The Korean NGO Good Neighbors (GNI) in Vietnam has coordinated with the Friendship Cooperation Center of the northern province of Hai Duong to present 56,864 bottles of antiseptic solution, worth nearly VND 5 billion (US$ 277,000), for the prevention of Covid-19 in the province.
This activity is sponsored by Good Neighbors Australia and SINI Australia. All of the above gifts were given to the frontline units and forces, including 27 specialized units of the Hai Duong Department of Health; two units advising and assisting directly to the Steering Committee for Covid-19 disease prevention and control; the Friendship Cooperation Center and police officers, as well as Youth Union volunteers.
Frequent hand washing is one of the measures recommended by the Ministry of Health to prevent the spread of Covid-19. With the donation of antiseptic solution, GNI hopes to contribute to the prevention and control of Covid-19 in Hai Duong.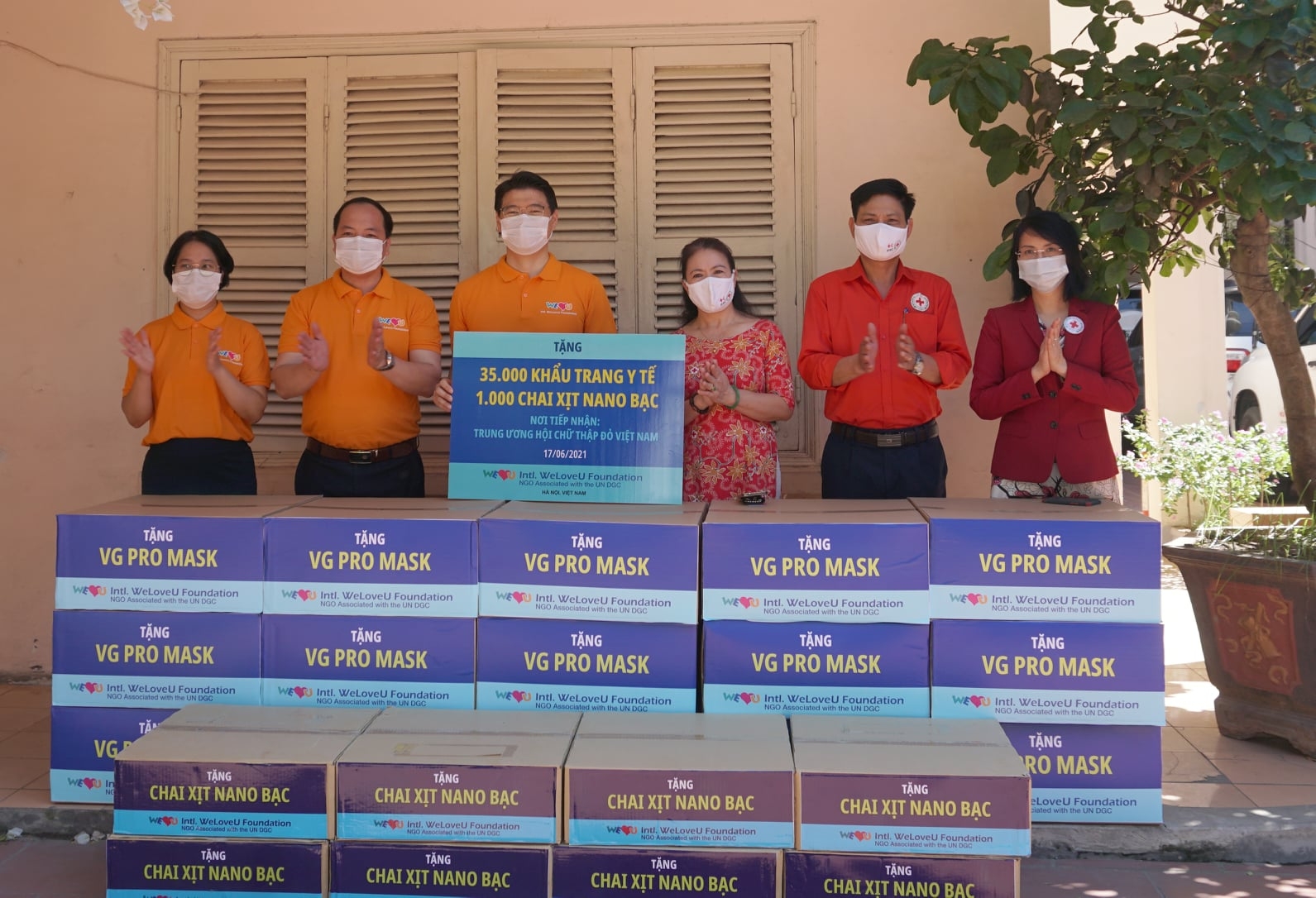 International WeLoveU presents 35,000 face masks and 1,000 disinfectant bottles to Vietnam. Photo: Vietnam Red Cross Society
The Vietnam Red Cross Society Central Committee on June 17 received 35,000 medical face masks and 1,000 disinfectant bottles presented by the Korea-based International WeLoveU Foundation.
Jin Hyun-ok, secretary-general of WeLoveU Hanoi, said the organisation would continue coordinating with rescue activities in Vietnam.
President of the Vietnam Fatherland Front Central Committee Do Van Chien on June 16 received VND 10 billion from the Republic of Korea's Hyosung Vietnam Co. for Vietnam's Covid-19 vaccine fund.
Expressing gratitude for the donations of foreign companies in Vietnam, Chien described the support as a great encouragement for the country to push back the pandemic and resume production soon.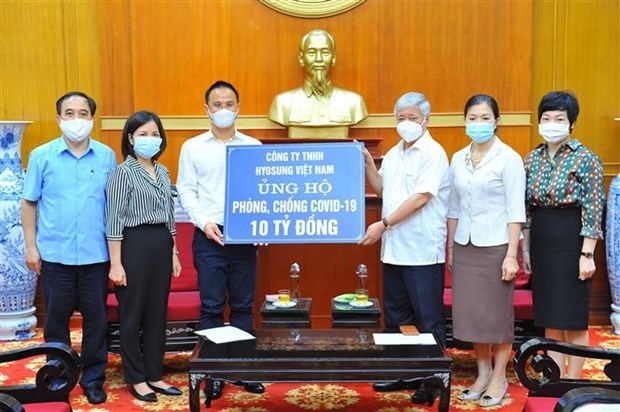 Representatives from Hyosung Vietnam hand over 10 billion VND to the VFF Central Committee. Photo: VNA
In order to deliver Covid-19 vaccine to over 70% of its population, Vietnam needs 150 million doses at an estimate cost of about VND 25.2 trillion, with about VND 16 trillion coming from the central State budget and the remainder mobilised from local budgets, businesses, organisations and individuals.
So far, the fund has received over VND 5 trillion from agencies, organisations, businesses and donors, Chien noted.
Earlier, Samsung Vietnam also carried out a series of activities to support Covid-19 prevention and control in localities, including: donating VND 10 billion to Bac Ninh, and delivering 1,000 gifts worth VND 585 million to support the frontline forces in Thai Nguyen province, reported Vietnam News.
At the launch ceremony of Vietnam's National Covid-19 Vaccine Fund held on June 5, Samsung Vietnam donated VND 40 billion to the fund.
Samsung Vietnam on June 16 was awarded a certificate for its contribution to Covid-19 prevention and control in Bac Giang Province by the province's Fatherland Front, with specialised medical equipment worth VND 6 billion.