The ceremony to present the Friendship Order to former RoK Ambassador to Vietnam Lee Hyuk Photo: VNA
The Vietnamese Embassy in the Republic of Korea (RoK) held a ceremony on June 8 to present Friendship Order to Lee Hyuk, who previously served as ambassador to Vietnam, for his contributions to bilateral relations, reported VNA.
Approved by the State President, the honour is bestowed upon foreign individuals and collectives that have made substantial contributions to building, consolidating, and developing the friendship between Vietnam and other countries around the world.
Attending the ceremony were representatives of the Korean Ministry of Foreign Affairs, the ASEAN - Korea Center and the RoK-Vietnam Friendship Association.
Addressing the ceremony, Vietnamese Ambassador to the RoK Nguyen Vu Tung praised the work of the RoK diplomat in promoting economic, trade-investment, scientific-technological and labour ties between the two countries during his tenure in Vietnam.
He particularly hailed his role in organizing activities to mark the 25th anniversary of bilateral foreign relations in 2019.
As Secretary General of the ASEAN-Korea Centre during 2018-2021, Lee actively organized activities to enhance the RoK-Vietnam ties in the framework of ASEAN and RoK-ASEAN ties.
Tung expressed his wish that the former RoK ambassador would continue to contribute to strengthen the friendship between the two peoples and share his valuable experiences with successive generations of diplomats to continue preserving and promoting the friendship between the two countries further, especially in the context of the two countries preparing to celebrate the 30th anniversary of bilateral foreign relations in 2022.
For his part, Lee expressed his gratitude to the State of Vietnam and the embassy of Vietnam in RoK for awarding him the noble order. Although the history of diplomatic relations between the two countries is not long, the relationship between the two countries has had a strong development, a miracle when the RoK became one of the largest investors in Vietnam. According to him, this rapid development is partly due to the similarity in culture and also the desire and aspiration of the two peoples.
He pledged to continue contributing to the development of RoK-Vietnam relations in his various positions, including Vice Chairman of the RoK-Vietnam Friendship Association.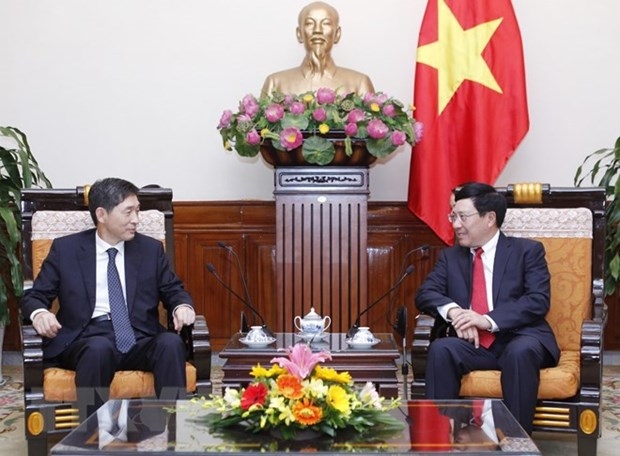 Deputy Prime Minister and Foreign Minister Pham Binh Minh (R) receives out-going RoK Ambassador to Vietnam Lee Hyuk in April 2018. Source: VNA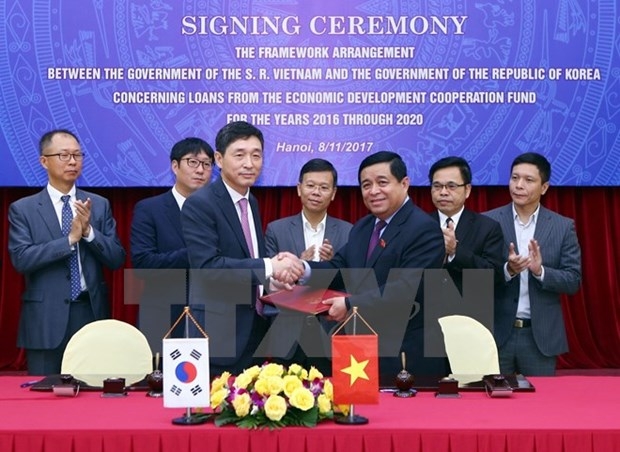 A framework agreement on 1.5 billion USD in official development assistance (ODA) between the two governments was signed by Minister of Planning and Investment Nguyen Chi Dung and RoK Ambassador to Vietnam Lee Hyuk in Hanoi in November 2017. Source: VNA
Hannah Nguyen