Lao provides financial support for Vietnam northern provinces
Lao has provided financial support for several of Vietnam's northern provinces to assist them in fighting against the novel coronavirus.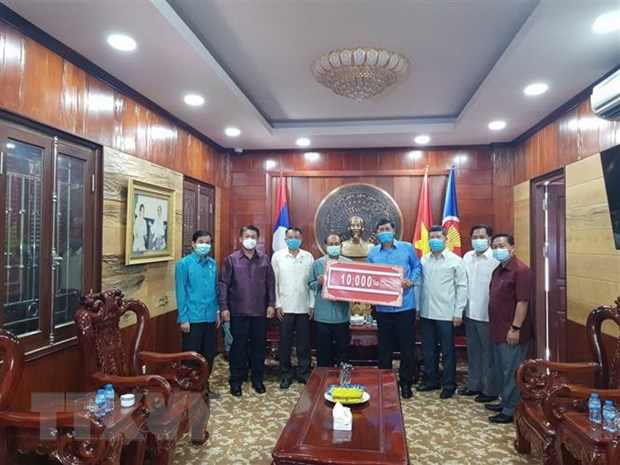 Representatives from Luang Prabang province present the aid to support Dien Bien province in its Covid-19 battle. Photo: VNA
Secretary and Governor of Luang Prabang province Khamkhan Chanthavisuk on June 8 presented the Vietnamese Consulate General in Luang Prabang US$ 10,000 to aid the northern Dien Bien province in the Covid-19 battle.
On the same day, representatives from Xayabury province also handed over the Vietnamese Consulate General in Luang Prabang US$ 27.600 in support of provinces of Yen Bai, Quang Ninh, Son La, Thai Binh and Dien Bien to combat the pandemic, the Vietnam News Agency (VNA) reported.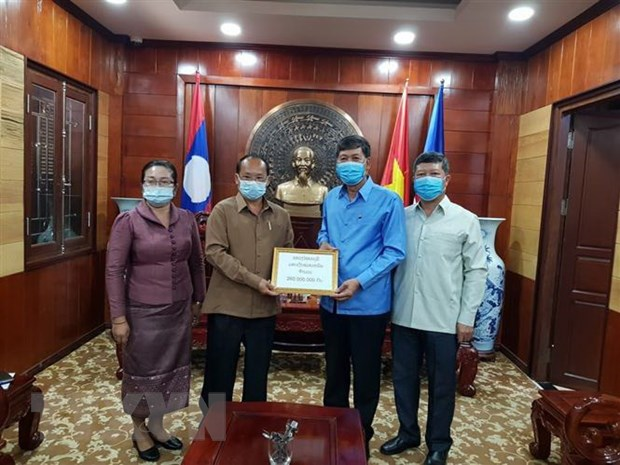 Representatives from Xayabury province hand over the donation to aid five provinces of Yen Bai, Quang Ninh, Son La, Thai Binh and Dien Bien. Photo: VNA
At the meetings, representatives of Lao provinces affirmed the importance of Laos – Vietnam relationship, expressing their wish that the Vietnamese Consulate General and localities would actively cooperate and share experience with Lao provinces in handling the pandemic.
They also believed that the Party, State, Government and people of Vietnam would soon win over the pandemic.
Vietnamese Consul General in Luang Prabang Nguyen Dang Hung extended his thanks to Lao provinces for their timely and valuable assistance, vowing that the donations would soon be sent to Vietnam.
Previously, on June 3 and 4, Khambay Damlath, Lao's National Assembly Vice Chairperson, and Alounkeo Kittikhoun, PTL Holding Committee Limited Strategy and Planning Chairman and former Minister to the Prime Minister's Office, visited the Vietnamese Embassy in Laos to offer US$ 30,000 to support the Government and people of Vietnam in fighting against the pandemic.
Speaking at the embassy, Laos' leaders expressed their firm belief in the strong bond between Vietnam and Laos. They thanked Vietnam for sending medical experts and equipment to the Laotian side, affirming that the support from Vietnam was key to helping Laos control the pandemic. Lao's leaders expressed their belief that the Communist Party, government, and people of Vietnam would soon contain the pandemic.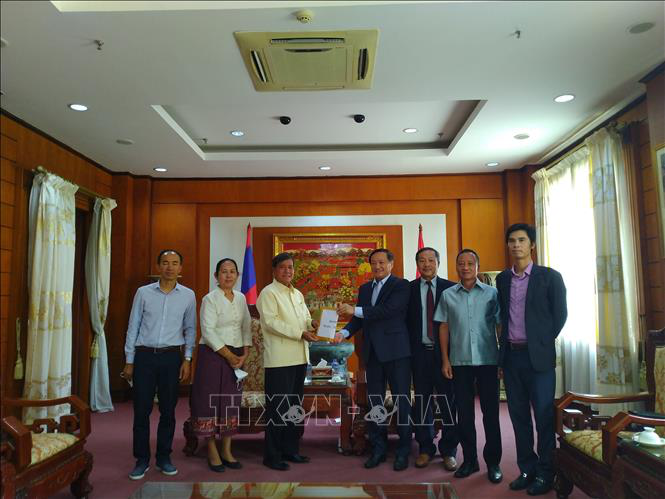 Laos' leaders offered US$ 30,000 to Vietnam to combat the pandemic. Photo: VNA
Vietnamese Ambassador Nguyen Ba Hung expressed his full gratitude towards the timely and meaningful gift from Laos.
Discussing Covid-19 developments in Vietnam, Hung said Vietnam has basically controlled the pandemic in high-risk localities and highlighted that Covid-19 vaccines are the best prevention measures to date. The ambassador also highlighted his belief that Vietnam has full capacity to fulfill its dual goal of pandemic control and socio-economic development.
Hung affirmed that the Communist Party of Vietnam, the government, and the people of Vietnam will continue to fight side by side with Laos to combat the pandemic.
Vietnamese Minister of Foreign Affairs Bui Thanh Son and his Lao counterpart Saleumxay Kommasith on June 6 highlighted their countries' mutual support in the Covid-19 combat and identified ways to augment bilateral relations.
Hailing bilateral cooperation and mutual assistance in the Covid-19 fight, Son thanked the Lao Party and State leaders for extending sympathies to Vietnam on the pandemic situation in the country.
The minister also voiced his hope that Vietnam's financial aid, medical supplies, and health experts sent to Laos will help with the latter's efforts against the pandemic.
Kommasith thanked the Vietnamese Party, State, and people for their precious material and spiritual support for Laos in the pandemic combat, affirming that his country is always ready to stand side by side with Vietnam in line with the spirit of the countries' great friendship, special solidarity, and comprehensive cooperation.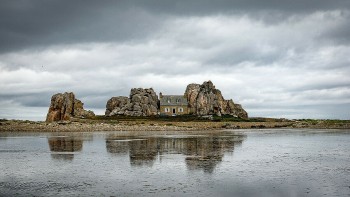 Travel
In a quiet little village of Plougrescant, France, tourists can visit this quirky and extraodrinary Castel Meur, also known as "The House Between The Rocks", which has become an attraction for many years.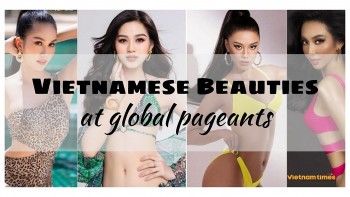 Handbook
Do Thi Ha, Pham Ngoc Phuong Anh, Nguyen Thuc Thuy Tien and Nguyen Huynh Kim Duyen set to vie for global beauty pageants.
World
In the outskirt of Poland, there is a pretty rural village that is called "The painted village" for its amazing and unique tradition of painting their homes inside and out with colorful floral patterns, making this place the most photogenic spot.