Vietnamese Embassy in Laos urges citizens not to return home
Amid the complicated Covid-19 situation, the Vietnamese Embassy in Laos has urged citizens not to return home and follow anti-pandemic measures of the host country.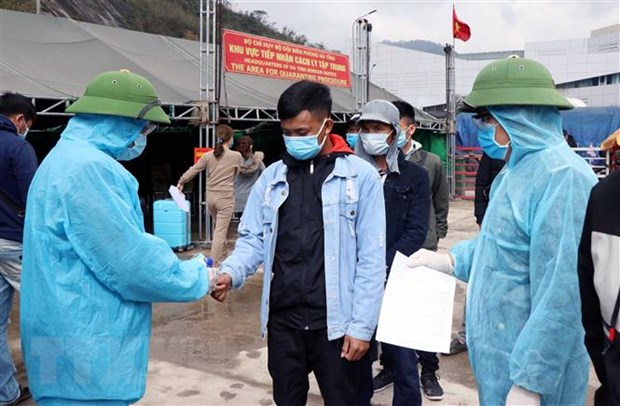 People entering Vietnam through Cau Treo International Border Gate wash their hands with sanitizer. Photo: VNA
The Vietnamese Embassy on May 31 issued an announcement on entering Vietnam, the Vietnam News Agency (VNA) reported.
In the announcement, Vietnam halts receiving foreign arrivals departing from four countries of India, Thailand, Cambodia and Laos or those staying at/ passing through these countries within 21 days before entering Vietnam, except really necessary cases.
The regulation is not applied for foreigners entering Vietnam on vehicles transporting goods, not coming into contact with the community in Vietnam and exiting on the same vehicles.
Amid the domestic complex Covid-19 situation, the Embassy has urged citizens not to return home and follow anti-pandemic measures of the host country.
Those wanting to return home for really necessary reasons must register with the Embassy and Consulate General of Vietnam in Laos so that they can discuss with domestic authorities to arrange quarantine facilities in accordance with the regulations on Covid-19 prevention and control.
In May, the Embassy received registration from 20 Vietnamese citizens wanting to return home for really necessary reasons such as emergency, accident and medical treatment.
The Embassy reported these cases to the domestic authorities to ask for entry permission.
Citizens whose names are on the Embassy's website are allowed to return home.
For further information, please contact the Consulate General and the Embassy of Vietnam in Laos: 02096106775; 02098347979; 02097606868; 02092736868.
Those illegally entering and organizing for others to illegally enter will be strictly handled in accordance with laws.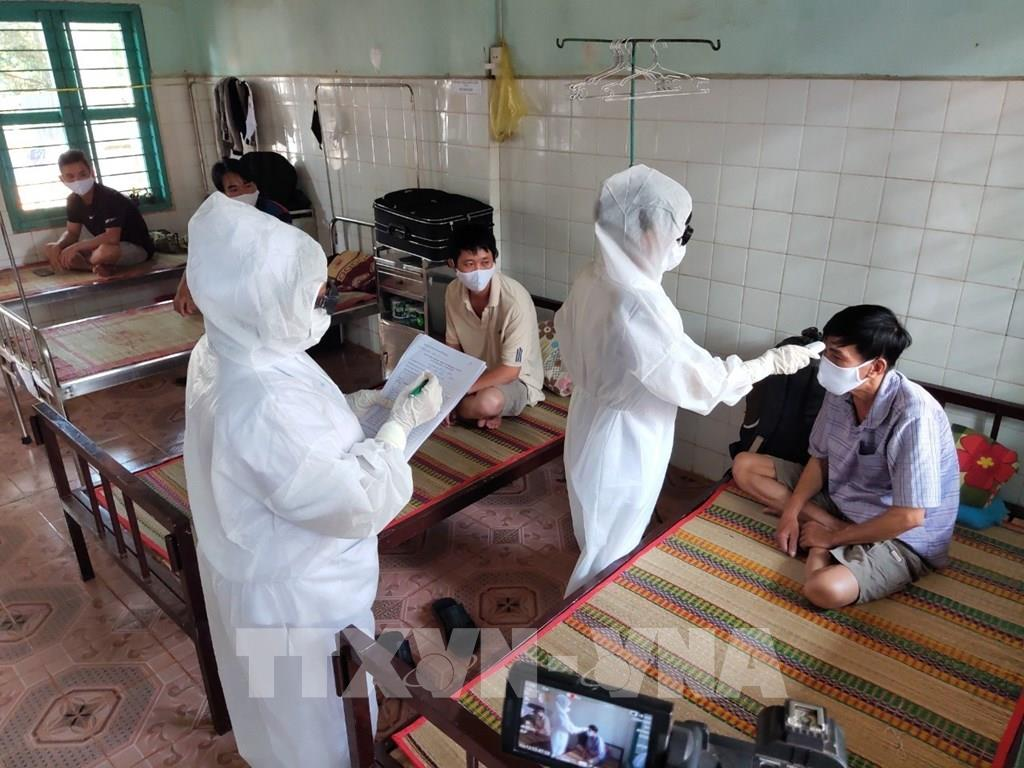 Quarantined workers have their health checked. Photo: VNA
Given the complicated developments of the Covid-19, Vietnam has decided to temporarily suspend and restrict the entry of foreigners and overseas Vietnamese in order to focus on implementing pandemic prevention and control measures in the country, reported VNA, citing the Foreign Ministry's spokeswoman Le Thi Thu Hang during the ministry's regular press conference in Hanoi on May 13.
She also noted that earlier Vietnam had also suspended entry of foreigners and only allowed entry of investors, technical experts, highly-skilled workers and business managers on the condition of meeting quarantine and medical requirements.
At the same time, the Foreign Ministry is closely following and keeping updated on the pandemic situation in other countries and coordinating with relevant agencies so as to make appropriate decisions on relaxing or tightening entry of each group of people, thus ensuring the double goal of containing the pandemic and recovering economic growth, Hang said.
Over a month into its fourth wave, which is by far the most challenging that Vietnam has encountered, the country has recorded 4,357 cases in 36 of its 63 cities and provinces.
Bac Giang is leading the case count with 2,297 infections, followed by Bac Giang with 857, Hanoi with 412 (including 93 in a locked-down hospital) and HCMC with 208.
More than 1.1 million of the nation's 96 million have been vaccinated against the new coronavirus.
Cambodia's total number of Covid-19 cases surged to 30,094 after 690 new cases were reported nationwide on May 31, the Ministry of Health said in a statement.
The new cases included 635 domestic and 55 imported, the statement said.
Five more fatalities were recorded, bringing the overall death toll to 214, the statement said, adding that 448 more patients recovered, taking the total number of recoveries to 22,636.
Laos has recorded no local infections of Covid-19 on May 31, the first day free of community transmission more than 40 days from the beginning of the second wave of Covid-19.
At noon May 31, the Laos Ministry of Health said the country detected only one case within the past 24 hours which was an imported case and put under quarantine upon arrival. This can be considered an initial success of the country in the fight against Covid-19.
The country has so far confirmed 1,912 cases of Covid-19 and 1,543 people have recovered, while three died from the disease.
Covid-19 infection in India continued to slow as the daily number of cases dipped to the lowest in past 50 days. The number of total cases in the country now stands at 28,047,534, while the death toll is at 329,100.
On May 31, Thailand's number of new Covid-19 infections made a record high of 5,485, raising the national tally to 159,792. The country also reported 19 fatalities, bringing the total to 1,031.
Bangkok continued leading the nation in terms of new infections, with 1,356 cases, followed by Phetchaburi (555 cases), and Samut Prakan (358 cases).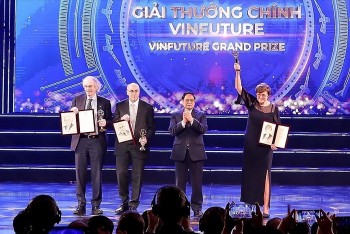 Handbook
Three times higher than Nobel Prize's monetary value, special prize for female innovators - Here's what you may not know about the new scientific prize launched by a Vietnam's leading group.