Vietnam Leaves Impression at 2023 Int'l Charity Fair in Mongolia
Vietnam introduces traditional culture and cuisine at the 2023 Annual International Charity fair in Mongolia.
The Vietnamese Embassy in Mongolia participated in introducing Vietnamese culture and cuisine at the 2023 annual International Charity Fair in Ulaanbaatar on September 16.
The fair is an important annual event organized by the International Women's Diplomats Club (WDC) under Mongolia's Ministry of Foreign Affairs, along with the Embassies and Consulates General in the host country, and small and medium enterprises of Mongolia.
Foreign officials at the fair. Source: TG&VN
The fair is held around mid-September every year to raise funds to help poor, orphaned and disabled children in facilities, fostering and social protection centers of Mongolia.
In addition, the fair is also an opportunity for cultural and culinary exchange, strengthening solidarity; promoting the country and people of each nation with a representative agency in Mongolia.
Attending this year's international charity event were the embassies of 11 countries including Australia, USA, Belarus, Vietnam, Italy, the Repubic of Korea, Laos, Russia, China, India, Japan and more than 30 businesses in countries and businesses with female leaders.
The organizers said that since the WDC was established in 1998, the "Charity Fair" event has been held for the 23rd time, interrupted for two years due to the Covid-19 pandemic and implemented more than 100 projects supporting vulnerable groups with donated money.
Like every year, this year the Vietnamese Embassy brought to the fair unique and traditional handicraft products of the country, created by the skillful hands of Vietnamese artisans such as bamboo curtains, lacquered coconut bowls, brocade bags, and silk scarves.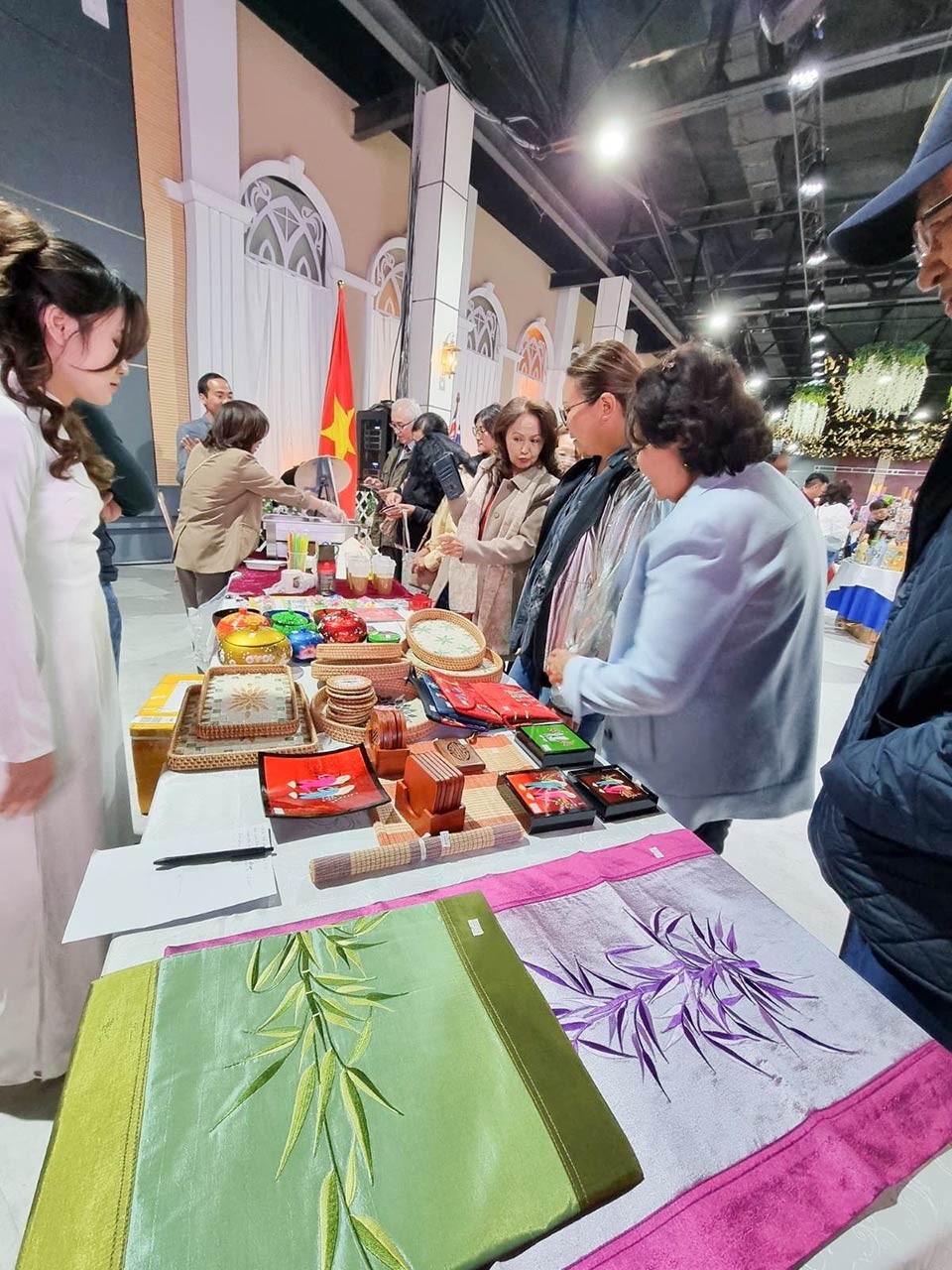 The Vietnamese pavilion attracts visitors with traditional long dresses (ao dai) next to the stalls introducing handicrafts and traditional dishes. Source: TG&VN
Besides, images introducing the landscapes, cultural and cuisine activities of some regions and ethnic groups of Vietnam were also presented to Mongolian and international friends.
The Embassy has treated the guests to a number of culinary dishes that have always been popular with the Mongolian public as well as international friends in the country such as fried spring rolls, sausage rolls, chung cake made by Vietnamese expats and all kinds of Vietnamese coffees favored by the Mongolian market.
The guests were very impressed with the dance performance of students at High School No. 14, named after President Ho Chi Minh, at the opening session of the program.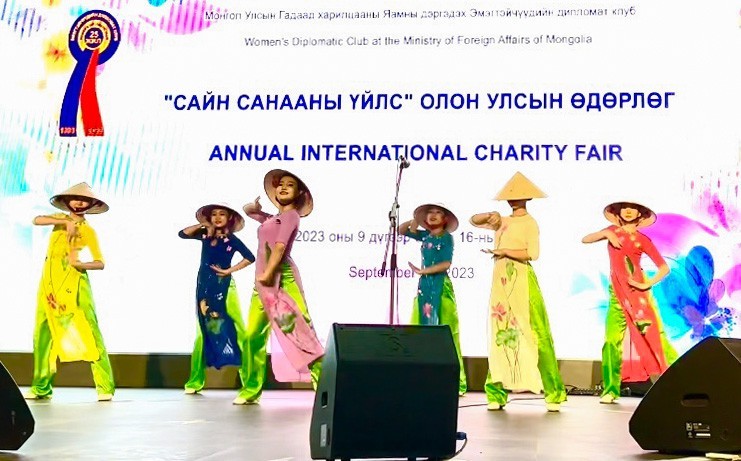 The performance of students at the High School No. 14, named after President Ho Chi Minh. Source: TG&VN