Jul 20, 2020 - Jul 27, 2020 - This week, the sun continues its journey through the sign of Cancer along with messenger Mercury. Mercury is now getting back into its stride, having turned direct at the end of last week. This can make life easier all around as frustrations and delays gradually come to an end.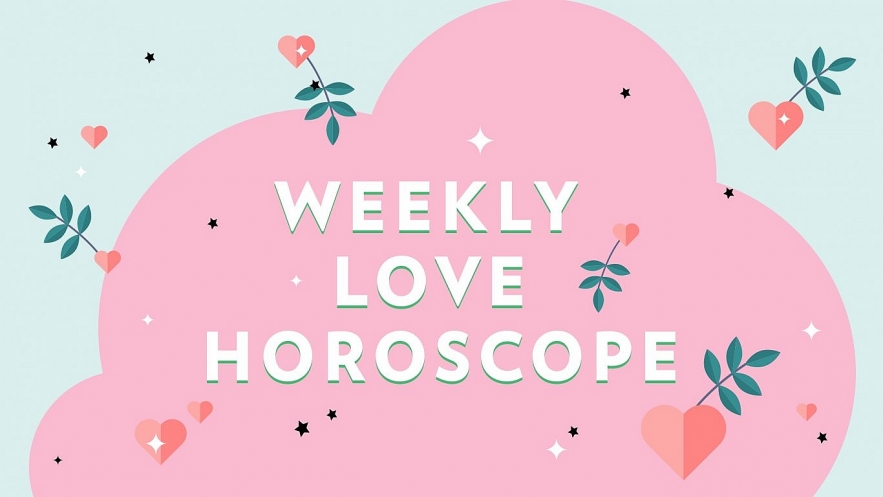 Weekly-Horoscope-for Love-on-July-20-26:-Prediction-for-Astrological-Signs-for-Next-Week
The sun in Cancer opposes philosophical Jupiter on Tuesday and powerful Pluto on Wednesday, which could coincide with intense emotions.
There could be a situation in which we face opposition to our plans or we're torn between two possible paths or decisions. And with the compulsive energies involved, it could be hard to maintain equilibrium in the face of temptation.
Zodiac Horoscope for July 20 - 27, 2020
Aries
The first sign of the Zodiac, Aries are the trailblazers. Passionate and independent, Aries will never do something just because everyone else is doing it—a Ram needs to be 100 percent committed to the task at hand.
This week forecast: Remember what all work and no play makes you at the beginning of the week; it'd be difficult to ever call you dull, but poking your head up occasionally does your love life good. Sometime around Wednesday, you've got the romantic follow-through you've been seeking, so take advantage of it. From Thursday through Saturday, your eagerness about some matter of the heart is charming, but you'll want to recall another saying: Haste makes waste. Slow down and lay a firm foundation -- or watch things evolve and clarify before moving forward. Sunday is much more your dynamic, ardent speed.
Taurus
Smart, ambitious, and trustworthy, Taurus is the anchor of the Zodiac. Amazing friends, colleagues, and partners, Taureans value honesty above all else and are proud that their personal relationships tend to be drama free.
This week forecast: The week starts out rock-steady with a grounded, happy-feeling Monday; your heart's in the right place, it's plain to see. But Tuesday or Wednesday could bring a little tussle with someone who's just not as practical in matters of the heart as you are. Try to entertain their out-there point of view -- you just might like it. If you get some wacky ideas about the realm of romance, well, Thursday, Friday and Saturday are excellent times to give them a try. Sunday's the time for relaxing and rejuvenating, so don't let someone else rush you.
Gemini
Smart, passionate, and dynamic, Gemini is characterized by the Twins, Castor and Pollux, and is known for having two different sides they can display to the world. Expert communicators, Gemini is the chameleon of the Zodiac, adept at blending into different groups based on the vibe and energy they perceive.
This week forecast: Use your communication skills to get everything on the table in the realm of romance on Monday, whether it's clearing up an issue with your mate or a heart-to-heart with a friend. Then Tuesday, Wednesday and Thursday bring a blast of fresh love energy; your brain's sharp as a tack, and your heart's picking up some great new vibes. Someone might not quite be getting what you're saying on Friday or Saturday, despite your best heartfelt efforts. Do something creative rather than getting frustrated, and know that it should all be much smoother sailing on Sunday.
Cancer
Emotional, intuitive, and practically psychic; ruled by the moon and characterized by the crab, Cancer has so much going on in its watery depths. Cancers may seem prickly and standoffish at the first meeting, once they make the decision to become friends with someone, that person has a friend for life.
This week forecast: Someone could totally misinterpret you at the beginning of the week, but if you're on the watch for it, you can turn it into an absolutely positive thing. On Wednesday and Thursday, you're full of big feelings and maybe a tiny bit thin-skinned. Watch out for overreacting, especially at work; in romance, just let those around you know you need a little T.L.C. By Thursday (and all the way through Saturday), you're feeling much better -- fantastic, even. Your instincts lead you to click with someone in an amazing way. Slow it down on Sunday, though; you can't hurry love.
Leo
Bold, intelligent, warm, and courageous, fire sign Leo is a natural leader of the Zodiac, ready to blaze a trail, vanquish injustice, and make a name for themselves along the way. Blessed with high self-esteem, Lions know that they possess enviable traits—and they're proud of them.
This week forecast: Romance is a bowl of cherries this week, pits included, but with your generosity and optimism, you'll enjoy the sweetness and be able to discard the rest. You're strong-willed on Monday, but the key is to listen up before making any moves. Let patience guide you from Tuesday through Thursday; let go of your expectations, and let love have its way with you. Keep calm and tune into your inner voice Friday and Saturday; it'll tell you what to do (and who to do it with), loud and clear. On Sunday, at last, you can totally relax -- and have a fabulous time doing just about anything.
Virgo
Fiery Mars is moving through Aries, where it will remain for many months and where it's very much at home. This influence offers extra energy with which to handle any challenges and opportunities that might arise.
Smart, sophisticated, and kind, Virgo gets the job done without complaining. Virgos are amazing friends, always there to lend a hand and also lend advice. Practical Virgos are incredibly adept at big picture thinking, and planning out their life, their vacations, and what they're going to do today isn't a drag it makes them feel in control and secure.
This week forecast: The romantic energy crackles at the beginning of the week, so don't get so caught up in industrious working that you miss out on it. Singletons should make dates now, while the coupled up ought to drop everything and enjoy each other's company. Put your mind and heart to doing some innovation in the realm of romance on Wednesday or Thursday; shifting your perspective and approach works wonders now. On Friday or Saturday, couples may not see quite eye-to-eye, while singles just find romantic matters confusing. Keep it low-key and watch for your sense of purpose to return Sunday.
Libra
Intelligent, kind, and always willing to put others before themselves, Libras value harmony in all forms. Ruled by Venus, the planet of beauty, Libra adores a life that looks good. As the master of compromise and diplomacy, Libra is adept at seeing all points of view and excels at crafting compromises and effecting mediation between others.
This week forecast: Your efforts to create romantic harmony may be in vain on Monday -- there's just some weird energy afoot. Don't pout (or give up!); Tuesday, Wednesday and Thursday offer a switcheroo that lands you up to your eyeballs in cosmic sweetness. You can definitely make or deepen a connection that encompasses both your brain and your heart now. By the weekend, you can help someone else achieve that elusive harmony you were in search of yourself so recently. Your own romantic matters could be put on hold until Sunday, when all heck breaks loose -- possibly in a really good way.
Scorpio
Passionate, independent, and unafraid to blaze their own trail no matter what others think, Scorpios make a statement wherever they go. They love debates, aren't afraid of controversy, and won't back down from a debate.
This week forecast: You get an A-plus for playing well with others at the beginning of the week; take advantage of the harmonious vibe by initiating something in the love department. Family or household stuff erupts around Wednesday; if you're cohabitating with your sweetie, watch for little issues that could become larger conflicts. By later in the day Thursday, that harmonious vibe is back -- and bigger and better than before. Through the rest of the weekend, romance is definitely on the docket, and you're intensely magnetic. Do something fantastic -- in the sense of wonderful and out-there.
Sagittarius
Independent and strong-willed, Sagittarius personalities are all about going off the beaten path. Sagittarius isn't afraid to step away from the pack and is a natural-born leader who goes after what he or she wants, regardless of what other people think.
This week forecast: Your deadpan sense of humor and straightforward manner work wonders in the realm of romance at the beginning of the week -- though money may be uppermost in your mind. Tuesday through Thursday find you a master of communication of all kinds, and an intrepid explorer when it comes to matters of the heart. Meet some neat new people -- or get to know a favorite one better. You may be distracted when it comes to mundane things this weekend, but when you hear something intriguing, you tune right in. Expand your mind and heart, and help someone else do the same.
Capricorn
Smart, hardworking, and fully in control of their destiny, a Capricorn will always get what they set their mind to, in both personal and professional life—no excuses. Capricorns may get a reputation as stubborn, but they simply know what they want, and also know how they wish other people would behave.
This week forecast: You've got that natural glow at the week's outset, and your mind and heart are in beautiful balance. You're extra hard to say no to now, so ask a question or two that you want a resounding yes to. Money matters threaten to distract you around Wednesday; keep your values in perspective, and remember that all the cash in the world can't buy you love. Trade in your traditional, practical side for a bohemian one from Thursday through Saturday; connect with music, art and creativity, and you'll connect like crazy with someone else. Plan to deal with family stuff on Sunday.
Aquarius
Independent and enigmatical, Aquarians are unique. There is no one quite like an Aquarius, and because each is so incredibly individual, it can be tough to describe them as a group. Aquarians don't like labels, and may shy away from any adjective—even the good ones you might bestow upon them.
This week forecast: The energy's contracting instead of expanding on Monday, and you likely feel weary or stifled. But from midday Tuesday through Thursday, things just get bigger and better, and you're sitting pretty in the middle of it all. Let your mind run wild, and share the places it goes -- you're fascinating and attractive now. A financial red flag has you reevaluating money matters on Friday or Saturday, and while you're at it, a couple romantic notions come up for review. Put the emphasis on compassion rather than passion now. Wilder, more intense ideas can come into play on Sunday.
Pisces
Smart, creative, and deeply intuitive, Pisces can be close to psychic. Pisces feel things deeply and have incredibly strong gut reactions. A Pisces "knows" things from deep within, and can often judge whether a person or situation is good or bad.
This week forecast: The beginning of the week's nice and easy, and a gentle overture you make or receive should go swimmingly. Look to a friend for advice -- or you may find yourself offering some. You may be preoccupied around Wednesday; it's not that you're spaced out, but that your mind and heart are hard at work on something. Let other matters wait in the wings -- you'll have energy to burn starting Thursday, and through Saturday you're connecting beautifully with others and transforming your love life into something gorgeous. Cupid works in mysterious ways on Sunday.
Lonicera Vu